Best Addons For Elementor- ElementsKit All in one Addons for Elementor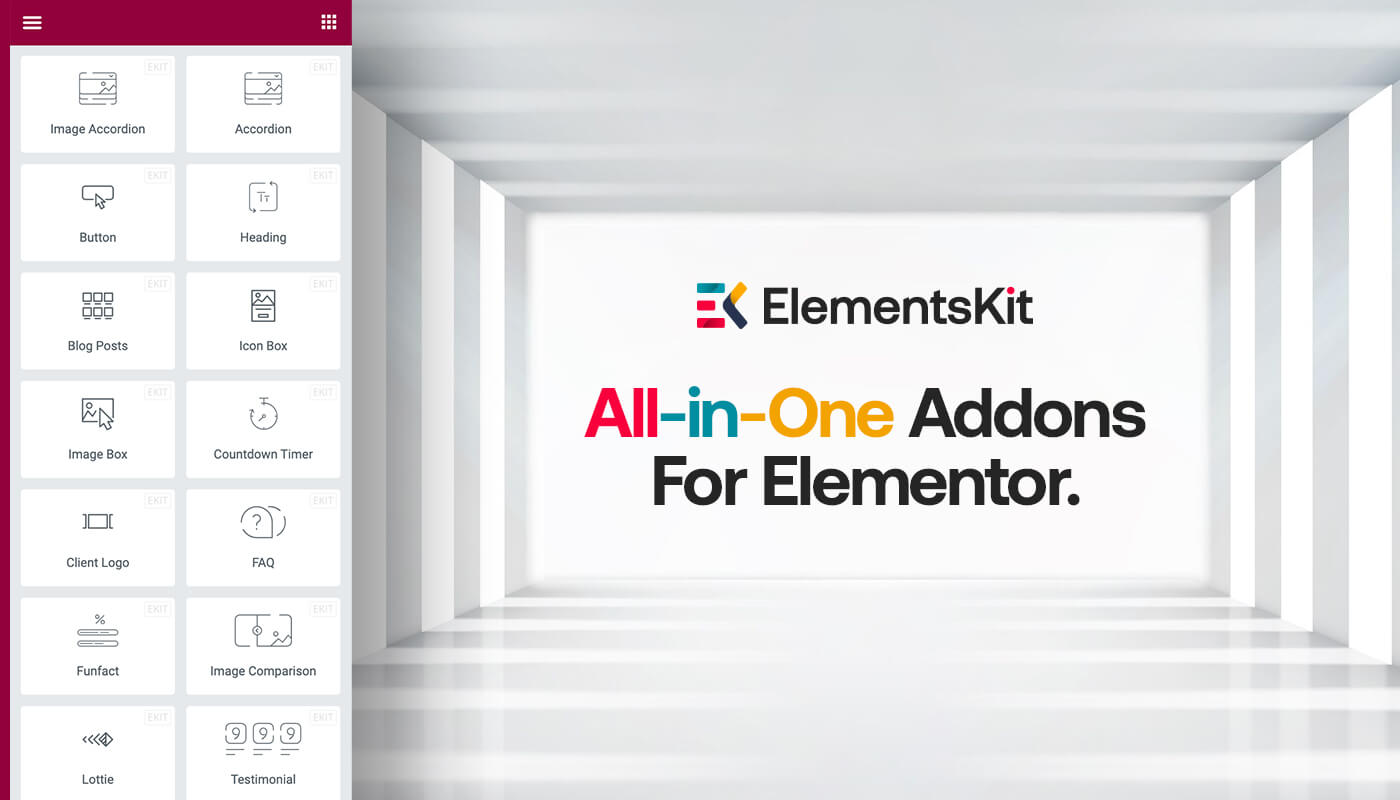 Allesia wants to customize a WordPress Business site with some advanced layouts & styles.
So, What will she do?
For being an Elementor fan, she was searching for the Best Elementor addons, where she will get all the features at a glance.
And, guess What?
She has just got her desired All in One Elementor Addons- ElementsKit.
Yeeeeee!!
Now she can control every aspect of her design in one place without having any coding skills! If you are also looking for the same, then you are at the right place!
In this article, we'll take an in-depth look at ElementsKit features, modules, elements, and more.
So let's get started!
Do I Really Need Elementor addons?

By itself, Elementor page builder is one of the most feature-rich page builder plugins. But it's really hard for a single plugin to cover all the requirements of users.
So here comes the concepts of Elementor Addons!
These addons expand the functionality of the core Elementor plugin and help to make a robust website with creative elements and extensions.
Now, you must be thinking, among the tons of Elementor addons, how to pick up the best one?
No worries! We will introduce you to the best Elementor Addons and its top-most features which will surely amaze you.
So, let's dig into it!
A Quick Introduction to ElementsKit

Go beyond Elementor with ElementsKit. It's packed with 70+ amazing widgets, 8+ unique modules, 30+ ready pages, 500+ ready sections, and many more to improve your Elementor experience.
It makes the Elementor site-building experience easier than ever.
ElementsKit is offering the highest number of modules like LayoutKit Library, Widget Builder, Mega Menu Builder, Header & Footer Builder, and lots more.
With 40+ free widgets and 30+ pro widgets, ElementsKit allows you to control elements toggle on/off as per your requirement. This will help to reduce page load time.
Exciting right? ElementsKit offers you more!
9 Modules at A Glance

Let's checkout 9 advanced modules for Elementor( still working to come up with more):
Header Footer Builder for Elementor
Leverage the most powerful drag and drop Header Footer Builder by ElementsKit that makes stunning and user-friendly header and footer for your WordPress sites.
Choose different styles of headers featuring mega lists with social icons at the edge.
You will get a bunch of footers with an Instagram feed. You are in full control to customize the color, size, and style of the module.
Elementor Mega Menu Builder
The mega menu builder allows you to navigate the deepest section of your sites with just one click with this drop-down menu. Display all of the categories and subcategories of your products or services.
No matter how simple or complex a mega menu you want to add to your website, ElementsKit mega menu builder will let you do so even if you have zero coding knowledge.
Get a bunch of readymade vertical and horizontal styles from this module will show you the way to make an elegant mega menu accordingly to your choice.
Another important fact to add is ElementsKit mega menu builder works with WooCommerce that enables you to add WooCommerce products and categories effortlessly.
Building the mega menu of your Elementor websites was never so easy as it is now with the mega menu builder of ElementsKit.
Widget Builder for Elementor
If you want to build your widget without any coding knowledge you should defenately give this module a try! It just takes a few minutes and you have full control over text, switch, icons, sliders, and everything else.
If you are a beginner, the drag and drop visual editor will let you create, edit, and customize the widget effortlessly.
Parallax Effects
Make engaging and interactive pages on your website with a classy parallax effect. You can apply Parallax effects on your landing page, sales page, long-form content, and even on the homepage too.
Apply any of our Parallax effects on your Elementor sites to mesmerize your visitors and stand out from the crowds.
Elementor Sticky Content
Sticky Content module of ElementsKit helps you keep a certain section of a webpage stuck or fixed while you are scrolling up or down.
You can easily make your content sticky on the top or bottom of the page and enter the content from any position.
You can also set Sticky Until, Sticky Offset, select the device, and change the background color With a range of customization options.
One Page Scroll
One Page Scroll lets your visitors experience the mobile app scrolling feeling on your web page.
Make navigation easier and enjoy smooth scrolling. Choose 15+ styles from ElementsKit.
You will get full liberty to set the color, navigation position, styles, and others more.
Facebook Messenger
You can integrate your Facebook Messenger with this module on your website so that your target customers can reach you via Messenger directly from your WordPress site.
A happy customer is definitely an asset. This integration will connect you and your potential customers almost instantly which helps to increase the conversion rate.
Cross-Domain Copy Paste
As suggested by the name, You can copy different elements from one domain and paste into another domain with ElementsKit Cross-Domain Copy Paste.
Copy widgets, sections, forms, columns, etc effortlessly from an Elementor site and then paste those on another Elementor build website.
The best thing is you don't need more than a few seconds to get your work done.
Conditional Content
Control the visibility of different contents or elements by using different conditions such as login status, operating system, user role, browsers, date, day, and time.
You can set a condition on any section, column, and widget of your site to make those visible only to specific visitors who meet the required conditions you set.
Top-Most Features
Built with Elementor
Widget Builder
Mega Menu Builder
Vertical Mega Menu
45+ Pre-designed Header & Footer Templates
70+ Free and Premium elements
30+ Ready Pages
500+ Ready Sections
WooCommerce Widgets
One Page Scroll
Sticky Content
Parallax Effects
Cross-Domain Copy Paste
Multi Widgets area
RTL Support
Elementor Gallery Pack. Filterable, Masonry, Grid
Fully Responsive
Unlimited Activation
Expert Support Team
Let's Know the Elements!
Let's see the all 70+ free and premium widgets at a glance!
Content Elements
There are 18 elements in this bundle.
Accordion
Advanced Accordion
Blog
Recent Blog
Team member
Button
Dual Button
Testimonial
Header Info
Data Table
Tab
Table Press
Icon Box
Drop Cap
Header Search
Heading
Tab
FAQ
ElementsKit widgets are used to design visually stunning content. ElementsKit is packed with widget-libraries including multiple content elements with lots of functionalities.
You can display your key information in the nested accordions. Accordion widget features a countdown, gallery image, FAQ, fun facts, icon box, team, social feed, progress bar, Mailchimp subscription, etc. 
Moreover, you can show your teammates to the world elegantly and attractively with the team member widget.
Do you want your user to leave your site within seconds? No…Right? Increase more user-interaction by adding Testimonials which will attract users to your website.
Dynamic Elements
There are 11 elements in this bundle.
Post Grid
Post List
Post Tab
Page List
Timeline
Instagram Feed
Gallery
Woo-commerce Product Carousel
Woo-commerce Product List
Woo-commerce Category List
Woo-commerce Mini Cart
Find a better way to present your blogs to your visitors. Post Grid places multiple posts/blogs in a post grid. The purpose of this element is to let you organize and place your blogs/posts in one place.
Besides that, Post Timeline Widget is made to let you display the events and story in chronological order.
To bring variety and make the timeline content stand apart from the other contents of the webpage, you can employ background colors, line icons, hover effects, one-side content, and many other options.
Do you own a WooCommerce-powered online store? Don't worry!
ElementsKit includes Woo Product widgets that help you draw your customers' attention by arranging the products with our Woo Products List widget.
Unveil dozens of products from one page with different types of WooCommerce product carousels.
Make stunning categories of your choice to showcase your WooCommerce products to the buyers. Allow the customers to find their suitable products and add them to the cart with the Elementor Woo Cart Widget.
Creative Elements
There are 18 elements in this bundle.
Countdown
Offcanvas
Progress bar
Image Comparison
Image Accordions
Advanced Chart
Nav Menu
Advanced Tab
Creative Button
Motion Text
Popup Modal
Vertical Menu
Google Map
Advanced Toggle
Video
Hotspot
Funfact
Lottie
The Countdown is a very handy element. Leverage the countdown timer widget of different styles to show the offer expiry date, new product release, new website launch, and any type of limited-time offers and events.
The countdown timer widget of ElementsKit lets you use any eye-catching countdown timer with easy customization opportunities.
On the other hand, the Hotspot Widget lets you highlight a specific part of your image by pointing that out. The visual appearance and the animation offered by this widget will drag the attention of the user.
Hotspot line style with image and button, Hotspot Dark Version Active Style, Hotspot hover style, Hotspot logo with active style are some of the variations you can choose from for your website.
In case you want to visualize the progress or growth of anything important, use our Progress Bar widget made for Elementor.
This progress bar widget lets you choose from nearly dozens of ready-made shapes, lines, colors, and dots to showcase stats in an eye-catching manner.
Marketing Elements
There are 6 elements in this bundle.
Call to Action
Trustpilot
Yelp
Business Hours
Client Logo
Call to action widget lets you call the visitors to take an action like purchasing your products or subscribe to the newsletters. Also, you can ask your visitors to buy your premium product.
ElementsKit has brought to you a wide range of call to action options with images, titles, subtitles, separators, buttons, icons, and colorful effects that you can easily customize for your WordPress websites.
Similarly, you can describe the value and features of your products or services with the pricing table widget. Customize the purchase buttons, price tags, headers, pricing figures, and other contents in the widget as per your requirement.
Form Styler Elements
There are 6 elements in this bundle:
MetForm
weForms
Contact Form 7
Caldera Forms
Ninja Forms
Wp Form
You can use any of the above-mentioned plugins to create a form.
Create simple but stunning contact forms in minutes adopting the drag & drop approach with Metform.
No matter whether you want to make a resume form, booking form, inquiry form, or any other types of forms you can imagine, the Metform widget will help you create them all with minimal effort.
Social Elements
There are 10 elements in this bundle.
Facebook Feed
Twitter Feed
Mailchimp
Pinterest Feed
Zoom
Dribble Feed
Behance Feed
Facebook Review
Social Media
Social Share
You can display your Facebook posts live on your website with the Facebook feed for Elementor.
When it comes to showing the feed, you are in full control to decide how your visitors will see them. Feed style masonry image post, grid-style image post, feed style post list, etc. are some of the styles you can try.
You won't get any widget library that includes social elements as much as ElementsKit.
Final Thoughts
ElementsKit lets you extend the functionality of one of the best page builder plugins- Elementor. With the richest widget-library, you will be most benefited using ElementsKit.
With the highest number of features and dozens of free and premium elements, it has quickly become the best choice for everyone!
Are you already using ElementsKit?
If so, share your experience with us.