Top 5+ Instagram Bio Generators to Try in 2023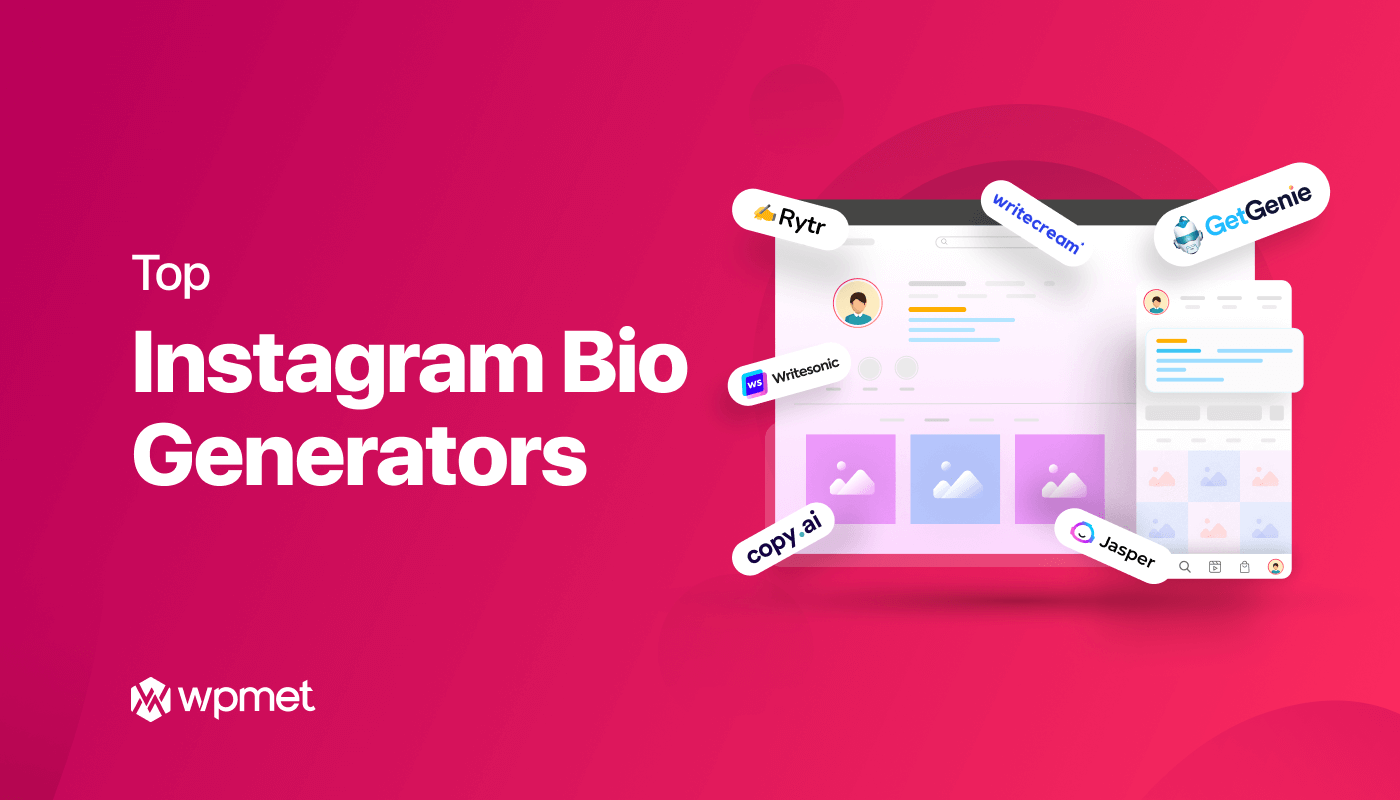 Instagram is one of the most hyped and used social media platforms. Influencers, marketers, businessmen, and people from other professions vastly use this platform to build a strong social presence. And, the thing that they focus on the most is writing an attractive Instagram Bio.
Instagram bio is a 150 characters short description added on the top of your profile that describes your profession, core interest, personality, and so on. After reading it, your visitors will decide whether to further interact with you or not. So, it needs to be short, engaging, and tempting.
However, coming up with a winning Instagram bio is not that easy. You need to think a lot. Besides, you need to spend a lot of time generating bios for Instagram. So, here we have listed down 5+ Instagram bio generators in 2023 that reduce the work of writing Instagram bios manually. Along with it, you will also learn about some excellent ideas to write converting Instagram bios.
Advantages of using attractive bio on Instagram
Instagram bios have remarkable importance in branding as it creates the very first impression on your visitors. And, we all know that the first impression is very long-lasting and creates the highest influence on your audience. Besides, visitors stay on your profile for a very short period merely a few seconds. So, you have to generate a bio for Instagram in such a way that it can grab visitors' interest within this short period.
Apart from these, showcasing an attractive Instagram bio also comes with other additional advantages that are hard to ignore. Here are the significances of using attractive bios on Instagram:
Through your Instagram bio, you will succeed to give a quick overview of your business or personal profile.
A winsome Instagram bio is also capable of holding your audiences on your profile.
It is tremendously helpful to boost brand outreach and engagement.
A strong brand personality can be built through Instagram bios.
It helps to establish your brand credibility.
Sales and revenue will increase as it helps you to boost outreach.
How to write a killer Instagram bio?
An Instagram bio is the very first thing that your customer will notice after entering your profile. So, you need to use the most out-of-box content as your Instagram bio. There are some must-include things that make Instagram bio more engaging and appealing. Do add the following things to create a killer Instagram bio:
Brand name: Including the brand name is the most important to create a killer bio. Because if your audiences don't know the proper name of your brand, they will never be able to reach you. Besides, it is the biggest mistake that you can ever make. So, add a proper brand name to your Instagram bio.
What problem you solve/ what you do: While writing a bio for your company, must include what problem you solve. And, for a personal Instagram bio, mention what you do.
Use emojis: Emojis can convert your boring bio into an interesting one. As they are easy to understand and add emotions to your content. That's why you should add appropriate emojis to your bio.
Call-to-action: Adding a CTA button is also necessary as it helps your audience to redirect your website or any important page that adds value.
Showcase some achievements: Another powerful tip to make your bio more credible is attaching renowned certifications to your Instagram. This not only adds authenticity to your brand but also helps your visitors to trust your business.
Best Instagram bio generators to boost engagement
Writing Instagram bios is time-consuming as you need to write them keeping various things in mind by using minimum words. So, your word selection needs to be very specific that gives a quick overview of your company and personal profile.
Here an Instagram bio generator can assist a lot to create bios just like you want. Thus, it is wise to generate bios with the available online Instagram bio generators. However, since there are many which make it difficult to choose one, here we are listing down the top 5+ Best Online Ai Instagram bio Generators for 2023.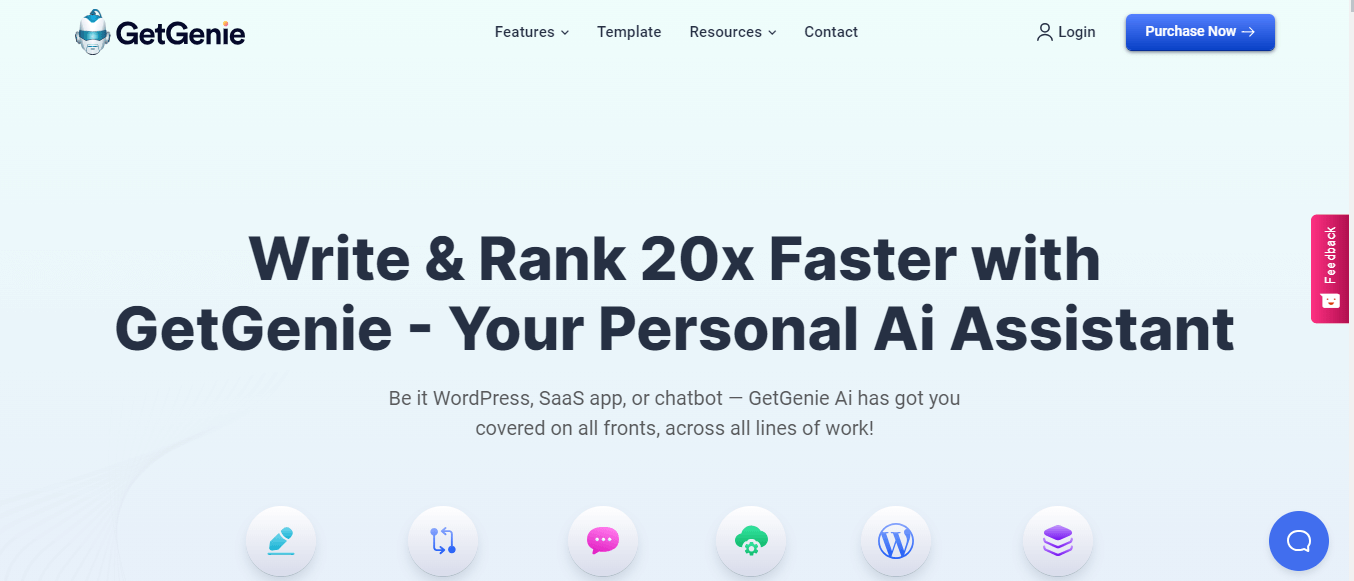 It is one of the most advanced Ai writing assistants that has a dedicated Instagram bio template for crafting wonderful Instagram bios. This Instagram bio generator can write 20 times faster and generate excellent bios that align perfectly with your brand or personal profile.
Thanks to this bio generator, you can now generate an Instagram bio in 33+ languages in both WordPress and SaaS interfaces. Moreover, GetGenie also allows you to adjust the creativity level and results while generating bios through it. Therefore, you can save your word limit and optimize the quality of your bios. Furthermore, it comes with a free version that allows you to generate 2500 words for free. A browser extension is also available for this writing assistant. This makes it a leading and popular Instagram bio generator, available in the comfort of WordPress.

Jasper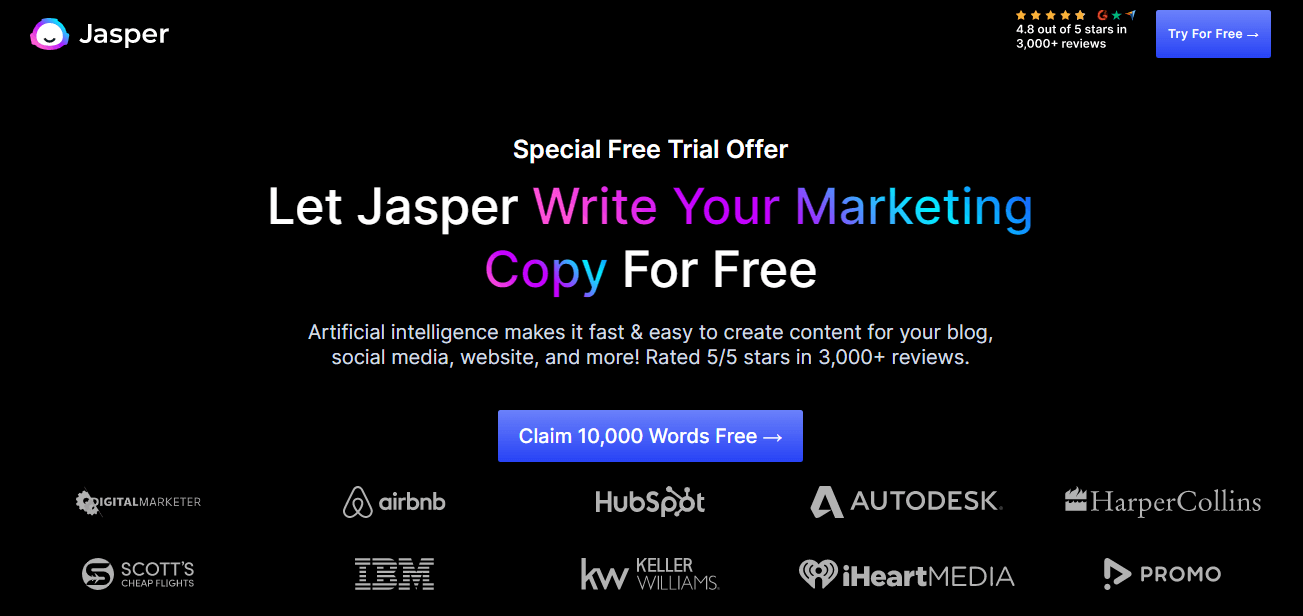 Jasper is a well-known AI writer that has 2 different templates to generate a bio for your Instagram. Whether you want to generate a personal or company bio, everything is possible with its personal and company bio templates.
Also, the generated bios with these Instagram bio templates will be highly engaging and help you to outreach more. Furthermore, this short and professional Instagram bio generator allows you to regenerate bios as many times as you want until you get the most suitable one. Again, this aesthetic Instagram bio maker comes with a Chrome extension that lets you generate bios for Instagram with its templates. You can not only generate an Instagram bio but also a bio for any social channel is possible with Jasper, an Ig bio generator.
Simplified: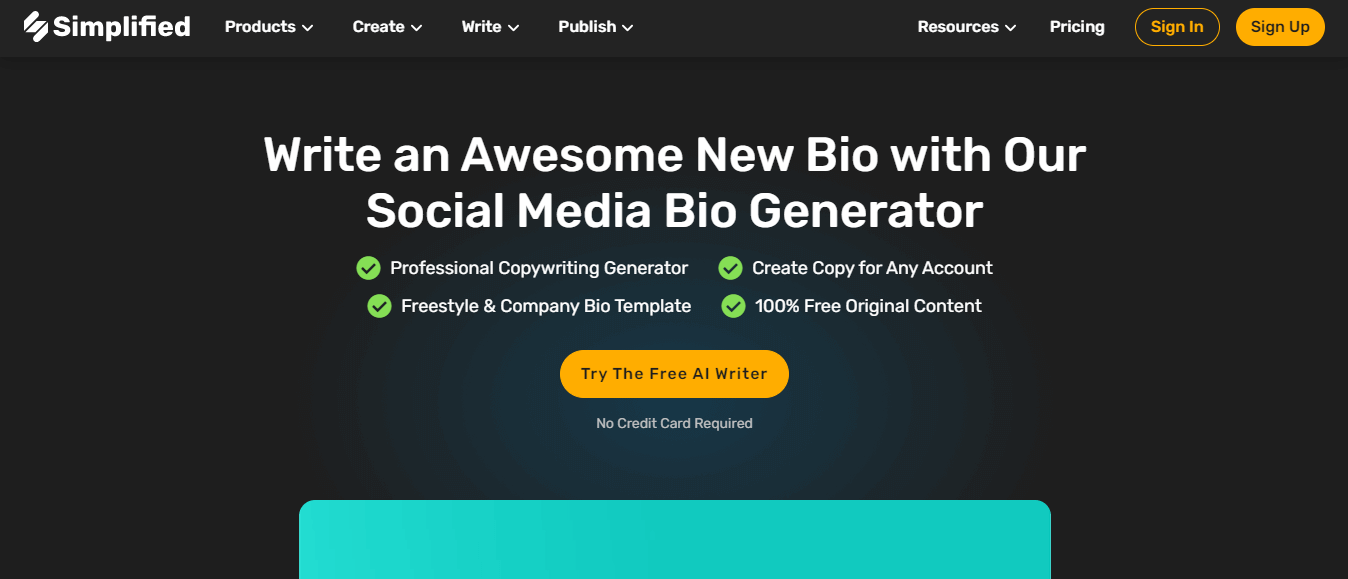 Simplified is the name of another Ai Instagram bio generator that offers you templates for writing your company bios. You will also get a freestyle template for generating Instagram bios. Besides, the generated bios for your company or personal profile will be 100% unique and optimized with relevant keywords, if you generate them using this Instagram bio maker.
Again, you can utilize and enjoy the custom fonts feature, if you are a user of the premium plans of this Ig bio generator. Therefore, it makes your social media bios more attractive and tempting.
Copy AI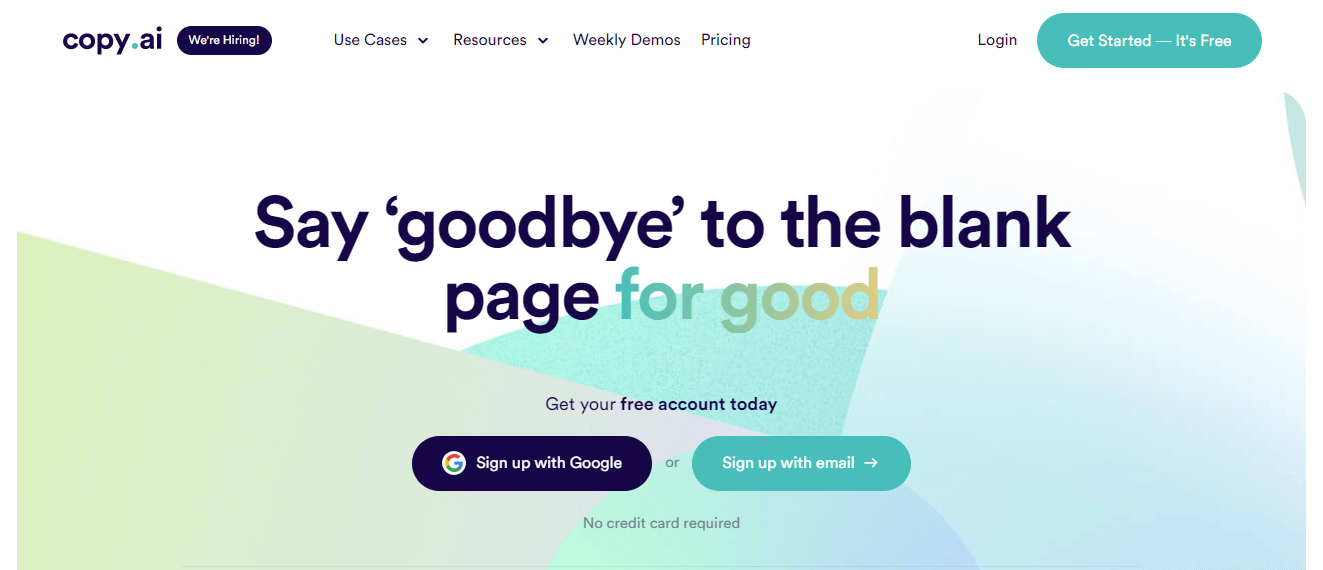 Are you looking for an Instagram bio creator to generate the most impactful bio for your profile? Then Copy AI can be an effective, short, and professional Ig bio generator tool that you can try out in 2023. Because it has a Social media bio generator template through which you can instantly generate bios for your social profiles.
The most exciting fact is this Instagram bio generator template is initially free to use. This means you will have the option to check the effectiveness of the about me generator before purchasing any of its plans. Apart from these, this aesthetic Instagram bio maker comes with different templates for faster content generation.
This Ig bio generator is not only popular for generating Instagram bios but also you can write any type of well-optimized content for your websites and marketing channels. Furthermore, this about me generator makes it possible to generate bios for Instagram or other social channels in 25+ popular languages.
Rytr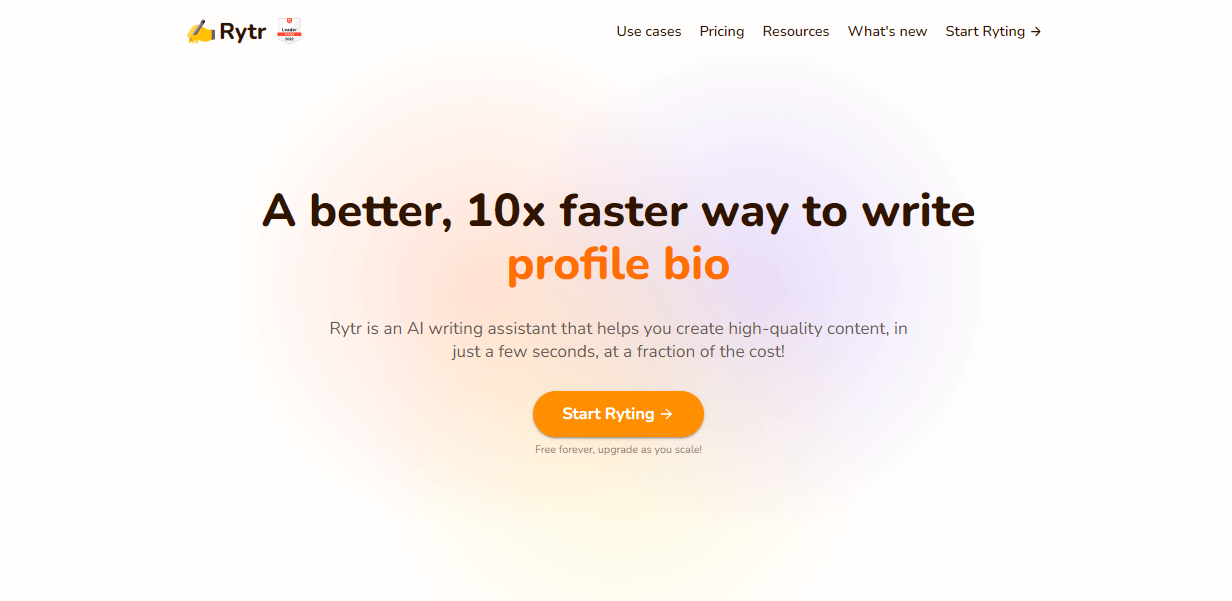 Rytr is another one of the best Instagram bio generators that are well-recognized for being a faster and quality AI content writer. It has a profile bio generator template along with 40+ use cases. Besides, this Instagram bio creator is well capable of providing content in the shortest time possible. All you need to do is insert the tone, use case, variants, creativity level, and a short description about yourself and your profile bio will be right in front of your eyes.
If you aren't satisfied with the generated bio, you can regenerate it as many times as you want with this Instagram bio maker. Moreover, this profile bio maker is appropriate for writing bios for any of your social profiles. And, the generated bios boost the engagement of your social channels.
Writecream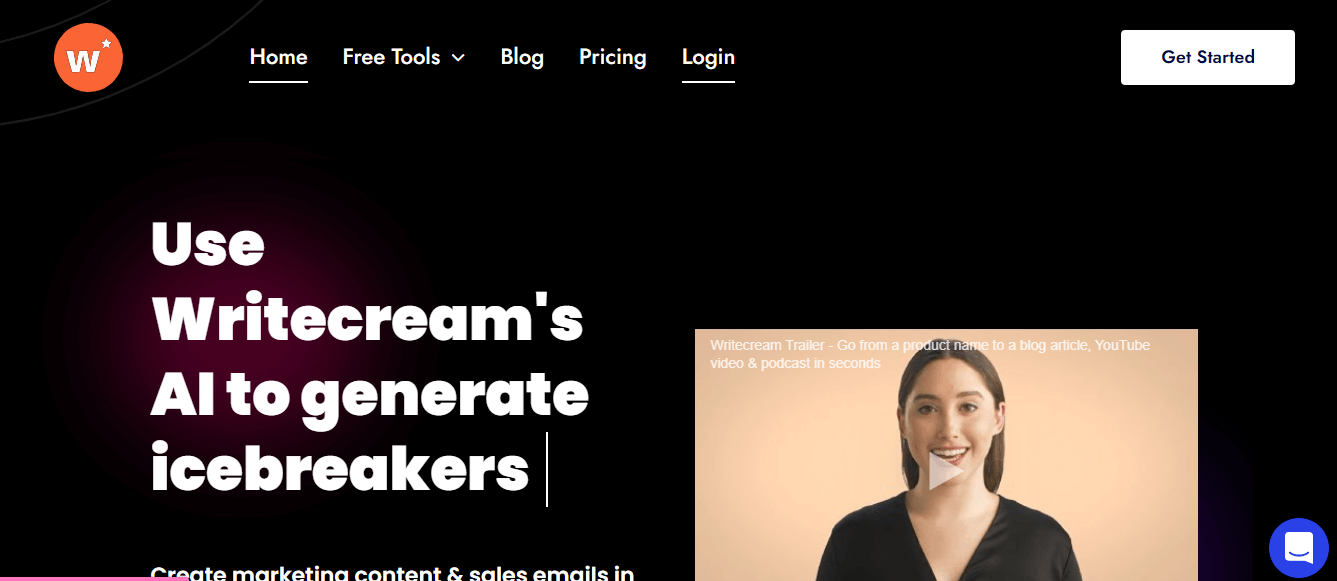 Writecream has a dedicated Ai Instagram bio generator through which you can generate enticing bios for your profile. The generated bios through this Instagram bio template will allow you to engage more with your visitors by holding them on your profile. Also, it convinces them to take a close look at your website, portfolio, and posts.
While generating content for your Instagram profile, you can utilize excellent fonts and emojis of it in your content. This makes your Instagram bio more appealing and encourages visitors to read and stay more on your profile. Furthermore, the IG bio generator is also good for writing bios for your company profile to multiply the engagement rate.
Some helpful blogs:
1. Best AI tools for competitor analysis.
2. Top Surfer SEO alternatives.
3. CloserCopy vs GetGenie AI: Which one is the best?
Examples of some attractive Instagram bios
There are numerous Instagram bio ideas online through which you get the basic knowledge about how to write yours. You don't need to master it. Just follow the bios of famous influencers, brands, and marketers to write your one. Here are examples of some tempting Instagram bios that you can follow:
Tony Robbins:

The bio of tonyrobbins clearly pictures his profession and skill sets by using appropriate emojis and words. He strategically added his expertise and core competencies without beating around the bush. Besides, Tony Robbins also added his latest podcast to drive his visitors to it.
Impact For Good: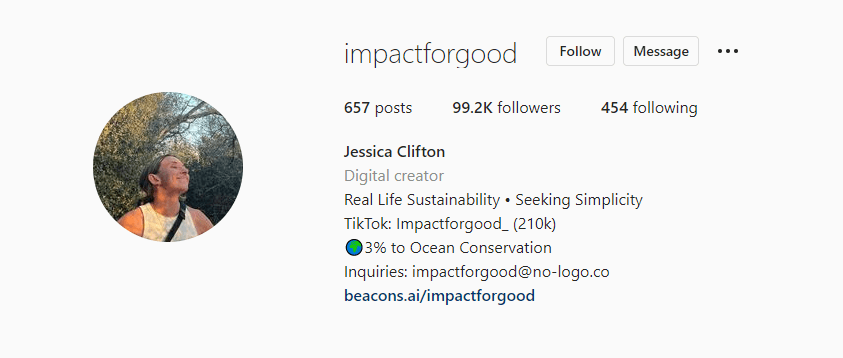 Jessica Clifton owns the Impact For Good account where she mentioned his interest, nature, and profession. She also has a TikTok account that she shared in her bio. Along with it, she welcomed queries
by adding an email address which makes it super easy to reach out.
Sara Blakely:

The bio of Sara Blakely portrays how simplicity can create a winning and catchy bio. She is the owner of the Spanx clothing brand that she added on her bio by using minimum words without compromising the attention. She also added what she loves to do and what not.
Looking for the best Instagram Caption Generators? Check now
Best Instagram Caption Generators for Influencers and Brands
Utilize AI to generate Instagram bios
Despite having multiple Instagram bio ideas online, most people struggle hard to come up with enticing Instagram bios to boost visitors' engagement. Therefore, having an alternative option has become very necessary which is an Instagram bio generator. Because this Ig bio generator will help you to generate the most suitable bio for Instagram or other social profiles.
We have already discussed the best five bio creators for your Instagram profile. Use the one you feel most appropriate. Besides, you can now write SEO-optimized and suitable content with Artificial Intelligence. One of the most perfect tools for it is GetGenie AI which can create the most out of box content in a few seconds. Also, you can create any content with Genie mode. Furthermore, you can claim free credits to try it out. So, make use of the best AI tool to generate content with GetGenie AI.