5 Best Surfer SEO Alternatives — Tools that Give Better Results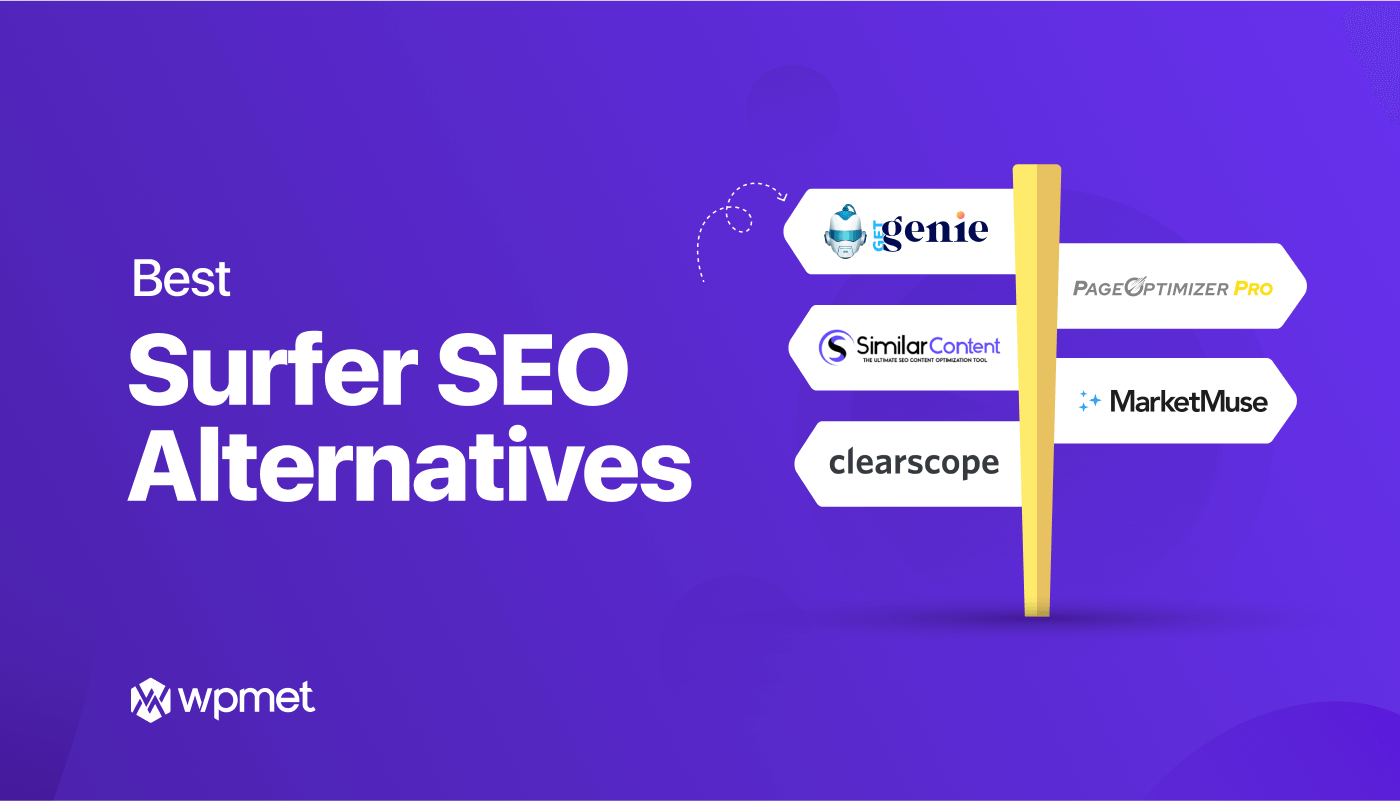 The best way to get organic traffic is by doing content marketing correctly. And content marketing becomes powerful when you are publishing search-engine-optimized content. The Surfer SEO tool was developed to make the process easier.
The problem is, Surfer SEO is too expensive and it has some feature gaps compared to similar tools. That's the reason you might consider Surfer SEO alternatives.
Currently, there are different tools like Surfer even with better features. The list is a bit long and sorting them based on features could be time-consuming.
What does Surfer SEO do?
While writing new content from scratch, Surfer SEO helps to build an outline for the content and suggests the keywords that should be used inside the content. This tool collects the competitor data from the SERP and suggests the content structure accordingly.
Once the user starts writing the content, the tool shows real-time SEO scores for the content. As a result, the chances of ranking better on the SERP increase. Besides content optimization, users can also plan the content based on the niche.
An overview of Surfer SEO
Surfer SEO tool has 5 different features for content that gives a detailed idea regarding its functionalities.
Content editor
With the content editor option, users can just insert a primary keyword, and then it will create a content editor field. Users will get all the relevant keywords on the content editor.
Audit
With the Audit option, users can insert a link to the published content and the target keyword and the tool will generate an audit result.
Content planner
In the content planner, there will be two options – domain and keyword. Users can plan the content based on the domain or based on keywords.
SERP analyzer
This option allows you to summarize the SERP data with a single click. It helps the user with the content planning.
Keyword research
As the name suggests, using this option, users can generate a list of keywords for content.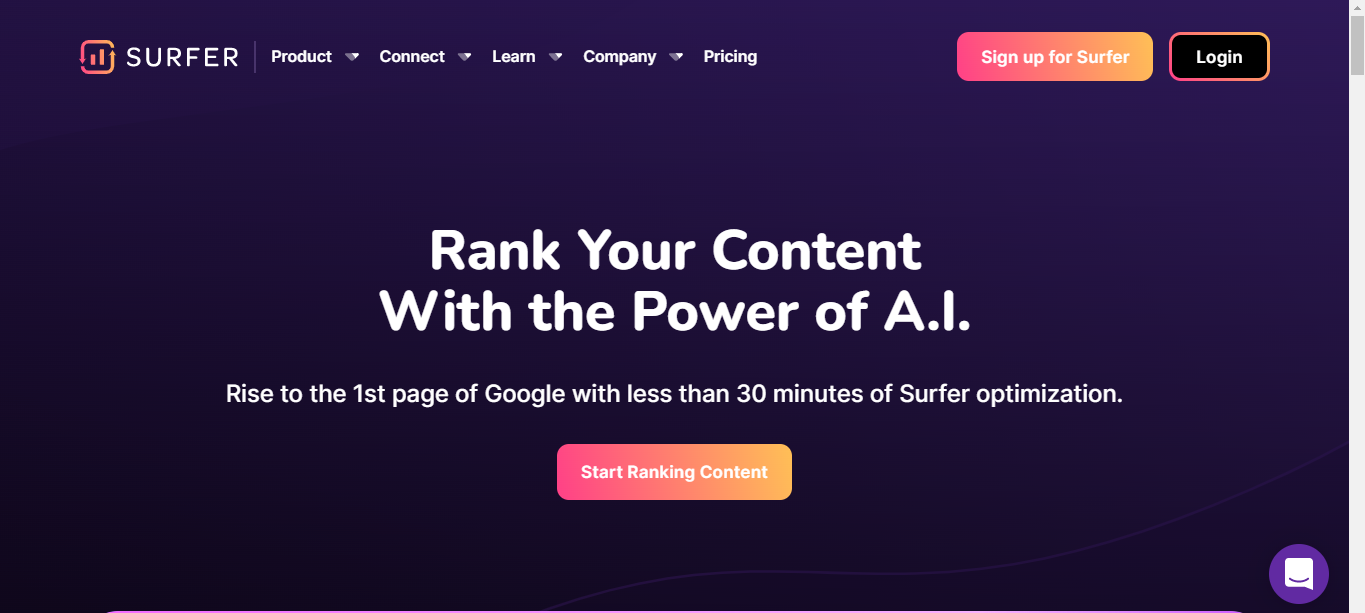 Advantages
Surfer SEO saves time for the user
Suggests all the relevant keywords in one place
No hassle in content planning
Multiple features to plan content publishing
Helps to rank better organically
Disadvantages
Surfer SEO doesn't have any content generation option
Limits the chance of ranking for multiple keywords
The pricing model is not affordable for all
Pricing: The basic package costs $9/month. And the price can go up to $199/month based on the features and package type.
Why do you need an alternative to Surfer SEO?
If you ever have used the Surfer SEO tool for content optimization, you know that there are some limitations.
No matter how much effort you put into the writing process, still, the content score could remain low. Moreover, it can provide contradictory suggestions for content optimization which often causes over-optimization. The pricing is not affordable as well compared to other tools like surfer SEO.
So, it is obvious that Surfer users look for better alternatives.
Why do you need an SEO tool?
In SEO, nothing is guaranteed and you never know what is going to work for you and what is not. Some SEO professionals like to check things manually. Currently, the competition on the SERP is too high, and getting organic traffic is pretty hard.
An SEO tool can help you to plan the content in a structured way. Also, tools save time that you can invest in more research on your niche. The purpose of using an SEO tool is not just to follow everything it is suggesting. Instead, tools help to get the data altogether for better analysis. It is about making life easier and getting more time to do something new to grow the business.
Best alternatives of Surfer SEO
After trying out different SEO tools, we finally have chosen the top 5 Surfer alternatives. Here we have compared them so that you can decide which one would be a perfect fit for you.
Comparison table for Surfer SEO alternatives
If you are in a hurry, check out the comparison table.
Key features
Competitor analysis in details
Shows real-time SEO score to write the content accordingly
Blog Outline builder to preset the goal of the content
Ready to use directly inside the WordPress content editor
Tons of ready templates to generate any kind of content with a few clicks
Suitable for anyone from beginner to advanced writers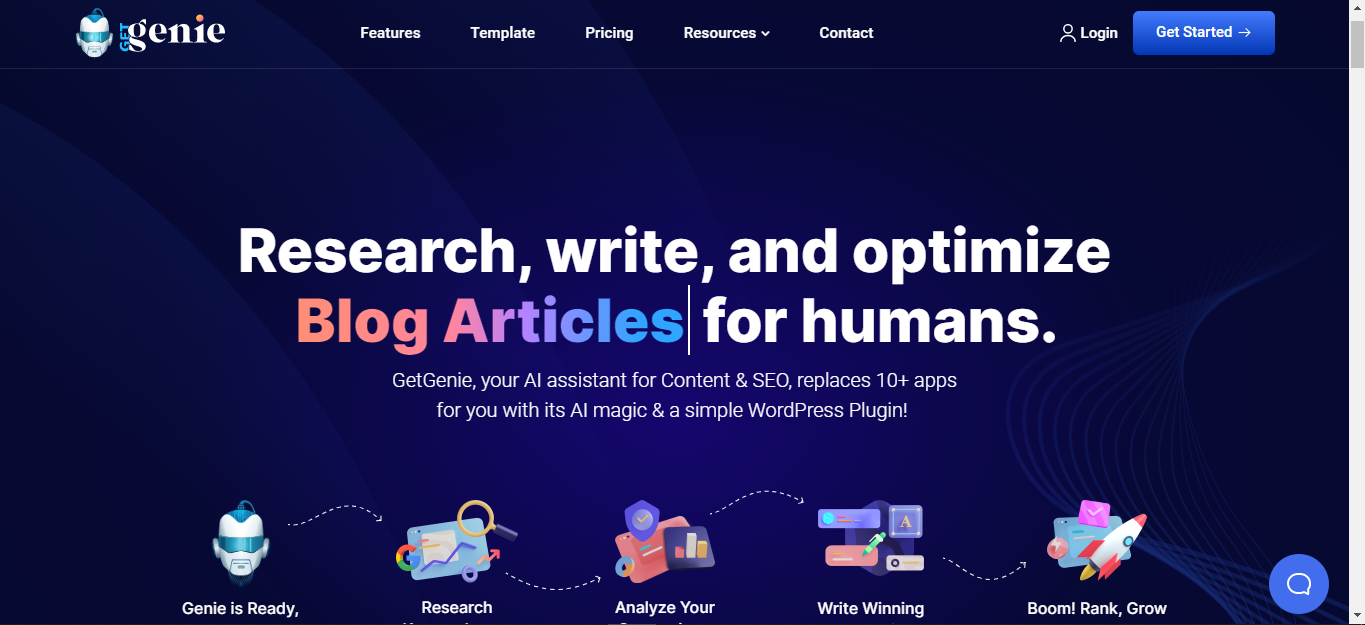 Compared to other SEO tools, GetGenie is relatively new. Now you might be wondering how it comes first on the list! Well, it is a combo of Ai writing assistant and SEO tools. So, with the same tool, you can create a content outline and generate the content. It will be the best writing assistant for you that understands what you need to do to rank better.
GetGenie uses the most advanced language model to process the content request. While writing the content with the help of this tool, it shows real-time scoring so that users can understand if everything is going well. It suggests all the keywords for which the content needs to optimize.
Besides generating keywords and analyzing data, you can write a converting blog post with the help of GetGenie AI. The interface of the tool is almost like Surfer SEO but with better output. Also, the pricing is pretty affordable.
Pros
FAQ generator to optimize for the featured snippet
SERP analyzer to build the content outline
Real-time on-page optimization
SEO score based on content quality
Content writing assistant
Cons
Needs proper context to generate better content
Doesn't have keyword filtering option
Pricing: Starts at only $19/month
Key features
Suggests a list of relevant keywords based on the topic
Real-time SEO score based on the content
Option to get content strategist with premium package
Competitors' SERP data to optimize the content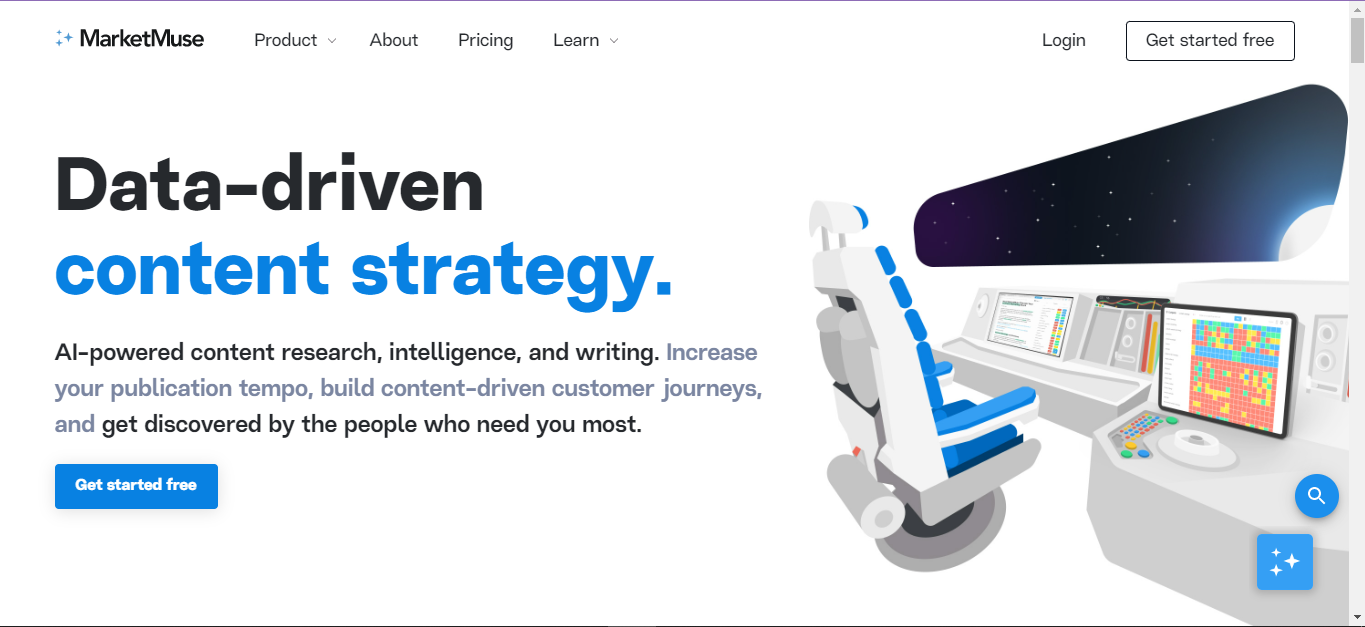 If you are looking for a free Surfer alternative, try the MarketMuse tool. Though the free subscription has some limitations, still you will get the option to explore all the features of the tool.
There is no option to use the tool inside the WordPress dashboard. So, you will have to log in to the plugin's dashboard and optimize the content. You can either write the content inside the tool's dashboard or you can copy and paste your content inside the dashboard.
If you are writing inside the tool's dashboard, it will be easy for you to track the keyword optimization. You will see all the relevant keywords and phrases that might increase the chance of ranking better.
Pros
Free option to explore the features
Suggests relevant keywords to optimize content
Option to optimize existing content
Shows average content score from the competitors' posts
Cons
Difficult to navigate to the features
Shows too many keywords which are hard to fulfill
Pricing: Starts at $7,200/yr
Key features
Suggests minimum score for the content
Users can preset the standards for the content before optimization
Allows to choose the target keywords and competitors precisely
Real-time SEO score based on the content structure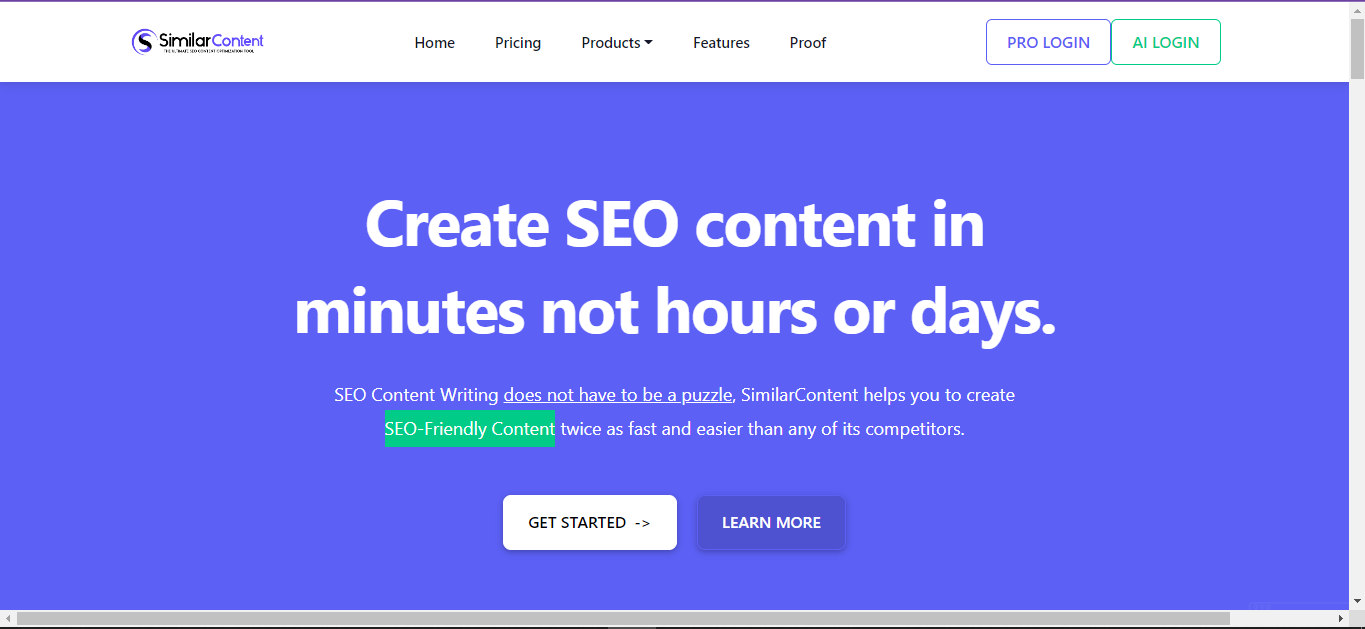 If you are looking for a Surfer SEO alternative that can help in writing content as well, you can give a try the SimilarContent tool. It uses GPT3 technology to provide search engine-optimized sentences for content.
The thing you are going to like most about this tool is its easy-to-understand dashboard. Once you are inside the dashboard, this tool will navigate you to all the features and steps. As a user, you won't have to find where to do what.
You can insert content, write, and optimize the content inside SimilarContent's dashboard. Most of the features of this tool look like GetGenie AI. However, if you consider data accuracy, GetGenie AI provides better results.
It suggests LSI keywords increase the chances of ranking for a group of keywords.
Pros
The AI-powered content generation tool
Ready to use SEO sentences inside content
Natural language processing model for better output
Suggests a bunch of potential LSI keywords
Cons
Hard to write a long-form content
Pricing: Starts at $69 for 100 credits
Key features
Compatible with any language and alphabet
Supports integrating Schema structure for content
LSI terms and keyword variation for better optimization
Easy-to-understand dashboard developed by SEO professional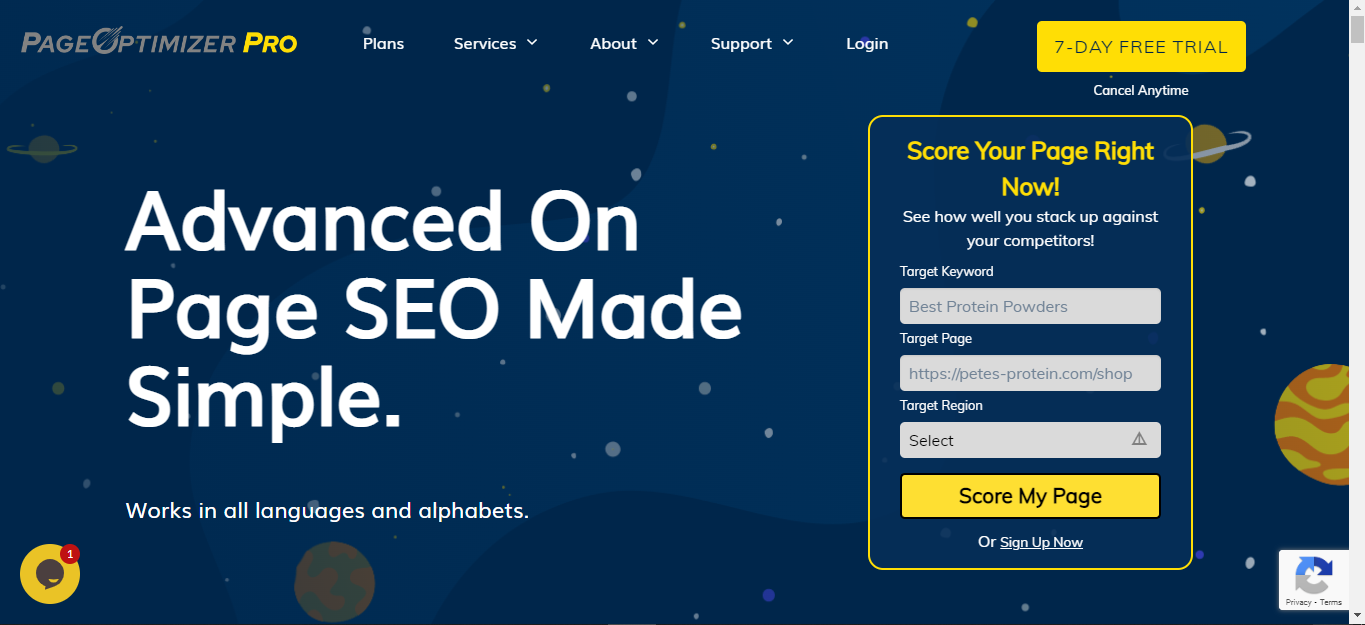 Though the features of PageOptimize Pro are not similar to Surfer SEO, still you can get better results with this tool. This tool is developed by a professional SEO expert, so you can expect to have better results compared to others.
As the name suggests, users can edit any kind of web page with the help of this tool. Whether you are a marketer, copywriter, or SEO professional, this tool helps to get more results.
PageOptimizer Pro is the best Surfer Alternative if you want to optimize the existing content. You can just add the domain URL in the dashboard and it will generate a detailed report for the domain.
In the next step, you can optimize the pages by using the keywords and the other suggestions that the tool has given.
Pros
Suggests crucial page edits
Easy to optimize existing content
Allows to target particular GEO region
Suggests the H tags improve overall page score
Cons
Doesn't have a content generation option
Not the best one for beginners
Pricing: Starts at $44/month
Key features
Generates report for a batch of keywords at once
Content optimization dashboard to improve content while writing
AI-powered content brief and outline builder to speed up the process
Integrates with Google doc users' convenience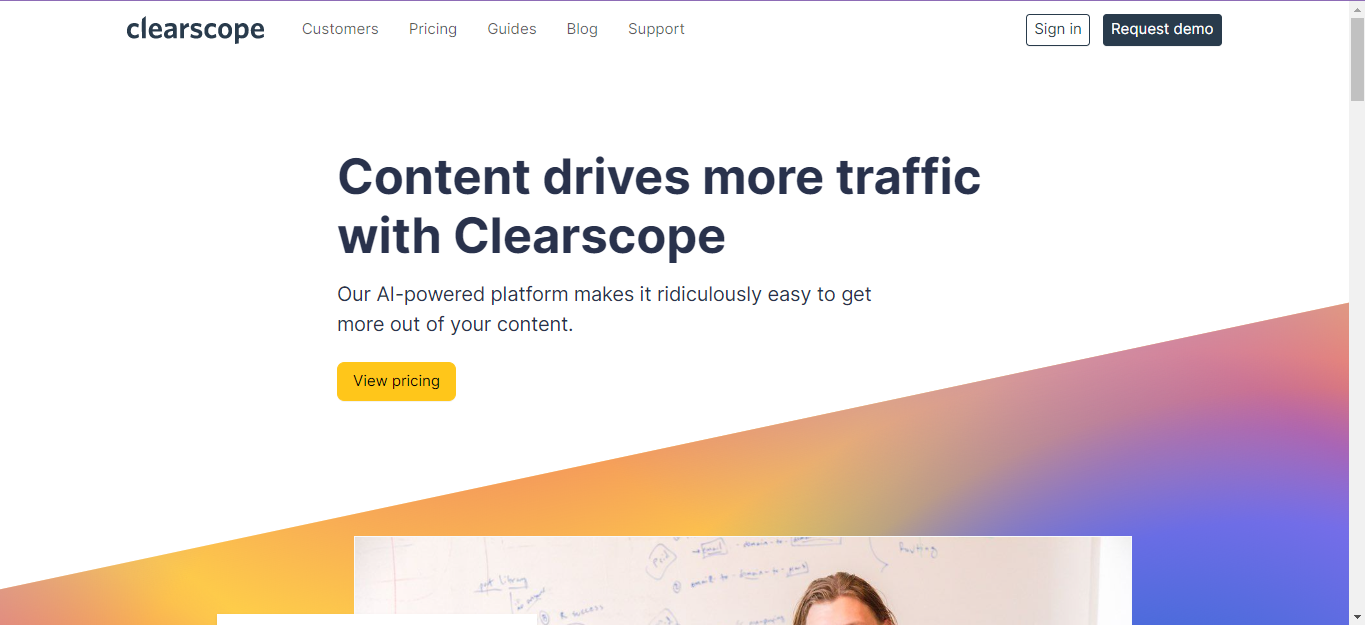 If you have a high budget for the best Surfer SEO alternative, try out the Clearscope.io tool. It comes with a variety of features that allows its users to analyze keywords and write content based on the report. Inside the tool's dashboard, all the features are arranged prosperity to make it easy to use.
While just starting to write the content, you can check the competitors' posts and analyze their outlines. Once the analysis is done, you can create your content brief and outline with the Clearscope tool. This feature helps to ensure that you are not missing anything that your competitors have covered in their content.
This tool is promised to give the best advice to optimize the content to rank better. However, you might have to edit the content manually as sometimes there could be some information gaps. Also, you can't rely 100% on the tool for content generation.
Pros
Supports Google docs integration
Outline and content brief builder
Shows untapped keywords
Resources to learn the use of the tool
Cons
No scoring system for the content
Pricing: Starts at $170/month
Which Surfer SEO alternative do we recommend?
After checking out the features of tools like surfer SEO, you might be wondering which one would be the best.
We highly recommend the GetGenie SEO tool as the Surfer alternative. Why? You will enjoy almost all the features same as the Surfer SEO along with some additional features. And the best part is, GetGenie AI offers a writing assistant with advanced AI-powered SEO features.
So, what can you do with the GetGenie AI writing assistant? You can write any kind of content super fast with the help of GetGenie. And while writing the content, you can optimize it for the search engines with the help of SEO features. There won't be a need of visiting multiple platforms for a single task. Just log in to your WordPress dashboard and write, optimize, and publish the content.
Frequently asked questions
Do you have more queries regarding surfer SEO alternatives? Then follow the following questions and answers.
How do I use SEO tools?
Before you start using any SEO tool for content optimization, set your goal. Try to come up with some unique ideas for yourself and start using the tools. Tools usually show the data regarding a topic and you don't have to follow them exactly. Make decisions based on your expertise.
Should I trust SEO tools?
If you are using any advanced SEO tools, you can trust them. For instance, so many people are getting benefits from the features.
Are SEO tools beginner friendly?
Most SEO tools are not very beginner friendly. But some of them are super easy to use and anyone with minimal knowledge can use them. GetGenie AI is an advanced AI-powered tool that helps both beginners and advanced users.
How much does it cost to use SEO tools?
It depends on the features and the functionalities and which tool you are using. Most SEO tools come with a monthly payment system and it might cost you from $30/per month to $500/per month based on different variables.
Wrap up
Finally, you have the best Surfer SEO alternatives. It is time to optimize all your content and get better results. If you want to speed up the whole process, there is no alternative to GetGenie AI. With GetGenie AI, you get the ultimate solution for publishing content in WordPress. Regardless of your industry, it will save you time and effort.