How to Limit Form Entries in WordPress (3 Easy Steps)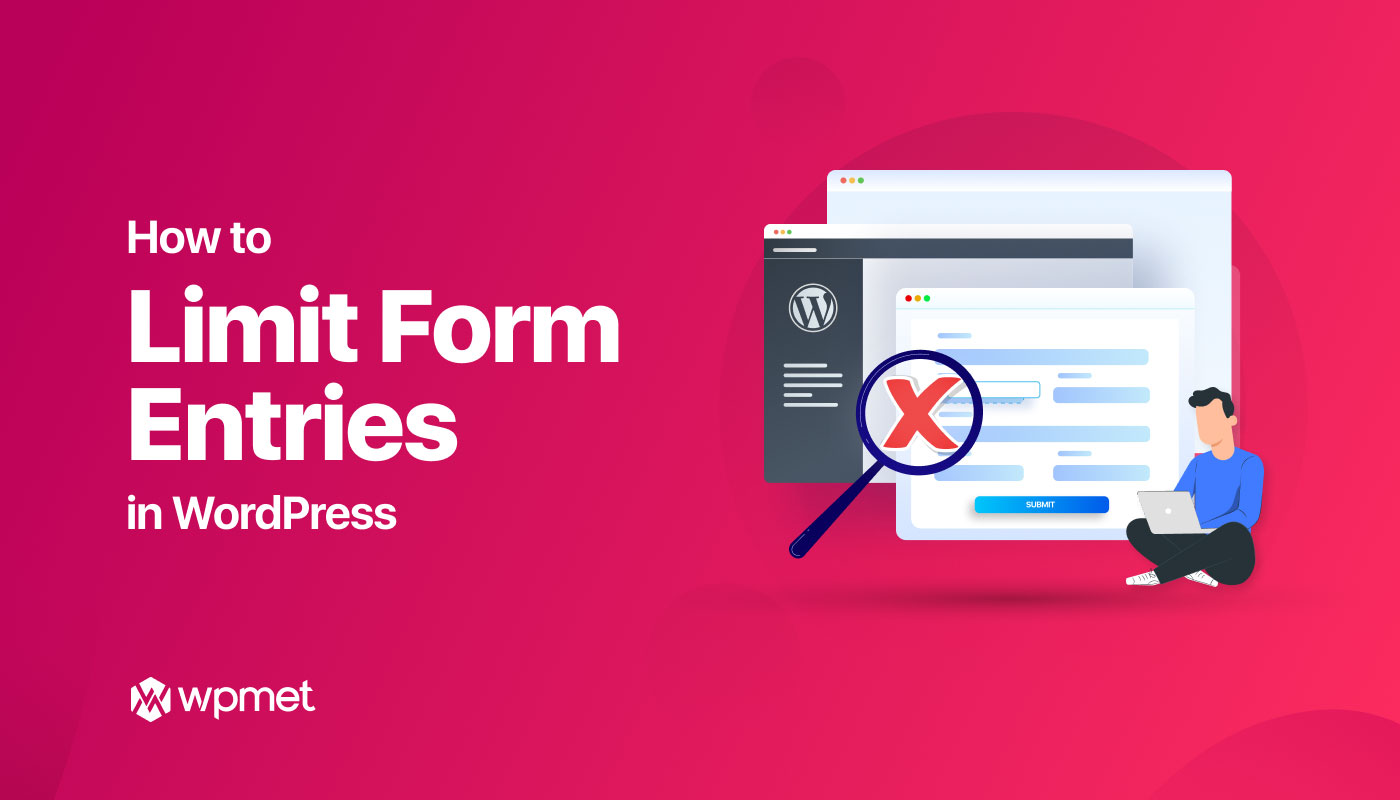 How to effectively manage form entries in WordPress and keep the data integrity? One way is to limit form entries in WordPress.
Managing form entries might not be the first thing that comes to mind when setting up a WordPress website. But it's a crucial aspect that can significantly impact your site's functionality, user experience, and data integrity. You can gather and manage valuable information about your users using online forms including registrations, feedback, or orders. Properly managing these entries ensures that you can effectively utilize the data you collect and maintain a smooth interaction between your users and your website.
But is there an easy way to limit form entries in WordPress? Well, if you are using the MetForm Elementor form builder, the process is easy for you.
In this guide, we will show a thorough overview of restricting form submissions in WordPress with the MetForm. Let's dive in and learn how to effectively manage and limit form entries in WordPress!
Why is limiting form entries crucial?
Limiting form entries strikes a balance between collecting valuable information and mitigating potential risks associated with excessive or malicious submissions. It's crucial to maintaining data quality, preventing spam, ensuring fairness, protecting resources and user experience, and managing resources efficiently.
👉 Preventing spam
One of the primary reasons for limiting form entries is to contain spam. Without limitations, malicious actors can use automated bots to flood forms with spam or fake submissions. This can overwhelm systems, waste resources, and degrade the user experience.
For example, if you are running an Active Campaign on your website, the spammers can totally throw a wrench in the campaign with all their spam submissions.
Limiting entries helps to mitigate this risk. By imposing entry limits, you can prevent spammers from flooding your system, helping maintain the quality and integrity of the data you collect.
👉 Managing event resources efficiently
Many events have a finite capacity. For such kind of event registration forms, limiting form entries is essential. Limiting entries ensures that you don't exceed the maximum capacity or disappoint users with miss management.
Besides, submission entries are stored in the system and processed for further action. So, forms often require processing and storage resources. To make sure the submissions don't exceed the capacity, you need to limit the entries as well.
👉 Maintaining data quality
Excessive or duplicate submissions can skew the results and make it difficult to analyze and act upon the information gathered. For instance, if you are creating a survey form, you obviously want to get precise and accurate data from the survey.
By setting entry limits, you encourage users to submit relevant and accurate information. This can improve the overall quality of the data you collect, making it easier to analyze and act upon.
👉 Focus analysis and reporting
When analyzing form submissions, having a manageable number of entries makes it easier to identify trends, patterns, and insights, which can inform decision-making processes.
By limiting entries, organizations can focus their analysis on key metrics and variables of interest. This selective approach allows for a more in-depth exploration of specific aspects, leading to more valuable insights.
When is limiting form entry useful?
Limiting form entries can be effective for many scenarios. So, when you should impose the form entries limitation depends on the specific situation. However, there are some common circumstances when limiting form entries can prove useful. They are:
🔷 Event Registrations with limited seats
🔷 Appointments scheduling
🔷 Contests and giveaways
🔷 Membership / volunteer applications
🔷 Interactive quizzes and assessments
How to limit form entries in WordPress: Step-by-step process
Now in this guide, we'll delve into details of how you can limit form entries in WordPress using an advanced Elementor form, i.e. MetForm.
MetForm is an Elementor contact form builder for WordPress. Integrated with Elementor's drag-and-drop builder, MetForm provides the flexibility with the most number of options to build highly functional forms in minutes.
Here is how to limit form entries in WordPress with MetForm which helps you manage form entries easily and precisely.
✅ Step-1: Install MetForm
The first step is installing MetForm into your WordPress. To install MetForm free version: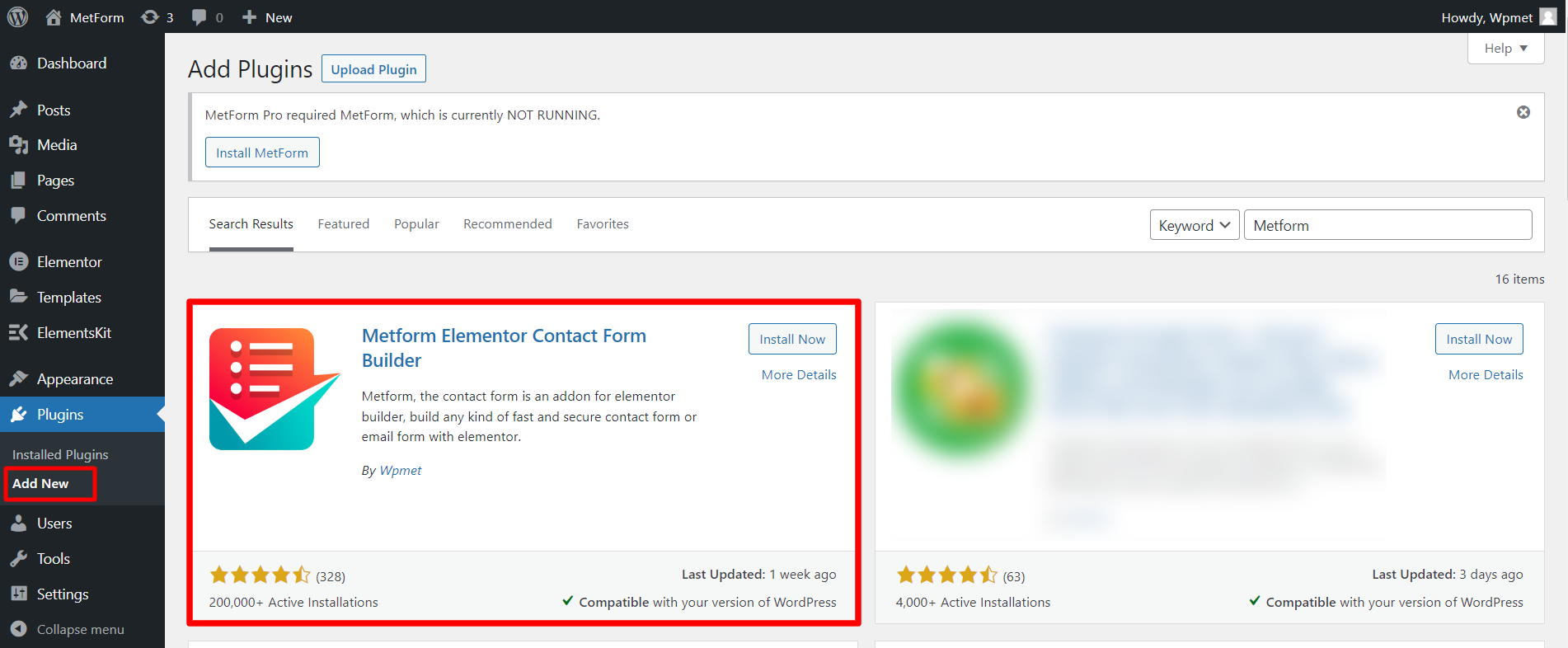 Navigate to Plugins > Add New from your WordPress dashboard.
Search for the MetForm plugin.
Install the MetForm plugin.
After installation, Activate the plugin.
You can also download the MetForm plugin and upload it to install the on your WordPress site.
✅ Step-2: Create a form using Elementor and MetForm
In the next step, you need to create a form in Elementor using MetForm. To create a form with MetForm:
Navigate to WordPress dashboard > MetForm > Add New.
In the popup, enter a form name.
Select the form type.
Choose a pre-made template or you can build one from scratch.
Finally, the Edit Form button to customize the form further.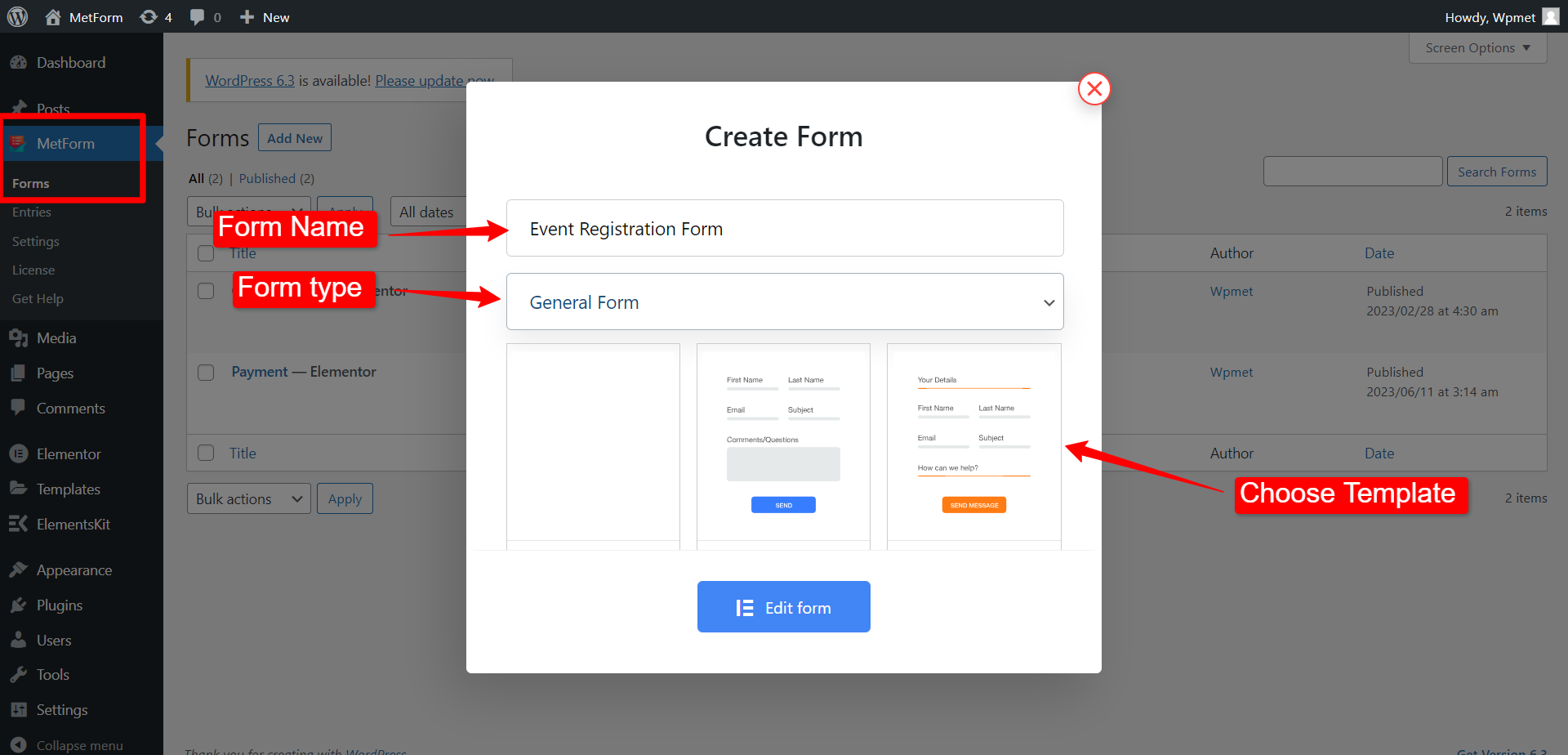 ✅ Step-3: Limit Elementor form entries in MetForm settings
The next step is to limit form entries in WordPress form, made with MetForm.
Continuing from Step-2, when you click the Edit Form button, a form editing interface will open on your screen. In the interface, click on the Form Settings.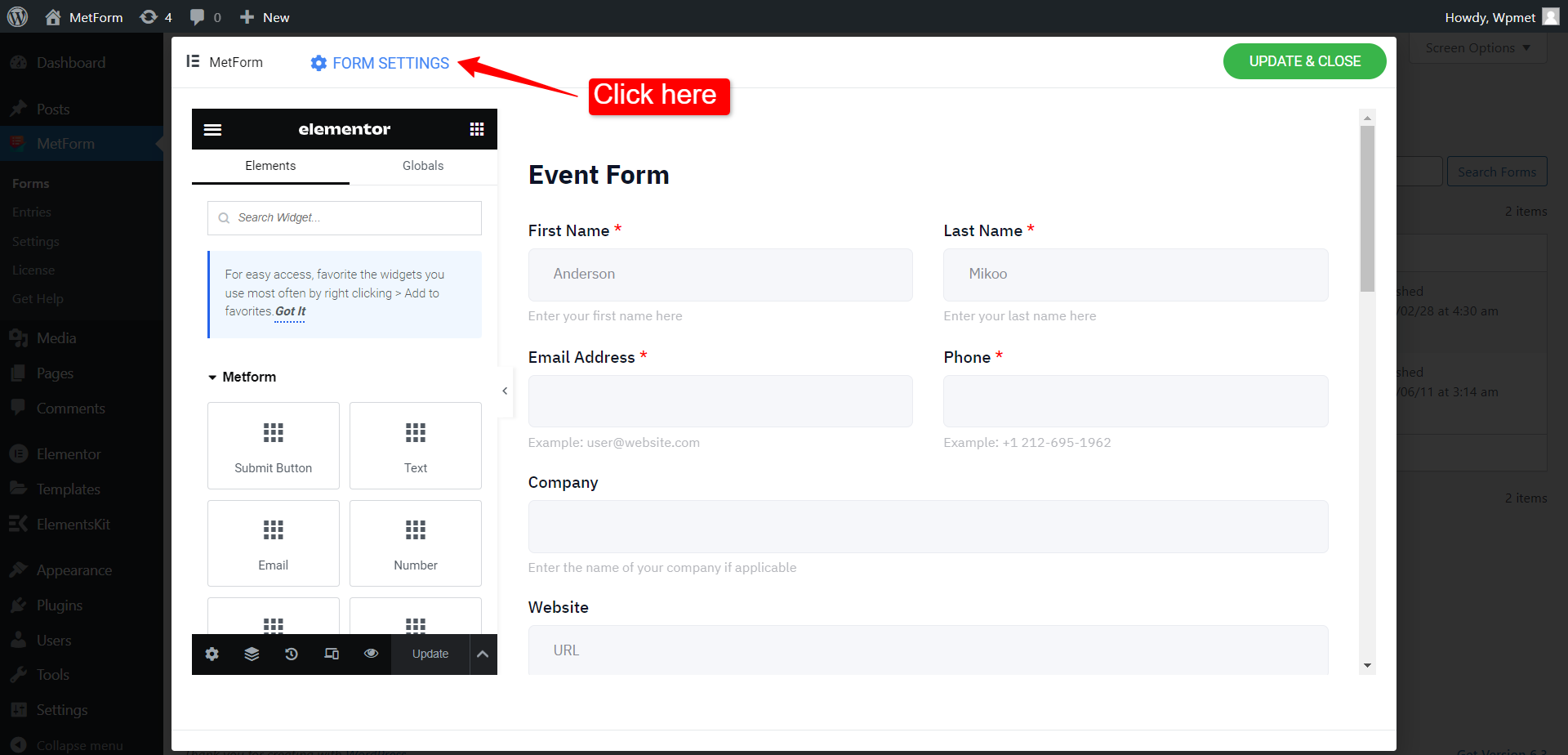 In the form settings, you can limit the total number of form submissions. For that,
Scroll down in the General tab and you will find the Limit Total Entries option.
Enable the Limit Total Entries option to limit the total number of submissions for this form.
Then enter the number of submissions you are going to allow for the form.
Finally, click on the SAVE CHANGES button.
For example, the number of volunteers involved in an event is obviously limited. So, while creating a volunteer application form, you can set the number of volunteers you will need for the event.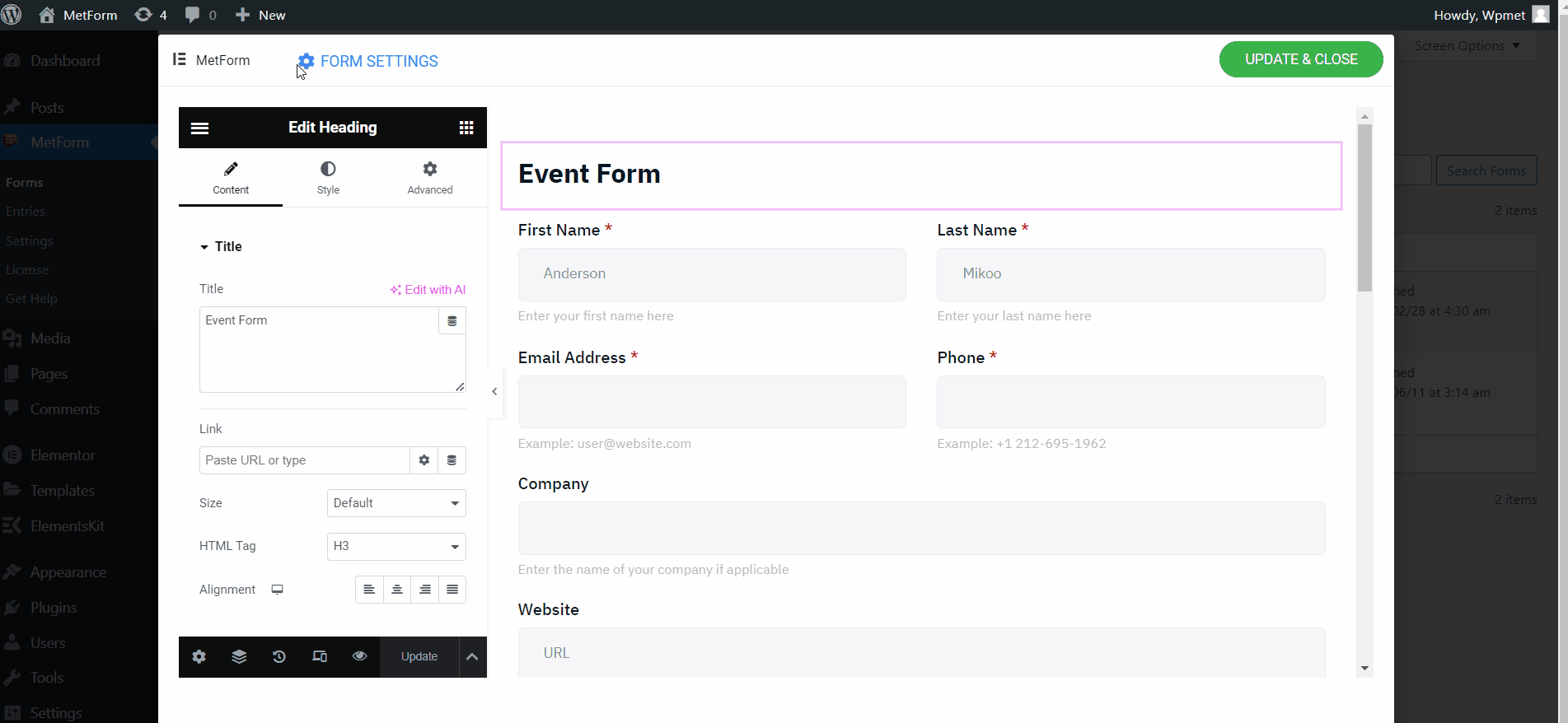 Besides, you can prevent multiple submissions from one person. To enable this option go to Form Settings > General and you will find "Hide Form After Submission". When you enable this option, the form will automatically disappear on the form submission.
You can also make the login option mandatory by enabling the "Required Login" option. This can help to get more authentic data on the form submission.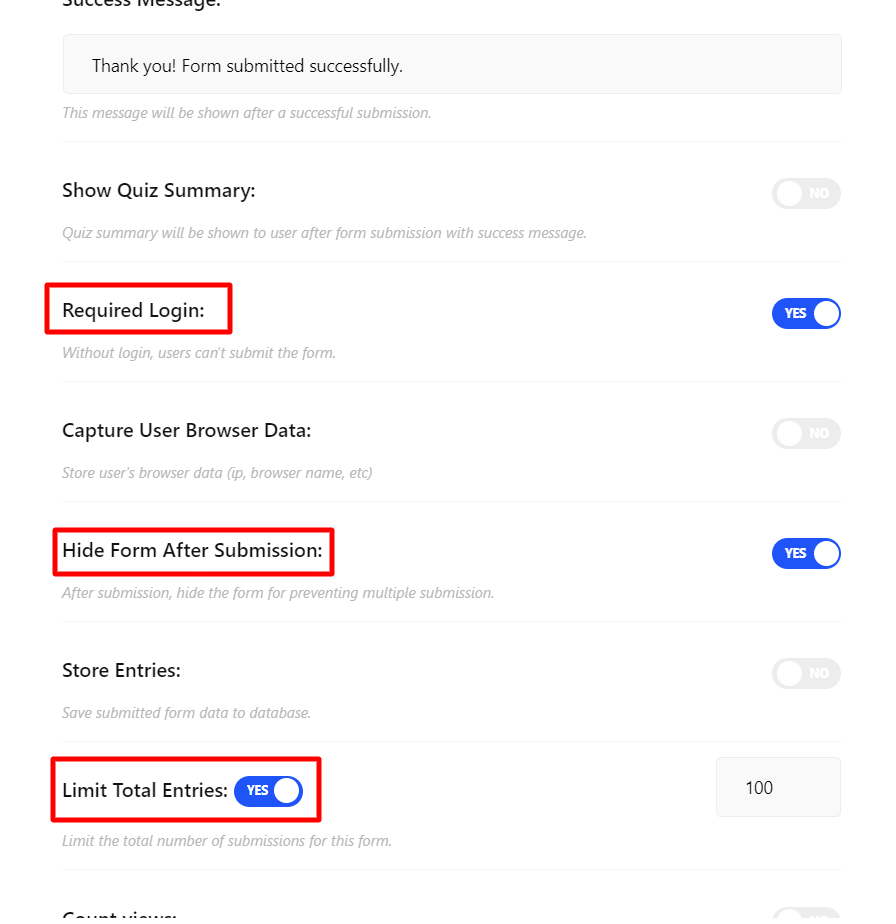 To use advanced MetForm functionalities like templates and advanced integrations, you can consider upgrading to the MetForm Pro version.
To conclude
The practice of limiting form entries emerges as a crucial technique to protect your platform from spam, optimize resource utilization, and maintain the integrity of collected data.
We have discussed a detailed process to limit form entries in WordPress so that you can enhance the effectiveness of your forms in different situations. Our step-by-step guide using the MetForm plugin helps you to implement this practice seamlessly within the Elementor framework.