Kadence vs GeneratePress vs Astra: Which Theme Reigns Supreme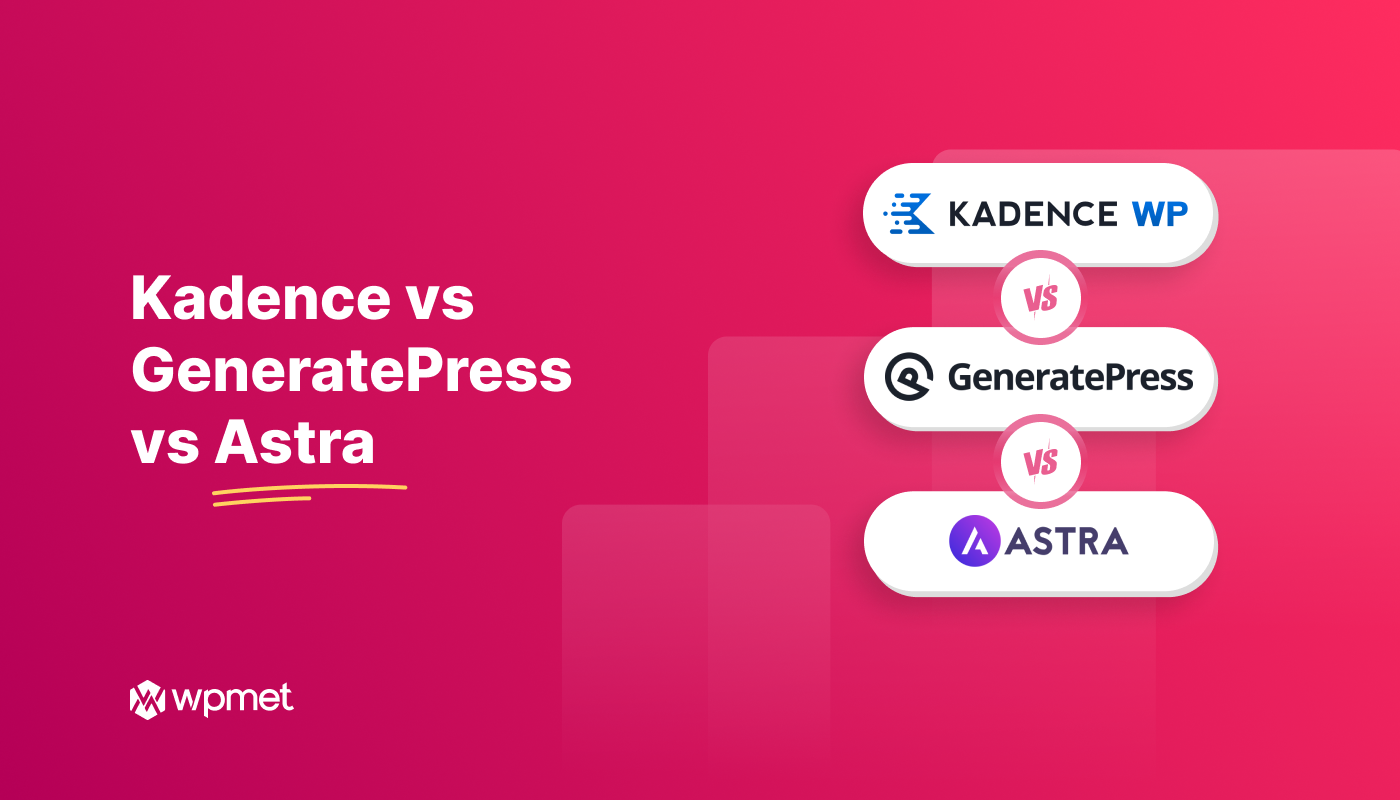 When you embark on the exciting journey of creating a website, you should be meticulous in your decision-making. One of the most crucial decisions you'll make is selecting the perfect WordPress theme.
With plenty of options at your fingertips, making this choice might seem like an overwhelming task. That's where we come in to unravel the mystery of Kadence, GeneratePress, and Astra—three formidable contenders in the world of WordPress themes.
Top 3 WordPress Themes
Now, we'll examine the themes in our comparison. Each of these is a widely recognized WordPress theme with a substantial user base.
Kadence: Features, Pros, and Cons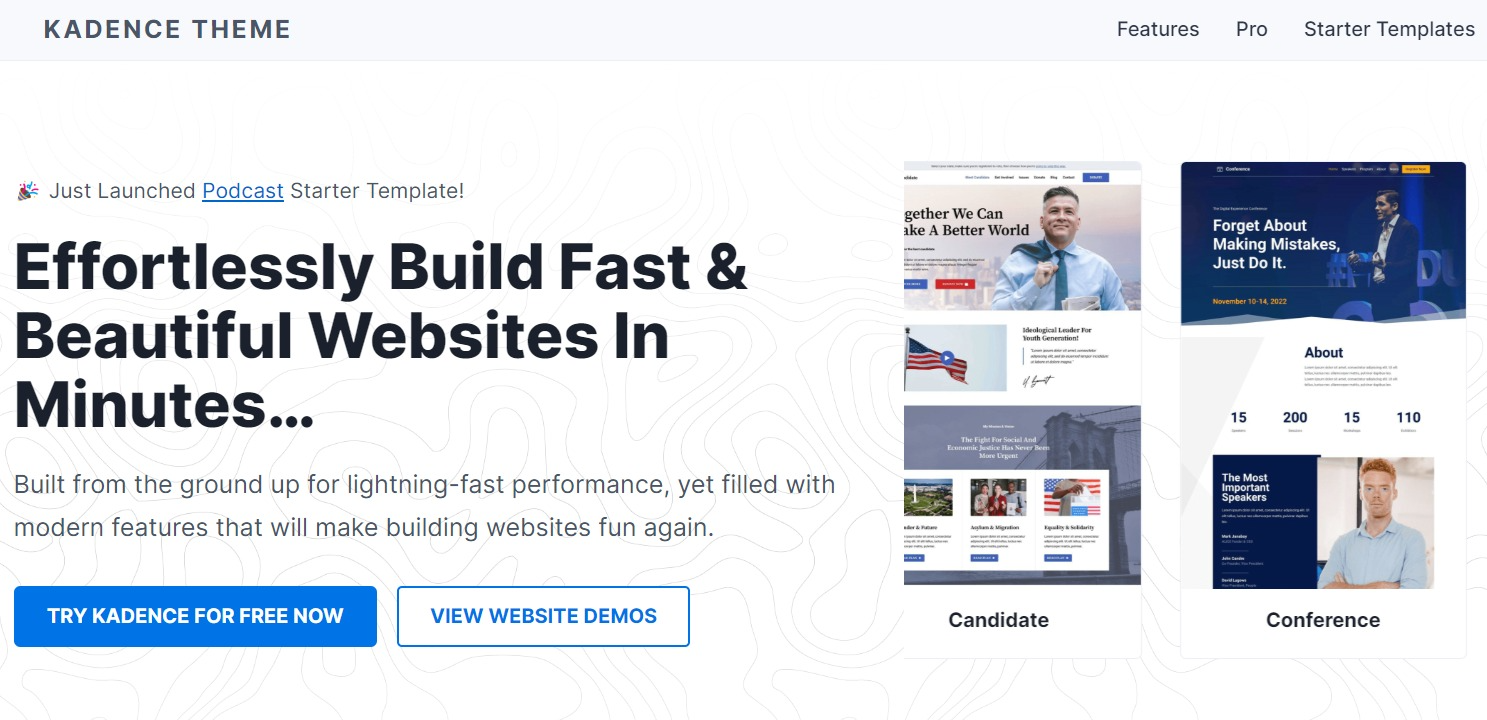 Kadence Theme is a versatile and robust WordPress theme. It has firmly established itself as a powerful tool for website design and customization. This exceptional plugin offers an array of features and benefits that make it a standout choice.
Kadence helps you create visually stunning and high-performing websites. Thanks to its lightweight code that prioritizes speed and performance. It ensures that your site loads swiftly, reducing bounce rates and enhancing user engagement.
Additionally, Kadence is dedicated to guaranteeing its accessibility to a diverse range of users. It allows you to transform your website into a unique masterpiece adhering to modern web standards.
Features:
Designed for speed and performance. It makes sure that your website loads quickly and offers a great user experience.
Full control over your website's layout. Kadence's flexible and customizable options include header and footer builders.
Integrates with the WordPress block editor (Gutenberg) for beautiful and responsive content.
This theme is WooCommerce-ready, allowing you to create and customize your online store with ease.
Follows best practices for web accessibility and search engine optimization. This helps your site reach a wider audience and improve rankings.
Pros:
Kadence Theme Builder allows you to easily design and customize your website to fit your unique style and needs using a simple drag-and-drop interface.
This tool is designed to make your website load quickly and perform well, which can improve your site's search engine rankings and user experience.
It works seamlessly with Kadence Blocks, providing additional design options and making it easier to create and edit content in WordPress.
Cons:
Users may find that its free version lacks some advanced features, potentially requiring a move to the pro version.
A certain learning curve might be involved in harnessing its extensive customization capabilities.
🔔🔔 Check out our curated "Best WordPress Block Editor Plugins". 🔔🔔
GeneratePress: Features, Pros, and Cons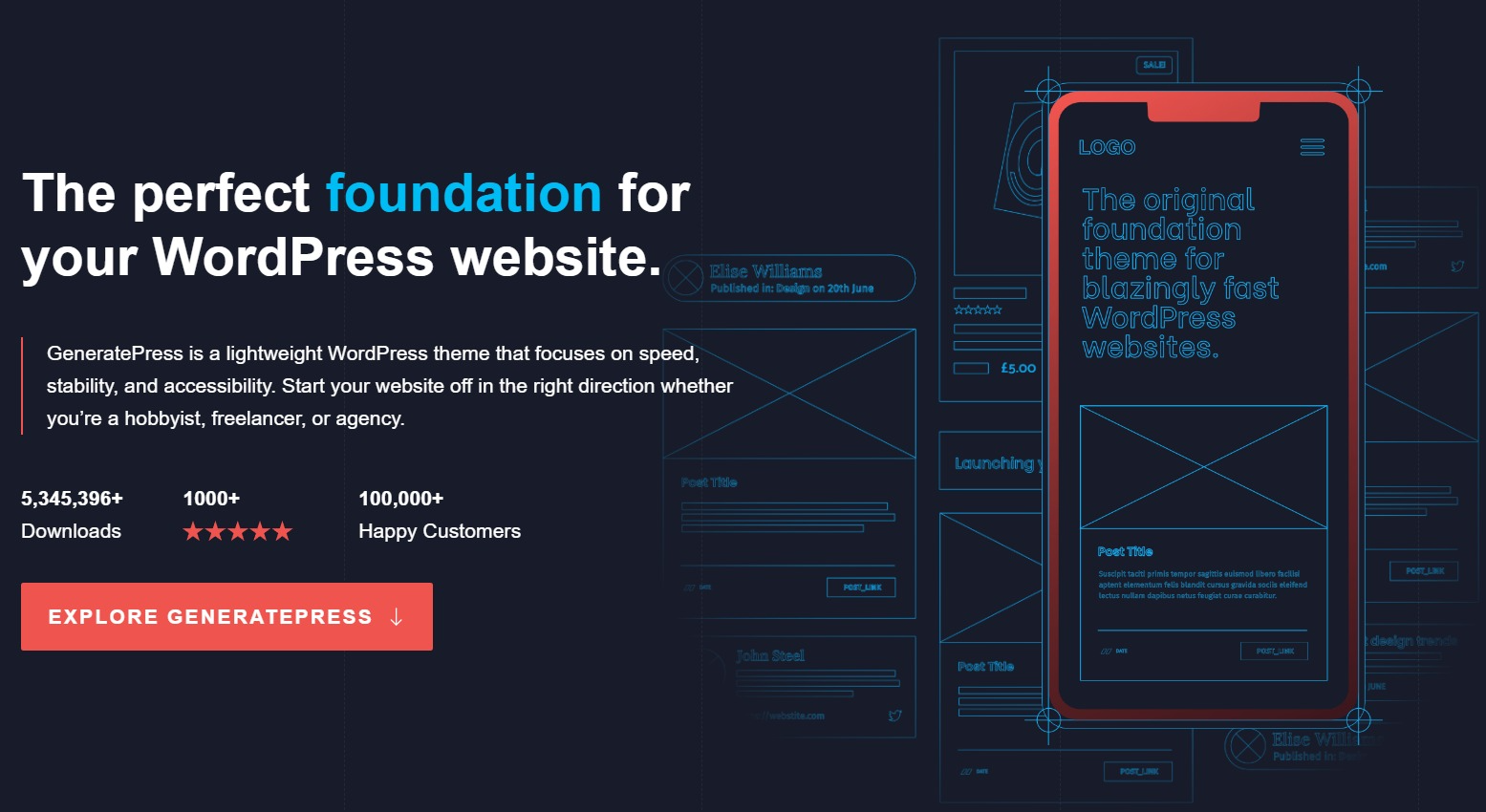 GeneratePress takes its place among the pioneers of block-based theme builders for WordPress. It revolutionizes the way websites are crafted. It empowers you to design every element your website demands through an intuitive block-based approach.
GeneratePress employs the simplicity of blocks to streamline the web development process, including:
Content
Metadata
Footers
Custom post types
Beyond its innovative block-based philosophy, the tool stands out as a beacon of speed, security, and accessibility.
Features:
Block-based theme creation and comprehensive full-site editing capabilities.
A sophisticated layout system with custom display rules for precision.
Simplifies web development with its 75+ starter templates and the GenerateBlocks plugin.
Diverse navigation customization options, including mobile headers, secondary navigation, off-canvas panels, and more.
Pros:
GeneratePress is super fast, making your website load quickly, which is great for user experience and SEO.
It's easy to customize the theme to match your website's style and layout preferences, and it works well with popular page builders.
GeneratePress ensures your website looks good on all devices and is designed with accessibility in mind, making it user-friendly for everyone.
Cons:
Some users might find the learning curve steeper when venturing into advanced customization.
The pricing of the premium version may pose a consideration for budget-conscious users.
Astra: Features, Pros, and Cons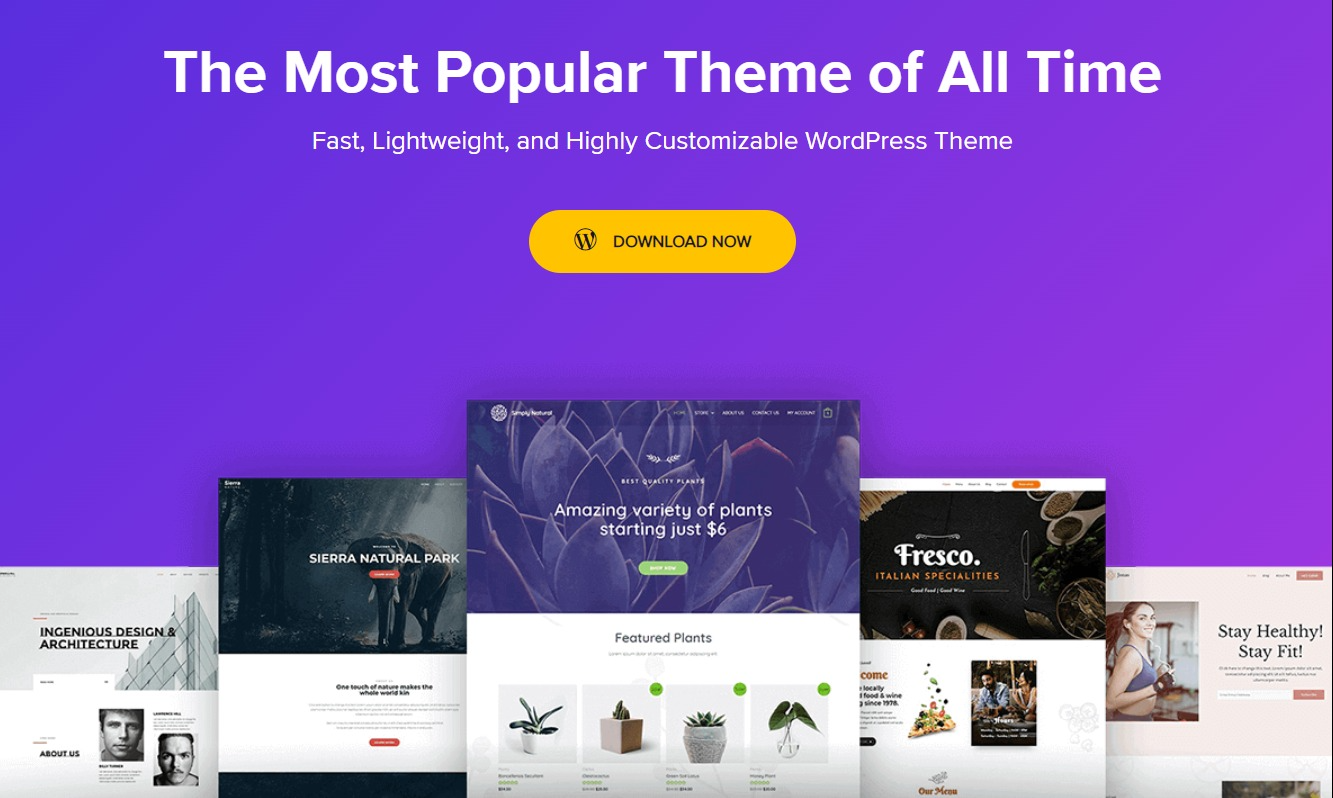 Astra stands as one of the most highly acclaimed WordPress theme builders on the market. It's renowned for its remarkable speed and extensive customization options.
This theme builder allows you to exercise your creativity with effortless drag-and-drop functionality. It offers immediate live editing capabilities that provide real-time feedback as you make changes.
Additionally, Astra extends its flexibility to WooCommerce pages. Here, you'll find a plethora of customization options for your WooCommerce pages. You can tweak everything from your cart icon to the layout of product variations, including colors and sizes, among other elements. It emphasizes mobile responsiveness for having a shopping experience on mobile devices.
Features:
Access to 240+ importable templates for theme building.
Effortlessly clone, delete, edit, and establish global presets for elements.
Prioritizes accessibility, SEO-friendliness, and Schema.org compliance.
Allows you to craft distinct headers and footers specifically designed for mobile devices.
Pros:
Astra is very quick, making your website load fast, which is good for the user experience and search engine rankings.
You can easily change how your website looks with Astra. It works smoothly with popular page builders, and it even offers pre-designed templates to help you get started.
Astra is compatible with many WordPress plugins, making it suitable for a wide range of website types, from online stores to blogs. It's also designed with SEO in mind, helping your site perform better in search results.
Cons:
Some users might find its free version somewhat limited in terms of advanced features.
The plethora of options can also be overwhelming for those seeking a more straightforward solution.
👋👋👋 👉👉👉 Don't overlook the "5 Free Gutenberg Page Builders".
Table: Comparison of Theme Builders
This table shows the capability of each theme builder in different parameters. Each theme builder is analyzed to these parameters to determine which plugin excels.
Parameters
Kadence
GeneratePress
Astra
Speed & Performance
➡️With lightweight and optimized code for faster loading times.
➡️Minimalistic design with performance in mind, for quick page load speeds.
➡️Performance features, such as image lazy loading and streamlined code.
➡️Designed to be lightweight and efficient for fast website loading times.
➡️Incorporates modular approach to enable the only needed features.
➡️Compatible with popular caching and optimization plugins.
➡️Minimalistic and lightweight design.
➡️With performance features such as built-in schema markup for SEO and streamlined code.
Customization Options
➡️Comprehensive theme customizer for headers, footers, typography, colors, and more.
➡️Freedom to design custom templates for different types of content, posts, and pages.
➡️Integration to Elementor, Beaver, and Gutenberg for more advanced customization.
➡️With hooks and filters for developers to make advanced customizations through PHP or CSS.
➡️Premium modules to create custom layouts with sections and containers.
➡️Allows adjustment on layouts, colors, typography, etc through WordPress customizer.
➡️With importable pre-designed website templates for customization.
➡️Integration to Elementor, Beaver, and Brizy, enhancing design capabilities.
Ease of Use
➡️With a user-friendly interface with a visual header and footer builder.
➡️Intuitive and easy navigation for beginners.
➡️Minimal settings and options.
➡️Efficient and straightforward customizer for beginners.
➡️User-friendly theme with a streamlined customizer and pre-built templates.
➡️Designed for beginners and offers an easy way to get a site up and running.
SEO-friendliness
➡️Well integration to SEO plugins like Yoast SEO or Rank Math.
➡️With schema markup for rich snippets.
➡️Compatible with SEO plugins and provides schema markup.
➡️Lightweight design and minimalistic approach for SEO purposes.
➡️With clean and efficient code for search engine readability.
➡️Compatible with popular SEO plugins.
➡️With schema markup for rich snippets and clean.
➡️SEO-friendly code. Provides AMP (Accelerated Mobile Pages) support for mobile SEO optimization.
Pricing
➡️Available in a free plan.
➡️Stars at $10.75/mo.
Starts at $4.92/mo.
➡️Available in a free plan.
➡️Starts at $3.92/mo.
Reviews and Ratings
➡️Users praise its flexibility and ease of use.
➡️Users commend due to its excellent support.
➡️Garnered 300+ reviews with a rating of 4.8/5.
➡️Users highly value its speed and performance.
➡️Users appreciate GeneratePress's clean and efficient code.
➡️Has 1,300+ reviews with a rating of 5/5.
➡️Users commend its beginner-friendly approach and customization options.
➡️Users appreciate its compatibility with page builders and Starter Templates features.
➡️Gained 5300+ reviews with a rating of 4.9/5.
Integrations
➡️Compatible with Elementor and Beaver Builder.
➡️Integrates with WooCommerce.
➡️Integrates with several WordPress plugins for forms, SEO, and social media sharing.
➡️Compatible with Elementor and Beaver Builder.
➡️Integrates with WooCommerce.
➡️Integrates with several WordPress plugins including Yoast SEO, WPForms, and Jetpack.
➡️Compatible with Elementor, Beaver Builder, and Gutenberg.
➡️Integrates with WooCommerce.
➡️Integrates with several WordPress plugins including Yoast SEO, WPForms, and etc.
The Significance of Choosing the Right WordPress Theme
Let's emphasize the significance of this decision. Your WordPress theme is the digital face of your website. It wields immense power over your site's functionality, appearance, and user experience. It's not merely a cosmetic choice but a strategic one, influencing everything from performance to SEO.
Choosing your WordPress theme involves careful consideration of your website's purpose, your audience's needs, and your long-term goals. Hence, here are the core features that you should look for:
Speed and performance
Customization options
Ease of use
SEO-friendliness
Integration
👀👀 Don't miss to check these out: 👀👀
👉 Free and Pro Best Themes for Elementor
👉 Why You Must Avoid Nulled WordPress Plugins & Themes
Kadence vs GeneratePress vs Astra: Which Theme is Right for You?
In the process of theme selection, the best choice depends on your unique needs and aspirations.
Speed and Performance:
GeneratePress is renowned for its exceptional speed and performance due to its lightweight code and efficient design.
Astra and Kadence are also fast, but GeneratePress often outperforms them in terms of speed and performance.
Customization Options:
Kadence provides comprehensive design options within its customizer, making it a top choice for advanced users.
Astra and GeneratePress are also highly customizable, offering flexibility in design.
Ease of Use:
GeneratePress is frequently praised for its user-friendly interface and straightforward customization.
Astra and Kadence are user-friendly as well but might have a slightly steeper learning curve for beginners.
SEO-friendliness:
All three themes are SEO-friendly and allow for proper on-page optimization.
GeneratePress's clean code and lightweight design contribute to better SEO performance.
Integrations:
All three themes are compatible with popular WordPress plugins, ensuring a wide range of integration options.
GeneratePress and Astra are frequently recommended for their seamless integration with various plugins and page builders.
Through this comparison blog, we hope you'll find the best theme builder suited to your requirements.
So, which theme will compose your website's harmonious journey? The choice is yours, and it's a thrilling one at that!