How to Create a Fully Custom Website Footer with Elementor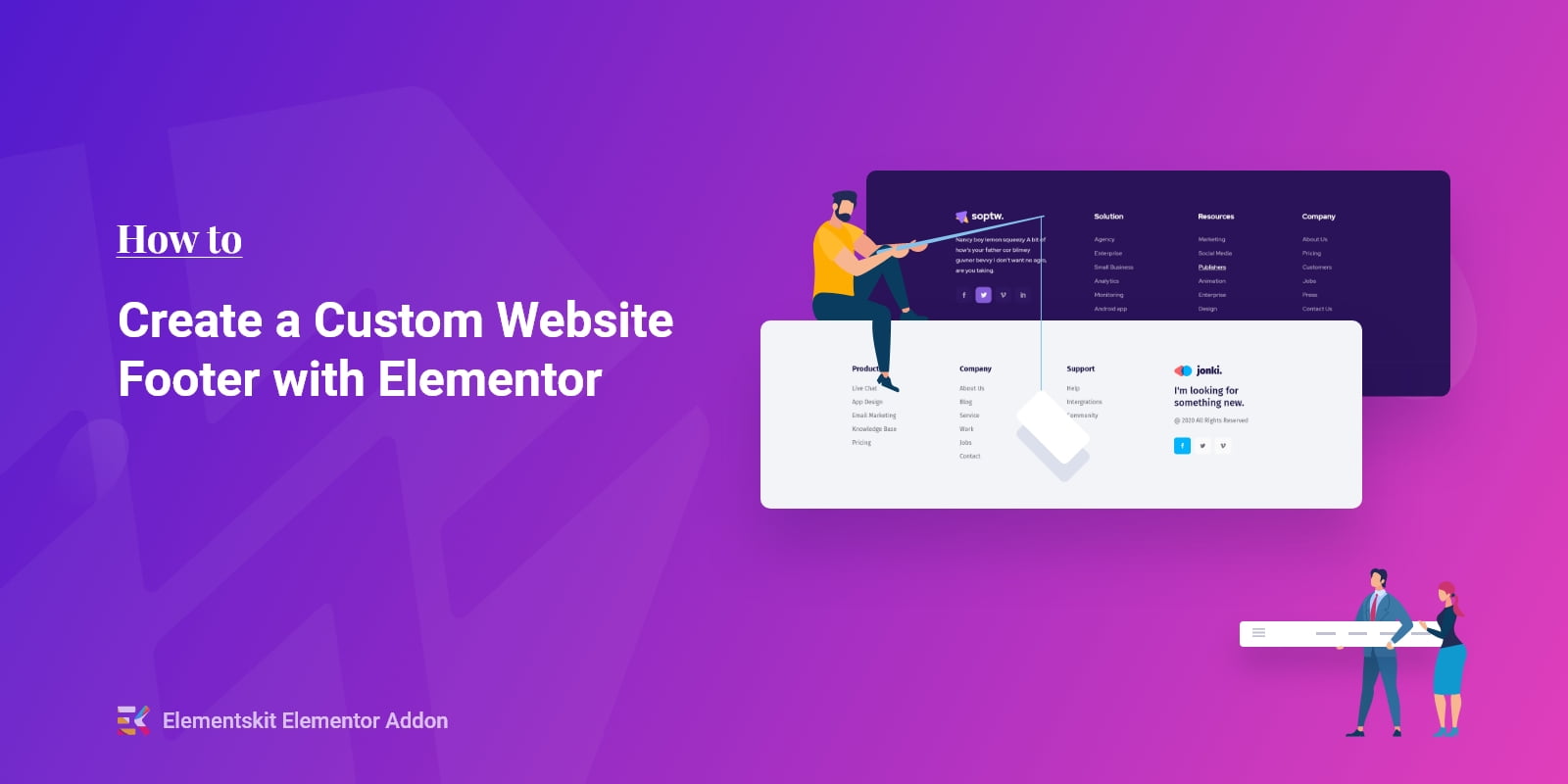 Ever wonder how you can create & customize your own website footer without touching a single line of code?
Sounds like a fairy tale, right?
Well..The story becomes reality this time!
With the most popular page builder Elementor, you will get full flexibility to create a prominent footer.
As 66% of web visitors actually roam below the fold, so the footer section must be user-interactive. Otherwise, you will lose a huge portion of your customers in a blink of an eye.
But, don't get paranoid yet! In this article, I'm going to show you the effective way to Create a Fully Custom Website Footer with Elementor for your website!
So, let's get into it!
Why Does Footer Matter?
Do you know, you can spike the revenue of your business by about 16% just by adding an easily navigable footer?
Besides that huge user engagement, it's highly effective for SEO too. It improves the internal linking structure and makes the navigation smoother than ever.
Fortunately, you can enjoy all of these facilities just by adding an eye-catchy footer containing the internal links as sitewide links, or boilerplate links.
But, does a footer contain only links?
Nope!!
You can add your product demos, subscription buttons, or contact forms too! Thus, your customers can not only surf your website easily but also get a clear concept about your products too.
Quite impressive, huh?
Hold on! Here's another bonus fact especially for you!
Besides adding all of those functions under the fold, don't forget to add an eye-catchy CTA button! Thus the users might get impressed and will convert into your real customers.
It's a win-win situation for both, right?
Discover how to make the footer section and how it can benefit your brand by improving the experience of your visitor using Elementor.
Things You Must Add on Your Website Footers
Here are the main elements of good website footer design. I will try to cover all the sections that you can create and custom on your end.
Logo
Company info
Contact details
Navigation
Support
Copyright, terms of service, privacy policy
Social media icons
Call-to-action
Note: Never overdo your footer, try to keep it as simple as possible.
What you need to create custom footers with Elementor
To follow this tutorial blog, you will need two things–>
And Done!
Why Elementor & ElementsKit?
If you are having trouble designing your web page with lots of code and all that. No worries! Your most powerful page builder Elementor is here!
Enjoy full drag-and-drop control over your website's footer. Elementor is your best choice if you don't like how your current footer looks.
Elementor includes useful add-ons to customize your website with ease. ElementsKit is the most popular among them with powerful footer builder, 70+ widgets & readymade footer layout to improve your design.
Here in this tutorial, you will get to know how to build beautiful custom footer with Elementor & ElementsKit!
So, let's get started..
Creating a Custom Footer Using Elementor
In this section, we will show how you can custom or create an user-interactive footer for your website with just few steps!
Step->1: Add Footer
Login into your website admin dashboard panel.
Navigate to ElementsKit → My Templates
Click Add New.
A popup box will open with options.
Creating the Footer
Step->2: Select Footer Options
Then in the popup box type a Title. For Ex: Custom Footer
Select the Type → Footer
Select the Conditions → Entire Site
Toggle the Activation Option
Click "Edit With Elementor"
A editor page will open, here you'll build the look of your Footer Section
Setting up Footer Settings
Step->3: Choose a Footer Design
You can start building your Footer from scratch or, you can choose one of our previously made footers for a starting point.
To get the Footer you have to click on the Selected Icon-> Go to the Footer Tab
Just click on the Insert Button to add & You're Done!.
Selecting Desired Footer Design
Step->4: Set Up The General Layout
In this setting, choose the types of layout you want to create a custom footer.
Click on the Main Customization Button: To edit the Layout section in the sidebar of your footer part.
Enable Stretch section: Stretch the section to the full width of the page using JS.
Set Content Width: Select the content width boxed or full width from the drop-down. Also control it by simply dragging.
Choose Columns Gap: Select Narrow, extend, wide, wider
Adjust Height: Choose Fit to screen or min-height
Choose Vertical Align: Select Top, Middle, Bottom, Space Between, Space Around, Space Evenly
Overflow: Keep it Default or Hidden
Select HTML Tag: Select from drop-down
Setting The Layout
Step->5: Add a Logo
A company logo that will take users back to the home page when you click on it. You can add a logo very easily with just a simple step.
Click on the Logo Image→ Easily upload an image or choose from your media file.
Easily select the Image Size from the drop-down
Choose the Alignment left, center or right
You can add any type of Image Caption like Attachment caption or Custom caption
Choose the Link Type Media File or Custom URL. You can provide any redirect URL.
Customizing The Logo Image
Step->6: Add or Edit Company Description
Now, your website footer is a place to display important information. You can easily add a short brief about your company
In this setting, you can Add or Edit any type of text
Enable Drop-Cap to show a Large letter at the beginning of the content that looks more eye-catchy.
Adding Company Short Brief
Step->7: Add the social sharing Icons
Did you know, 72% of websites have social media icons in their footer? Adding a widget that displays your latest posts like Twitter, Facebook, or Instagram will help users to stay connected.
To custom social media icons & add the social sharing links to the icons at the bottom. You need to→
Click on the social widget to edit the Social Icons.
Choose your style: Icon, Text or Both
Select Alignment position Left, Center or Right
Click on the Facebook Content to expand
Add Icon: Upload Icon From Library
Add/ Edit Label
Provide Social Link
Customize Icon for both normal and hover
Add Background color
Add Border Type: Solid, Doubled, Dotted, Dashed, Groove
Select Text Shadow: Blur, Horizontal, Vertical
Select Box Shadow: Horizontal, Vertical, Blur, Spread
Select Position: Outline or Inset
Customizing Social Share Icon
Step->8: Copyright
Your copyright information is a must have element of any footer. As it is the best way to protect your website from plagiarism.
Easily add or Edit the Content
Choose HTML Tag from the Drop-down
Adding Copyright Section
Step->8: Customise the Contact Info Heading
According to Web design standards, contact information should be found at the right or center of the footer. However, you can easily custom it with few steps→
Add/Edit your Contact Heading text here
Provide Redirect Link
Choose Size, HTML Tag from the drop-down
Choose the Alignment left, center, right or justified
Customizing Contact Info Heading
Step->9: Add Company Location
The location of your company helps intensely with local SEO. Here's the process of adding your company address→
Choose the Layout: Default or Inline
Add or Edit the company location
Upload any Icon from the icon library with Redirect Link
Customizing Company Location
Step->10: CTA Location Button
A study shows that the best option for putting your Call to Action below the fold on every marketing page. Follow the process to add a CTA button for showing the company location→
Label: Add or Edit Button Text
URL: Provide Redirect URL link
Enable Add icon to provide Button Icon
Upload Button icon from Icon library or you can upload from your own library
Select Icon Position: Before Text or After Text
Provide Class Name or ID
Customizing CTA Button
Step->11: Customize Telephone no & Email
Adding the contact number to your site helps to improve with SEO. Let your contact number clickable so that visitors can simply tap to call. Now we will modify the telephone & email.
Choose the layout: Default or Inline
Add or Edit the company Telephone no & Email
Upload any Icon with Redirect Link
Customizing Telephone no & Email
Step->12: Showcase Page List with Redirect Link
Another common footer component is a link with a page. Add any page list like privacy policy, Terms & Conditions, or others. Simply show page details of the website's policy, information, Rules & regulations etc. Let's check out how to do it→
Select Layout
Add or Edit Text
Add or Edit Subtitle
Enable Toggle to Show Icon
Upload Icon
Select Icon Color
Select Icon Position
Search for your page where you want to show Page List
Enable to Show Label
Add or Edit Label
Customize Background Color, Typography, Padding, Alignment, Radius
Adding Different Pages
Step->13: Custom Instagram Feed On Footer
The website footer can be a perfect section to put in relevant social media feeds, such as Instagram feed. Let's see what functionality you will get to customize→
From the Layout Setting=> Select Grid style List, Grid or Masonry
Select your Column Grid 1,2,3 or 4 means how many columns you want to choose to display pictures.
Enable Feed Style to provide Instagram feed effect
Provide count value of how many post you want to display
Enable Comment Box to showcase the user's comment and reaction to your post
Enable Show Caption to display the picture attractive caption
Enable Follow Button to add Follow Us Button and provide Instagram Link of the following page
Follow Button Text: Customize Button Text
Follow link: Provide Follow link
Alignment: Select position of the Button where you want to display your Button- Left, Right or Center
Pro tips: You should not use auto play functionality, as this can turn your visitors off.
Customizing Instagram Feed
Step->14: Publish your Footer
Here comes the most important part. After designing your footer just click on the "Update Button"
Publishing Footer
The basic thing of this section is to click "Preview". And, that's it! Finally, your footer part is ready. Yeeeee!!!
Final Preview
Wrapping Up
That's all about the footer!
We believe that in this Elementor tutorial blog, you have learned how to effectively create footers to display using Elementor & the importance of footers on your site.
Hope that you can now easily design any footer for your WordPress site.
However, if you have any questions to ask feel free to leave a comment below. We would love to help you.