10 Effective and Best WordPress Review Plugins (Ratings and Schema)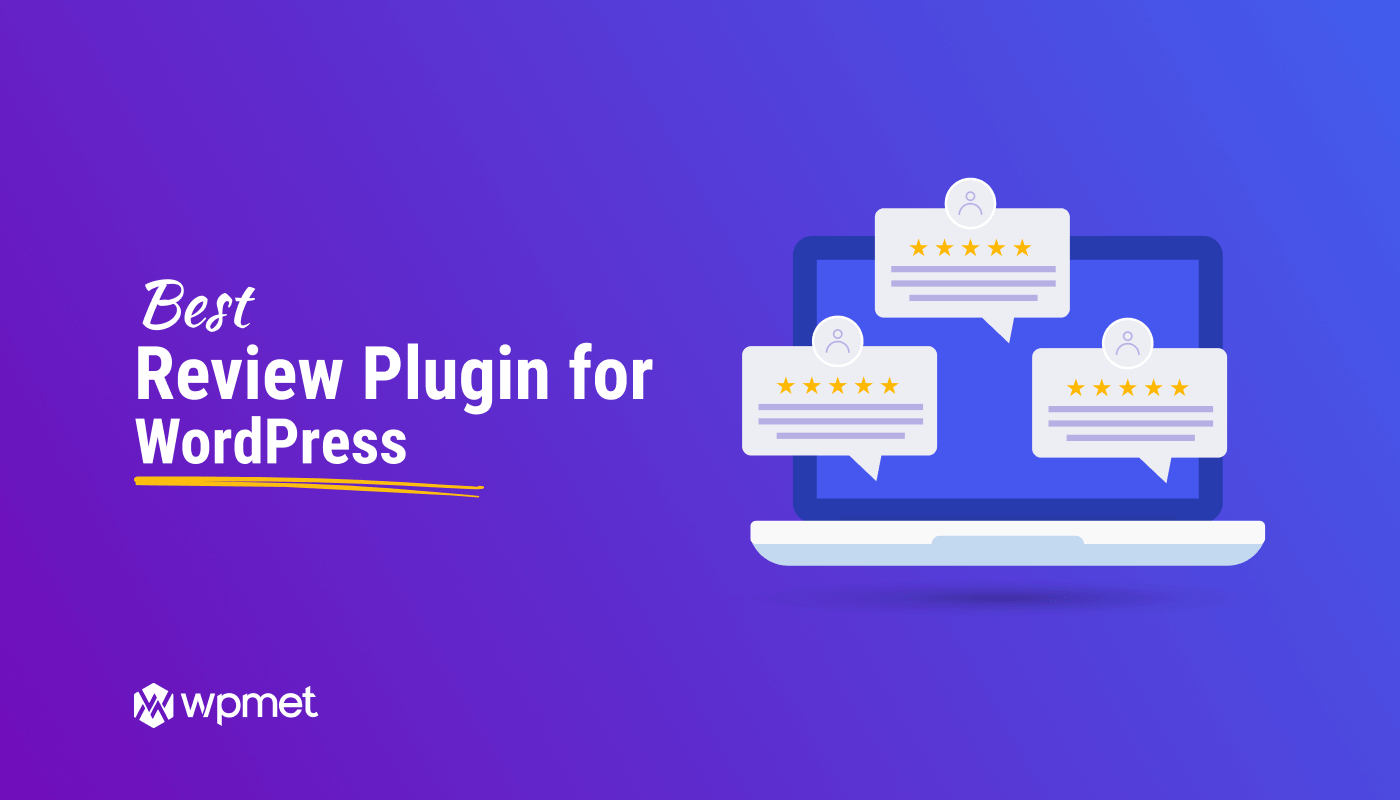 Did you know that 9 out of 10 customers read reviews before making an online purchase?
Yes! So, if your WordPress website doesn't currently have a review plugin, it's high time you added one. 
But that does mean you add any review plugin on your website and do more harm than good? No! You must use the best plugin for your site. I know choosing the best plugin can be a time-consuming task.
And that is exactly why I have listed down the best WordPress Review Plugins available so you can make the best and most informed decision.
So, let's not waste any more time and get started…
What is WordPress Review Plugin?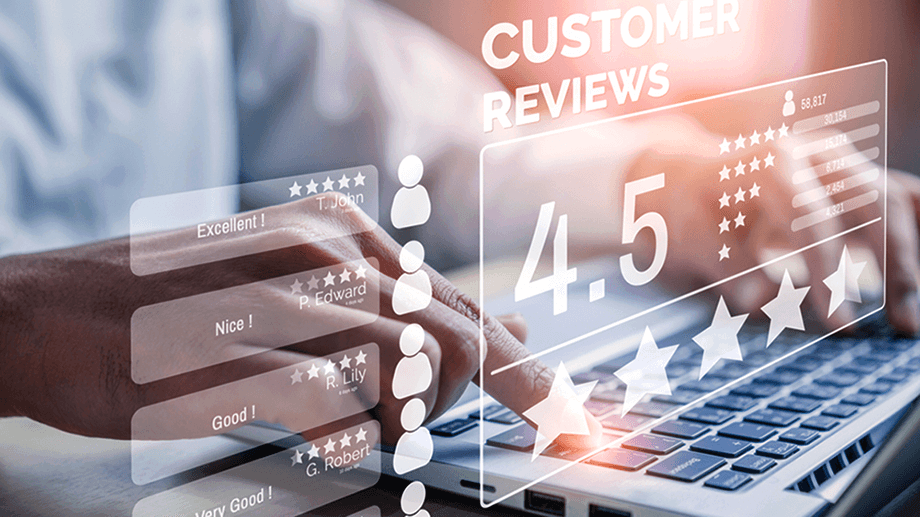 WordPress Review Plugin enables users to review your product/ service and share their personal experience of using the product. Most review plugins provide a rating option along with a comment box where consumers can share their experiences.
Why Should You Use WordPress Review Plugins?
Most people read reviews online before making the final decision of purchasing a product or service. In fact, not just online purchases, 87% of people look for online reviews to make decisions about their local products as well.
According to a Qualtrics, 93% of consumers' buying decisions are influenced by online ratings and reviews.  Online review is directly related to customers' trust in previous consumers' opinions of your product and services. And levering this equation is one of the best things you can do for your online business.
Let's have a look at all the benefits of having a review plugin:
Positive reviews are the best form of marketing you get for your business and that too for free.
As positive reviews are the ultimate form of recommendation they can help to increase sales.
Online reviews work as proof that validates your product/service's credibility.
Reviews work as a bridge between customers and store owners so you get a more loyal customer base.
Online reviews can boost your SEO too with schema markup. Google Review snippet also known as Schema Markup shows an average rating if it finds valid reviews or rating markup on your site. This can help you rank high and accelerate your click-through rate.
As a result of SEO boost, the review plugin can help get more customers and increase your sales as a result of both high SERP rank and social proof.
Review plugins are extremely useful to gain users' trust in your product. Now that you know how essential it is to add a Review plugin to your website, let's have a look at what to look for in a WordPress Review Plugin.
What to look for In WordPress Review Plugins?
While different WordPress review plugin comes with different features, there are some must-have features one review plugin needs to have. Let's have a look at those things
Should provide a rating system like star or percentage.
Must provide customers a form to write and submit their views.
Sorting options so one can easily check good and bad reviews
Have easy-to-use settings for the admin.
Custom shortcode so you can easily place it anywhere on the website as you wish.
Integration with WooCommerce product (if you run an eCommerce WordPress website)
Now that you know what to look for in a review plugin, it's time to move on to the best WordPress review plugin available.
Best WordPress Review Plugin
I have listed the best Review Plugin WordPress with key features, who this plugin is suitable for, and the price. You will find the WordPress review plugin, social media review plugin, and Schema markup in the list.
1. WP Ultimate Review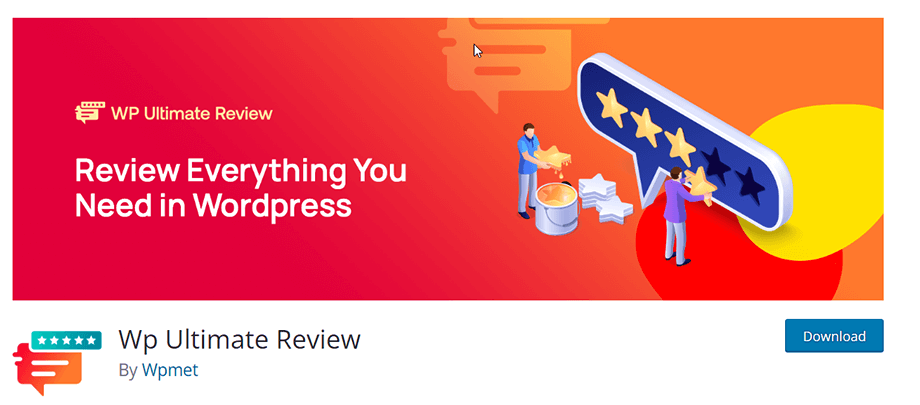 WP Ultimate Review should be your first choice if you are looking for a review plugin that gives many customization options. With this plugin, you get to control how the rating system will work and look on the website. 
WP Ultimate Review has over 10,000+ active installations and many positive reviews on WordPress.org. This plugin lets you set reviews not only on the post but also on pages and products.
You get multiple style choices that you can set up for your customers to give their feedback on your website. Not just how the review form will look, you get many settings to customize how the final review summary will look as well. The plugin also provides a custom shortcode option.
Along with the display, you also get to control who can review and only display the review that the admin approves. And to make admin approval easy, there is an email notification option available as well for admin.
Key features of WP Ultimate Review
You can set global reviews on your blog, page, and custom post type like WooCommerce product pages
Enable/disable user and author review
Restrict review option only for the registered users.
Can set admin approval required for reviews
You get Review Score Styles options like point, start, percentage, and pie chart.
Review Score Input Styles such as star, slider, bar, square, movie, and pill.
You can set the review location as before content or after. You also get a custom shortcode which you can use to position reviews anywhere on the website.
As part of review form settings, you get Rating, Review Title, Reviewer Name, Reviewer Email, Review Summary, etc.
Reviewer profile image can also be shown as part of the review.
You can also set Average rating text depending on a certain rating.
Send notification to multiple email addresses with new review submissions.
WP Ultimate Review is best suited for:
Anyone who has a WordPress website (blog, service, or eCommerce store) can use this awesome plugin. This plugin will provide a good-looking review form to customers to rate and share their opinion. Moreover, website owners can present the review summary in an enticing way to attract new clients.
Price: Free
2. ElementsKit (Facebook Page Review Widget)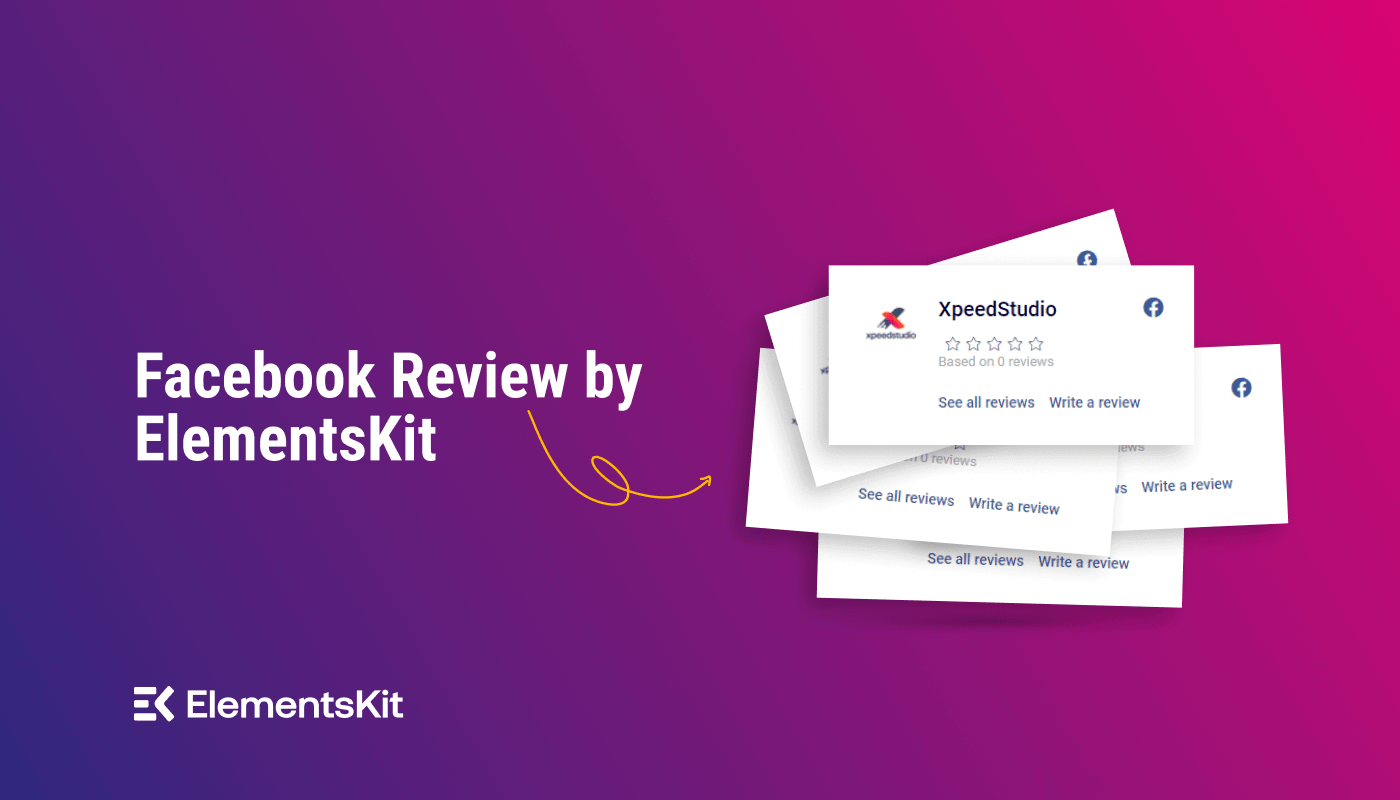 This plugin is the easiest solution you can find to display your Facebook page reviews of your WordPress website. Facebook Page Review By ElementsKit is a great option for a WordPress website built with Elementor page builder.
Facebook Review is a widget by the popular Elementor add on ElementsKit. You can use this addon to simply drag and drop Facebook Review and share your Facebook page's positive review in simple steps.
Another great thing is ElementsKit is an all-in-one add-on for Elementor which means you can build your complete website and show Facebook page review with just one plugin. This WordPress plugin also offers easy Facebook messenger integration.
Key features of ElementsKit (Facebook Page Review):
Super easy to integrate Facebook page reviews with just Facebook page ID and page token.
Totally compatible with Elementor and can be used just by drag and drop.
You can display the review section as an overview or with reviews or slide shows.
There are two review card options, box card and bubble card.
Settings like a number of columns, and the gap between columns.
You can choose to show only the positive review or negative review or both if you want.
Review cards can be shown as a list, grid, or masonry.
Options to show/hide the thumbnail badge and Facebook logo on the top right.
Separate style settings for each item of the widget like review card, review star, review name, review feedback, and many more.
Facebook Page Review By ElementsKit is best suited for:
Business owners who have Elementor based WordPress websites and are looking to include social proof on their website without compromising the site's speed with multiple plugins should go for this Elementor addon.
Price:
Facebook Widget of ElementsKit comes with the pro version which costs around $29/year for a single website.
✨✨ ElementsKit is not just a WordPress review plugin but an ultimate page builder addon for Elementor
👉 👉 Check how you can create a single-page website with one-page navigation in just a few minutes using ElementsKit.

3. Site Reviews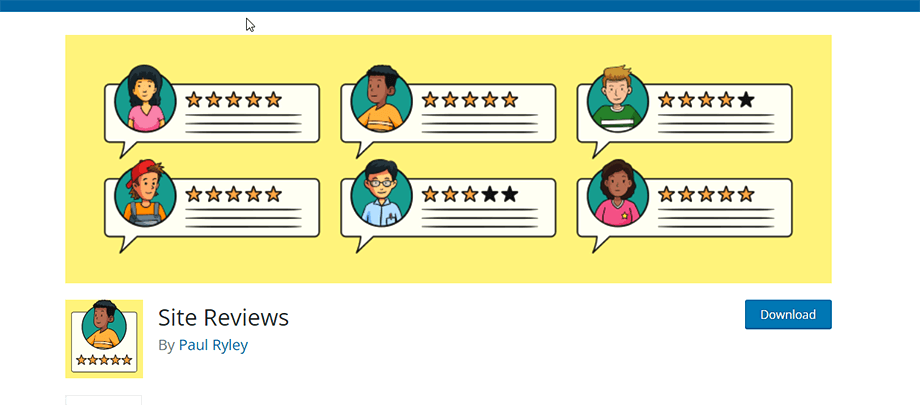 If you want your website visitors to submit a simple 1-5 star rating on your site, then the Site Reviews plugin is for you. This plugin comes with blocks, shortcodes, and widgets.
You can set the login required for users to submit reviews. In addition, you can control the reviews with an approval system and only show the reviews once they are approved.
You can also pin the best reviews on top. The WP review plugin provides an email notifications option and also offers easy third-party integration.
Key features of Site Reviews:
Add the review to post, pages, and Woocommerce Products.
You can export/import translation and backup reviews using WordPress Export and Import tools.
Block domains that contain specific words, phrases, IP addresses, names, and emails from submitting reviews on your website.
Use custom editor blocks in the Gutenberg editor
Can access reviews using REST API
Set up Slack integration so you get notified in slack when you get a new review submission.
You get spam protection which includes built-in Honeypot protection; Invisible reCAPTCHA.
Offers multiple form addons both free and premium plugin.
Can import third party review using CSV importer.
Site Reviews is best suited for:
Anyone who is looking to integrate review on multiple sites and also 3rd party integration should go for this WordPress review plugin. This plugin offers amazing features and addons to manage reviews on multisite websites.
Price:
Site Reviews offer a free version and a Premium version. The premium version costs around 102.83 USD per website.
4. WordPress Review & Structure Data Schema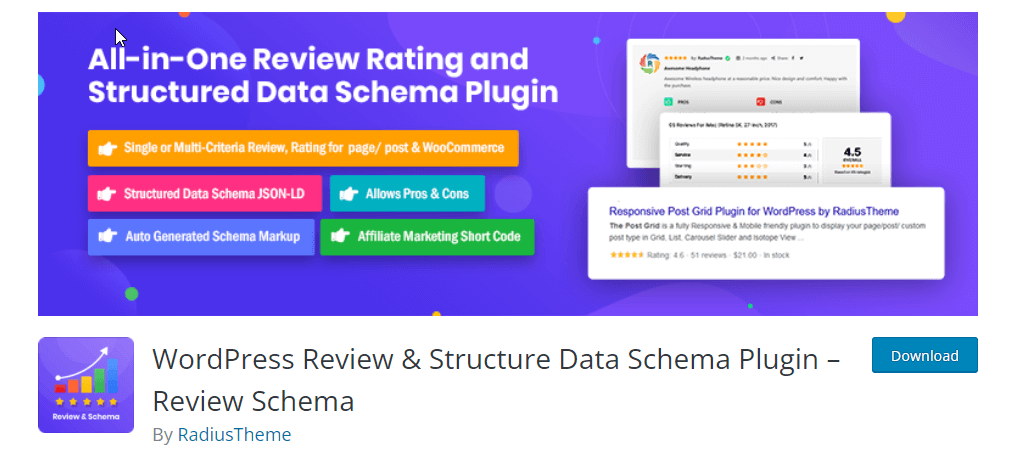 WordPress Review & Structure Data Schema is one of the best ways to enhance the status of your website on Google search results. It lets you customize the style for displaying your reviews. Moreover, this includes typography, colors, and other stylistic aspects.
It allows your website to accommodate single or multiple criteria-based reviews and ratings for pages, posts, and also custom post types, along with WooCommerce products. It also supports automatically or manually generated structured data Schema JSON-LD. The plugin is ideal for affiliate marketing or product review shortcodes.
This WordPress review plugin allows your users to upload actual images of products which makes the review more trustworthy. It supports different advanced options, including filtering, searching, and sorting for easy shop management. You can even showcase the pros and cons of the products.
The premium version accommodates many more uses. With pro version, you can have courses on your site, display recipes, license images, showcase special announcements, and have an archive page.
Key Features of WordPress Review & Structure Data Schema:
Reviews for pages, posts, custom posts, and WooCommerce items
Auto-generated schema
It lets you generate schema for your pages, posts, and products manually
Let's you add an affiliate shortcode for affiliate marketing on your site
Display pros and cons for items
Enables the display of multiple reviews and rating layouts
Supports single or multi-criteria reviews
Accommodates image and video reviews
WordPress Review & Structure Data Schema is best Suited for:
The plugin is for anyone who owns a business website and wants ratings and reviews that boost their SEO. Owners of WooCommerce stores and site owners who want to engage in affiliate marketing should also find the plugin quite helpful.
Price:
A free version is available. The premium version of this review schema WordPress plugin costs as little as $29 per year.
5. WP Customer Reviews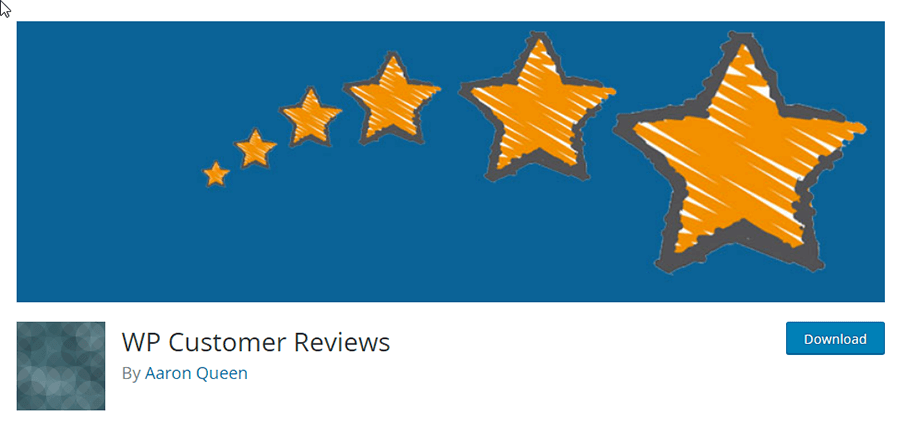 With the WP Customer Reviews plugin, you can collect customer reviews for your whole business or individual products separately. It's a free open-source plugin that is easy to use on any WordPress website without any complicated settings.
You can set up a star rating system on your website with this lightweight WordPress review plugin. This WordPress plugin also offers a customization option for form fields and an approval option for reviews. While the plugin offers a basic star system for the customers, it shows the microdata format for the search engines.
Key features of Customer Reviews:
Both Business and Product review types are available. You can display business reviews in a testimonial format.
Great for a rich snippet as it Validates as valid XHTML 1.1 (W3C) and rich Rich Snippets Testing Tool like Microformats.
Admin can edit the content and date of the review and also set up the option for approval.
Works great with any custom WordPress theme and caching plugins.
Compatible with WP Multisite and Multiuser.
Works fine to prevent automated spambots from submitting reviews.
WP Customer Reviews is best suited for:
Any business owner with a WordPress website looking for a simple review system with the aim of a search engine-rich snippet like Google rich snippet should go for this review plugin.
Price: free
6. Google Reviews Widget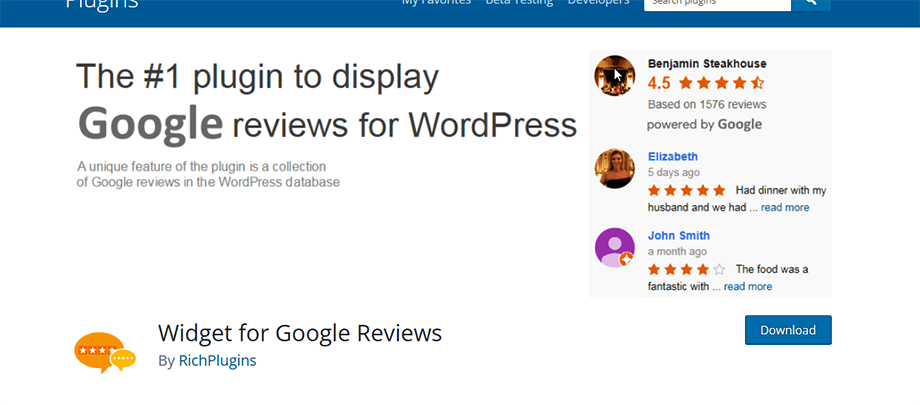 You can use the Google Reviews Widget plugin to display Google Business Reviews on the sidebar of your WordPress website. Showcasing Google business reviews can help your business to prove its credibility and gain more success.
The great thing about this plugin is though it showcases Google business reviews, it is not dependent on Google all the time. The plugin saves the Google review on your WordPress website and works just fine even if Google is not available.
Key features of Google Reviews Widget
Automatically updates reviews from Google to your database and auto-refreshes reviews with new updates.
This WordPress review plugin does wonders for SEO and also provides shortcodes so it's easy to use.
Shows location-based reviews and displays up to 5 Google business reviews per location.
Supports multiple google place connections and offers an easy place search option.
Compatible with a popular page builder like Gutenberg, Elementor, WPBakery, Divi, etc.
The premium version offers the function to merge reviews from different platforms like Google, Facebook, and Yelp Review.
Offers slider/Grid themes to show Google Plus testimonials
Can display Google Trust Badge on left/ right fixed or embedded
Google Reviews Widget is Best suited for:
Small businesses that want to display few yet authentic reviews from Google Plus, Yelp Review, and Facebook should go for this review plugin.
Price:
Google review widget is free. This also has a premium Business Reviews Plugin that costs $85/year for a single website.
7. Customer Reviews for WooCommerce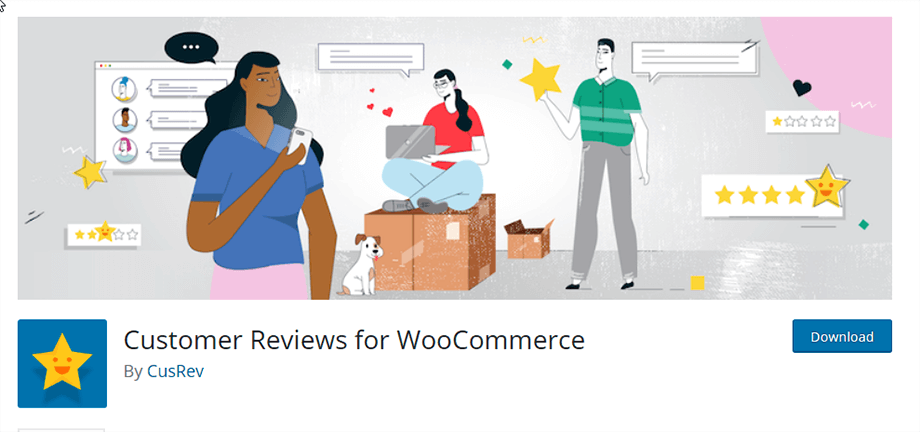 This WooCommerce plugin is a great option for all WooCommerce store owners. This plugin sends a personalized email to consumers automatically after each transaction asking them to share their reviews.
People prefer product reviews with images. So, if used the right way. this WordPress review plugin can boost your sales with reviews that have both ratings and product images from users.
Key features of Customer Reviews for WooCommerce:
Reminds customers to give reviews on products after successfully completing an order. Email reminders can be manual or automatic.
Offers customers a form to submit reviews with a star rating, comments, and product images.
You can also offer discounts on shopping in exchange for reviews.
Easy integration with Google Shopping.
Along with a quick review, you can also offer a FAQ option for customers so they can ask anything they want.
Enable reCAPTCHA to prevent spam reviews.
Can easily export and import reviews using a CSV file.
Customer Reviews for WooCommerce is best suited for:
WooCommerce store owners who are looking to increase customer engagement, improve SEO, and boost sales with social proof should go for this WordPress review plugin.
Price:
This plugin has two versions free and premium. The premium version costs around $50/ annually.
✅ A good shopping cart plugin can ensure your customers have a smooth buying experience. Check out our blog on
👉 👉 the best and most useful Shopping cart plugin for WordPress.
8. Ultimate Blocks
Using the Ultimate Blocks plugin, you can extend the functionality of the WordPress editor. The plugin offers 20+ custom blocks for different purposes. One of the essential blocks is the 'Review' block.
The 'Review' block lets you add a schema-enabled review box with a review title, author name, features, star ratings, summary, and a call-to-action button. You can customize the rating format, colors, button, review schema, and more.
Key features of Ultimate Blocks:
Add schema-enabled review box.
Use star or percentage ratings.
Add a call-to-action button on your review box.
Customize colors, item type, publishing date, and more.
Extremely easy to use.
✅ Want to add a custom checkout field to your WooCommerce site without coding? Read
👉 👉 How to Add WooCommerce Custom Checkout Field in Just 3 Steps
9. Schema – All In One Schema Rich Snippets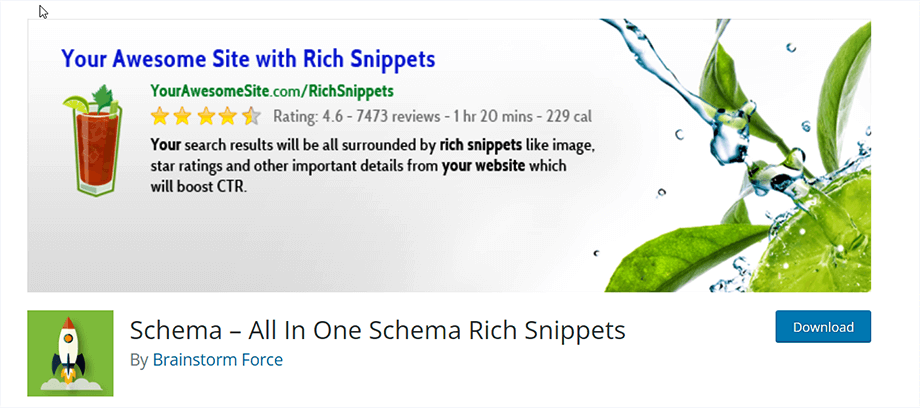 This schema markup plugin helps you to show up in the SERP results (Search Engine Result Page) with an eye-catchy look. With the help of the review schema mark-up of this WordPress review plugin, you can show your product review on the search results and attract more visitors to your website.
Key features of Schema – All In One Schema Rich Snippets
Extremely easy to implement
Offers multiple schema types such as Reviews, Events, Recipes, Articles, Products, Services, etc
Helps you to rank higher on the Search Engine Result Pages
Increases Click Through Rate through the better rank and rich review snippet.
Highlights the most important and relevant information on Facebook Share.
A lightweight plugin for your WordPress site.
Schema – All In One Schema Rich Snippets is best suited for:
Anyone who is looking to improve rich snippets should definitely go for this review schema WordPress plugin. Even if you have found ways to showcase reviews on the site, you should go for this WordPress review plugin to rank better at the search engine's result pages and get more customers.
Price: Free
👉 👉You can also check out WordPress Website Maintenance: 13+ Must-Do Tasks
10. Photo Review for WooCommerce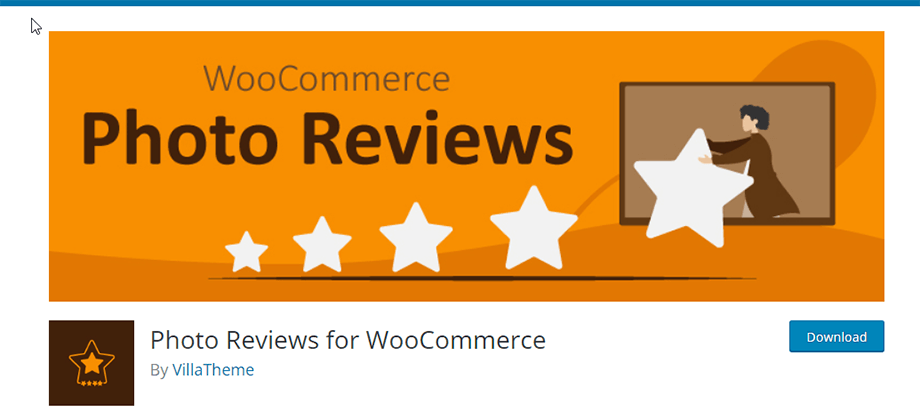 Photo Review for WooCommerce is another great review plugin for the WooCommerce store. This plugin allows customers to post reviews with images. You can send an email reminder to customers to post reviews once an order is complete.
You can also create thank you emails to customers with a discount coupon code once someone completes an order on your website with this wonderful WordPress review plugin.
Key features of Photo Review for WooCommerce:
Adding an image with a product review can be made mandatory.
Display reviews depending on the oldest or newest addition.
Can set the maximum image size for customers to attach images with the review.
Can show average rating, the total number of reviews in an elegant way.
Consumers can filter reviews by rating, pictures added or not, and verified users.
GDPR compliance so you can take customers' permission to share their reviews on your website.
Admin can edit customer's review (text and images both).
With the premium version, you can display the review images as a popup and also show Ajax pagination.
Photo Review for WooCommerce is best suited for:
Any WooCommerce store owner looking for an advanced review option for their product so customers can easily see the reviews with images should go for this plugin.
Price: Free
✅ Looking for a better solution to your stock management? Checkout our blog on
👉 👉 Best Backorder Plugins for WordPress
Final Words
Now you know about the best WordPress review plugin available in the market and their key features. Adding review to your website is a statistically proven method to increase sales.
All the plugins are more than capable of adding quality and attractive WordPress customer reviews. Choose the best review plugin you think will serve the website's purpose the best.
If you have any questions regarding any of the WordPress review plugins listed in this blog, ask in the comment below. I will reply ASAP.