Best Ecommerce Platform for Startups – List of Top 7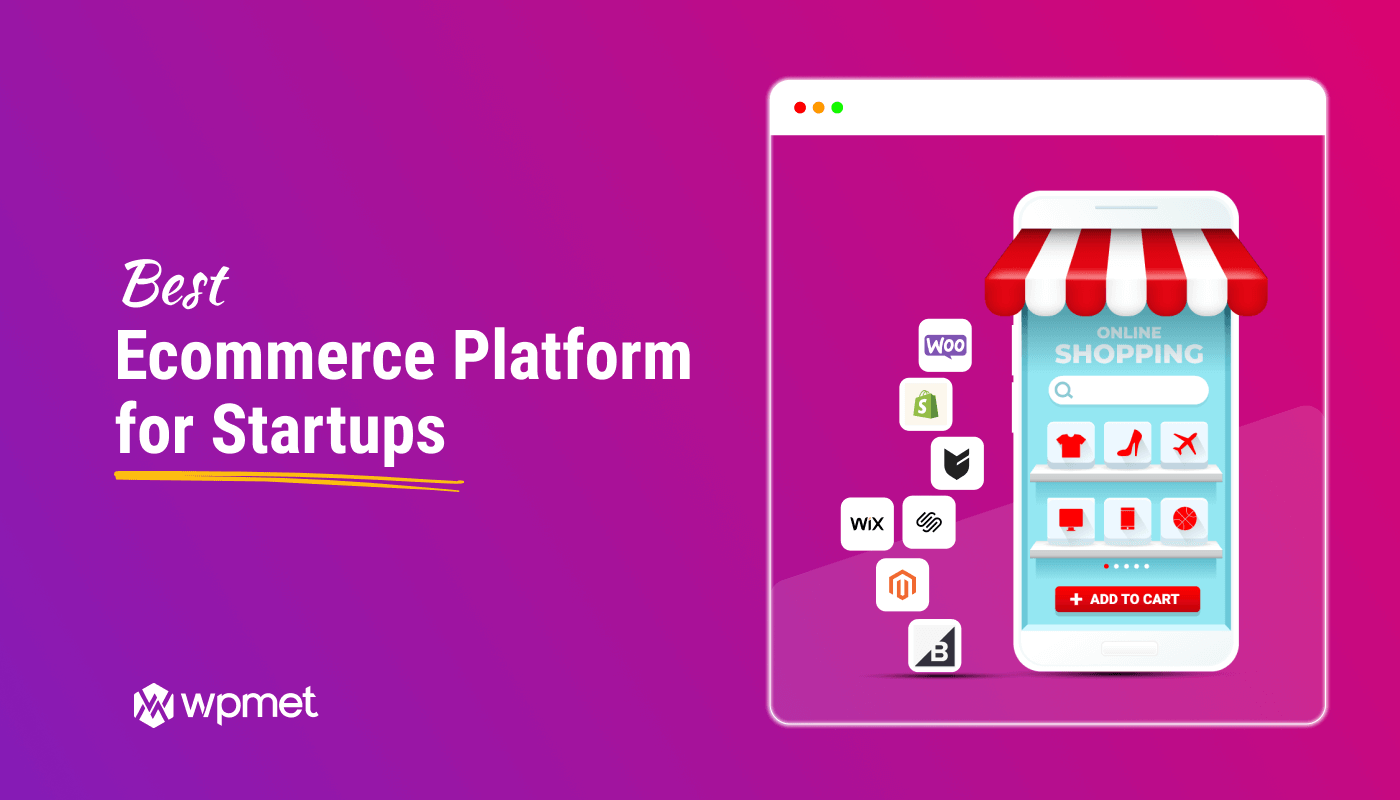 The global eCommerce retail sales in 2021 is $4.921 trillion, and it will grow more in the upcoming years. What about getting a chunk of this market share?
If you have a solid eCommerce-based startup idea, all you need is just to start the online store and start selling.
To step into the process, the first thing is finding the best eCommerce platform for startups. Selecting the right platform will make the further steps smoother.
There is no problem with the options. You will have tons of options to start. But only a few are startup-friendly.
Here I am going to introduce you to the top 7 Startup friendly eCommerce platforms. Check them out and find the detailed info before you start.
What is an eCommerce startup?
When a startup is based on selling physical or digital products online using a website is called an eCommerce startup.
There are mainly two types of eCommerce platforms – free and SaaS (Software as a Service) based.
The purpose of an eCommerce startup is to make the buying process handy for end customers.
People choose a variety of platforms for selling products online.
Why Do You Need An Ecommerce Platform?
When someone recommends you to use an eCommerce platform, you might think why not your own platform.
Well, it is true that you can build your very own eCommerce platform with lots of customizations. But that won't be feasible for a startup. It will cost huge to build everything from scratch.
On the other hand, with eCommerce platforms, you will get everything ready. You can even start for free with some platforms. There is no need for hiring developers or any extra cost. For eCommerce startups, the best idea is to start with a free plan and then upgrade to premium if needed. The only challenge is choosing the best eCommerce platform based on the requirements which I have discussed in the later part of this post.
What to Consider to Choose the Best Ecommerce Platform?
It is needless to say that you will have tons of eCommerce platforms in the market. But if you are considering the best one for eCommerce startups, consider the following things –
Ease of Use
Your goal is to design an eCommerce store without any hassle, right? So, whichever platform you choose, make sure the platform is beginner-friendly. It shouldn't have too many technical things.
If possible, look for a demo to understand the process. That will give an overview of the details. If the features look easy to understand, go for it.
Third-Party Tools Integration
In today's web development industry, all web platforms allow integrating third-party tools to get advanced features. For eCommerce, it is crucial to have a smooth third-party integration system.
Tools like ShopEngine give you better control over an online store. Integrating advanced features doesn't take extra effort or technical knowledge.
Inventory Management
If the startup idea is based on physical products, inventory management could be a big challenge. A proper inventory management system helps to balance supply and demand.
So, when checking for the features of a particular eCommerce platform, look for the inventory management system. If you are not clear about a feature, contact support and ask for a detailed management system.
WooCommerce has a reputation for better inventory management systems. So, have a look at the details if it meets your demand.
SEO-Friendly
Suppose you have a superb startup idea and you are developing the best products but no one is buying it. Sounds weird? Well, if you can't drive traffic to the store, there will be no sales at all.
You need to optimize the store for Search Engine. Examples include keyword optimization, backlink addition, eCommerce image optimization, etc. When the eCommerce platform is SEO friendly and provides the required tools, it becomes easy to drive more traffic and get more sales.
Insights
For eCommerce stores, traffic comes from a variety of sources. The traffic demography, average time on the site, and some other insights help to understand where to improve for the store.
Best eCommerce platforms are used to provide insights for stores. For instance, you would know the geographical data for traffic, age range, click-through rate, and more.
Top 7 Ecommerce Platforms for Startups
Wondering what are the best eCommerce platforms where you can start at ease?
After vigorous research, I finally picked the top 7 eCommerce platforms that are easy to use, well structured, and free to start.
Key Features
One-click WooCommerce installation in WordPress
Built-in third-party payment system
Drag and drop feature to set up a store
Hassle-free product listing with a built-in feature
Suitable for small business to big companies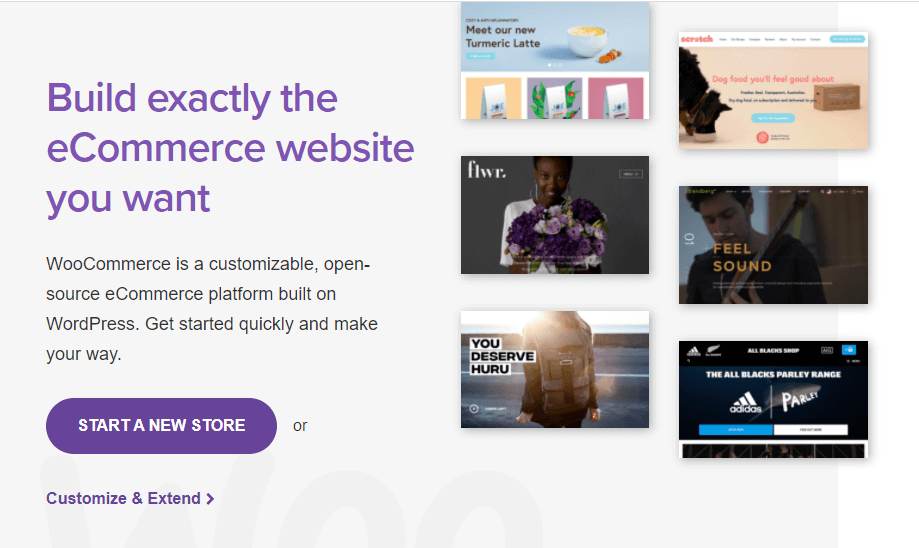 Compared to other eCommerce platforms, WooCommerce has the maximum market share. In 2021, the total market share of WooCommerce is 27% and it is growing rapidly.
This platform needs WordPress CMS and it takes no time to install. There are no complicated steps. Just install WooCommerce on your hosting plan and then install WooCommerce, that's all.
The ease of use and tons of third-party tools made this platform so popular. The best part is, you can even convert your old eCommerce stores to WooCommerce.
There are two ways to go with WooCommerce – free and Saas-based.
The free version is best for direct selling eCommerce platforms. The SaaS-based WooCommerce is best for subscription-based eCommerce stores.
Once you install WooCommerce, you can design the whole store just with a plugin like Shopengine. Shopengine is the most advanced WooCommerce Elementor builder that is an all-in-one solution for eCommerce.
Pros
Free docs and video resources
Beginner-friendly dashboard
Hassle-free third-party integration
SEO friendly and secured
Cons
SaaS model requires a monthly subscription
Advanced features need third-party plugins
Key Features
Comes in dropshipping ready features
Shopify has experts to hire for store
6000+ apps are ready to integrate with Shopify
Ready to sell wholesale products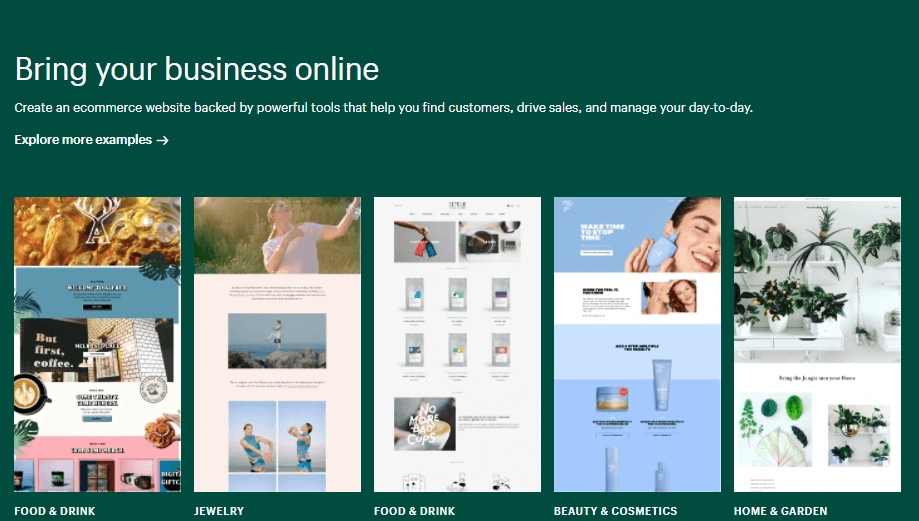 If you are looking for the best eCommerce platforms for dropshipping, Shopify would be an excellent choice. It is a SaaS-based eCommerce platform.
If your startup idea is highly relatable to a small business model, just go for it.
The best part about Shopify is, there are tons of apps for variable purposes. So, when you are just starting the store, it won't take much time to add new features.
With Shopify, you can sell a variety of products. Notably, if you have a plan to start a dropshipping business, Shopify is the perfect solution. Traffic from Facebook, Instagram, and Pinterest converts better in Shopify.
Like WooCommerce, Shopify also allows you to convert stores from any platform to Shopify.
However, if you are thinking to start small and grow the store continuously, Shopify is not the best eCommerce platform. In such a case, you can convert your store from Shopify to WooCommerce.
Pros
Pre-built templates for email marketing
Automated message option for customer dealing
Easy to offer custom discount
Enough resources to learn the process
Cons
Doesn't have any free option
Needs to have technical knowledge
Key Features
Suitable to sell a wide range of products
Supports social commerce to get more revenue
Easy API integration for marketing automation
Features multi-currency and multi-languages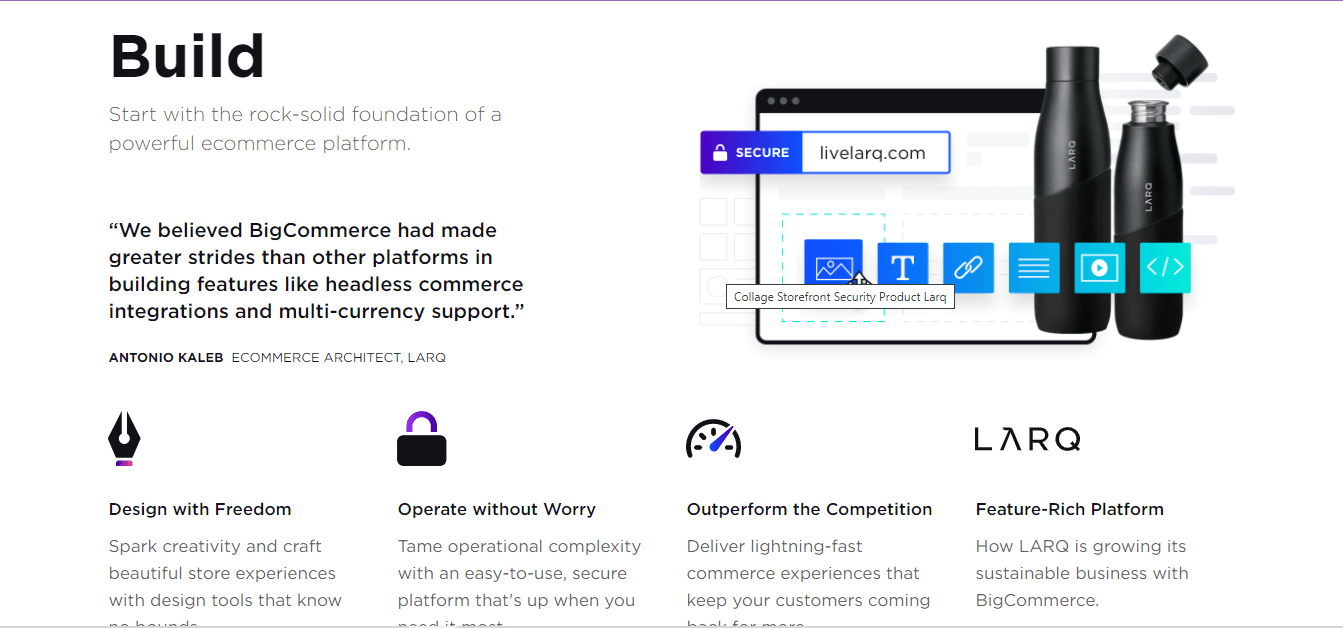 BigCommerce is a modern eCommerce platform that is highly suitable for startups. Especially, if you are preparing to sell something unique and want to give the store a custom look.
BigCommercegot popular because of its features. They have a variety of features to integrate everything you can dream of for an eCommerce store.
Compared to WooCommerce, BigCommerce has a small market share. But still, it is a good choice for startups because of its easy to navigate dashboard.
BigCommerce allows for multichannel sales, wholesale products, and more.
If you already have started an eCommerce store, you can convert the store directly to BigCommerce. You can even install WordPress with BigCommerce.
As mentioned, you will have tons of customization options with BigCommerce – Checkout customization, theme customization, mobile optimization, and more.
The best part is, it is a powerful eCommerce platform in terms of SEO. You can optimize the robots.txt, metadata, and URL to rank better.
Pros
Global CDN for fast loading
Ready to integrate B2B payment
Native POS system to get sales updates
Easy to integrate custom discount
Cons
For customization, you need to hire members from BigCommerce
Themes and plugins are relatively expensive
Key Features
Flexible features to implement for a new website
Hassle-free order and product management
Enough resources to learn the process
Easy to navigate user dashboard

A few years back, the majority of the eCommerce websites were developed based on the Magento platform. Now they have a tiny market share. But still, it could be a good option for startups.
Now the platform is owned by Adobe. Adobe has implemented new features for eCommerce websites and now offers premium subscriptions. If you are considering an eCommerce platform for high-quality graphics, Magento is a good option.
As the platform now runs based on the SaaS model, you need to spend money before starting. You can, however, start with the open source which is free. But that will need enough technical knowledge. In the SaaS model, there are several options for the pricing and users can ask for a demo before starting.
Magento is similar to the WooCommerce platform. It comes with drag and drop feature to design an eCommerce website without writing any code. Yet, in most cases, it is a bit tough for beginners to start with.
If you have a good budget for the website in the startup plan, you may choose magenta.
Pros
Provides insight for improvement
High-quality UI/UX and templates
A large library for resources
Better customer care
Cons
Free option available only for the open source
Fewer options to integrate third-party tools
Key Features
Large library of pre-built media for eCommerce websites
Built-in payment system for users' convenience
Default cart and checkout pages
Free currency switcher and automated sales tax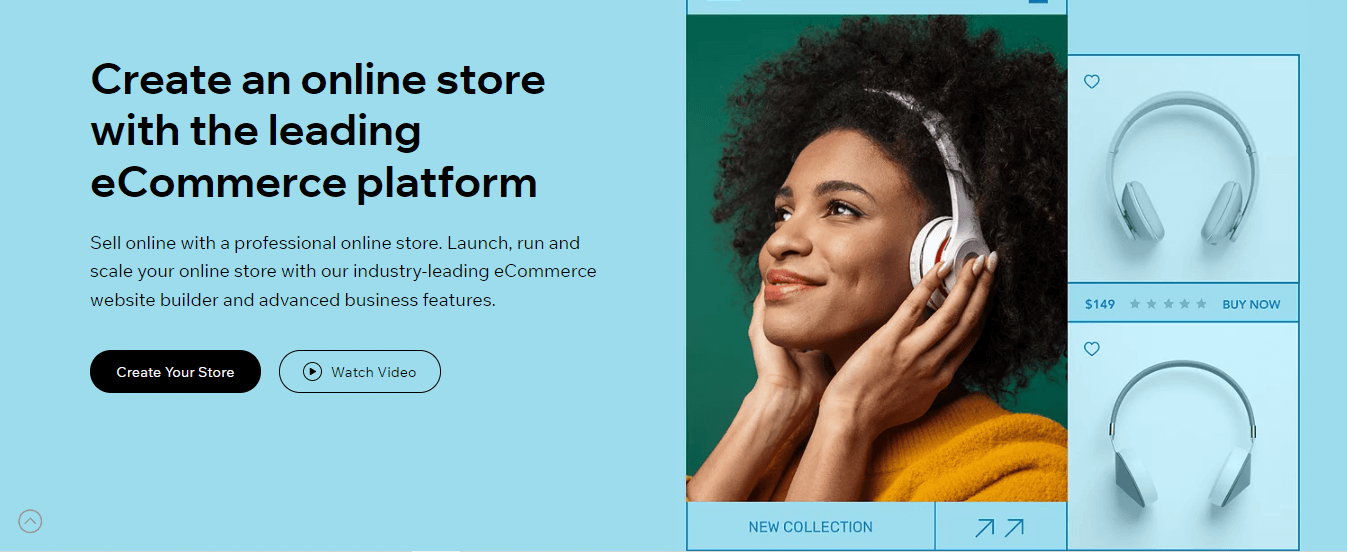 Wix is a similar content management system to WordPress. With Wix website builder, one can design any kind of website without writing codes.
Besides regular website builders, Wix offers a separate service for eCommerce, which is known as Wix eCommerce. Like the regular builder, the eCommerce builder has the drag and drop option.
The eCommerce feature of Wix works in the SaaS model. So, the website owner needs to pay monthly for the service. The basic package starts from $17/month. Each of the packages will have storage and feature limitations.
Using Wix, even a non-techy guy can design a custom eCommerce website, which is a huge money saving for startups. Just choose the plan and design a mobile-optimized store with all the necessary pages.
It features a large media library, blog templates, and many more. Managing product inventory and orders becomes easy.
Pros
Comes with free SSL certificates
No need for additional cost for payment integration
Features multichannel inventory management
Built-in SEO tools to boost traffic
Suitable for both physical and digital products
Cons
The free option doesn't work for eCommerce websites
Top Features
Ready templates to design versatile websites
Regular webinars to learn the process
The support center is active and beginner-friendly
Hassle-free product listing and product catalogs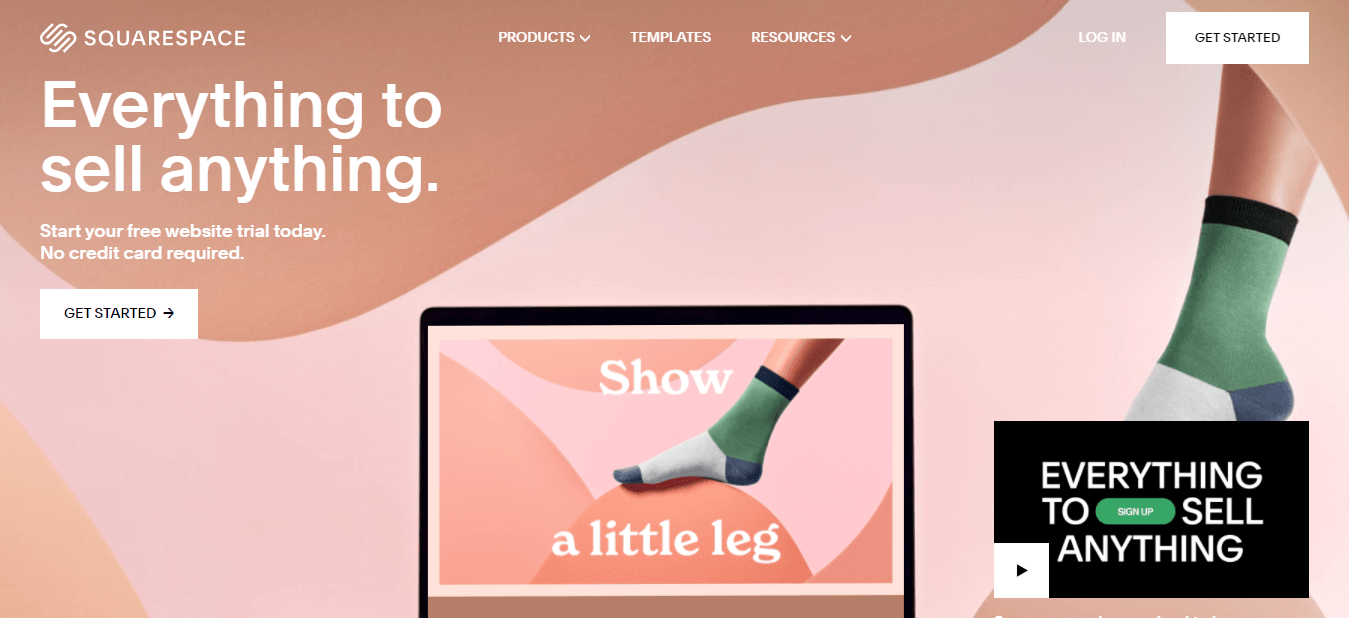 Thinking of designing an online store using templates? Then go for SquareSpace that makes it easy. This platform is suitable for different types of websites including eCommerce.
As an eCommerce startup, you can sell a wide range of stuff here. For instance, it could be digital products, physical products, artwork, and many more.
Whichever format you need, you will find related templates. So, there is no need to start everything from scratch. Choose the template and edit the sections according to your business demand.
SquareSpace provides all the features for new eCommerce startups. You will get default payment integration, various extensions, ready checkout pages, and more.
No matter if you have zero knowledge about this platform. They have a large collection of resources. Check out them and learn how you can implement the features.
Pros
Easy to manage the product inventory
Flexible shipping options
Allows third-party tools API integration
All popular payment integrations
Marketing tools are available on the platform
Cons
Doesn't have many third-party tools
Top Features
Drag and drop features to design the store
Developed by artists, so it is highly artists friendly
Doesn't require third-party tools for new stores
Easy to navigate dashboard and better insights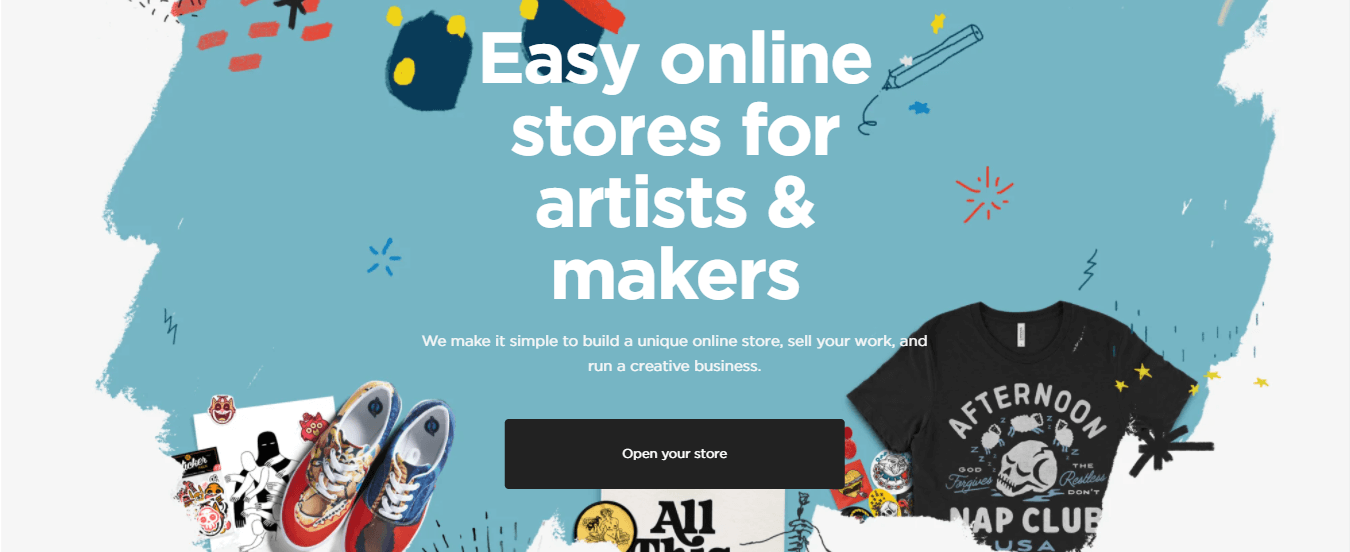 If you are looking for the best international eCommerce platforms to sell arts and designs, check out the BigCartel platform. It is a specialized eCommerce platform for artists and art-based startups.
However, the platform is popular with a specific group of people who like to sell creative works like arts, design, and crafts.
The good thing is despite being a SaaS-based business model, they are offering a free option. In the free plan, you can upload up to 5 products.
In the premium packages, they give access to more insights. For instance, you can check to google analytics data, manage the product inventory, track shipping, and many more.
The platform is relatively easy to start a store to sell arts and other creative designs. There is no need to learn any technical jargon.
Pros
High-quality UI/UX
Easy to track orders and shipments
Autopilot sales tax system
Allows for bulk editing that saves time
Cons
No default payment integration
Which One Do We Recommend?
We have listed 7 eCommerce platforms for startups in this list. So, you might be wondering which one do we recommend most.
Well, each of the above eCommerce platforms has some unique features. But if you consider the overall advantages and disadvantages, WooCommerce is the winner. Whether it is a big startup idea or a small online store, WooCommerce provides complete support.
Once you get into WooCommerce, you will explore features of third-party tools. Thousands of developers are working on innovative WooCommerce plugins. New tools come in the market frequently that are helpful for modern eCommerce stores.
But if your startup idea is based on a dropshipping model, we do recommend Shopify. There you will find better support for product delivery to product storage. Also, you will have the essential apps and tools for dropshipping stores. Choose the right plan to start and go for it.
How Do Ecommerce Platforms Work?
Basically, eCommerce platforms allow you to design a website based on their resources. Depending on the company, an eCommerce platform provides the facility of uploading product details without technical knowledge, adding new sections of the website, and more.
The best part is, eCommerce platforms come with default product inventory management and order management systems. Everything is accessible in the dashboard.
Some eCommerce platforms even provide detailed insight and SEO-friendly tools to boost traffic. So, if you establish an eCommerce startup based on a platform, it will be helpful to cut the expenses for site design.
Where to Begin for a New Ecommerce Website?
Once you choose the eCommerce platform, it is time to choose a domain name and a hosting plan. In the next step, install the essential tools.
If you have chosen the WooCommerce platform that we recommended, install WordPress in your hosting plan. Now go to the WordPress dashboard and install WooCommerce. There you can upload the products as well as other details.
To design a functional eCommerce store, we highly recommend Shopengine – The Ultimate WooCommerce solution. You will get everything that a new eCommerce store demands.
For other platforms, the process will be almost the same. Pick the domain name and hosting plan and then the essential tools for that particular platform.
Frequently Asked Questions
Is an eCommerce business good to start?
Yes, starting a business in the eCommerce model is the best idea for upcoming years. The industry is growing aggressively after the pandemic. The majority of people are getting used to online shopping.
Which eCommerce is best for startups?
For startups, WooCommerce is the best eCommerce platform as it is free to start. Also, WooCommerce has the best collection of third-party tools to integrate new features for a store.
Can I start an eCommerce website with a low budget?
Yes, you can. Choose an eCommerce platform that offers a free option. Start for free and then design the website. When you are making a profit or have a budget, buy the premium subscription as well as tools and integrate advanced features.
Is WooCommerce free to start?
Yes, the basic package is free to start. There is a premium option too in the SaaS model. That one is suitable mostly for digital products selling.
How much does it cost to design a SaaS based eCommerce website?
It depends on your chosen platform for the eCommerce website. If it is with WooCommerce, designing a SaaS website won't need any coding.
Final Words
So, you should now have a clear idea of which eCommerce platform you should choose for your startup. Don't think too much about technical things. Just check out the features of different platforms and choose one that best matches the type of the startup.
Also, whichever platform you choose, you may have to integrate additional tools and apps. Choose the tools carefully to design the store at ease. Even if you have to pick premium tools, go for it.