ShopEngine LTD Giveaway- Congratulations to the lucky Winners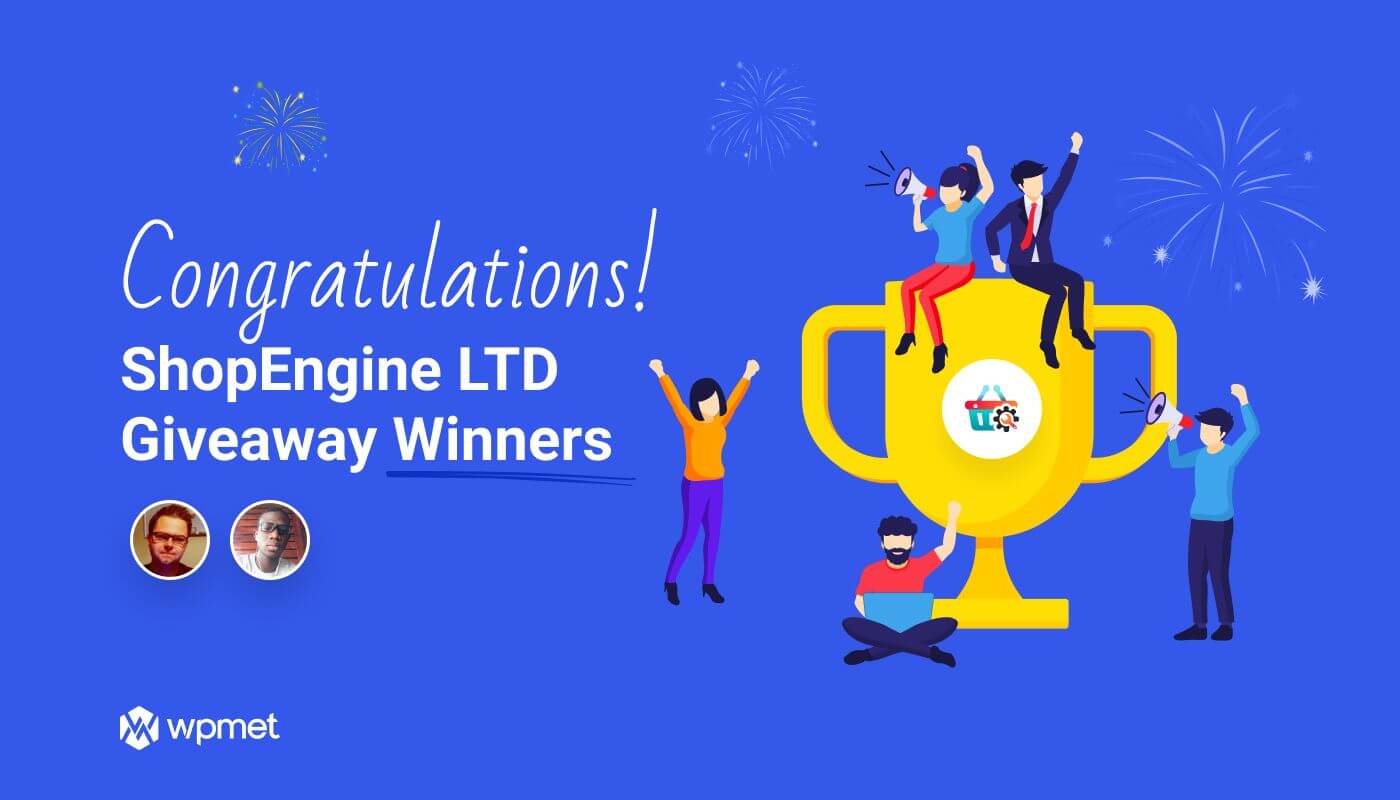 Yayy! It's party time! But for who?
Well, For the Winners of our ShopEngine LTD Giveaway, who else?
It's finally time to unveil the lucky winners of ShopEngine LTD Giveaway offer.
Still not sure why this calls for a celebration? Keep reading to get up to date and maybe even try your luck by participating in our future contests cause it is really worth trying.
ShopEngine LTD Giveaway in a few words
We had recently launched a giveaway contest collaborating with The WP Weekly, following the big release of our much-awaited premium WooCommerce plugin ShopEngine Pro. ShopEngine was available on the market for some time but seeing the positive responses our team has put in a lot of work to bring something better and bigger for our audience.
And after months of hard work and dedication, we finally released ShopEngine pro. We thought it's time to give something back to our audience, our inspiration who motivates us to build a better plugin. So, we had arranged a giveaways contest which was from Oct 03 – to Oct 16, 2021.
As part of the giveaway, we are offering a lifetime license of ShopEngine Pro which in normal time can cost up to $599.
I feel so proud to say that our whole ShopEngine team is just thrilled to see how hundreds of people have engaged with the giveaway.
And finally the winner is….
While hundreds engaged there can be one winner right? No.
In the case of the ShopEngine giveaway, there is not one winner, there are two. Those lucky two are –
Brian Schnurr
Emmanuel Kuebutornye
Let's get to know our winners a little bit…
Brian Schnurr – First Winner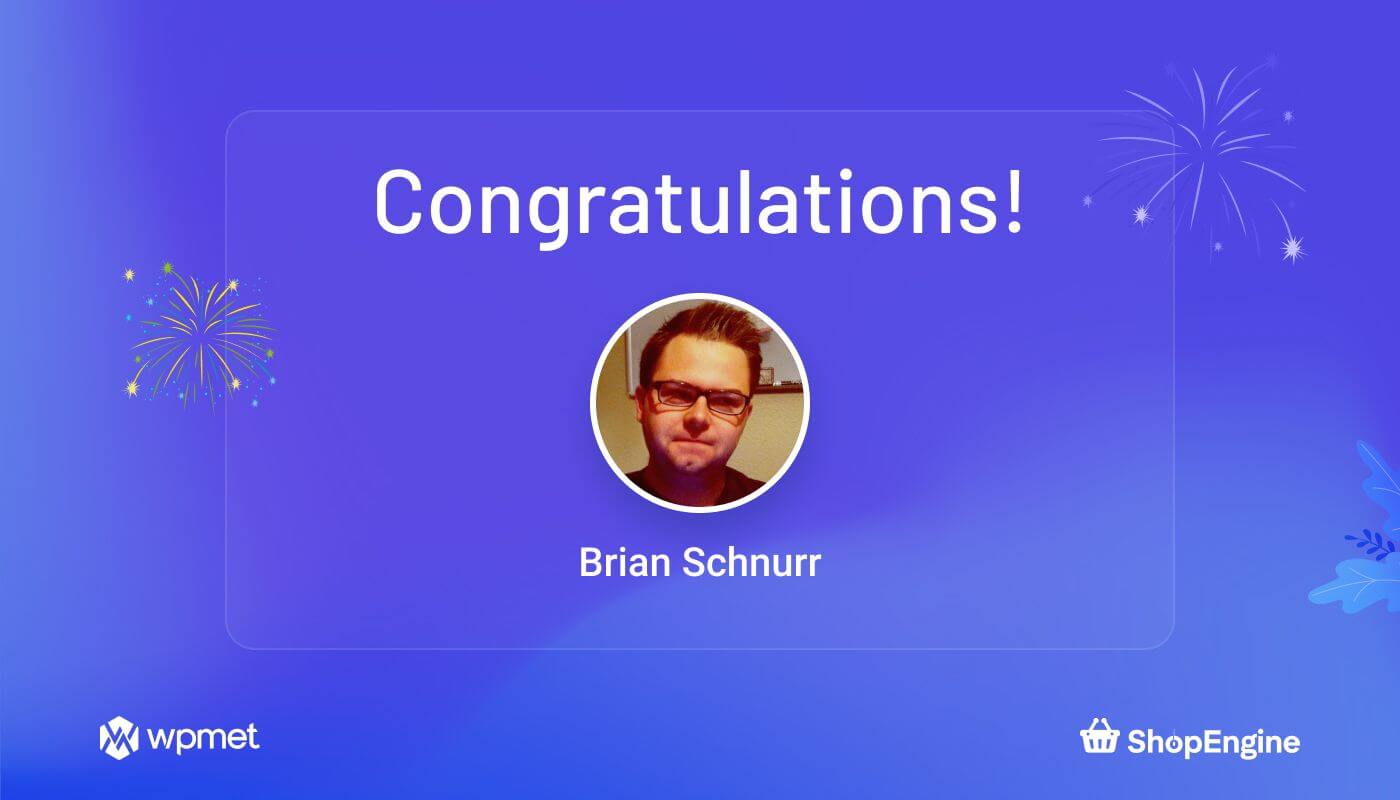 Brian is an award-winning web designer and SEO strategist. He is passionate about WordPress and has been helping businesses gain new customers for over 16 years with WordPress.
He has successfully worked with Fortune 500 companies to small business owners and everyone in between. To quote brian in his words.
I love what I do and put every ounce of my heart and soul into every project I attach my name to – Brian Schnurr
Prize:
Brain has won Lifetime license of ShopEngine for 5 Sites (Worth $249 )
Let's hear his view on ShopEngine and why he engaged with the giveaway campaign.
What made you participate in this contest?
When asked about what interested him to participate in the contest, Brain said he was quite impressed with the WooCommerce features ShopEngine offers and was looking forward to trying them,
How do you feel after winning the contest?
Brain said he is very excited about the win and can't wait to try out ShopEngine on his WooCommerce websites'. He is also delighted about the fact he got a lifetime license for 5 websites, not just one!
What are your future plans regarding the use of ShopEngine Pro?
Brain plans to use the 5 licenses on his client's website to up his game and improve their website to give them the best Woocommerce experience.
You can follow Brian on his social handles to get updates on his experience using ShopEngine:
Emmanuel Kuebutornye – 2nd Winner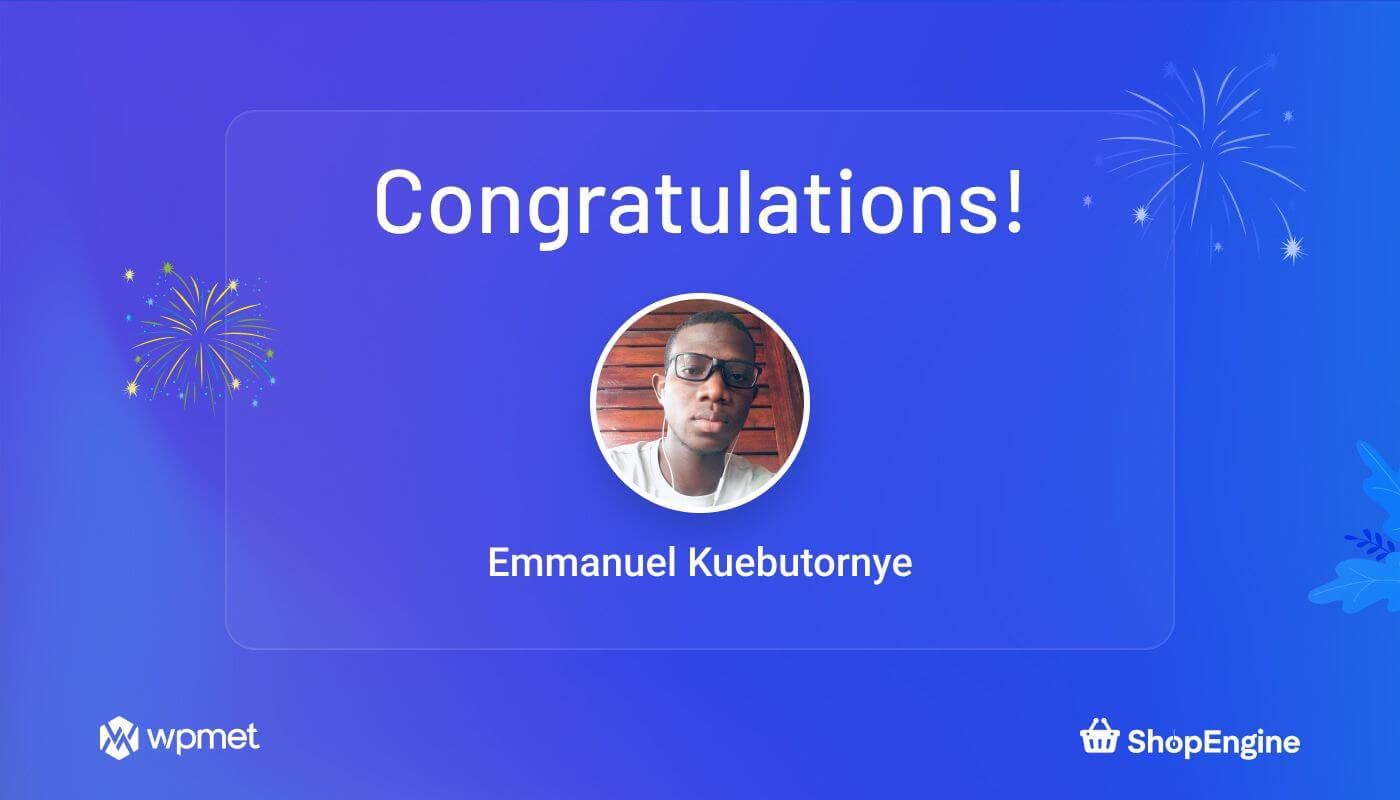 Emmanuel is the founder of the web design company Bliss Web Concept and also a Marketer. His love for web design has inspired him to start a company to help different businesses gain success with SEO, web design, and Mobile app development.
Prize:
Emmanuel has won a Lifetime license of ShopEngine 1 Site (Worth $149 )
Let's hear why he was intrigued about ShopEngine and why he engaged with the giveaway campaign:
What made you participate in this contest?
Emmanuel had a clear answer to why he participated. He was so impressed with ShopEngine that he decided to use ShopEngine in his next project. He would have probably bought the plugin but he got lucky to win the lottery and ShopEngine license for free.
How do you feel after winning the contest??
"I am very excited. 😄 " was his exact words. He was extremely happy that he got lucky and became the second winner of the ShopEngine Pro license.
What are your future plans regarding the use of ShopEngine Pro?
As I said, Brain had his eye on ShopEngine release Pro for a long time. So, When asked about his future plan, he said "All things being equal, it will be my go-to plugin for client websites when it comes to customizing checkout and thank you pages".
Have you ever used any of our products? If yes, please mention which one.
Emmanuel's faith in ShopEngine was due to his previous great experience with another product of Wpmet called Metform.
Metform is the most Flexible & Design-Friendly Form Builder Plugin for Elementor with 40+ Inputs in Elementor's Service, 30+ Predefined Contact Form templates, CRM Integration, and many more. Wanna learn more about Metform? Check our blog on Everything You Need to Know About MetForm.
You can follow Emmanuel Kuebutornye on Facebook
Little bit about ShopEngine
If you are still wondering why so many people want to grab ShopEngine's license? Let me tell you a little bit….
ShopEngine is the most complete WooCommerce bulder for Elementor. This is a revolutionary plugin for WooCommerce with 12+ Useful Modules, 15+ Latest Pre Designed Templates and 60+ advanced widgets to custom build your WooCommerce pages. Read our blog to learn more about ShopEngine pro.
Try your luck to win Lifetime license of Wpmet products
Feeling sad you missed out on the opportunity? Don't!
Because we have another upcoming campaign for Halloween. Our Halloween discount offer will start on 25th October 2021 and will be available till 2nd November 2021. You can get upto 40% discount on all Wpmet products on our Halloween offer.
Keep an eye on all our social media profiles to get notified about all our offers: