ShopEngine: A Complete WooCommerce Solution for the Next Generation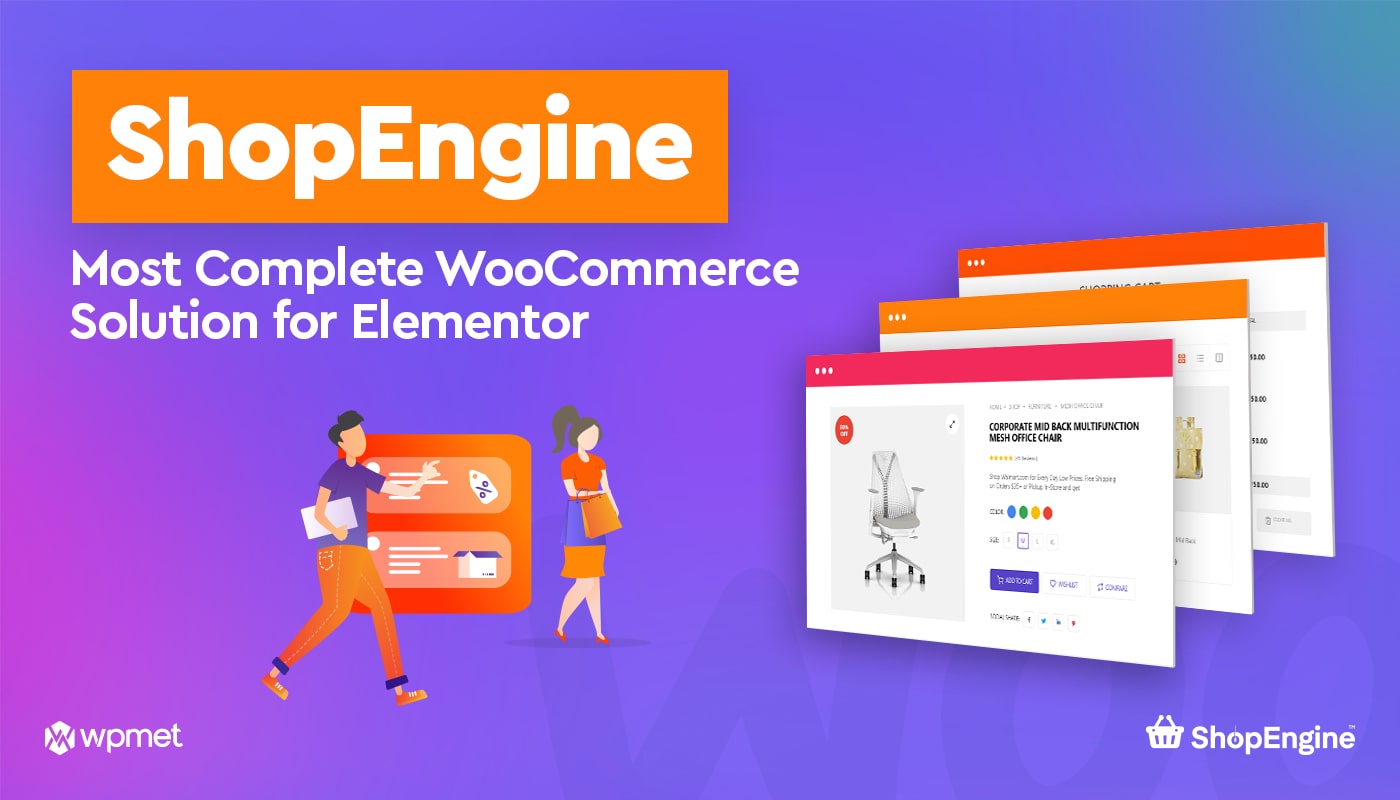 Hello WordPressians, the long wait is finally over! ShopEngine is ready to give you the easiest WooCommerce site-building experience. Thanks to the developers who've spent days and nights to make the dream (ShopEngine) come true.
As it happened with ElementsKit, we are expecting that ShopEngine would be on the top of its kind within a very short time.
So, what's so special about ShopEngine? Is it another plugin for WooCommerce?
No, it's not! It's more than that.
ShopEngine is a full-fledged WooCommerce solution. With ShopEngine, you're now at absolute liberty to design your product, cart, checkout pages, and whatnot.
ShopEngine comes up with tons of widgets and modules. It makes sure that your WooCommerce website gets more conversions and a better UI/UX for your users.
In this article, I'm going to give you an idea of the top-notch features ShopEngine has to offer for your WooCommerce website.
Are you there?
I know you are reading' 😉
Please keep going.
Features of ShopEngine: The List of Modules
ShopEngine brings the best WooCommerce solution for the WordPress site with its enriched features. It's an all-in-one plugin with hundreds of features. The following section covers the features module for ShopEngine.
You can customize all the modules as needed for your eCommerce site with ShopEngine.
Variation Swatches: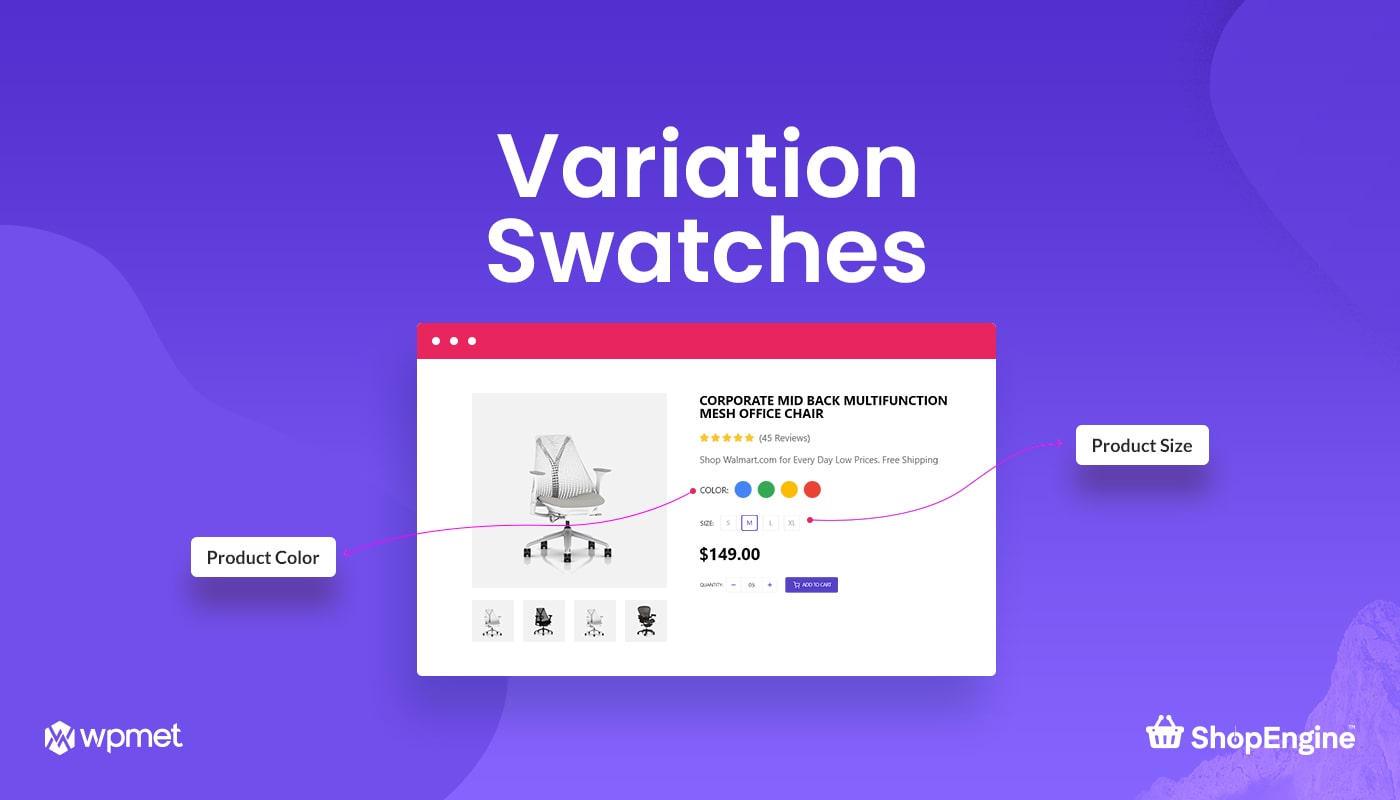 Variation Swatches Module in ShopEngine
ShopEngine variation swatches are beautiful features for the product page. You can remove the boring drag-and-drop color menu, product-size menu and add variation swatches to your site with the plugin.
It helps with more conversion as users can select their desired variation on the same page. No extra click or moving other pages required if you have the variation swatches.
Here are some advantages for ShopEngine variation swatches:
It handles many variations, color and size variations without dropdown.
A potential customer will get product details in more appealing ways.
A customer will see accurate pricing for each product based on color or size.
Merchants can import many blank images with a slider effect.
Merchants also have the opportunity to show/hide any image on the product page.
According to a recent survey, an eCommerce site having variation swatches get a 10x less bounce than another regular website.
Top variation swatches feature from ShopEngine WooCommerce:
ShopEngine is compatible with WooCommerce
Easy to add product variation
Easy to customize the color
Show color and size in circular variation
Use color from global WooCommerce settings
Text and image tooltip with customization options
Show the total products number while hovering on the color circle
For color swatches, no extra plugin or cost needed when ShopEngine is available on your site. Also, it's possible to switch off for particular products if needed.
Quick View: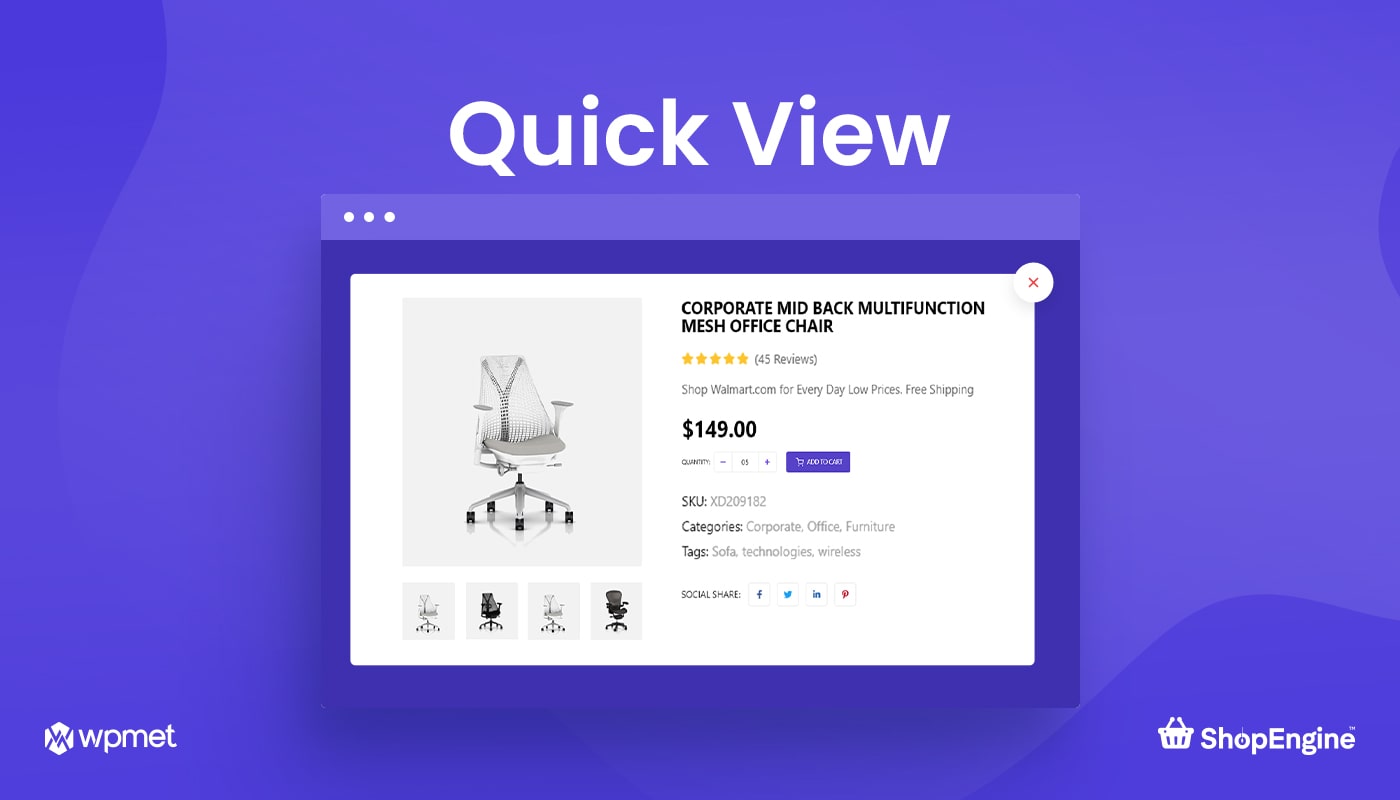 Quick View Module in ShopEngine
Quick View, often calls a "quick look", is a place where users do interact with products. Luckily ShopEngine brings the option to next-generation eCommerce builders. eCommerce entrepreneurs claim they get better selling results with the quick product view options.
As mentioned already, ShopEngine's quick view has several advantages like improving user experience, improving the site experience, and increasing sales.
If you have color swatches or variation swatches then the quick view is a must needed option for the eCommerce site.
Wishlist: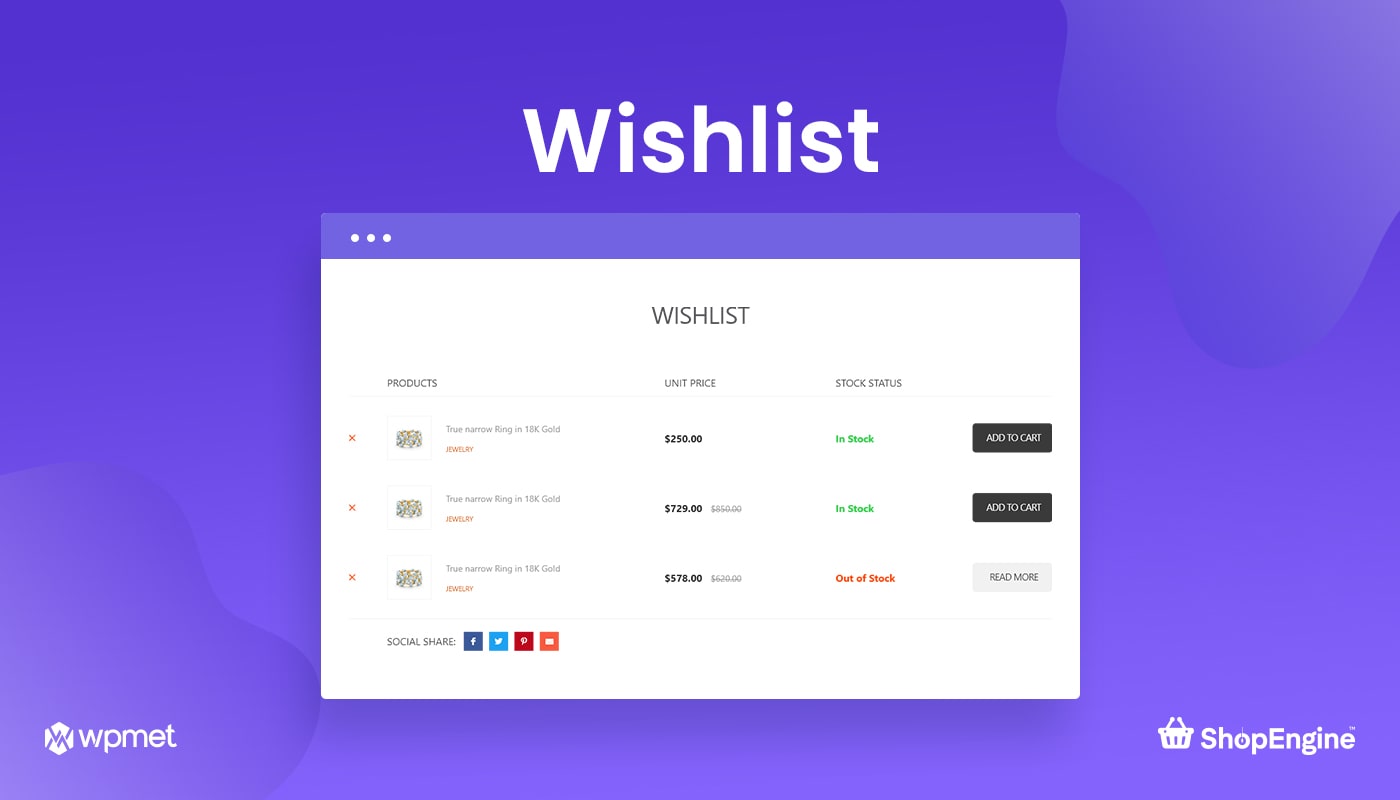 Wishlist Module in ShopEngine
ShopEngine brings the wishlist options for WooCommerce page builders. With the plugin, you can now add a wishlist to your eCommerce site within a small time. Here is some advantage for ShopEngine wishlist-
Knowing your customer – Once users feel interested in a product, they add it to their wishlist. So, if you want to know your customer, a wishlist is the key spot.
Future re-marketing – Once the user's select any product, you know their choice. Now, you can go for remarketing with an up-sell, cross-sell target. You also can do discounts and offers for the customer.
ShopEngine allows you to add a wishlist to your WooCommerce website. So you can get the indicated advantages. Don't you think, It will increase sales?
Product Comparison: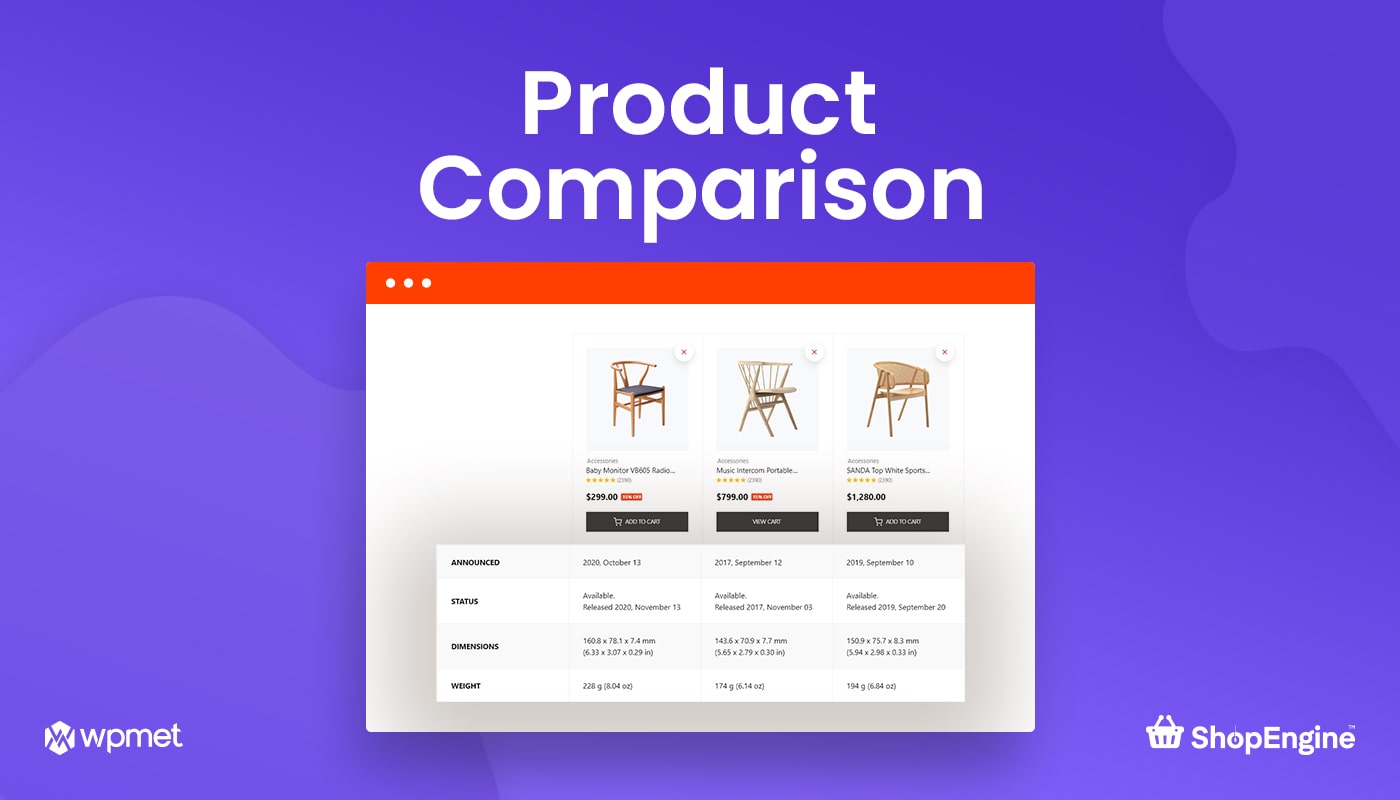 Product Comparison Module in ShopEngine
According to visiture.com, "72% of Millennials research and compare their options online before going to a store or the mall." ShopEngine brings the product comparison features for your WooCommerce site at its first release.
What are the advantages of ShopEngine product comparison?
Better User Experience: User will get many products compared on the same page. Isn't it cool? It keeps users in your eCommerce site, reduces the bounce rate with the features.
You never miss sales: Users are staying on your site, make buying decisions, and press add-to-cart. This is because ShopEngine product comparison features. You are not missing any future sales.
ShopEngine WooCommerce solution enables detailed product comparison between multiple products on your site. With these beautiful features, you have good chances to keep the bounce rate near 0% from the site.
Filter and Pagination: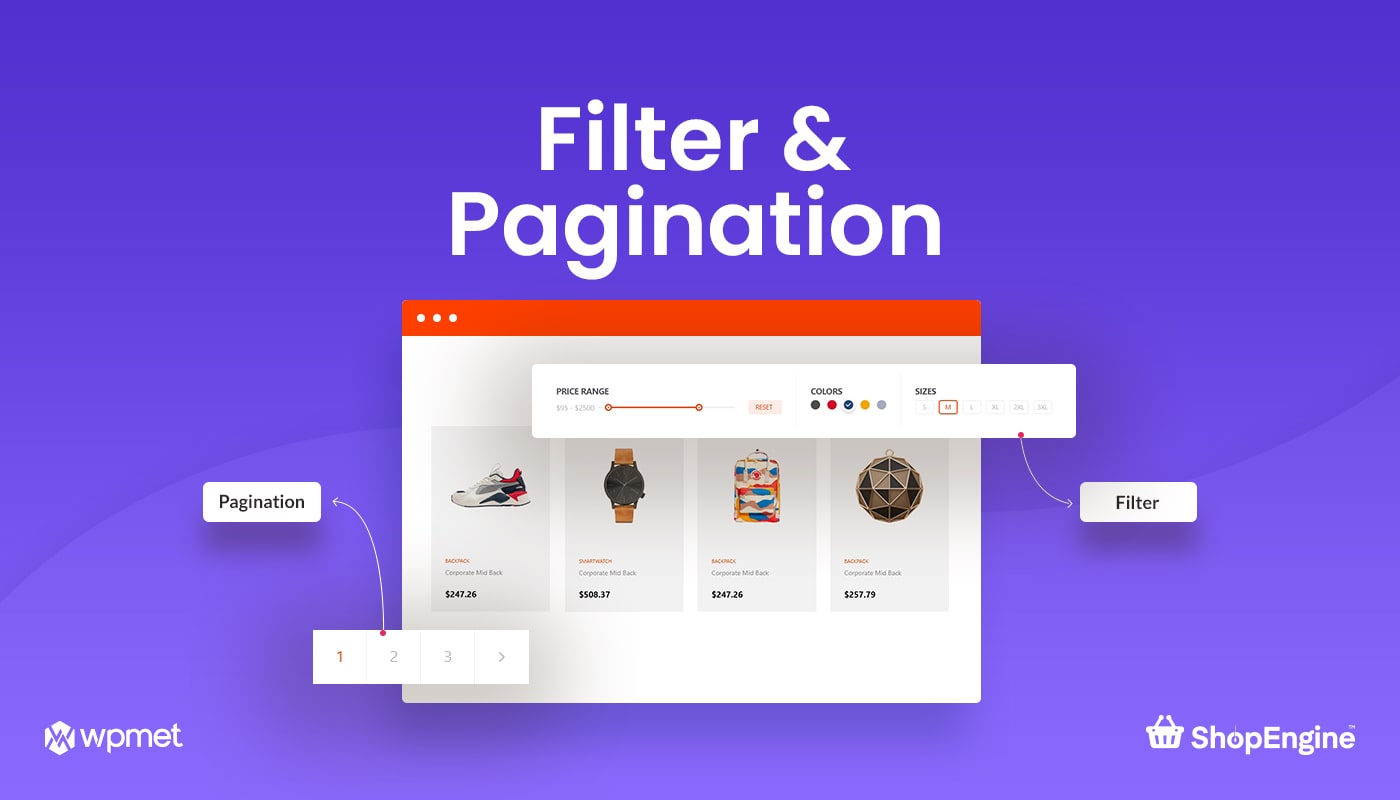 Filter and Pagination Module in ShopEngine
ShopEngine brings the most advanced AJAX-based filtering and pagination for you. The product filtering works from the global product category. This means, If you use ShopEngine, your customer will get the filtering options automatically.
At the same time, ShopEngine implements SEO-friendly pagination.
You probably know, pagination is one of the key benchmarks for SEO. If you want to introduce your site in the search engine, want to index the product and get more organic customers, then ShopEngine is the plugin you need.
Features of ShopEngine: The List of Widgets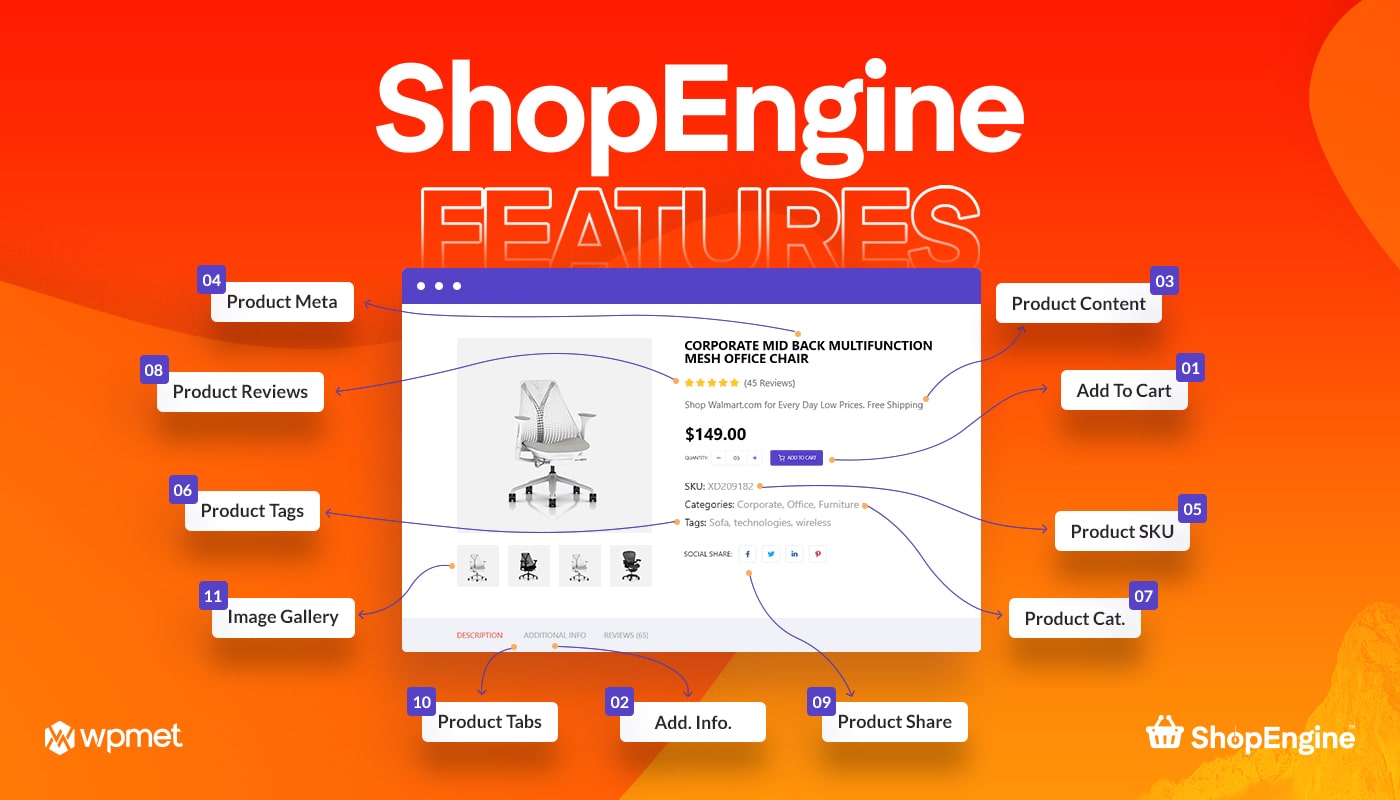 Different Widgets in ShopEngine
Add To Cart[01]: Set the add-to-cart button at any place inside the single page product. ShopEngine allows you to set a multi-location add-to-cart button along with different colors, layout, style, hover effect, and many more.
Additional Information[02]: You can add story-line, eye-catching information, or anything extra information for each product at the additional information section. It will also help you in product SEO.
Product Content[03]: You can add the field of the key description for each product. It's a place where you describe the point. Take control over it with our plugin.
Product Excerpt: Set a wonderful product excerpt with ShopEngine. Take attention to your busy customers. Add product excerpt at the place you want to show on the product page.
Product Meta[04]: Product meta is a small description directly related to the product SEO. The better the meta description you add, the better result it will return to you. For the organic sale, add product meta in your WooCommerce site.
Product SKU[05]: Product stock-keeping-unit (SKU) is the unique identifier for all the products. It helps to track the in-stock and out-of-stock.
Product Tags[06]: Product tags are another direct SEO-related spot for an eCommerce site. With ShopEngine, you can set product tags location and multiple tags for each product.
Product Categories[07]: The product category is another Elementor WooCommerce widget brought to you by ShopEngine. You can add as many categories as you want to your WooCommerce site.
Customers visit similar products with the category hyperlink. Also, the category gets search engine priority. Isn't it nice to have?
Product Reviews[08]: Product reviews are arguably the most usable way to reduce shoppers' concerns about a product. A majority of the people are influenced by product reviews in their purchase.
With ShopEngine, you can control the product reviews section in your store. Building a customer review section is nothing but drag-and-drop matters for ShopEngine Users.
Product Share[9]: Social share has a big value for both organic SEO and branding. It helps the owner grow sales in many ways. You can add regular shares including social shares with ShopEngine.
Product Tabs[10]: Why will you be bound with the old-style showcasing of your goods when you have WooCommerce addons for Elementor? You have ShopEngine, the next generation WooCommerce solution. You can add a different style product tab on your site.
Image Gallery[11]: Show different product images with product image galleries on your WordPress eCommerce site. Multiple products grab user's attention. Especially if you add multiple images in different angles, it helps the user to take the buying decision.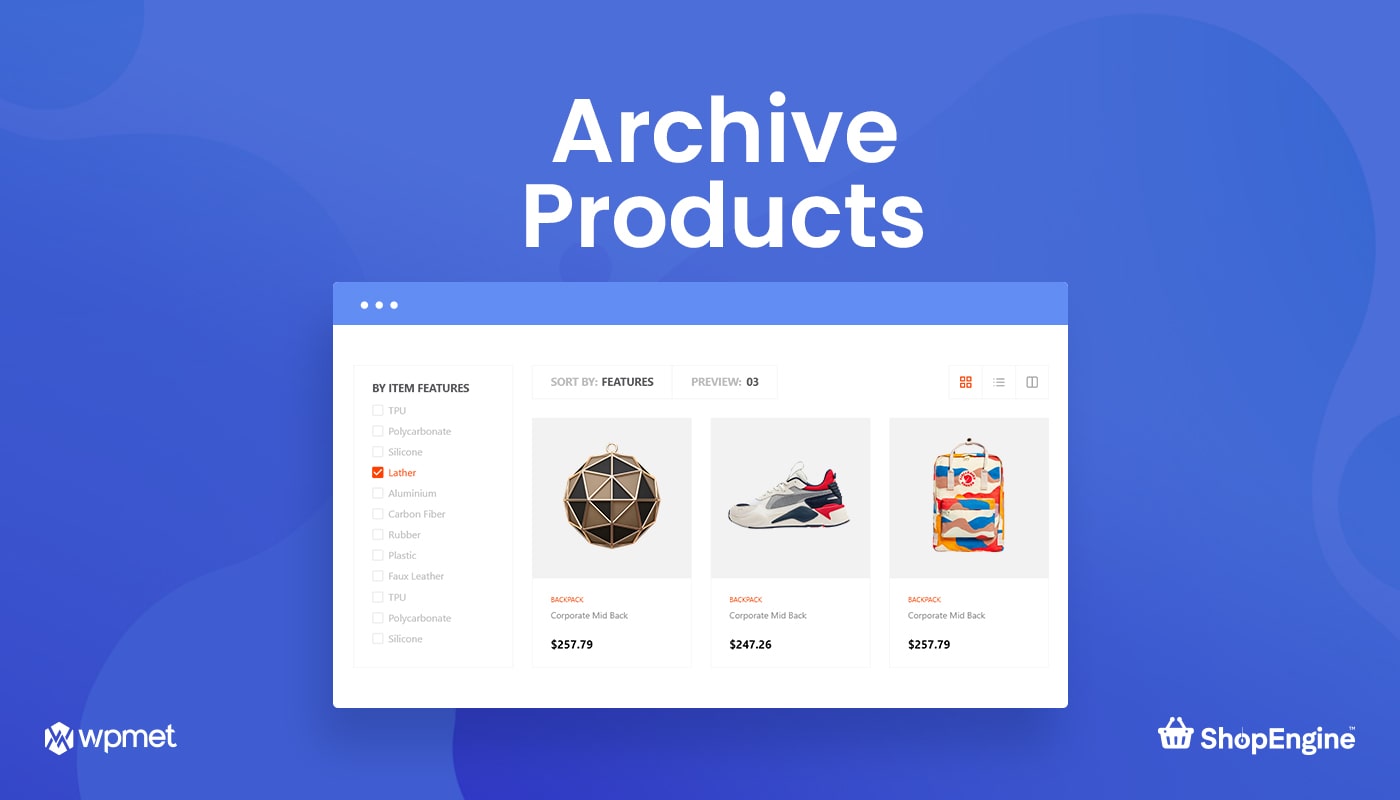 Archive Products Widgets in ShopEngine
Archive Products: Do you want to show your product in more stunning ways? No worry! Take control of your product archive page with the WooCommerce solution plugin.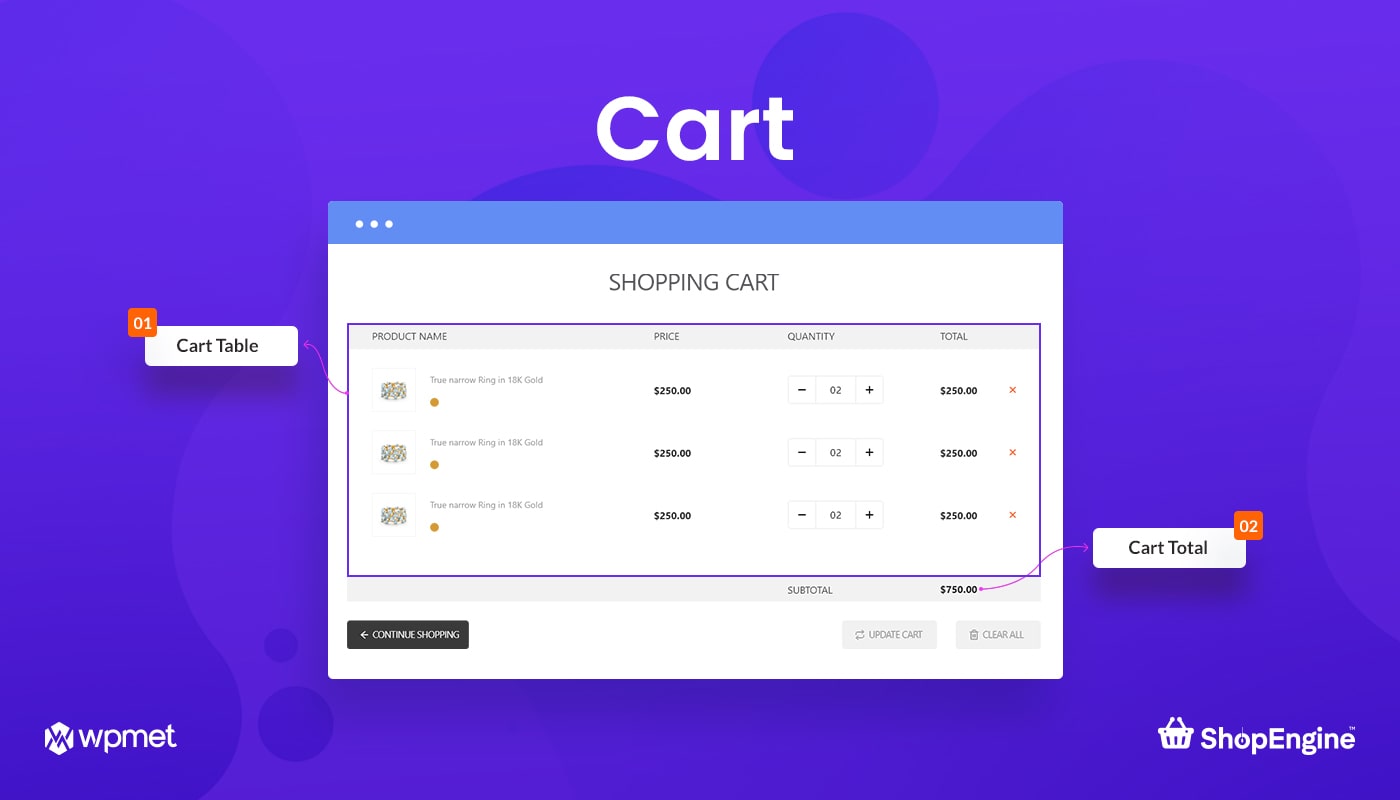 Cart Widgets in ShopEngine
Cart Table[01]: Throw away your old-style cart table and design a brand new cart table for your customer. Let them give a beautiful vibe and bring a better user experience. ShopEngine engineers build the functions only for you.
Cart Totals[02]: Cart total is also customizable when you have ShopEngine in your hand(website). Add cart total, give new style, hover effect, and so on with the WooCommerce Elementor addons called ShopEngine.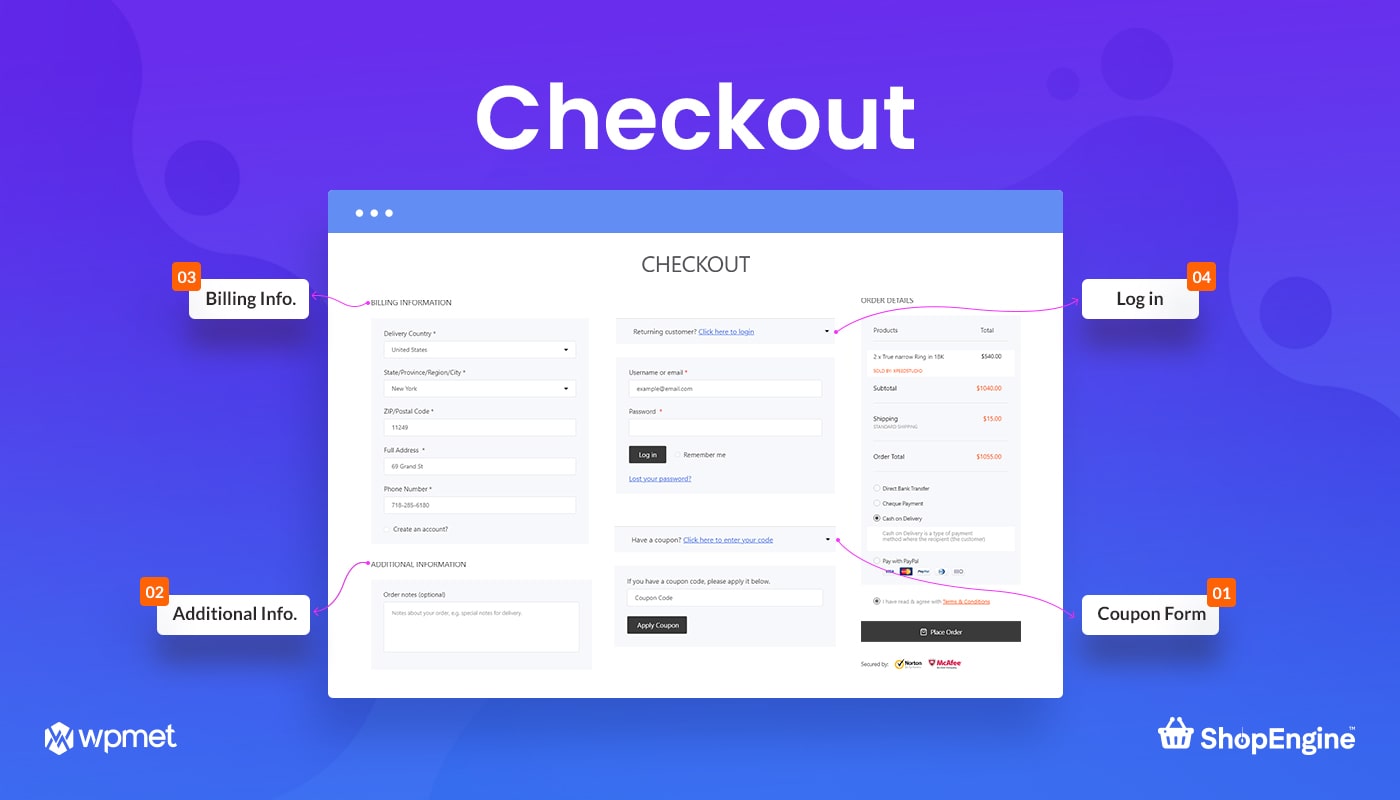 Checkout Widgets in ShopEngine
Checkout Coupon Form[01]: If you have any coupons, add them to your customer on the coupon checkout page. Take control of your up-sell and down-sell by offering a coupon on the site.
Checkout Form Additional[02]: You can take additional information from your customer. It could be the alternative address, address notes, or could be the alternative number.
Checkout Form Billing[03]: Design an amazing "billing checkout form" with ShopEngine. You can set a gorgeous form for the valuable customer. With the ShopEngine WooBuilder, you can move the form to any place on the page you want to go.
Checkout Form Login[04]: The checkout page login form is the option for your recurring customer. It's important to keep them motivated and buy more on your site. You can design a new checkout page login form with ShopEngine.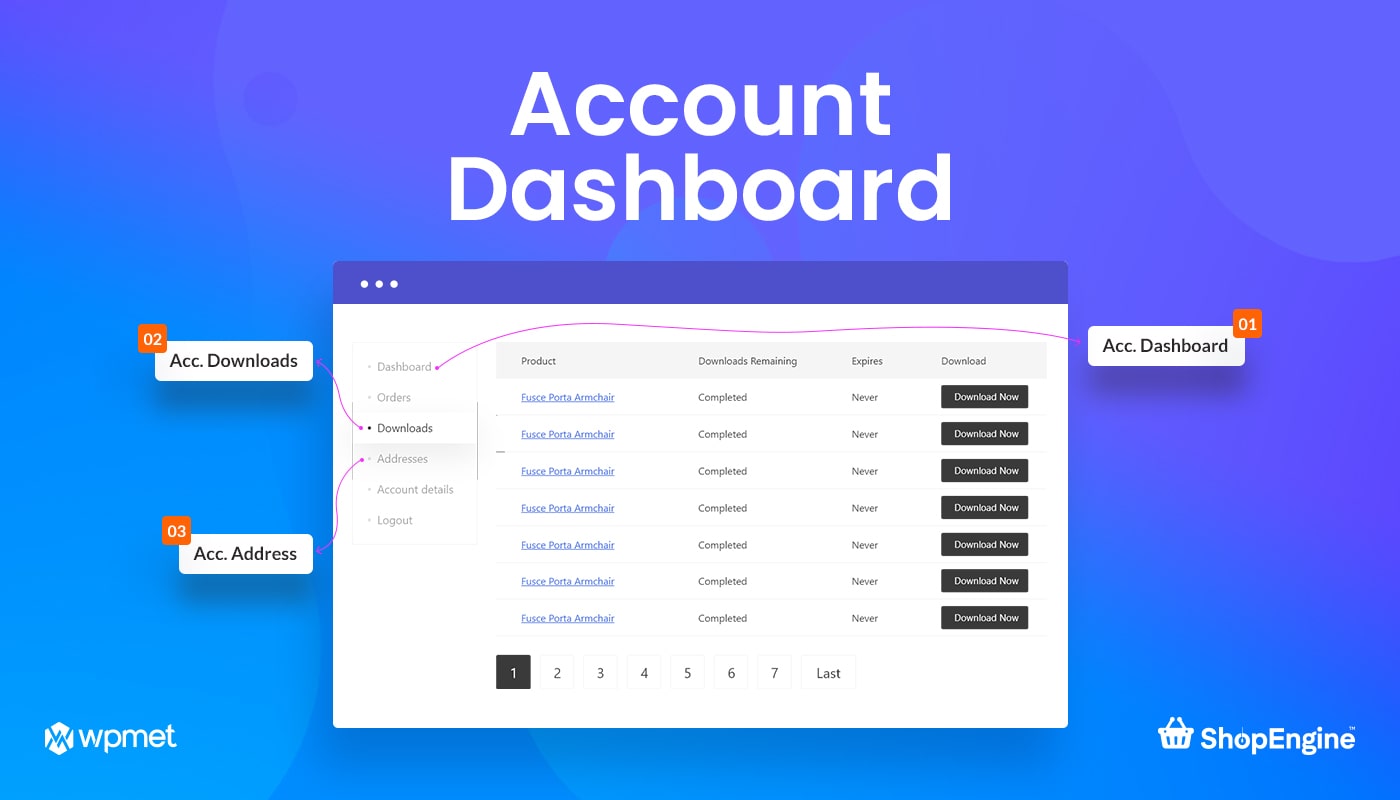 Account Dashboard Widgets in ShopEngine
Account Dashboard[01]: The account dashboard is also for the existing users in your eCommerce. But as the dashboard contains sensitive information, the page becomes more important. ShopEngine helps you to set an impressive account dashboard.
Account Downloads[02]: Do you sell digital goods that your customer gets with download. An account download option is a place where the downloadable goods and links are displayed.
Account Address[03]: Shipping address, alternative address page are important for both site owner and customer. ShopEngine developers know it. They develop in such a way, you can add a new account address page to your site. It's a matter of a few clicks.
What Do You Need to Use for ShopEngine?
In order to use ShopEngine, you will need a few plugins on the site. Besides WooCommerce and Elementor, we added ElementsKit to the list also. It is not mandatory, but if you'd like to enrich your design you should try it out. Let's see the list.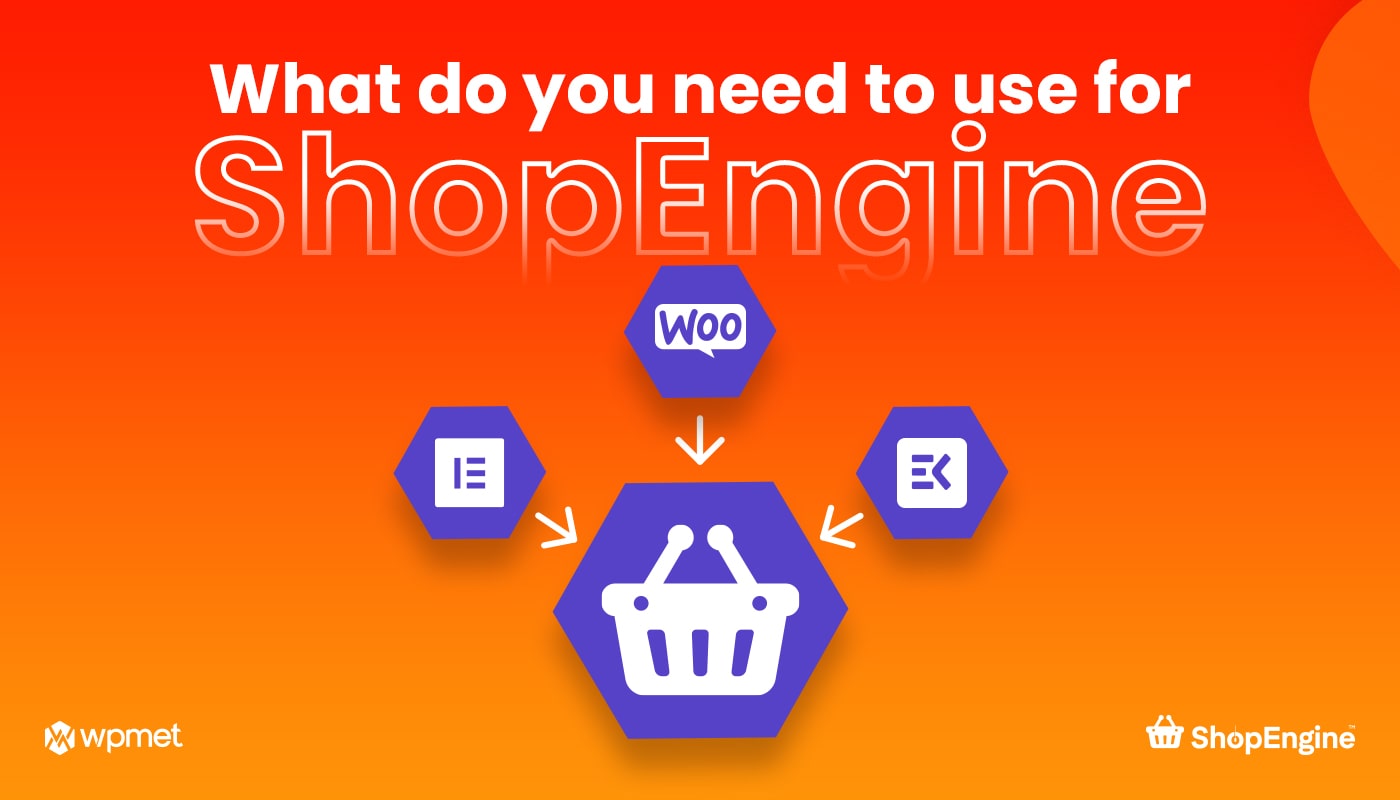 Required Plugin to Use ShopEngine
ShopEngine (next generation eCommerce site builder) works with the base of WooCommerce. So, if you want to use ShopEngine on your site, first of all, you need to install the WooCommerce plugin.
You need to install Elementor for using ShopEngine – WooCommerce addons for Elementor. ShopEngine is cooperative with popular WordPress page builder Elementor.
For building an awesome-looking site header and footer, you can use ElementsKit. It's all-in-one addons for Elementor. It has 50+ powerful widgets & extensions. You can activate or deactivate if needed.
How Does ShopEngine Stand Apart?
ShopEngine is the easiest drag-and-drop WooCommerce page builder. It also offers you the highest FREE features compared to other WooCommerce builders.
ShopEngine provides Elementor base complete WooCommerce solution for free. You can design a full eCommerce site without having coding knowledge including HTML and CSS.
Final Words
During this pandemic, many local businesses come in online. Due to time-demand, online sales have been increased 70-80% in some cases. It also brings a lot of competition for eCommerce.
Nowadays, Having your own eCommerce site is not an asset until it looks professional and cost-effective. ShopEngine WooCommerce solution offers you both of the options.
Moving forward, ShopEngine is the plugin to work with both woocommerce and Elementor. You can change any widget, layout, elements, and modules. Full flexibility for business.
Your competitors are building eCommerce site with ShopEngine, why not you?