Introducing ShopEngine: Most Complete WooCommerce Solution for Elementor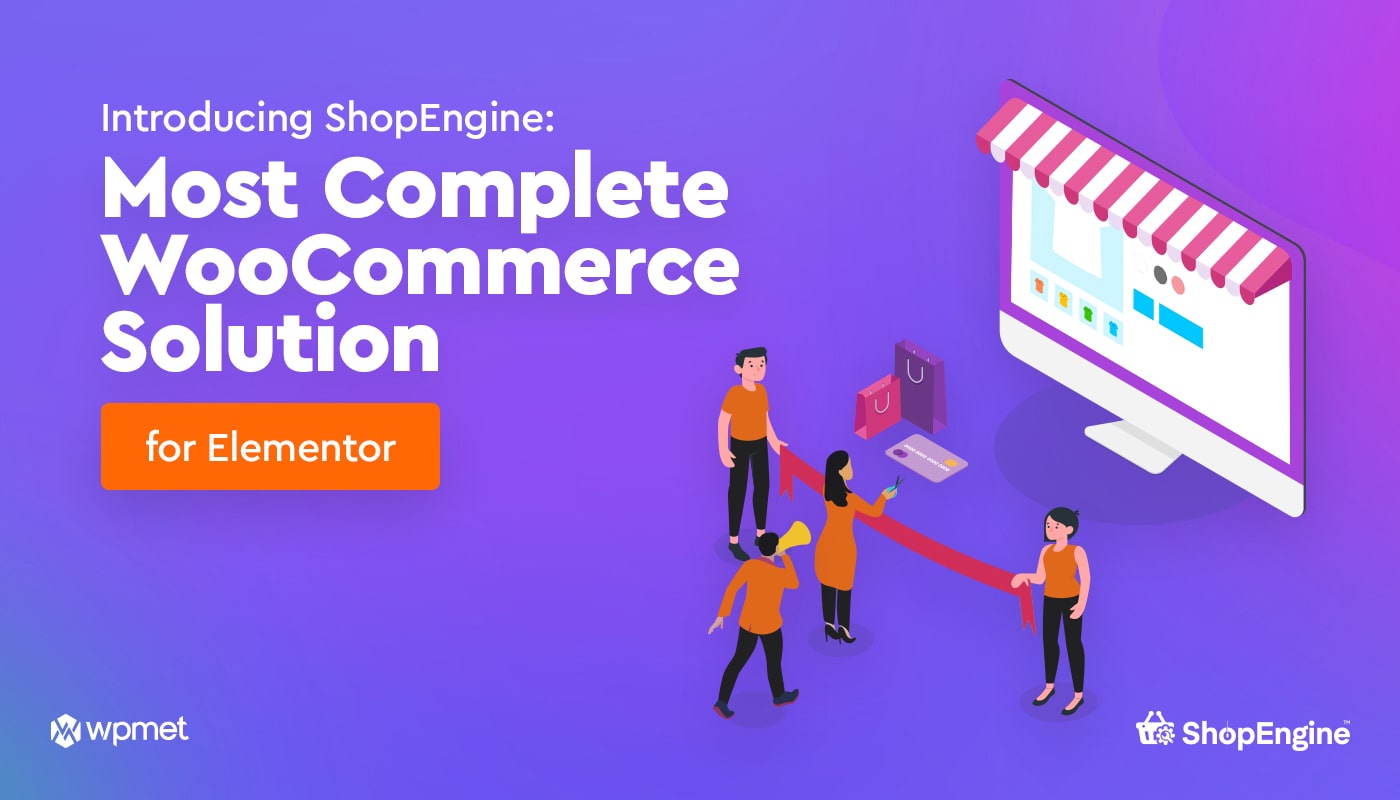 Have you ever wished to have the most multifunctional WordPress WooCommerce Builder plugin for your store?

Well, the long wait is finally over!
ShopEngine is ready to give you the easiest, fastest, and effortless WooCommerce site-building experience that you have ever imagined.
Thanks to all of our developers who've spent days and nights to make all of our dreams come true.

Now, you must be wondering what ShopEngine is all about?

ShopEngine is your one-stop WooCommerce Builder for Elementor, in which you will get all types of WooCommerce template making solutions.
With ShopEngine, you will get 50+ Fully Customizable Widgets, 5+ Useful Modules, 10+ Premium Features, and many more.
Its countless features will assist you to make the best WordPress WooCommerce Shop in no time.
In other words, ShopEngine is an 'all in one' package that will make your e-commerce store lighter as well as save a lot of your money.

How? 🙄
Because all of these are absolutely free!
Reason why you should choose ShopEngine:

Apart from the core features and modules, there are a few things that you need to bear in mind that ShopEngine is professionally coded and regularly updatable with 24/7 technical support.
Let's talk about the main features now:
By now I suppose you've already identified that ShopEngine is the most complete WooCommerce Builder plugin with multiple features.
Building Multiple WooCommerce Templates for Elememtor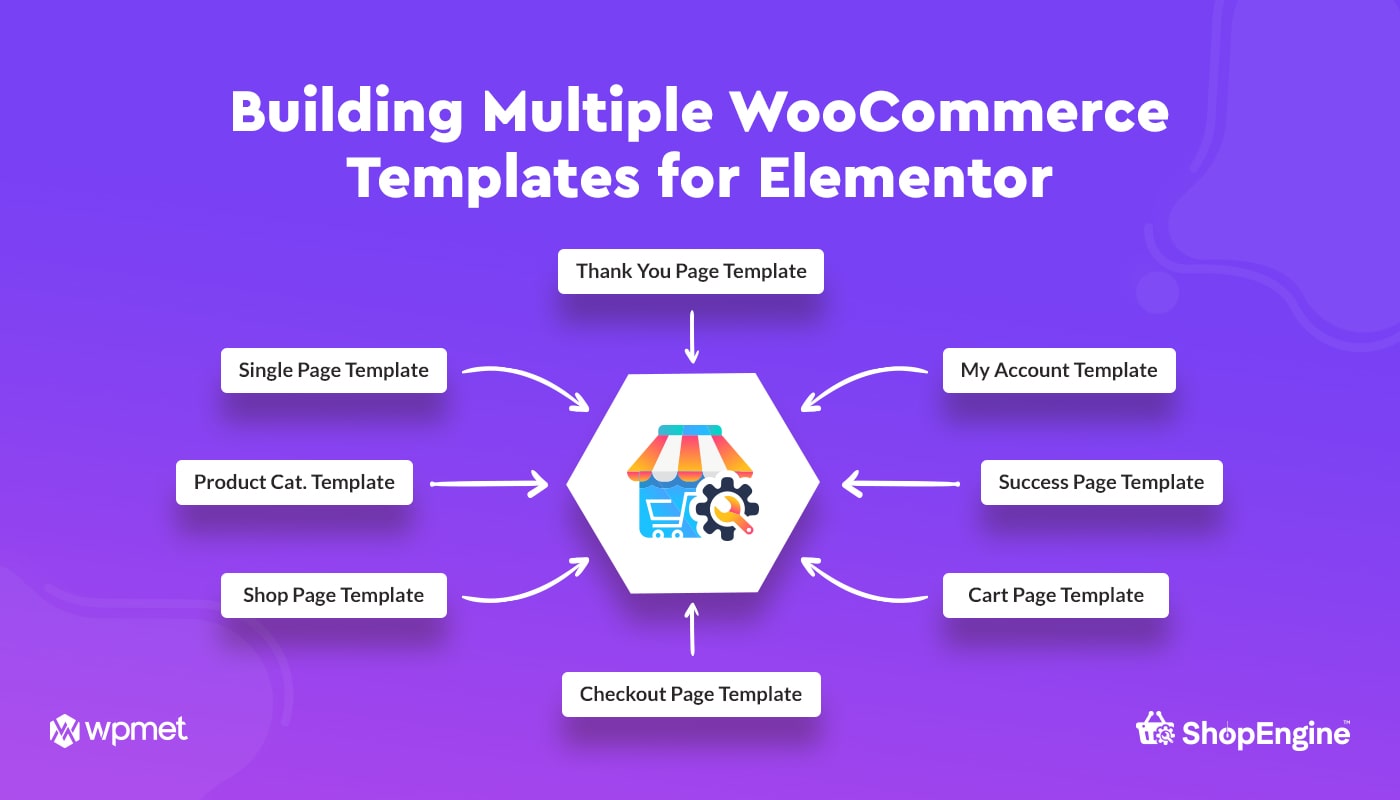 ShopEngine is solely designed for Elementor users. And it is fully capable of making all types of WooCommerce templates.
It has the easiest drag-and-drop WooCommerce template building solution. Here are the few templates that could be made with ShopEngine in just a blink of an eye:
Single Page Template
Product Category Template
Shop Page Template
Cart Page Template
Checkout Page Template
My Account Template
Success Page Template
Thank You Page Template
ShopEngine is a complete WooCommerce builder, it is fully functional and dedicated to taking your WordPress eCommerce website to a whole new level.
ShopEngine makes sure that your WooCommerce website gets more conversions with better UI/UX design for your users.
Variation Swatches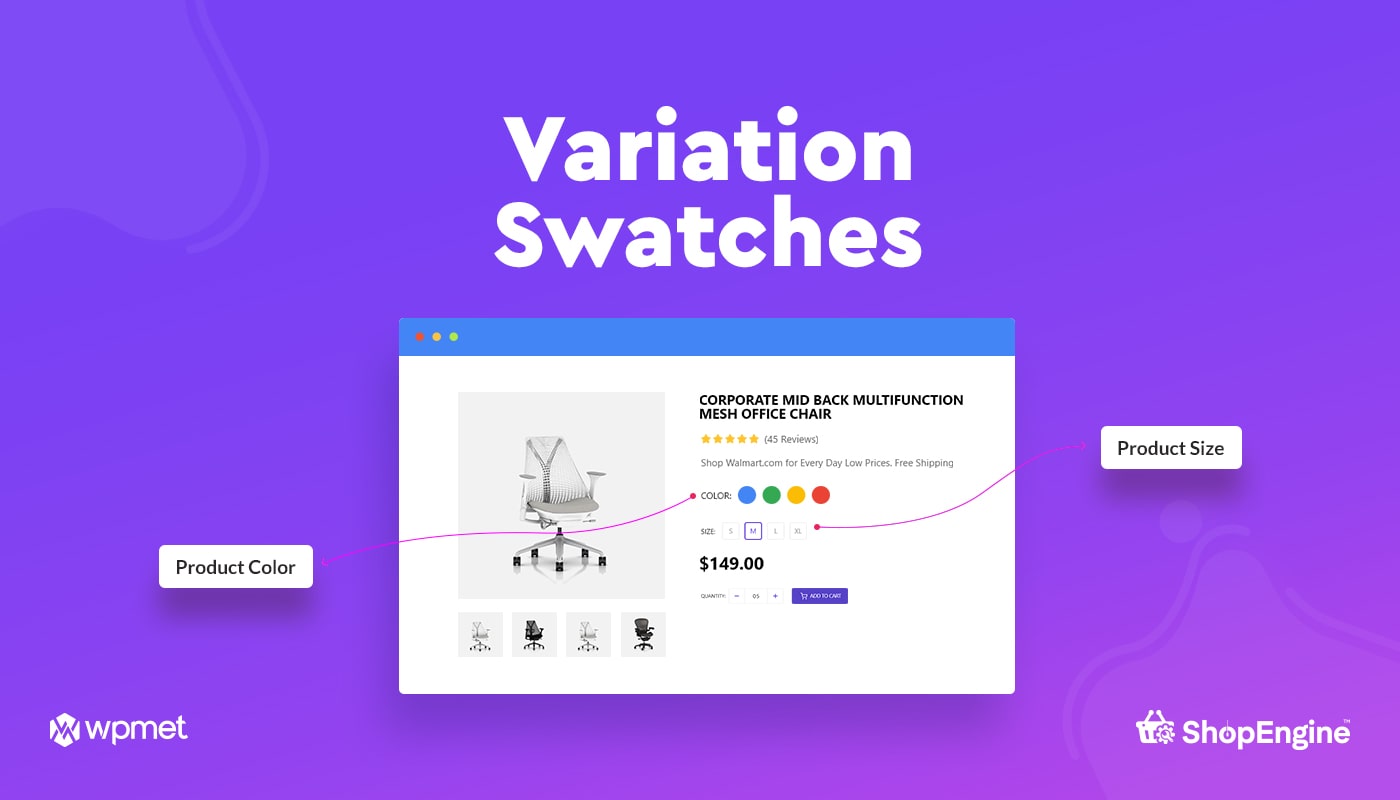 When it comes to online shopping, we always have a doubt in our mind what if the product will not be as perfect as it seems in the picture.
It is something that one can use on the product page. Variation swatches will help your customers to understand what color or size they should go for.
Here are some of the top features of ShopEngine Variation Swatches:
ShopEngine is dedicatedly coded for WooCommerce, Elementor, and ElementsKit.
Easy to add product variation
Easy to customize the color
Flexible with global WooCommerce colour settings
Product text and image tooltip with customizable options
Show the total products number while hovering on the color circle
We often tend to spend money on these color swatches plugins, but with ShopEngine you don't need to spend a single penny.
Product Comparison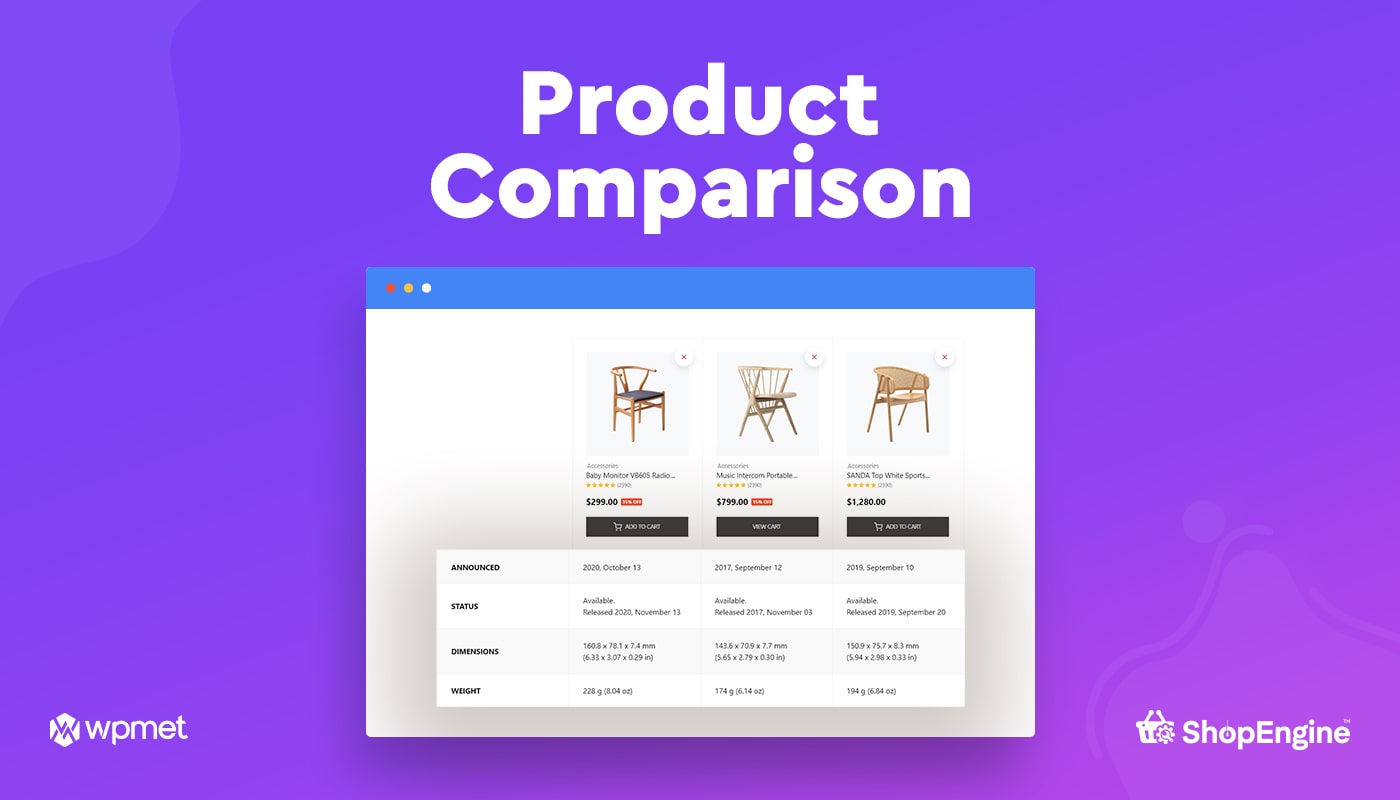 Research has shown that 72% of customers research and compare their options online before going to a store. ShopEngine brings the product comparison feature for your WooCommerce site at its first release.
A/B product comparison can be added to your store with ShopEngine. It is super convenient for the customers to purchase their desired product. Now with ShopEngine, anyone could add a product compare option.
Reasons you should add Product Compare feature in your store:
Better Customer Experience:
Users will get many products compared on the same page. Isn't it cool? It keeps users in your eCommerce site, reduces the bounce rate with the features.
Improves Sales & Shop Layout:
Adding up a product compare option could improve your sales rate too, as it is super convenient for the users as well as could be a wonderful upgrade for your shop.
ShopEngine WordPress WooCommerce solution allows detailed product comparison between multiple products on your site. With these beautiful features, you have good chances to keep the bounce rate near 0% from the site.
Wish List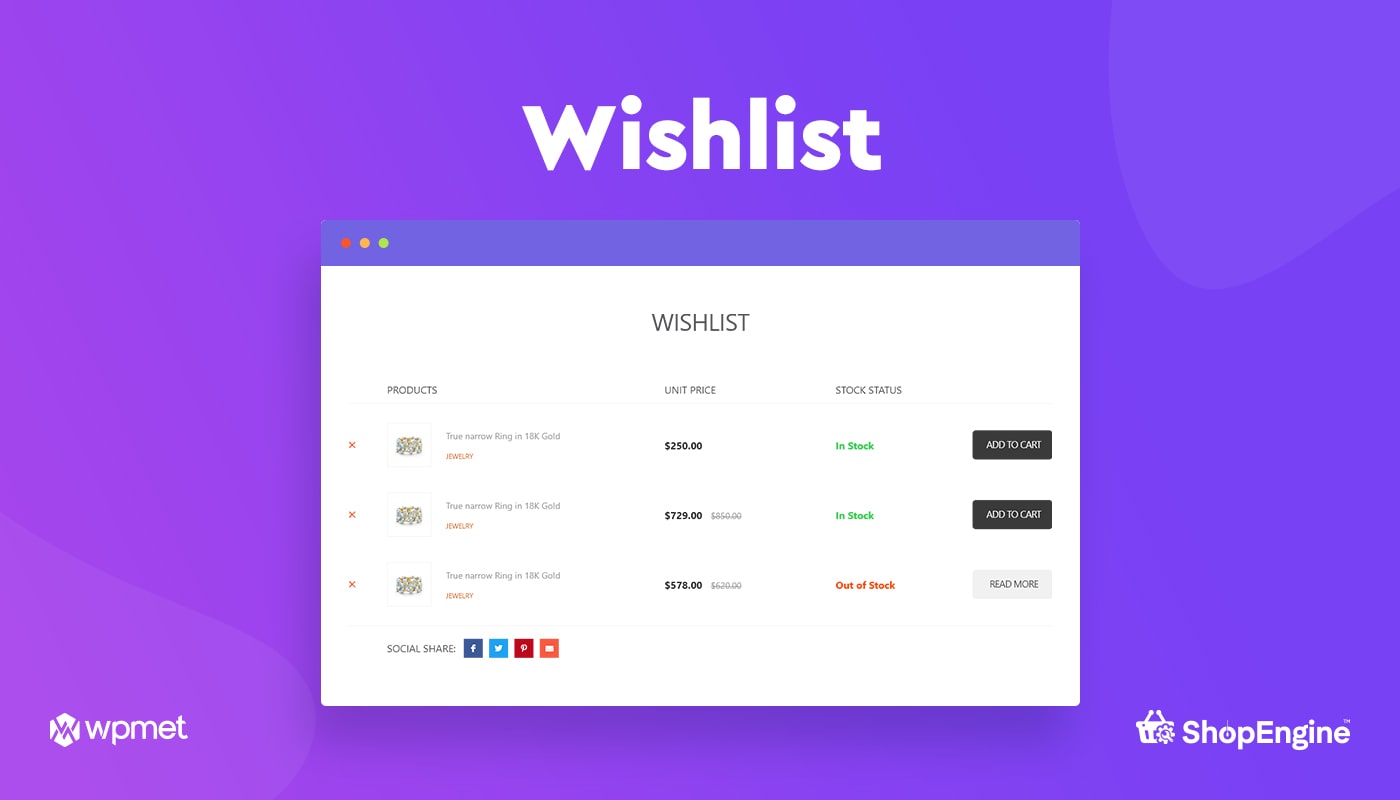 A wishlist feature that enables the customers to save products and visit your WordPress WooCommerce site again. A wishlist can also be shared with friends and family, or it can be kept private as a "to-buy later" list.
One of the premium features of ShopEngine is it allows you to add a wishlist element on your WooCommerce page builders for Elementor. With the plugin, you can now add a wishlist to your eCommerce site within a small time.
Reasons you should add Wishlist feature in your store:
Helps to improve Customer Relationship:
When your customers will save a product from your store, it will help you to know your customers better. You can easily understand what type of products word from them
Boosts Sales Rate:
Wishlist feature always helps to improve sales, as your customer will surely revisit your shop just to purchase the product/s. You can also use the abandoned cart feature as well, to boost-up your sales rate.
Quick View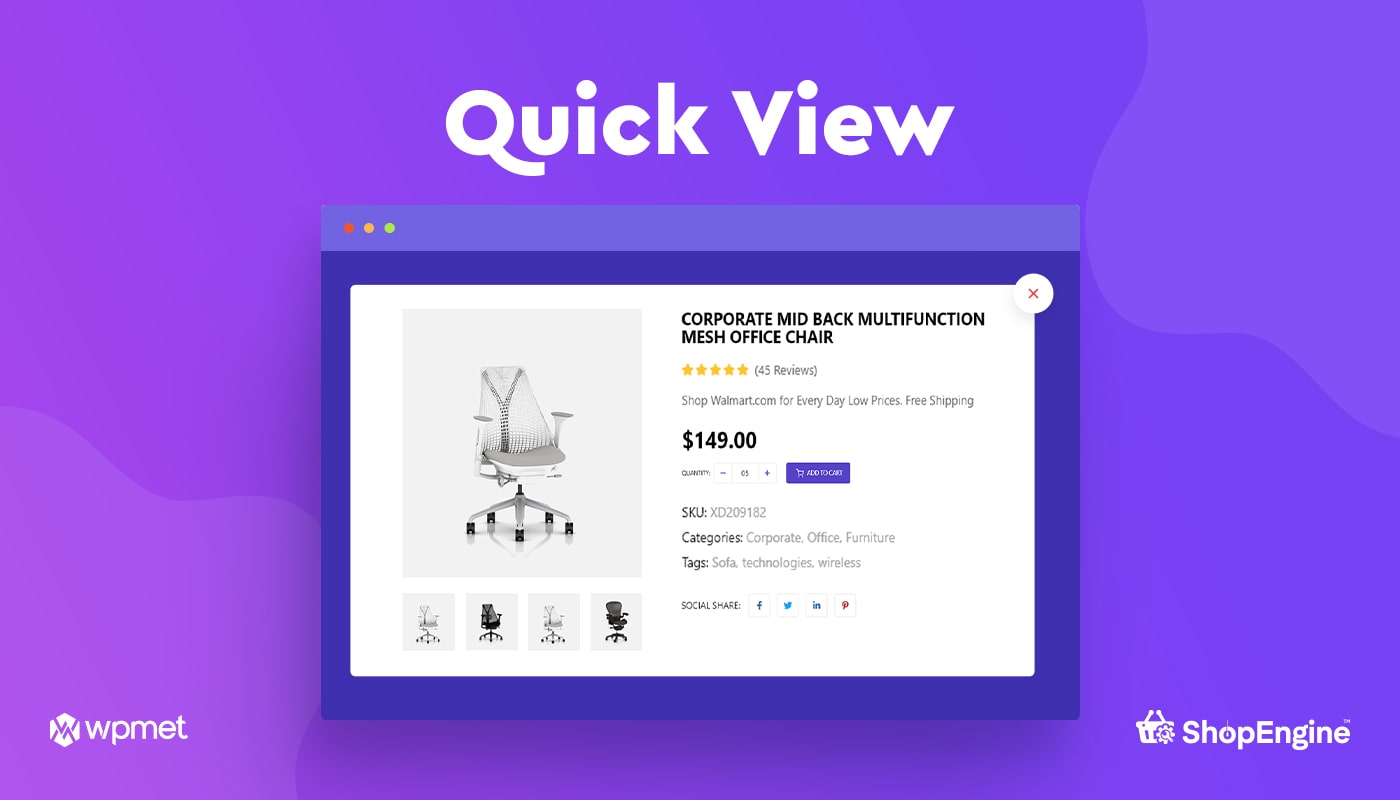 A quick look at the product can be extremely convenient for your customers as it instantly creates a visual effect and helps buyers to get the right product. It also improves customer satisfaction.
In order to interact with the product, costumes often prefer the online shop to have a 'Quick View' option. Fortunately, ShopEngine WooCommerce builder has the most customizable quick view feature.
Most of the eCommerce entrepreneurs claim that they have got better selling results with the quick product view options.
As mentioned already, ShopEngine's quick view has several advantages like improving user experience, improving the site experience, and increasing sales.
I mean, what is the reason to have an eCommerce site?
Definitely to create a WooCommerce community in which customers are satisfied.
If you wish to have variation swatches then the quick view is a must-needed option for the eCommerce site.
Filter & Pagination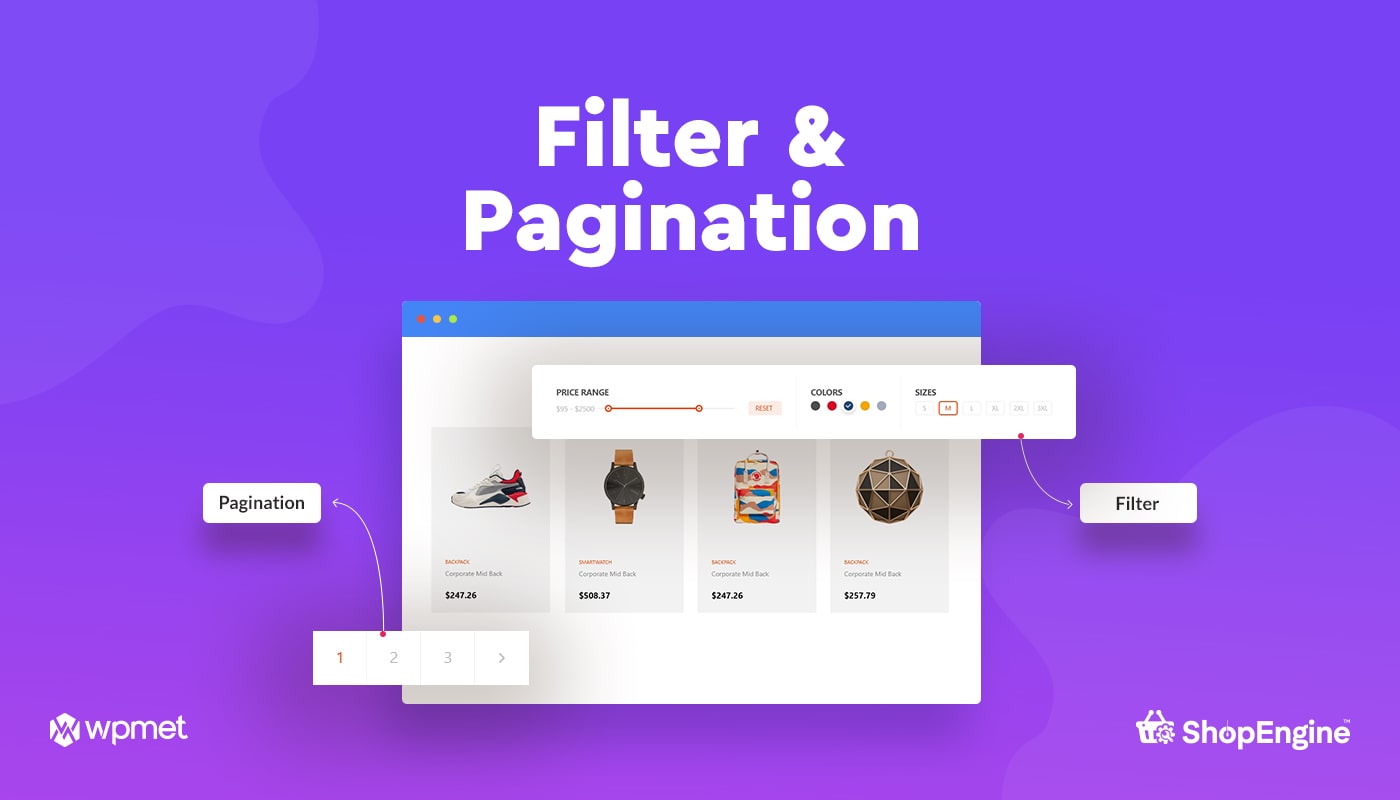 ShopEngine has the most advanced AJAX-based search and pagination widgets. The product filtering follows the global product category. This means that if you're using ShopEngine, your customer will get the filtering options automatically.
ShopEngine implements SEO-friendly pagination.
Pagination plays a vital role if you're thinking of adding an SEO option in your WooCommerce store. In terms of attracting more and more customers, one needs to work on search engine optimization (SEO).
ShopEngine has built-in pagination which is SEO-friendly, which will help you to get at the top search, and will also improve.
List of ShopEngine Widgets
ShopEngine has a huge range of 50+ widgets. Here is the list of all the template building widgets names, which will assist you to make a better WordPress eCommerce website:
| | | | |
| --- | --- | --- | --- |
| 1. Account Address | 2. Account Dashboard | 3. Account Details | 4. Account Downloads |
| 5. Account Extra Endpoint | 6. Account Form Login | 7. Account Form Register | 8. Account Logout |
| 9. Account Navigation | 10. Account Order Details | 11. Account Orders | 12. Additional Information |
| 13. Add To Cart | 14. Archive Description | 15. Archive Products | 16. Archive Title |
| 17. Breadcrumbs | 18. Cart Table | 19. Cart Totals | 20. Categories |
| 21. Checkout Coupon Form | 22. Checkout Form Additional | 23. Checkout Form Billing | 24. Checkout Form Login |
| 25. Checkout Form Shipping | 26. Checkout Payment | 27. Checkout Review Order | 28. Checkout Shipping Methods |
| 29. Cross-Sells | 30. Empty Cart Message | 31. Filter Price | 32. Product Categories |
| 33. Product Description | 34. Product Excerpt | 35. Product Image | 36. Product Meta |
| 37. Product Price | 38. Product Review | 39. Product Share | 40. Product SKU |
| 41. Product Stock | 42. Product Tabs | 43. Product Tags | 44. Product Title |
| 45. Rating | 46. Related | 47. Return To Shop | 48. Thank you Address Details |
| 49. Order Confirm | 50. Order Details | 51. Order Thankyou | 52. Up Sells |
Final Thoughts
All-in-all ShopEngine offers a valuable package, which will help you to build a better WordPress WooCommerce website. Currently, it offers the highest free widgets plugin among all the WooCommerce template builders.
However, we would be highly honored if you gave us any suggestions, recommendations, or ideas to make ShopEngine a better WooCommerce builder. ShopEngine is constantly working on a more effortless WordPress WooCommerce template builder mission.

So, what are you waiting for? 👇🏼
Please don't forget to visit our ShopEngine roadmap site if you want to keep yourself updated on what's coming next on ShopEngine.
Finally, if you wish to have a complete WordPress WooCommerce builder package, which has limitless templates and features, and also helps your website work faster, then ShopEngine is your ultimate destination.
Do you wish you know more about the WooCommerce store and make your website trendier, smarter, and faster!