MetForm, Your Favorite Form Builder Hits 200k Mark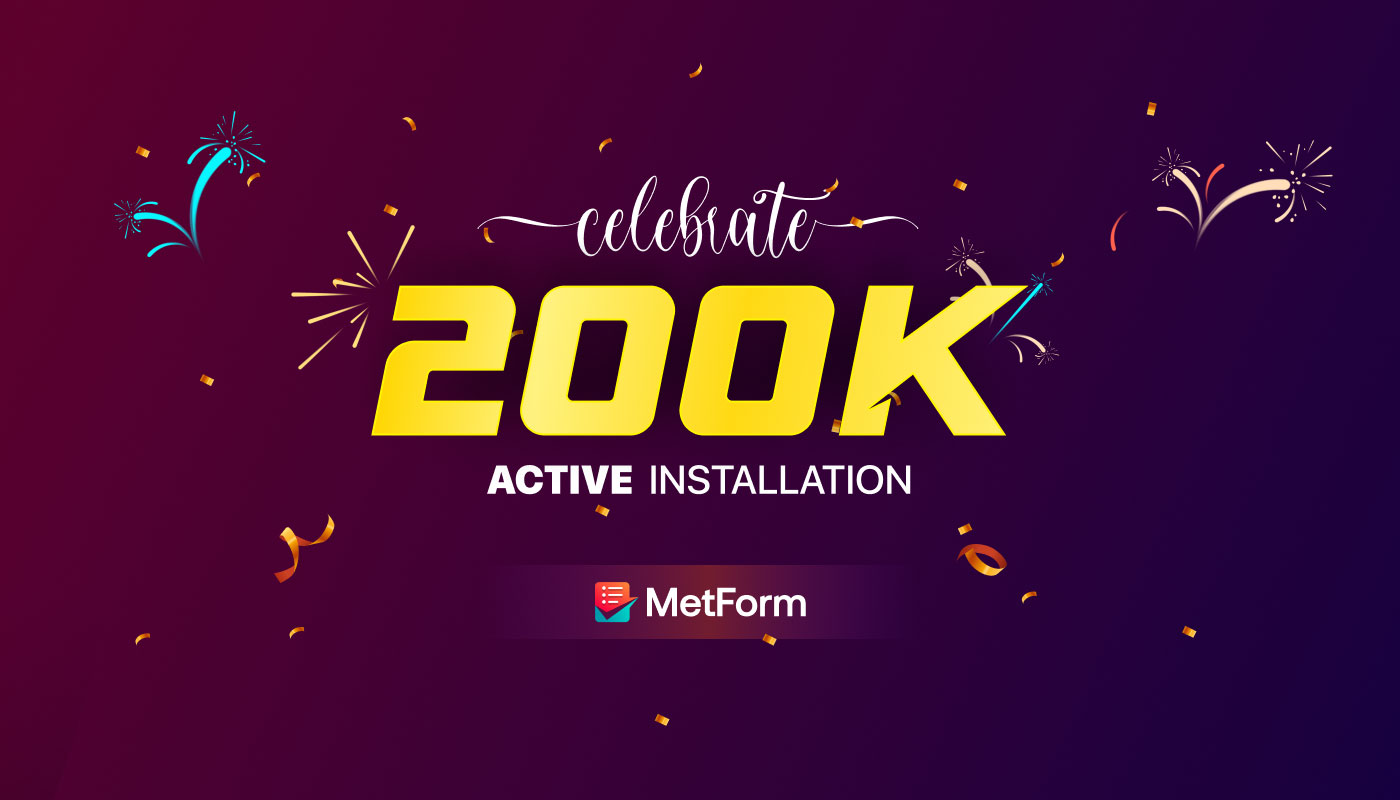 Hello MetForm Community!
We're thrilled to announce that your favorite WordPress form builder, MetForm now has 200,000+ active installations! 🎉 🎉
We want to extend a heartfelt thank you to all our users who have supported us on this incredible journey. Your feedback, suggestions, and support have made MetForm the go-to form builder plugin for WordPress.
When we launched MetForm, our goal was to create a user-friendly WordPress form builder that empowers websites to easily create and manage forms without any coding skills. We're proud to say that we've achieved that goal and beyond, and our growing user base is a testament to that.
MetForm's journey toward 200k active users
The idea behind creating MetForm is to provide a robust and versatile form builder to WordPress users. So, they can create highly customizable forms in minutes using Elementor.
MetForm was launched on November 2019.
Since then the journey has been gradual but consistent. In the first six months(by May 2021), 40k+ WordPress users had MetForm installed on their websites. Which crossed the 50k mark in the very next month, July 2021.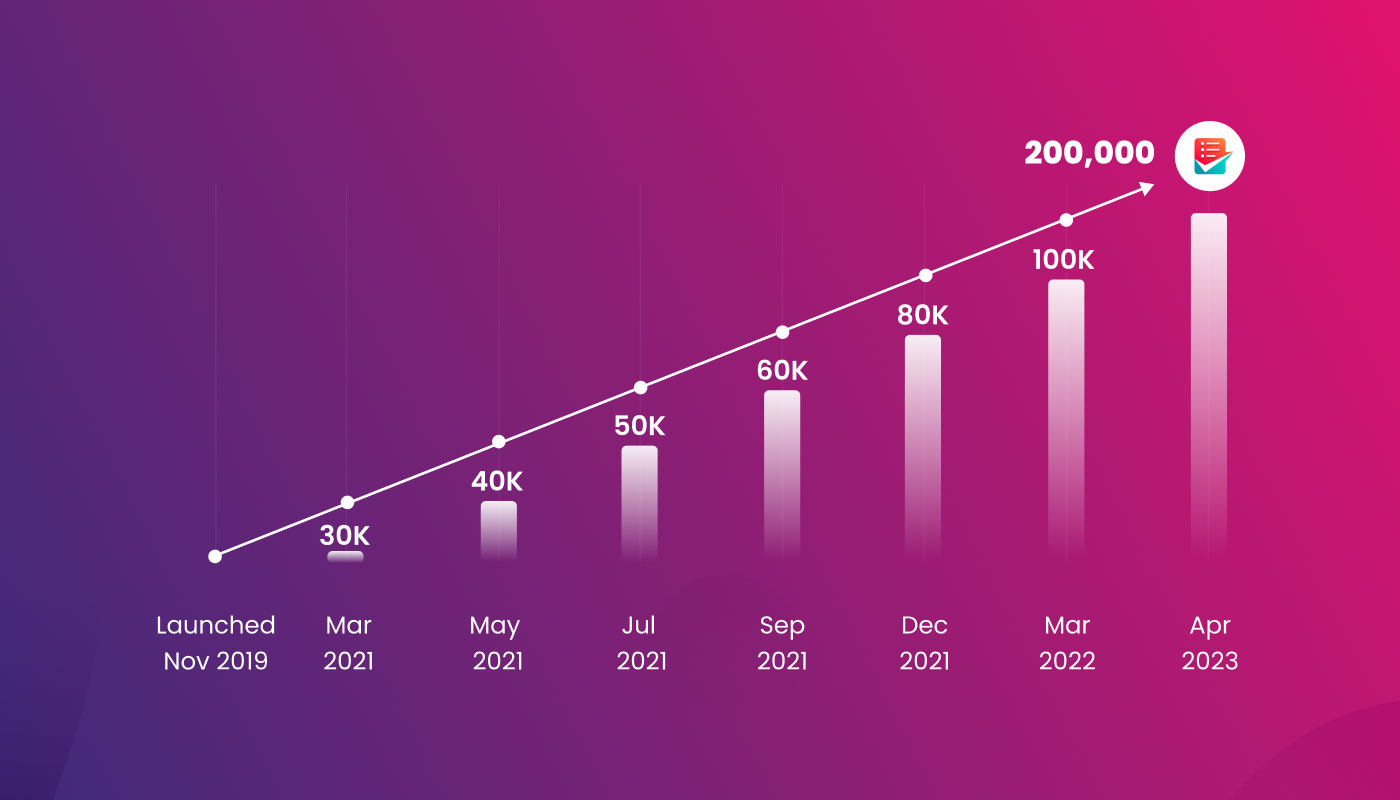 By the end of the year, December 2021, 80k users were already using our WordPress form builder plugin.
March 2022 was a landmark for us. MetForm finally reached the milestone of 100,000+ active installations. With a 4.7/5.0 Rating and 650K total downloads, MetForm gained the trust of WordPress users.
A year after, this April, we are proud to have 200,000+ WordPress users on board.
Today, MetForm is now the go-to WordPress form builder with 1,668,915 all-time downloads and 4.8 ratings on WordPress. Among these 249 out of 280 of them are 5⭐ reviews.
User Reviews on WordPress.org
As MetForm hits 200k active installation mark, let's look back to what the users have to say about their experience of using MetForm.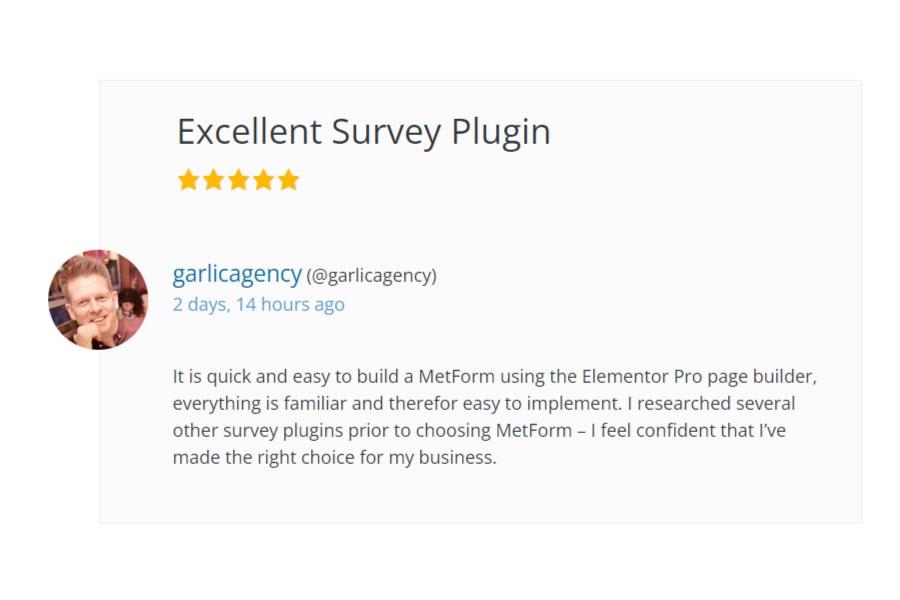 Winner of Monster Award 2021
Throughout this journey, we have achieved many milestones and landmarks. One of the top moments was back in 2021 when MetForm achieved 2nd place as the Best WordPress Form Plugin in Monster Award 2021.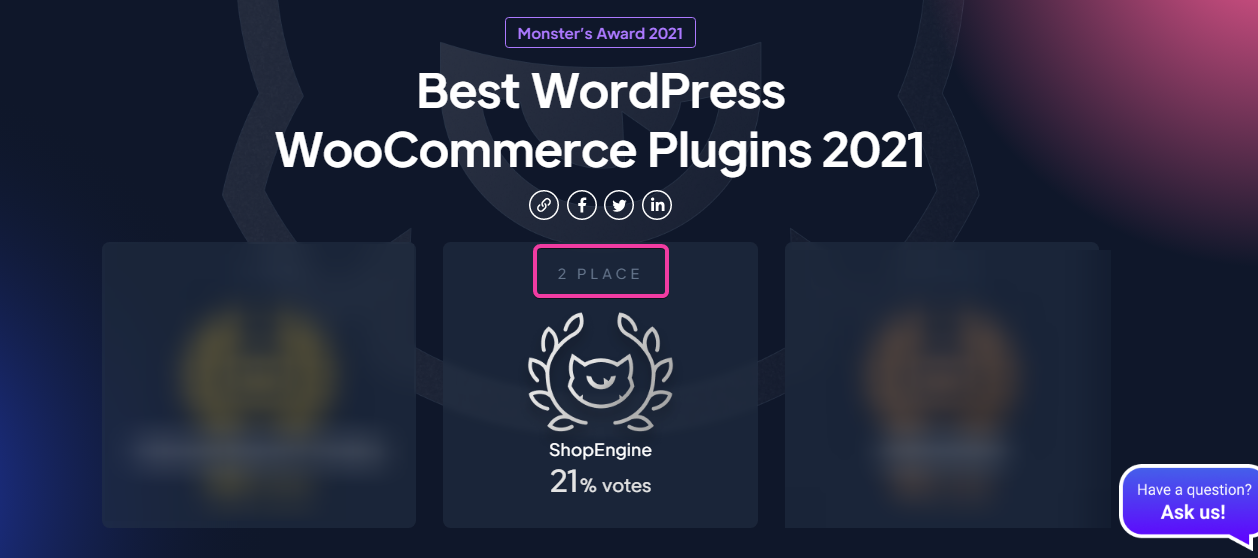 This award has brought global recognition to your favorite WordPress form builder. Among many popular WordPress forms, people have chosen MetForm to be one of the best WordPress Forms in 2021 with 18% votes.
What sets MetForm apart from the rest
There are many reasons why MetForm became one of the favorite Elementor form builders for WordPress users. Let's find out what makes people love MetForm.
Firstly, to define MetForm is a drag-and-drop Elementor form builder for WordPress. The user-friendly interface makes form creation easy, even for non-technical users. 
Here are what MetForm offers you:
Elementor-Based Drag & Drop Form Builder.
Stunning 30+ pre-built templates.
Easy-to-Build Multi-Step Form Builder.
Smart Conditional Logic on fields.
A complete Contact Form builder.
Simple payment option with Stripe integration.
Efficient CRM with HubSpot integration.
Google Sheet integration for data export.
Shortcode Support for customization.
Email notification on form submission.
From simple contact forms to complex surveys and application forms, MetForm allows you to create a wide range of different form types. Moreover, MetForm supports extensive field options and seamless integration with WordPress and Elementor. It also offers a comprehensive solution for storing and managing data on WordPress websites.

Here are the types of forms you can create with MetForm:
Contact Form
Multi-Step Form
Conditional Form
Feedback Form
Signup Form
Booking Form
Event Registration Form
Job Application Form
And so on… 
Read our blog to learn Everything you need to know about MetForm
Top brands using MetForms
Many top brands have shown their trust in MetForm so far. Here are the top 4 renowned websites that have selected MetForm as their premier form builder.
Fidelity Bank: This commercial bank operating in Nigeria has chosen MetForm. They have over 5 million customers.
Galu Comunicacion, Mexico: A communication solutions agency located in Mexico with over 5,000+ brand followers.
Al-Zaytoonah University, Jordan: A reputed educational institution in Jordan is using MetForm on its website.
Systema, Russia: A comprehensive, three-dimensional atlas designed for in-depth exploration of the human body's anatomy, is using MetForm too.
Read more: Famous top-branded websites using MetForm.
Upcoming features
We will continue adding more user-friendly features to take form creation to new heights, empowering users to create powerful and engaging forms.
Let's take a sneak peek into what's in store for you in the near future:
Metform Block for Gutenberg
SMS Integration
Success Message Customization
Customized Notifications
Add city/state/country with API call in Select Widget
If you are not a MetForm user yet, get on the board to enjoy all of the features and make your form-building experience in WordPress easier than ever before.