Our Journey to 300K Active Installation: ElementsKit All-in-One Add-on for Elementor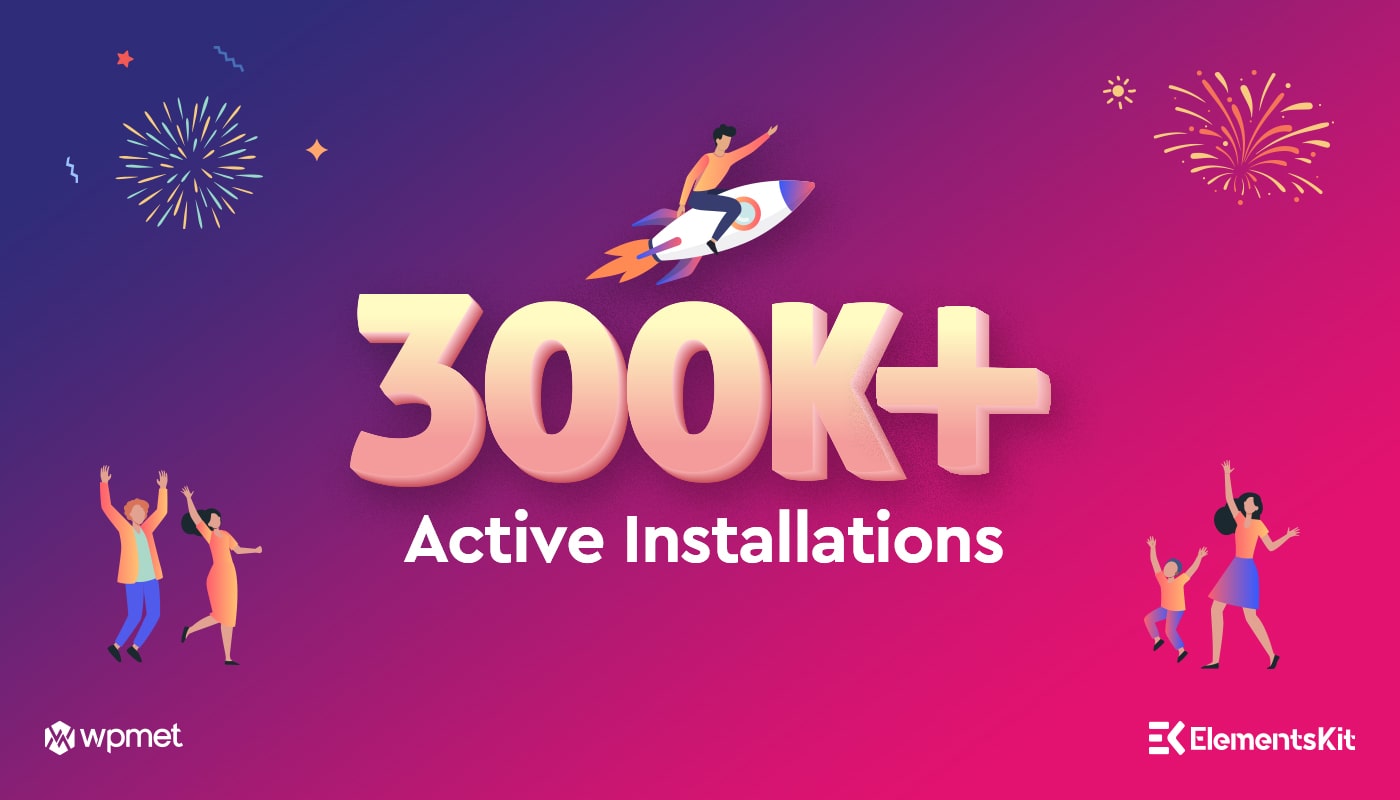 ElementsKit, your all-in-one add-on for Elementor, has reached another milestone of 300,000+ active installations. And we would like to thank all of our amazing users/web developers, without you we won't be able to achieve this phenomenal success.

ElementsKit was formed in mid-2019, in less than 2 years we are successfully and dedicatedly helping three hundred thousand people with their WordPress web development platforms.
We have reached the milestone of 100K+ active installs in the past 4 months.
Our Journey to Excellence
We WPmet have always recognized Elementor's facility since the beginning when it was just getting started.

And that's how our idea came, that it would be a great initiative to bring up an add-on ocean in which people could access a lot of wonderful features alongside Elementor.
Our developing team is truly dedicated to introducing highly demanded elements that you were looking for in Elementor from that very first point.

And when ElementsKit was launched in the market, the response that we got was truly commendable.
In a few months, ElementsKit reached its very first milestone of 10,000 active users!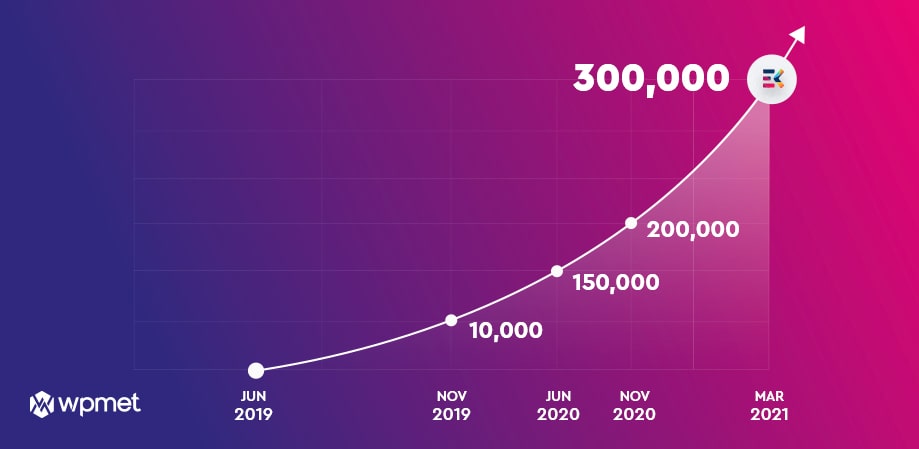 June 2019: ElementsKit was introduced to the world of Elementor. Since that day our main focus was to create an ecosystem in which we could take Elementor users' experience to a whole new level.

November 2019: We hit our first milestone of 10,000K+ active users within the next four months after launching ElementsKit for Elementor. It was truly delightful to get such a response.

June 2020: In just a year we were successfully able to get over 150,000K active users.

November 2020: Surprisingly, after reaching 150K+ users, in less than 5 months we had 200,000K users who are actively using ElementsKit as their builder plugin.

March 2021: In less than 4 months we had reached our biggest milestone of 300,000K installations, and the number is increasing every day, ever since.
First, our team consists of a few passionate WordPress fanatics who are truly driven towards making WordPress a place where the future lies.
Then by the time, ElementsKit grew, and along with it, our team took a wonderful turn as well. Now we have a full department of Developers, Designers, Content, and Marketing along with a 24/7 Support team.
It's been 1.8 years of ElementsKit and through this time we have constantly been working on adding up new widgets and improving our user experience.
And today, ElementsKit is recognized as one of the add-ons for Elemntor in the world with 300,000+ active installations.
ElementsKit has Reached Beyond Boundaries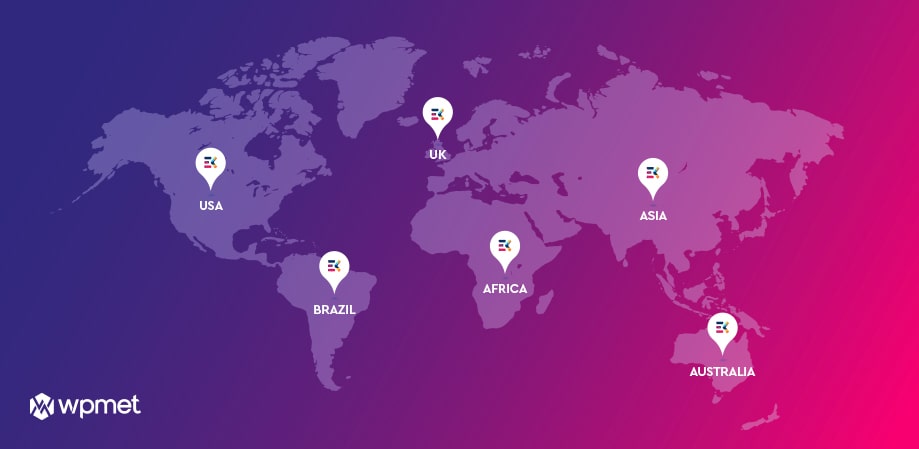 ElementsKit is now being used by 120+ countries all around the world. It is a matter of honor for us to be a part of many web developers' lives throughout the world.
Three hundred thousand web developers from all over the world are a part of this global community, and ElementsKit is trying to be the core add-on for Elementor.
Now let's talk about what makes ElementsKit so unique than any other add-ons:
The reasons are simple, ElementsKit has one of the best Mega Menu Builder as well as Header Footer Builder modules in WordPress.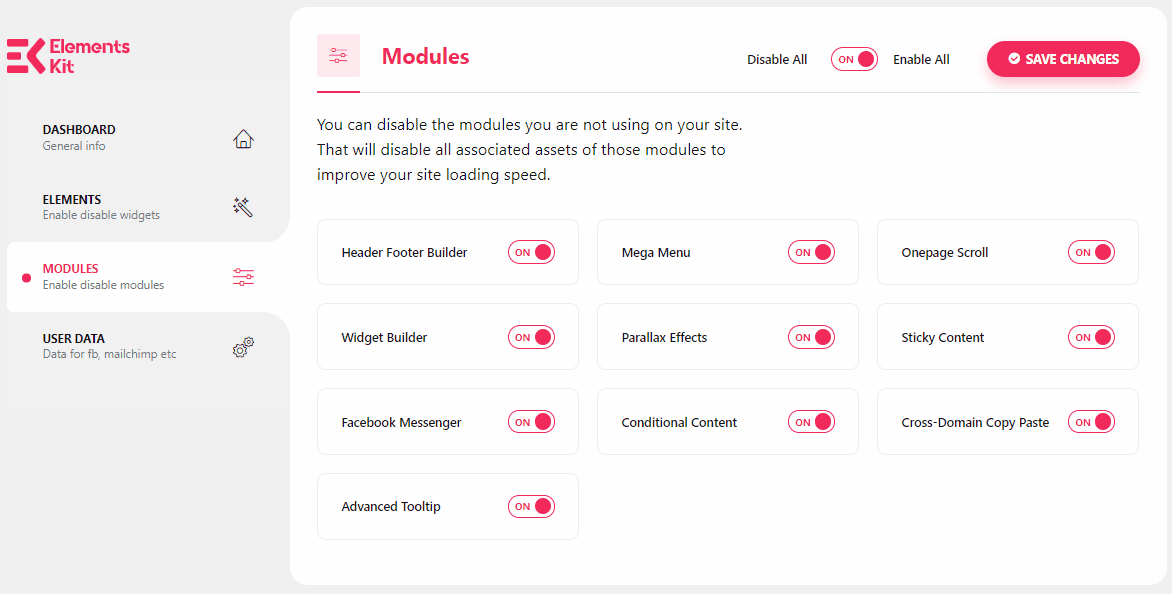 Another commendable part about ElementsKit is its pre-designed templates. It is one of the most popular and fully customizable add-ons for Elementor.
Apart from the templates, it also has an enormous amount of free and premium features:
8+ Unique Modules
70+ Free & Premium Elements
30+ Ready Pages
500+ Ready Sections
ElementsKit is a place where you would get multiple website building tools in one place. It also provides you the room to customize all the features with ease.
One of the main reasons of ElementsKit being so successful is its features are updating regularly over time. With ElementsKit you will get a full package of website building resources.
It also includes a Parallax Filter which will give you a professional experience for your web visitors.
The ElementsKit represents the highest number of modules and features which could be applied by anyone to make a better website in no time.
ElementsKit has 70+ Fully Customizable Elements: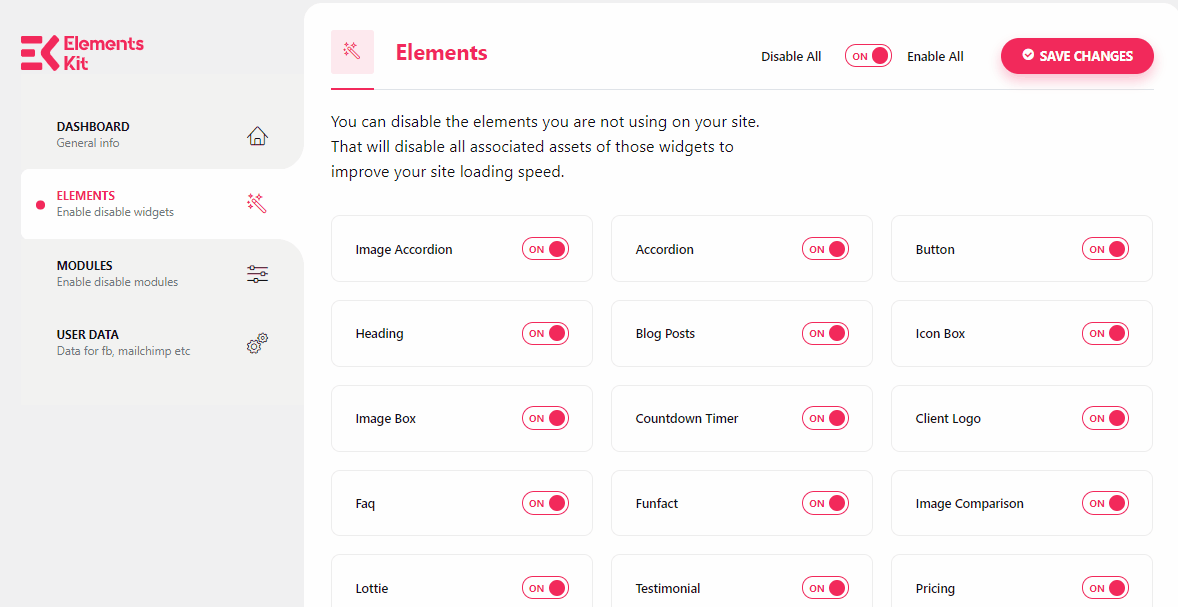 ElementsKit, your all-in-one add-on for Elementor template builder offers 70+ powerful widgets that will assist you to build an insightful website.
Every widget includes a maximum level of customization options. However, we're regularly working on adding up more widgets to meet our dedicated customers' expectations.
ElementsKit has 30+ Pre-Designed Pages: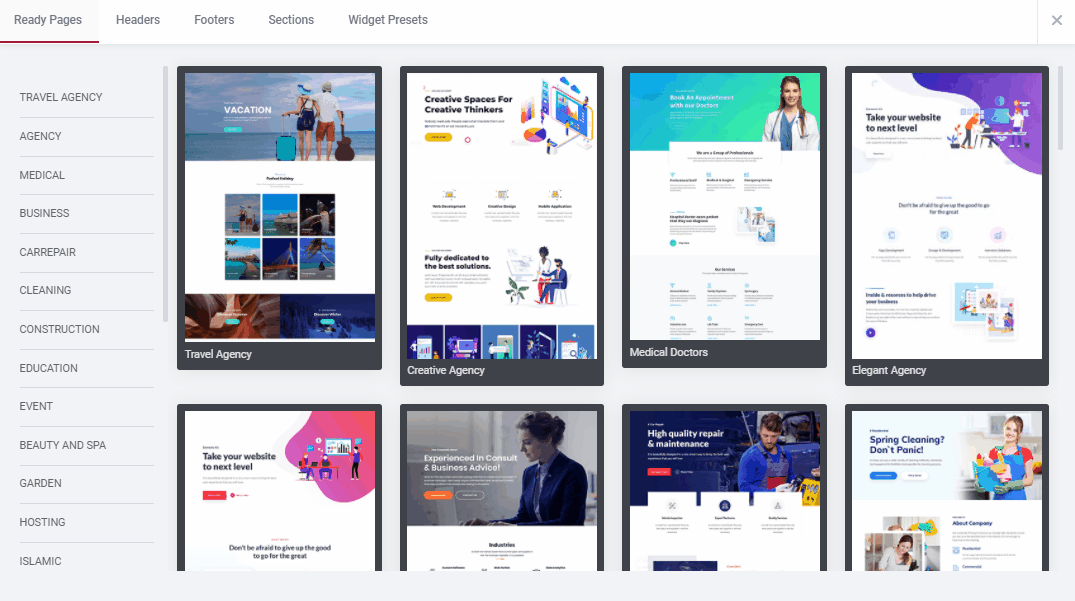 What type of website are you trying to make?
With ElementsKit, you could get multiple pre-designed website pages, which will help you to get started with any type of website you wish to build by yourself.
In order to make it more convenient, you could edit the whole design and form your own site. Ready pages are available in both free and premium versions.
ElementsKit WooCommerce Widgets
ElementsKit has always tried to assist web developers in making the best websites. To do so, we have created four power-pack WooCommerce widgets with EKit, so you could add eCommerce features to your desired website.
These are the 4 WooCommerce widgets that you'll get with ElementsKit:
Woo Category List
Woo Mini Cart
Woo Product Carousel
Woo Product List
In order to keep our users' demands in mind, we are also planning to add more useful Woo widgets to ElementKit.
We have Social Elements too (e.g. MailChimp, Facebook, and many more)
With ElementsKit, you could add a social media section to your website. Without any coding involved, you could connect your social media accounts to your website with just one simple click.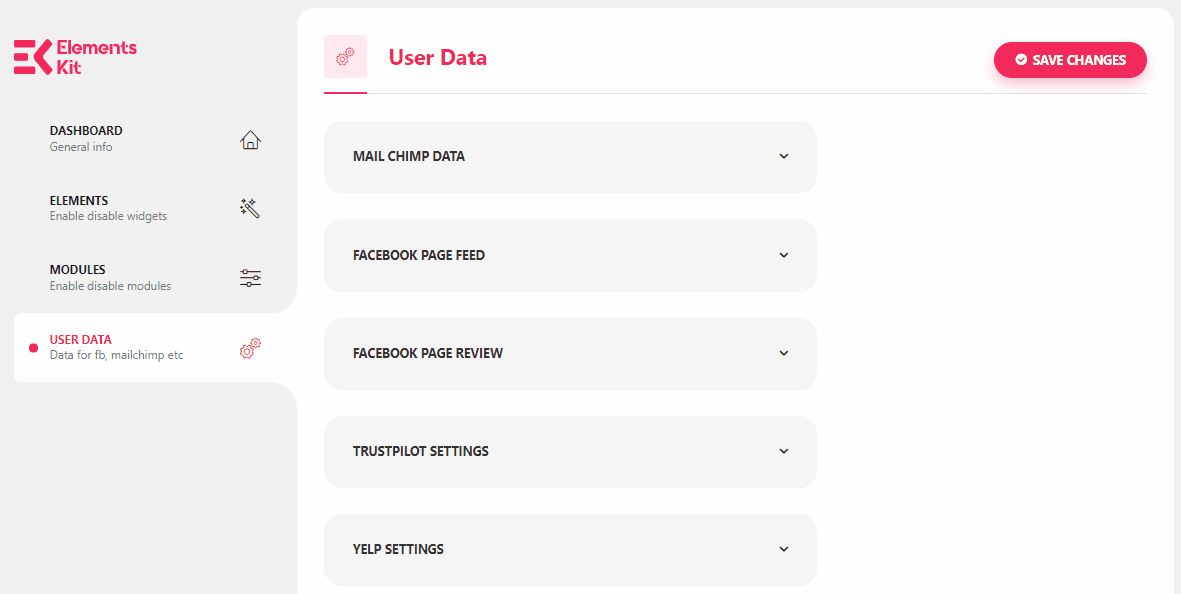 Conclusion
ElementsKit allows you to make the most of the powerful social widgets, such as Mailchimp, Facebook Update, Instagram Feed, Twitter Feed, Pinterest Feed, Dribble Feed, Social Networking, and others.
Now, a big shout out to all of our dedicated users who have supported us to achieve the milestone of 300K active installations.
Please leave a comment below and let us know which element or widget you love the most. Any suggestions or requests are highly appreciated too.
ElementsKit is thriving each day, and our team is working day and night to keep adding more features to Elementor. And make the WordPress Community bigger than ever.
Lastly, don't forget to be a part of our Facebook WPmet family, and get a 20% discount on your next purchase.