How to Add Social Login to WordPress Website and Why You Should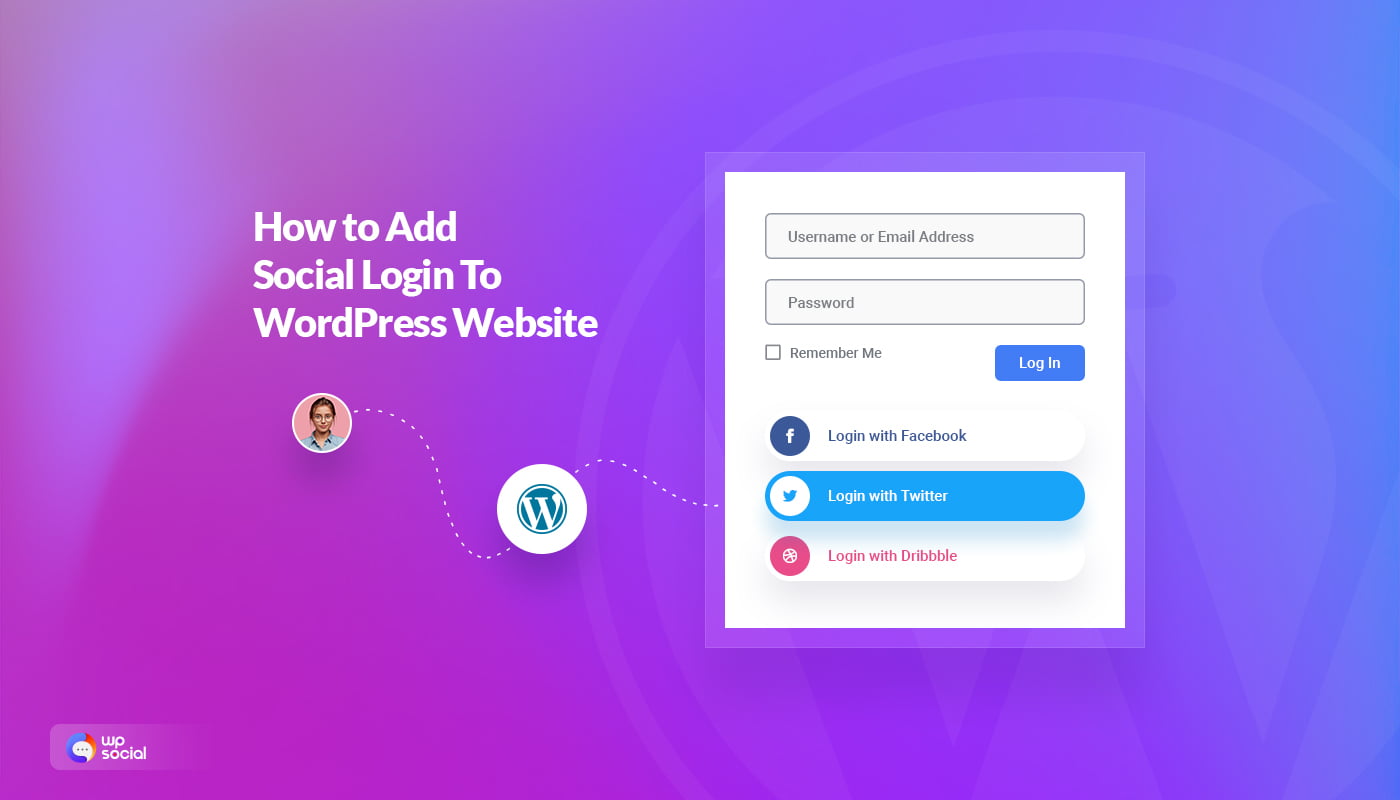 Your first priority as a WordPress site owner should be to engage the visitors and delight them with a smooth experience.

To decrease the bounce rate and give the users multiple options to register and log in to your website, leveraging the social login on your website is one of the best ways to try.
Enabling social login on your WordPress site with a social login plugin will let the users register and log in to your website without entering a new username and password. Instead, they can use their existing information from their social media accounts.
Want to Add Facebook Login to Your Website?
There are multiple reasons for adding social login to your WordPress websites. We are going to discuss how to add social login into your WordPress website using a social login plugin.

However, before I walk you through the process, let me give you some reasons why you should add social login to your websites.
5 Reasons Why You Should Add Social Login
There are multiple reasons why you should add a WordPress social login to your website. Let's explore the top 5 of them:
Users Hate Creating New Accounts
Please be honest, do you like filling out forms? No matter whatever your answer is to this question, most people (me included) just hate doing it.

Creating new accounts for every website with username and passwords is really toilsome and boring.
There are a lot of nuances and resistance to the traditional registration process of websites. Many users just get irritated when they are presented with a long-form to fill up with information. Many visitors just end up closing the browser tab and never come back.
Though most of the users expect to have social login on your website nowadays, the Millennials expect it more. As many websites already have social login on their websites, they expect to have it on your website too.
Here's how Udemy has integrated social login on their website: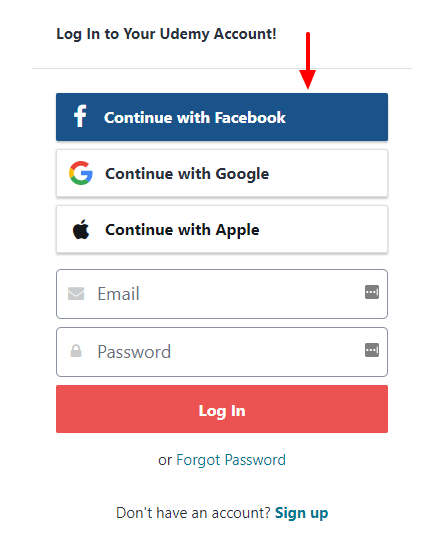 If you do not let the Millennials complete the one-click registration process, they feel like you don't care about their time.
Login Process Made Easy
Have you ever asked yourself, what can you do as a website owner to make the registration/login process easy and fun? Well, the answer is really simple. You can get that done by integrating social login on your website. What you all need is a WordPress social login plugin and what a user need is a social media account.
The best thing about WordPress social login is that the users can get straight into your website without adding any new username or password. As a result, they do not need to store another username and password in their brain.
A WordPress social login plugin can save users from "password fatigue". This is an experience the netizens feel when they are overburdened with hundreds of usernames and passwords to remember.
When you add social login on your website, the visitors can explore more on your website rather than wasting time remembering the login credentials in the WordPress login page.
Less Failed Logins
Blue Research has found that 90% of users usually leave a website when they forget their username, password, or login details instead of trying password resetting or answering security info. What's more surprising is that the percentage was only 45% in 2010.
Let me now give you more food for thought. In 2012, MailChimp found 340k+ failed login attempts on their website in just a month. They either mistyped their information or forgot their username/password.
So, what's the takeaway from this? If social login functionality would be there, there would be fewer failed logins for sure. With a social login form, there is no possibility of forgetting the login details as they have nothing to remember in the first place.
Accurate User Data
Here's something more alarming: 88% of users have admitted that they enter fake information or leave incomplete forms at the time of creating a new account on a website.
The privacy concern of users prevents them from sharing personal information online. However, the paradox is that they also desire to receive a personalized online experience.
So, is it possible for you to ensure a better and more personalized experience for them when their provided data is all fake? Yes, just add social login to WordPress.
When a user chooses to log in with social networking websites, the information you receive from their social accounts is usually verified.

You get almost accurate information about their age, gender, interests almost effortlessly without making the visitors bored with another long-form.
When you know your users as they are, it becomes easier for you to provide them with the personalized information they desire to get from you.
Blessing for E-Commerce Websites
If you are used to shopping online, you might experience that some websites redirect you to a boring registration page or show a popup form when you are about to complete the checkout.

This is one of the primary reasons why you, me, and many other users just abandon the checkout page and buy products from the websites we already have an account with.
It is really boring for a user to fill up a registration form manually after giving the billing information and shipping address.
So, what can you do to stop losing your valuable customer at the last phase of the buying process?
Well, what you all need to do is to integrate social login with WooCommerce checkout.

When you do it, the users can log in or register to your website seamlessly not leaving the cart. It keeps them focused on their purchase without any interruption.
How to Add Social Login to Your WordPress Website? [5 Easy Steps]
Now that you know about the importance of adding WordPress social login to your website, it is time to add it to your website. Do you know how to do it? No? Well, we are here to help. We are going to walk you through the steps of adding social login to your WordPress website with an easy-to-use social login plugin. Let's get started.
Step 1: Install Wp Social Plugin to Your Website
Login to the admin panel of your WordPress website
Navigate to Plugins and then click on "Add New"
Type "Wp Social" on the Searchbox and press Enter.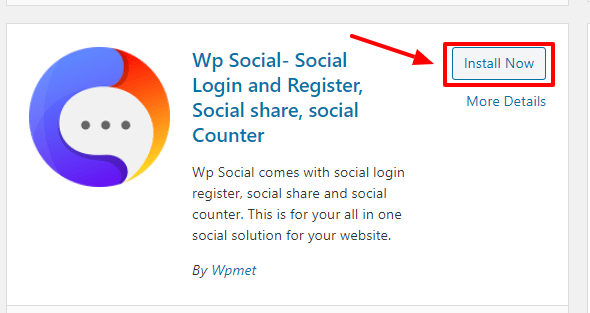 Once Wp Social is installed, you have to activate it. Click on the "Activate" button.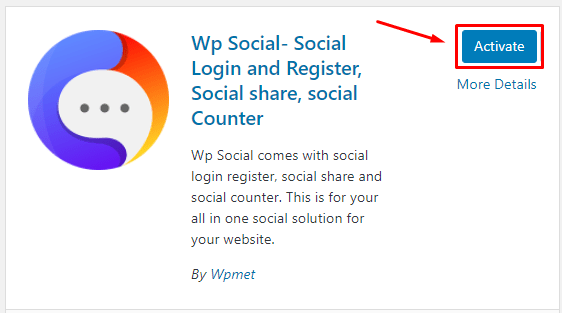 Step 2: Configure Social Login from Wp Social
After you activate the Wp Social plugin on your website, you will find it on the side menu of your admin panel.
Navigate to the side menu. Hover on the Wp Social plugin and then click on "Social Login".
Now you will see the Settings of the WP Social Login. The Settings part is divided into 3 parts: Global Settings, Providers, and Style Settings.
Step 3: Choose Where You Want to Show the Social Login Buttons
At this step, you've to decide where you want to show the social login buttons. Let's get to explore the Global Settings one by one:
Custom login redirect: You are at liberty to set a URL where the users will be redirected after logging in with social login.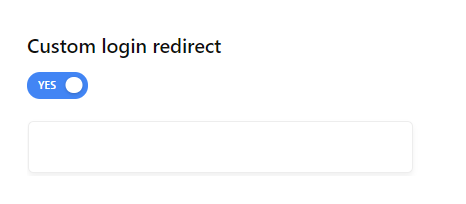 Show button to wp-login page: If you choose to place the social login button on the login page of your WordPress website, toggle the button to "Yes" first. Now, choose any position of your choice for placing the Social login button.

Show button to wp-register page: Do you want to let the users register to your WordPress website with the social login button seamlessly?
Well, then you have to show the social login button to the wp-register page. Toggle the settings button to "Yes" and then choose a place for showing the button on the registration page of your website.

Show button to Wp-Fundraising login page: Apart from showing the social login buttons to the login page of your WordPress website, you can also place it on the login page of the fundraising plugin.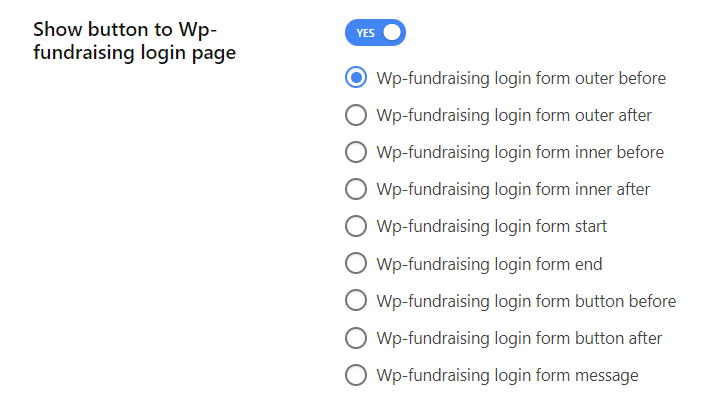 Show button in wp-comment page: Let the user start commenting on your website just after completing a simple login by clicking on the social login button. To show the social login button on the wp-comment page, make sure that you have enabled the setting and have selected a position.

Show button to WooCommerce login page: You can choose to display the social login on the WooCommerce login page. Toggle the button to this option to "Yes" and then choose the desired location for placing the social login buttons.


Show button to WooCommerce register page: Showing the social login buttons to the WooCommerce registration page saves a lot of time. Enable the settings and then choose whether you want to place the login buttons in the start, middle, or end of the login form.


Show button to WooCommerce billing page: This is the most-wanted setting for the e-commerce sites. To allow the visitors to purchase without interruption, enable the social login button on this page and place the button at an appropriate place.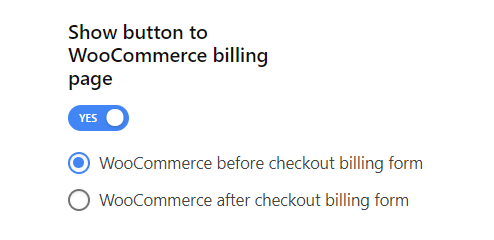 Show button to BuddyPress: Decide whether you want to show the social login buttons to BuddyPress. if you decide to go ahead, just enable the buttons from the global settings and then choose the place where you want to display the buttons.

Shortcode: Apart from placing the social login buttons on the places mentioned above, you can also show the buttons anywhere on your website by using the following shortcodes.

Step 4: Choose and Configure Social Login Providers
After completing the global settings, click on the right tab to choose the social login providers you will be using for your WordPress website.
At first, switch the required provider to "Yes", and then click on Settings to make the necessary configuration.
Once you click on the settings, you'll see the following pop-up. Follow the instructions properly and then click on "Save Changes" when you are done.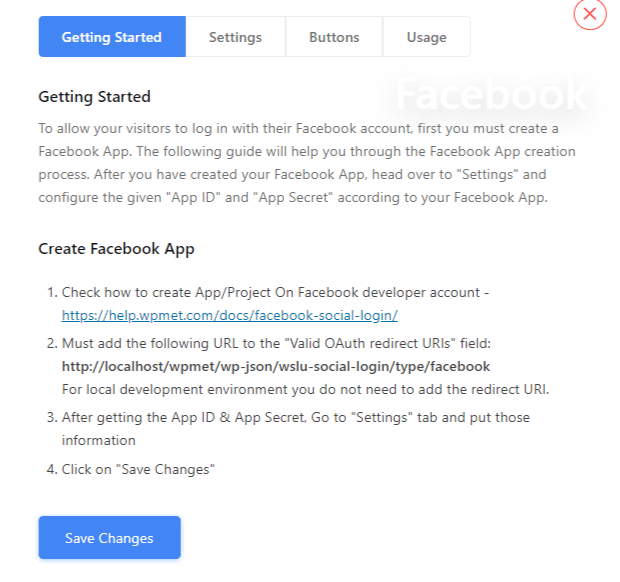 Step 5: Choose Your Favorite Style
It is the last step for enabling social login to your website. Just choose a social login button style that you would like to show on your login/register pages.
When you are done selecting a style, click on Save Changes.
Frequently Asked Questions (FAQ)
What are the benefits of using a WordPress social login plugin?
You may add social login by coding, but that's not an easy task for non-techies. If you don't want to hire a developer to manually add WordPress social login functionality, using a social media login plugin can be of great help. This will save you both time and sweat.
Can I enable Facebook login feature with Wp Social?
"How do I add Facebook login to my WordPress website?" This is a question we often encounter. For your information, Facebook login is a part of social login which is available on Wp Social. Here is a detailed guide on how you can add a Facebook login with WP Social.
Do I need to use another plugin to add Google login on my website?
Thanks to the developers of Wp Social, the Google login feature is also available in Wp Social plugin. So, you do not need to use any other plugin from any third-party website to add Google login functionality to your website so that a user can use his Google account to log in to your website.
Final Words
By now you know the reasons for integrating WordPress social login and how to add it to your WordPress website step-by-step with a popular social login plugin.
However, if you've installed and activated Wp Social to your website, you can also enjoy social share and social count features from this very plugin.
FYI, to leverage all the features to their fullest, you can consider trying the Pro version of Wp Social. Good Luck!