GetGenie vs. NeuronWriter: Which AI Content Generator is Worth Picking?
Hunting down a top-grade AI content generator is no less than a challenge. You might have dived deeper to trace a premium AI content creator but perhaps your struggle continued due to the lack of precise info, right?
If you are on this write-up to pick up one between the GetGenie and NeuronWriter, be rest assured to get accurate info about these 2 AI writing tools. In this post, I will review both GetGenie and NeuronWriter side by side to facilitate picking the perfect AI content generator for your work.
Let's get started with the head-to-head comparison between GetGenie and NeuronWriter. So, it's GetGenie vs. NeuronWriter-
An Overview of GetGenie:
GetGenie is a spectacular SaaS & WordPress AI SEO and Content tool with heaps of content writing and analysis features within it. It's designed to undertake your content planning, writing, and optimization tasks in a snap.
Boasting 37+ templates, GetGenie aims to slash your writing effort and improve efficiency 20x faster. No matter whether you need product descriptions, listicles, pros & cons, or even entire blog posts, GetGenie is able to generate all of them with its premade templates.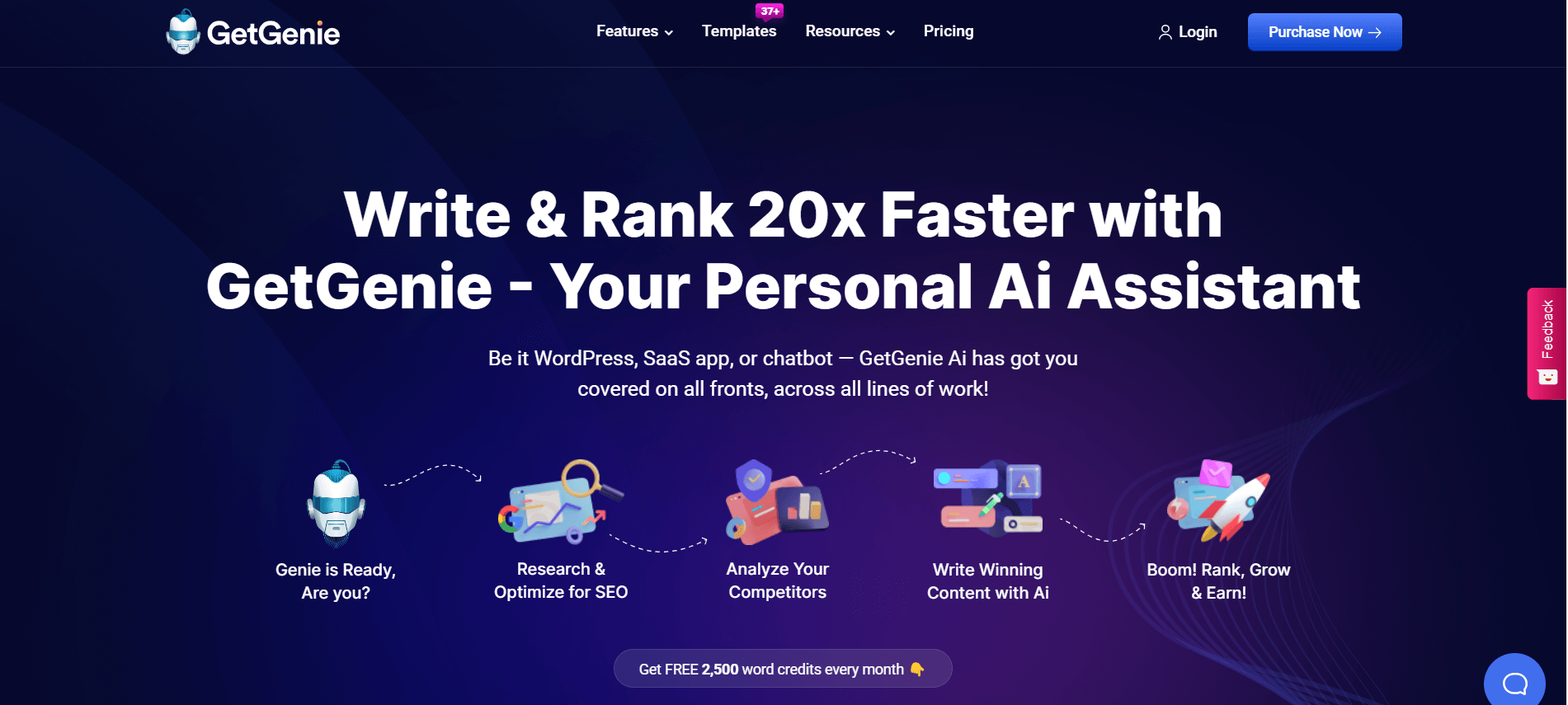 Apart from that, GetGenie lets users conduct keyword research showcasing relevant sets of data like keyword search volume, keyword difficulty, etc. You can even carry out SERP analysis from the "Competitor" tab of GetGenie.
And you know the best part of GetGenie? It has a minimal workflow to generate all types of content. In the blink of an eye, it will generate your desired output. GetGenie suggests NLP keywords and ensures your blogs, as well as articles, rank in Google as well.
An Overview of NeuronWriter:
NeuronWriter is an NLP-based AI content generator packed with catchy SEO features. That means the tool is designed not just to generate content but also to rank in the SERP. Before generating the content, it will showcase crucial sets of SEO data so you can apply them to your content.
NeuronWriter offers a whole lot of templates letting you choose the kind of content you want to generate. If you choose to generate a blog post, the AI content tool has the necessary templates that you can utilize to write an entire blog post.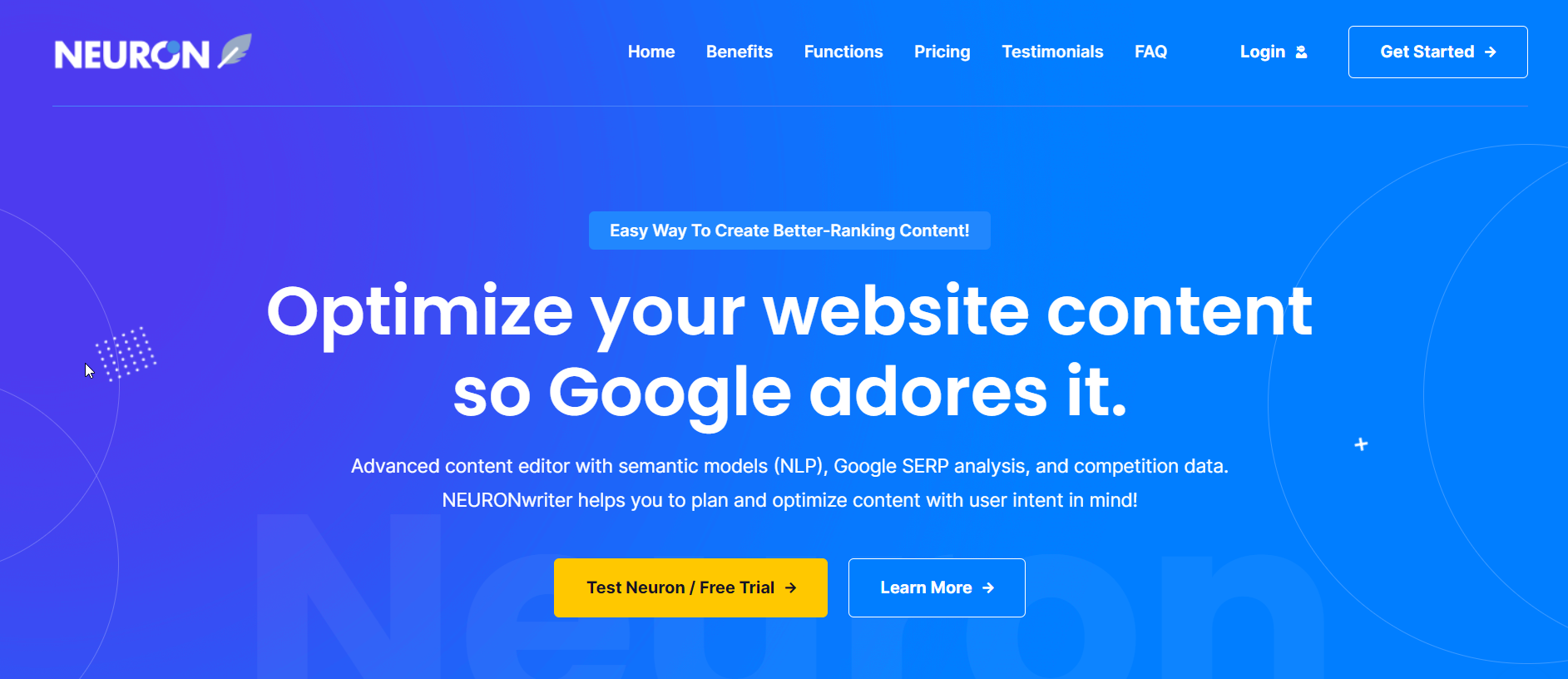 All you have to do is input a keyword on your topic, conduct competitors' analysis, create a document draft, make recommendations, and finally, NeuronWriter will bring out an optimal piece.
Best of all, NeuronWriter enables you to strategize and generate SEO-optimized content with user intent in focus. Besides, you can take advantage of all the features of NeuronWriter smoothly and effortlessly.
GetGenie is both SaaS and WordPress-focused while NeuronWriter is a SaaS Tool:
GetGenie is meant for both SaaS and WordPress users. That means if your website is powered by WordPress, you can leverage GetGenie right from your WordPress sidebar. All you have to do is install GetGenie from WordPress.org and it will show up on the sidebar instantly.
However, if you don't have a WordPress website, you can still use GetGenie from a SaaS interface. All you have to do is log into your GetGenie account from GetGenie's home page and switch to the "Playground" tab.
The SaaS interface will show up instantly after that with a content area and all other necessary options & elements similar to the WordPress interface.
Once you activate GetGenie by inserting the license key, you are free to make use of the tool on both the Gutenberg block editor and Genie SaaS Editor.
NeuronWriter, in contrast, is a standalone SaaS tool. It has nothing to do with WordPress. No matter what CMS or framework you used to build your website, you can leverage this AI content writer smoothly. All you have to do is visit the website of NeuronWriter and choose your preferred plan.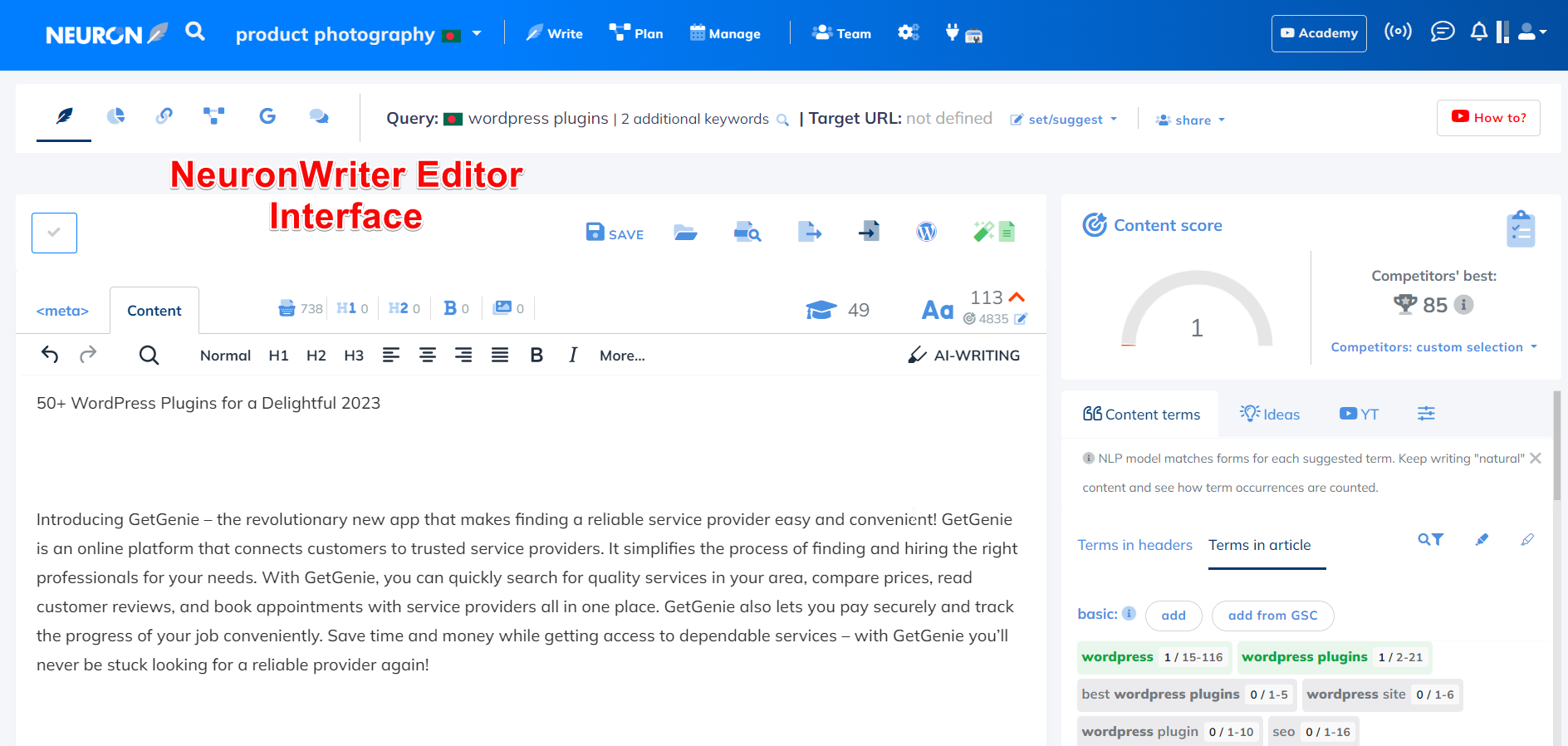 The UI of NeuronWriter may appear a bit overwhelming for beginners but once you get used to it, it will become simpler for you. After you generate and optimize content into the editor area, you have to export it so you can use the content elsewhere as you need.
NeuronWriter Offers a Free Trial whereas GetGenie Provides a Free Version:
NeuronWriter offers a free trial to its users in order that people can use it and check its quality. The free trial extends for 1 month giving you access to its core features.
For example, the free trial of NeuronWriter will let you create 1 project and use 1000 A.I. credits. With 1 A.I. credits, you can generate between 1 to 5 words. That means you can generate 200-1000 words with 200 A.I. credits.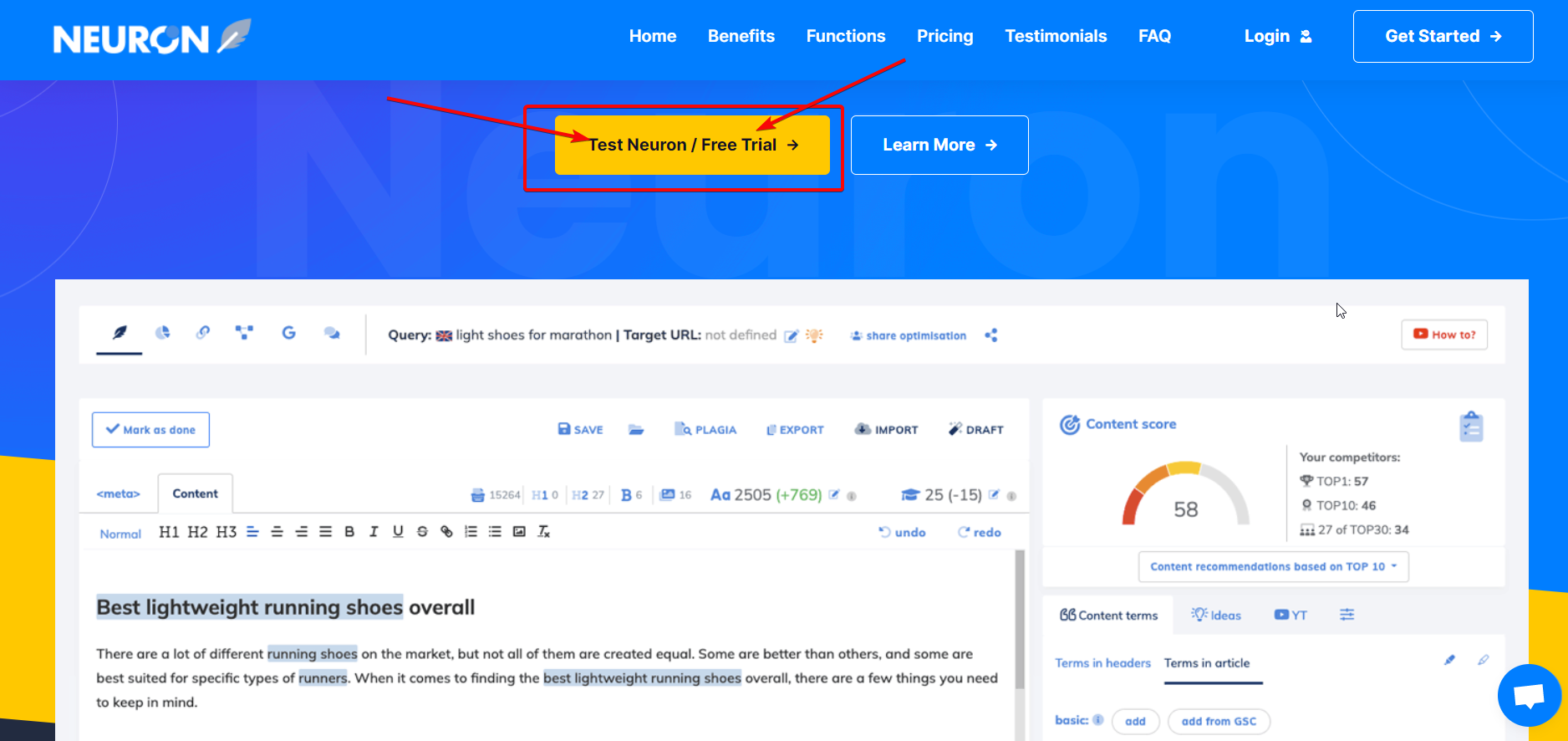 GetGenie instead of a free trial comes with a free plan for its users along with paid plans. More importantly, the features that you get to avail in paid plans, you can use all of them even in the free plan of GetGenie.
The only difference between the free and paid plans is in the limit set in word generation and content analysis.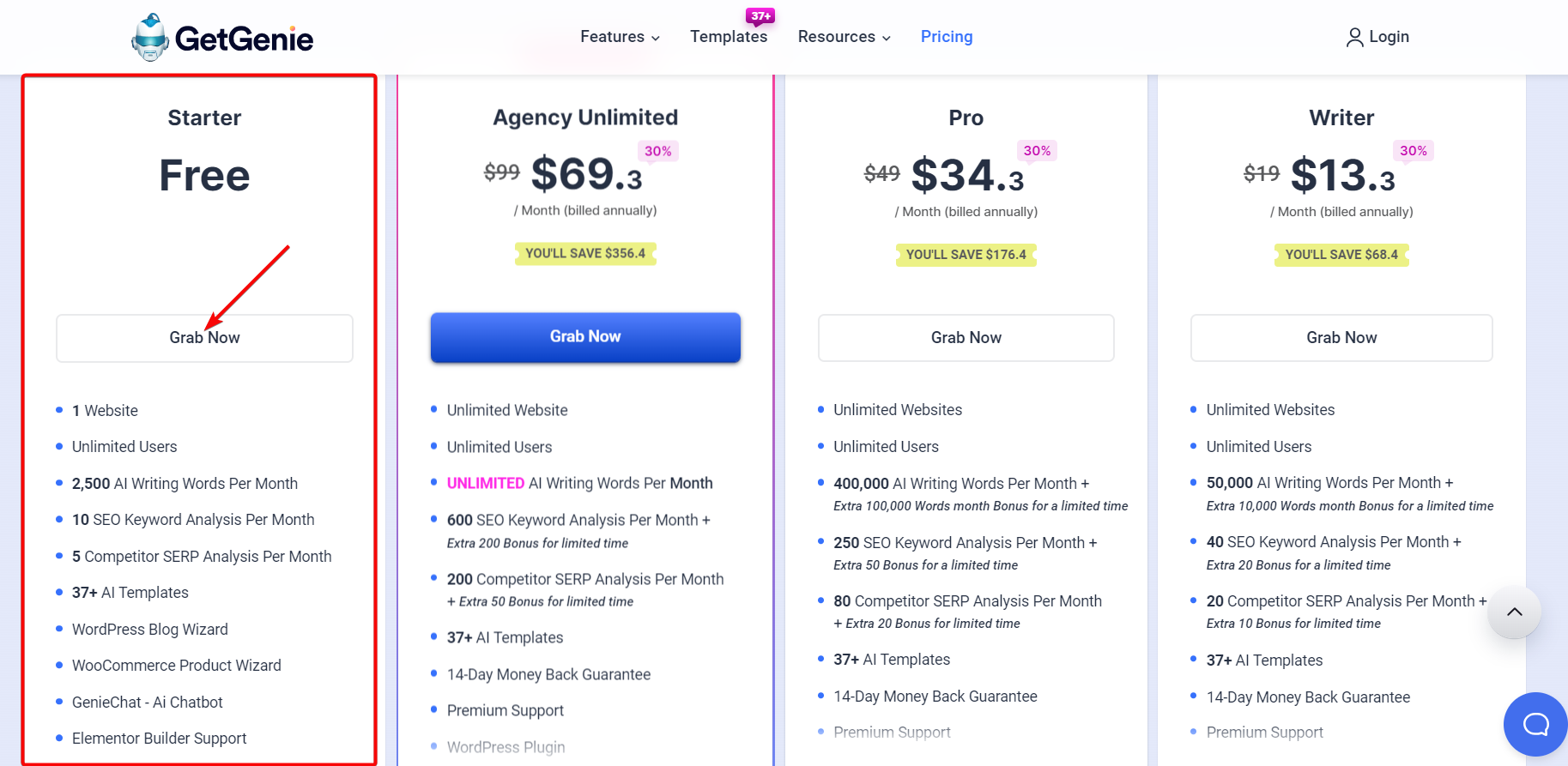 For example, the free version allows you to generate up to 1500 words per month, 10 SEO keyword analyses per month, and 5 SERP competitor analyses per month. Obviously, in the paid plans, these limits are higher.
Both GetGenie and NeuronWriter Focus on SEO & Content Optimization:
Not that GetGenie and NeuronWriter differ in everything they offer. There are similarities between both AI content tools. And that comes in content optimization. Both tools have rich SEO features aiming to rank your content piece on Google.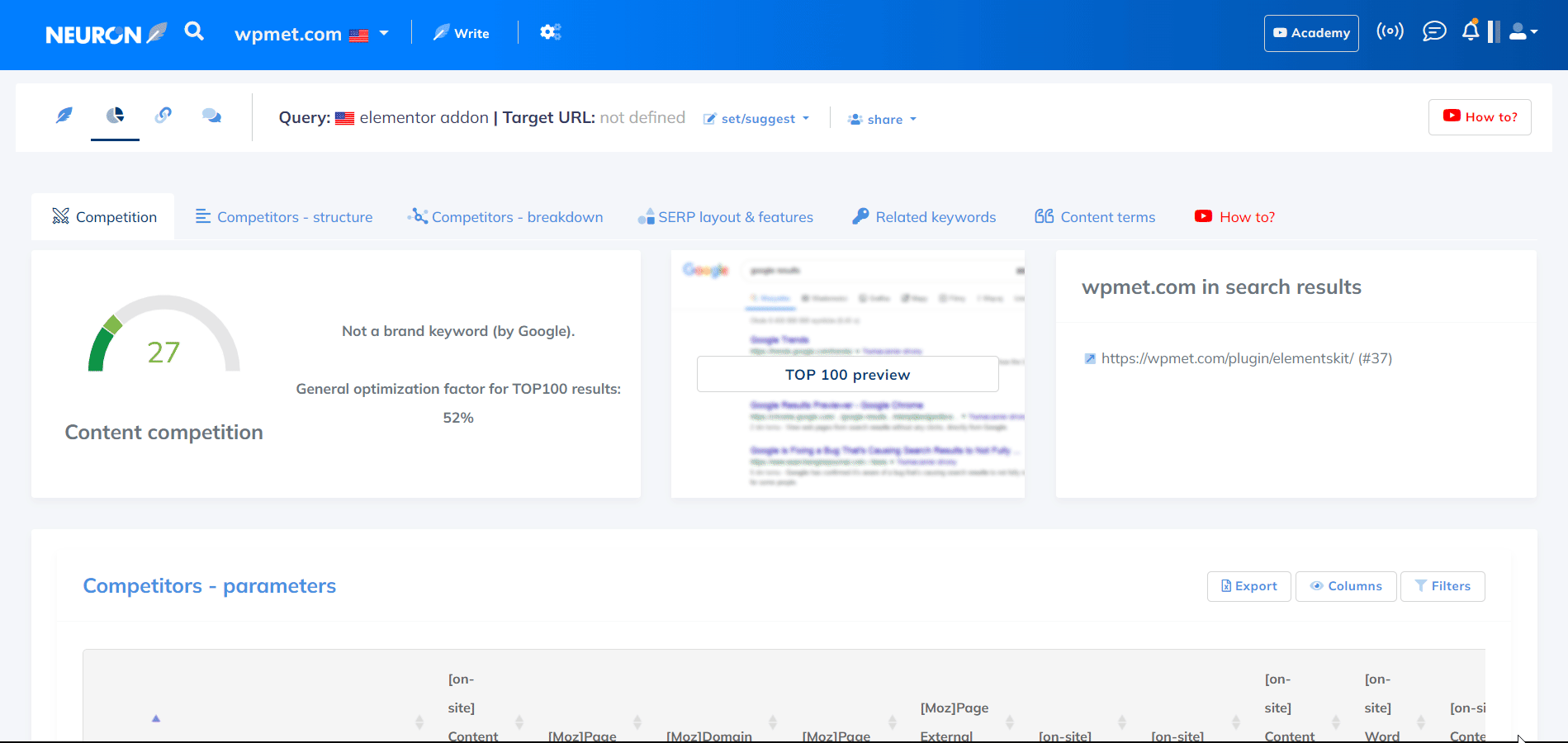 I touched on the SEO features of these tools above. To mention collectively, the SEO feature highlights of both tools include keyword research, SERP competitor analysis, NLP-based keyword suggestions, content score, and so on.
GetGenie Content & SEO Highlights:
| GetGenie Plans | Words Per Month | Keyword Analysis Per Month | SERP Analysis Per Month |
| --- | --- | --- | --- |
| Free | 2500 | 10 | 5 |
| Writer | 50000 | 40 | 20 |
| Pro | 400000 | 250 | 80 |
| Agency | Unlimited | 600 | 200 |
NeuronWriter Content & SEO Highlights:
| NeuronWriter Plans | A.I Credits Per Month | Content Analysis Per Month |
| --- | --- | --- |
| Bronze | 15000 | 25 |
| Silver | 30000 | 50 |
| Gold | 45000 | 75 |
| Platinum | 60000 | 100 |
| Diamond | 75000 | 150 |
Let's check out the head-to-head SEO feature comparison of both Tools:
| SEO Features | GetGenie | NeuronWriter |
| --- | --- | --- |
| Keyword Research | ✅ | ✅ |
| SERP Analysis | ✅ | ✅ |
| Content Score | ✅ | ✅ |
| Search Volume | ✅ | ❌ |
| Content Competition | ❌ | ✅ |
| Keyword Competition | ✅ | ❌ |
| CPC | ✅ | ❌ |
| Moz Analytics (DA & PA) | ❌ | ✅ |
| Google Trends | ✅ | ❌ |
| Content Sharing | ❌ | ✅ |
| Related Keywords | ✅ | ✅ |
| Internal Link Suggestions | ❌ | ✅ |
| Related Questions | ✅ | ❌ |
| Competitors Breakdown | Shallow | Deep |
GetGenie Offers a One-click Blog Generator and Blog Wizard Template while NeuronWriter doesn't:
One of the core highlights of GetGenie is that it lets users create blogs in 2 different ways. By selecting the one-click blog generator, you can generate a complete blog literally with one click.
Additionally, you can develop a blog post systematically through its Blog Wizard workflow as well. Once you select the template, you have to follow certain steps to generate a blog —
Input the main keyword on the topic
Provide a context optionally
Set parameters like Creativity, Language, Results, etc.
Research keywords
Conduct SERP analysis
Analyze the list of questions
Generate titles and choose the perfect one
Generate intros and pick the best one
Generate outlines and select the suitable headings
Insert the selected outline in the editor
In the next step, you will have the option whether you want to generate the blog with 1-click or manually, step-by-step. If you select the one-click blog button, the entire blog will show up in the content area.
In case you select the "Generate manually" button, you have to generate the blog step-by-step with GetGenie's special features like Expand Outline, Continue Writing, Write with GetGenie Mode, etc.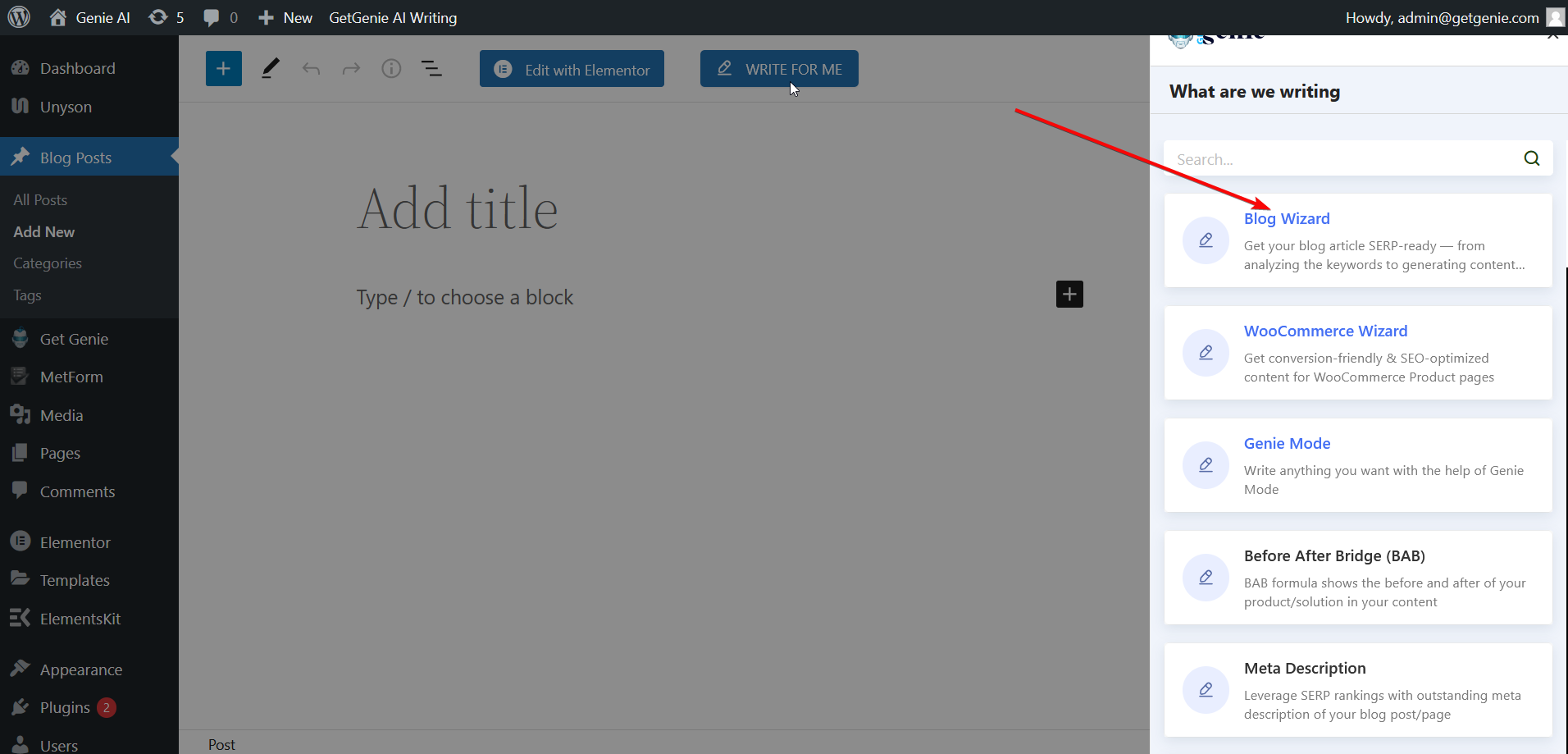 Conversely, NeuronWriter doesn't have any template like GetGenie's Blog Wizard. Once you enter the Editor area of the AI tool, you have to use templates individually to create a blog post.
What I mean is that NeuronWriter offers a number of templates like Title, Article Intro, Article Outline, Expand Text, etc. Based on your needs, you have to separately use these templates to generate an entire blog post.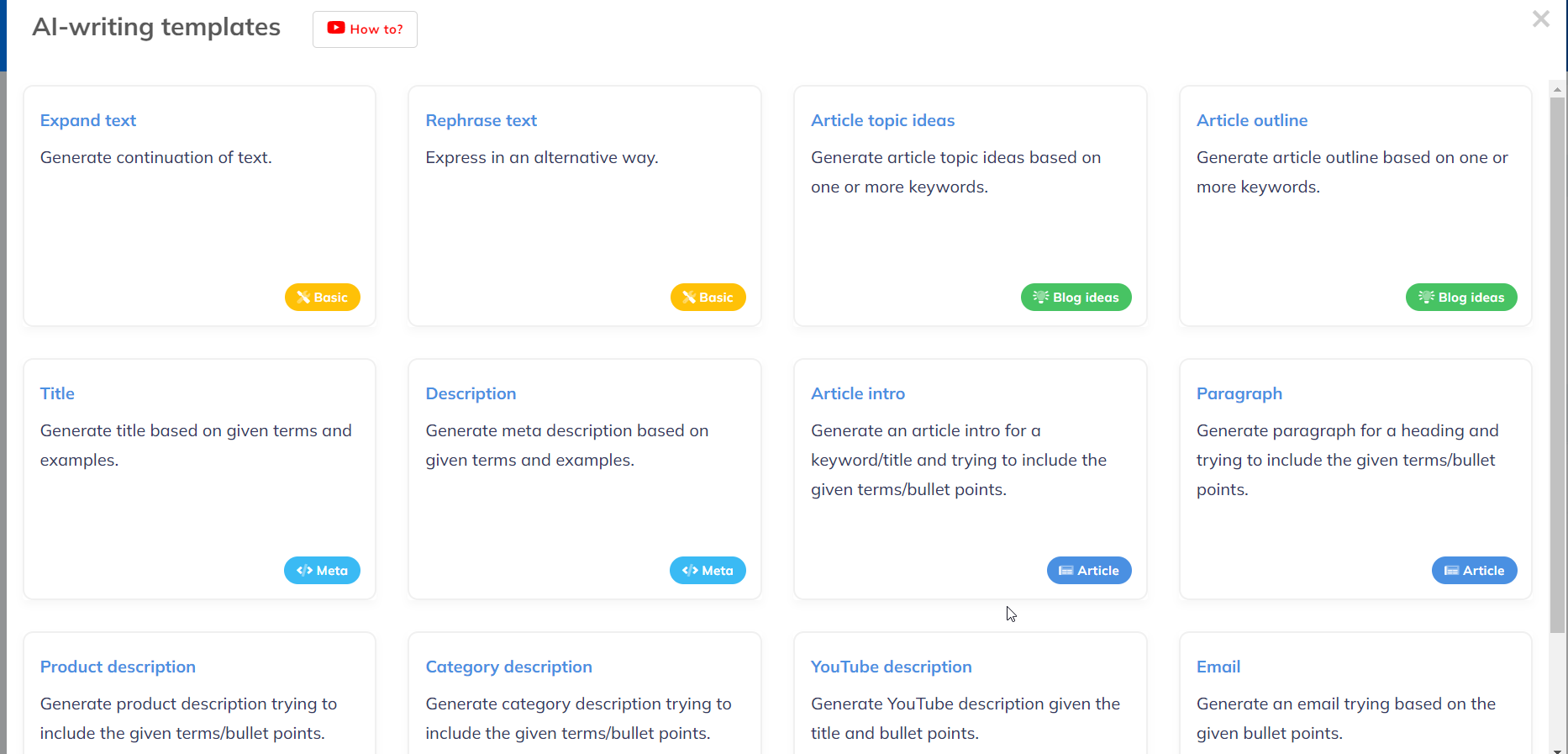 That means every time you deploy a template, you have to input keywords and other necessary details which is a bit time-consuming.
The Duo Supports Multiple Languages:
Even though English is a widely used language globally, many people aspire to generate content in their native languages. There are others who essentially need to generate content in different languages to serve their target audience.
GetGenie and NeuronWriter both have multi-language support besides English. Some of the popular languages the duo supports include Hebrew, Arabic, Chinese, Japanese, German, French, Spanish, Hindi, Urdu, Swedish, and Russian.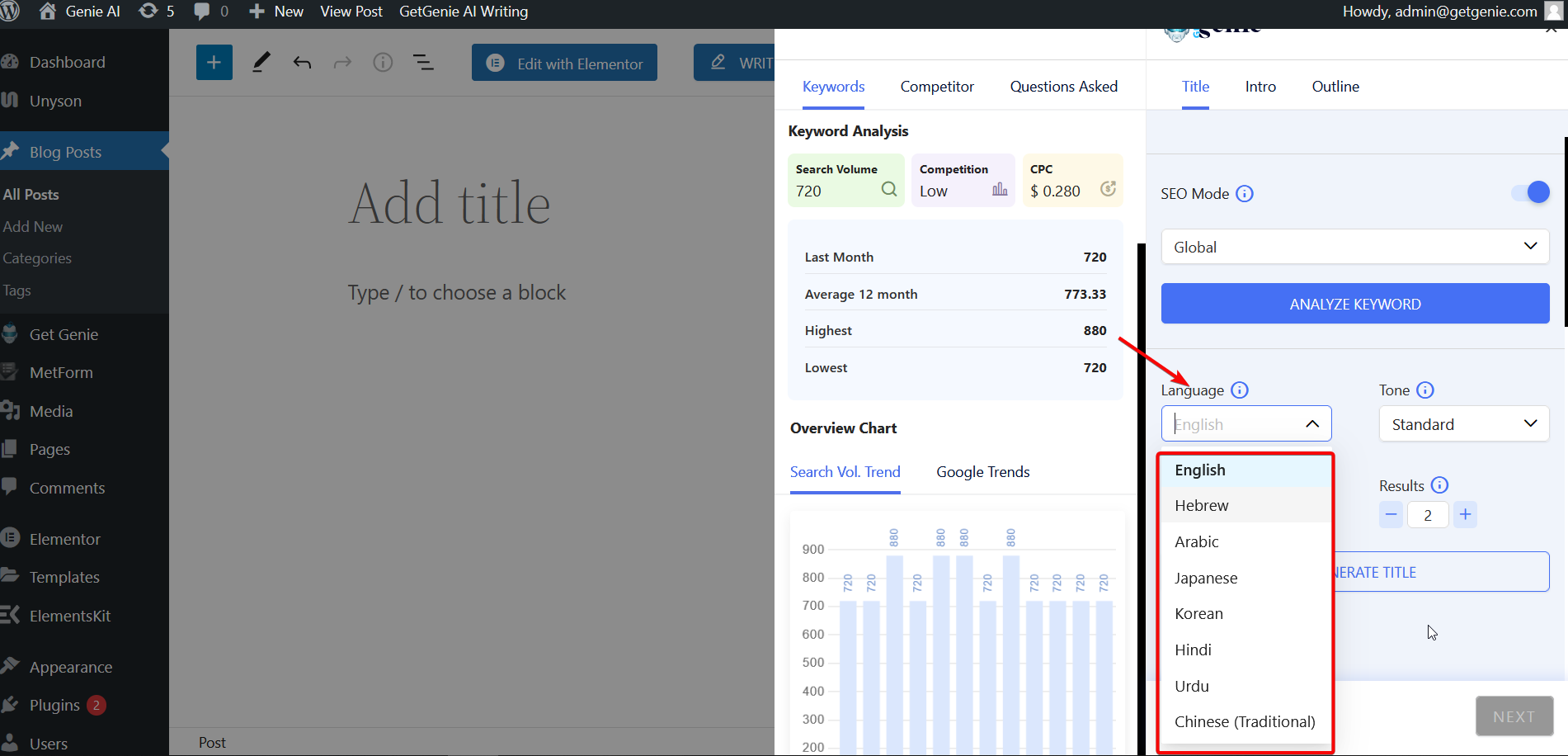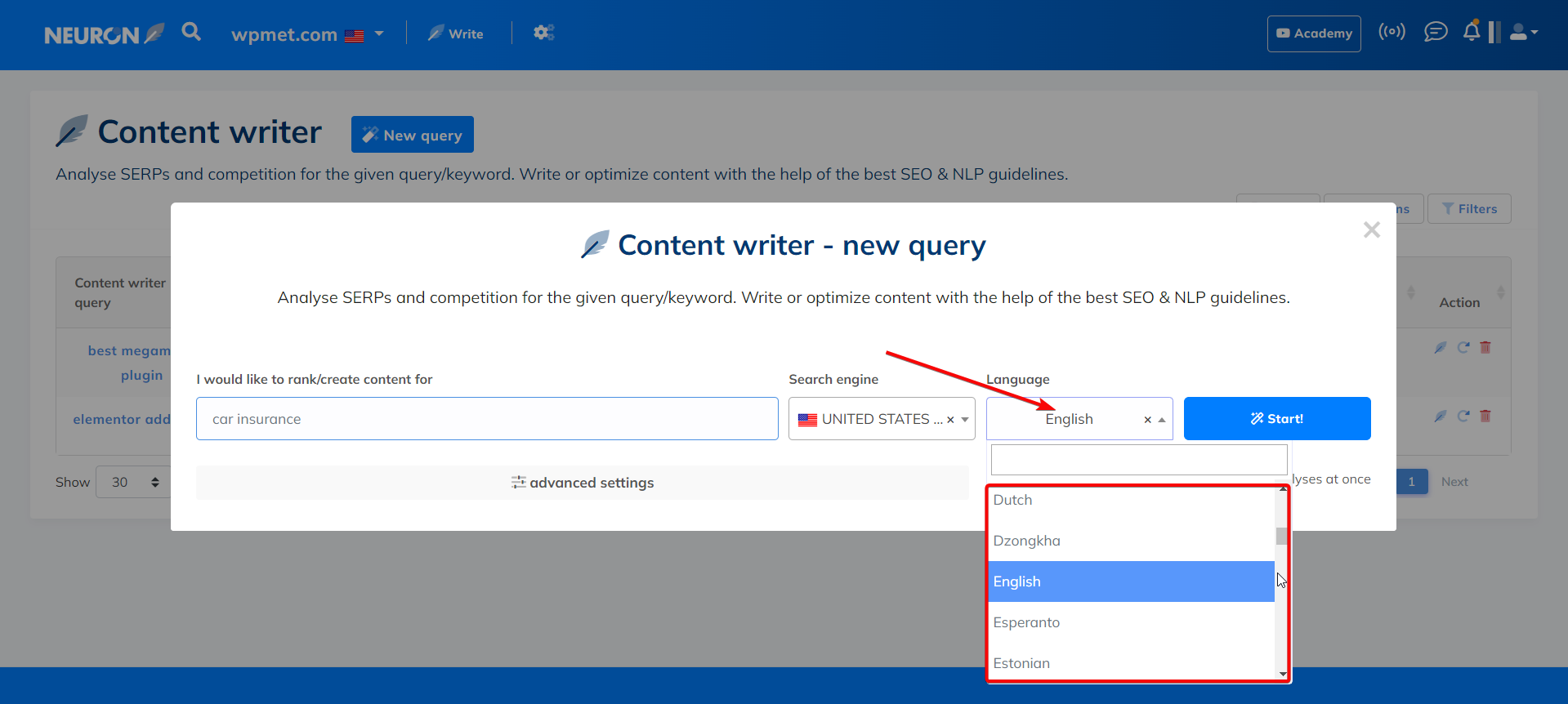 GetGenie is Beginner-friendly but NeuronWriter is Pro-friendly:
GetGenie's UI is simple and clutter-free letting both seasoned and newbie users adapt to the tool effortlessly. All the templates of GetGenie show up gracefully on the GetGenie window with a perfect blend of colors.
Each template consists of the required fields and parameters that users can leverage to generate their preferred content piece. The entire layout is so simple and splendid that both experienced and rookie users will find it comfortable to use.
Conversely, NeuronWriter is perfect for users who have a grounding in AI tools upfront. This is because the user interface of the SaaS tool is a bit complex, however, modern. Hence, beginners after logging into the tool are likely to find certain aspects bemusing.
Especially, the positioning of buttons and templates may confuse some users. They may even lose track of key items and elements of the tool.
NeuronWriter is Affordable, GetGenie too:
NeuronWriter offers 5 paid plans in total and they include Bronze, Silver, Gold, Platinum, and Diamond. Each of these plans embodies tons of useful features which this write-up covered.
GeGenie, in contrast, offers 3 paid plans – Writer, Pro, and Agency. Like NeuronWriter, GetGenie extends some spellbinding features for its users.
Best of all, both NeuronWriter and GetGenie offer competitive pricing. You will get a value for money for making a purchase of either of them.
NeuronWriter Pricing:
Bronze Plan- €19/Month
Silver Plan- €37/Month
Gold Plan- €57/Month
Platinum Plan- €77/Month
Diamond Plan- €97/Month
GetGenie Pricing:
Writer Plan- $17.1/Month
Pro Plan- $44.1/Month
Agency Unlimited Plan- $89.1/Month
Wanna know the rivalry between Frase and GetGenie? Here you go-
Frase vs. GetGenie- Who is the Winner?
Additional Pros and Cons of NeuronWriter and GetGenie:
Apart from the above features, both GetGenie and NeuronWriter come with some more enthralling features. Let's have a glimpse at them-
NeuronWriter:
| Pros | Cons |
| --- | --- |
| Optimal NLP keyword suggestions | Insufficient number of content templates |
| Advanced content editor | |
| Email and chat support | |
| Schema data explorer | |
| Plagiarism checker available | |
| GSC integration available | |
GetGenie:
| Pros | Cons |
| --- | --- |
| Unlimited website usage under all paid plans | Limited word generation with the free version |
| Limitless users for both free and paid plans | |
| Offer 37+ AI templates | |
| WooCommerce product wizard | |
| Elementor builder support | |
| Chrome browser extension coming soon | |
Over to You:
GetGenie and NeuronWriter both are fantastic AI SEO & Content tools. If you have gone through the entire write-up, you must have already fathomed that the duo has both similarities and differences. If your priority is quality content generation, either will do.
However, in the case of other criteria, I believe that the above comparison would be instrumental for you before picking up one AI content generator. All you have to do is understand your pain points, figure out the one that resolves your pain points, and finally go for it!
Interested to know the battle between GetGenie and Jasper? Follow the link below-
Jasper vs. GetGenie- The better AI Writing Assistant