8 Best WooCommerce Product Comparison Plugins (2023)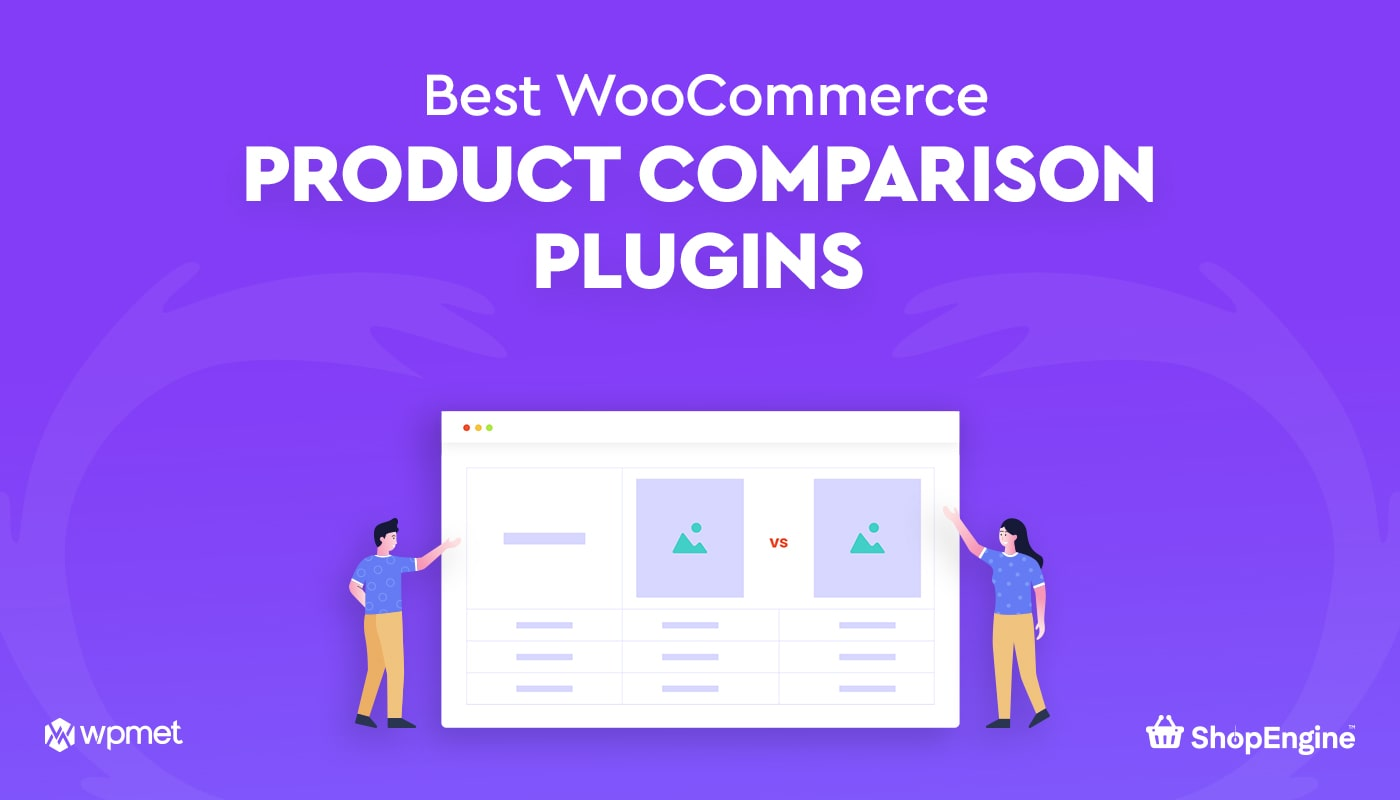 A product comparison plugin enables the customers to compare products of the same category side by side with detailed comparison tables.
If you are running eCommerce businesses on WordPress websites, using any good WooCommerce products compare plugin will help your potential customers compare and contrast products, and ultimately find the right product for them.
Luckily there are many WooCommerce product compare plugins available. You will get free, paid, and freemium plugins to create comparison tables.

But, you just don't wanna make your website heavy with random comparison plugins, right?
In this article, I'm going to tell you about the 8 best WooCommerce plugins (from both free and paid categories) for product comparison. Let's go ahead.
What are the Best WooCommerce Product Comparison Plugins?
To make the list of the best WooCommerce product comparison plugins, we've analyzed and researched the available plugins available for WordPress users. All of these have something unique in them. While writing about these product comparison plugins for WooCommerce sites, I have taken the user reviews, ratings, and efficiency into consideration.

Without making you wait anymore, lemme start the showdown right away.
1. ShopEngine for WooCommerce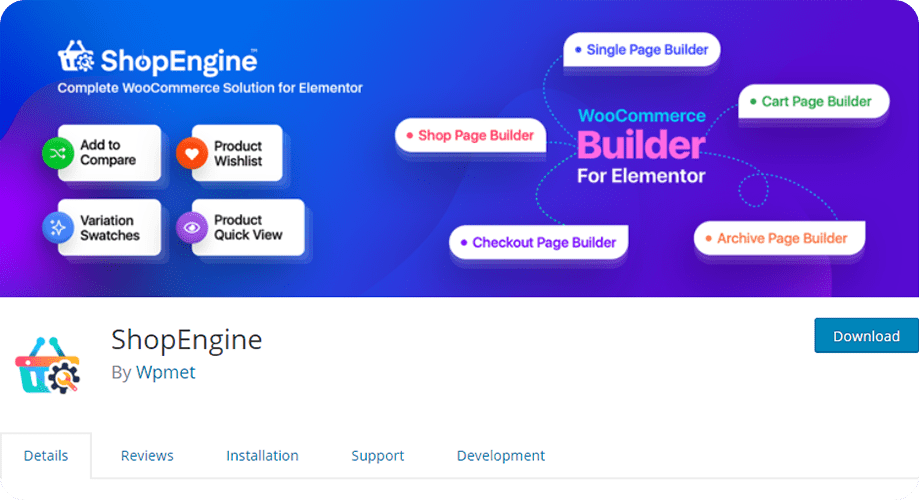 Frankly speaking, this is not a tool made just for comparing the products of your eCommerce site side-by-side. ShopEngine is a WooCommerce page builder for the next generation with more than 50 widgets and 4 modules. The product comparison module is just one of them.
Apart from this module, you can also enjoy variation swatches, quick view, and product wishlist. You can leverage all of these together to build your WooCommerce pages with just one plugin, ShopEngine.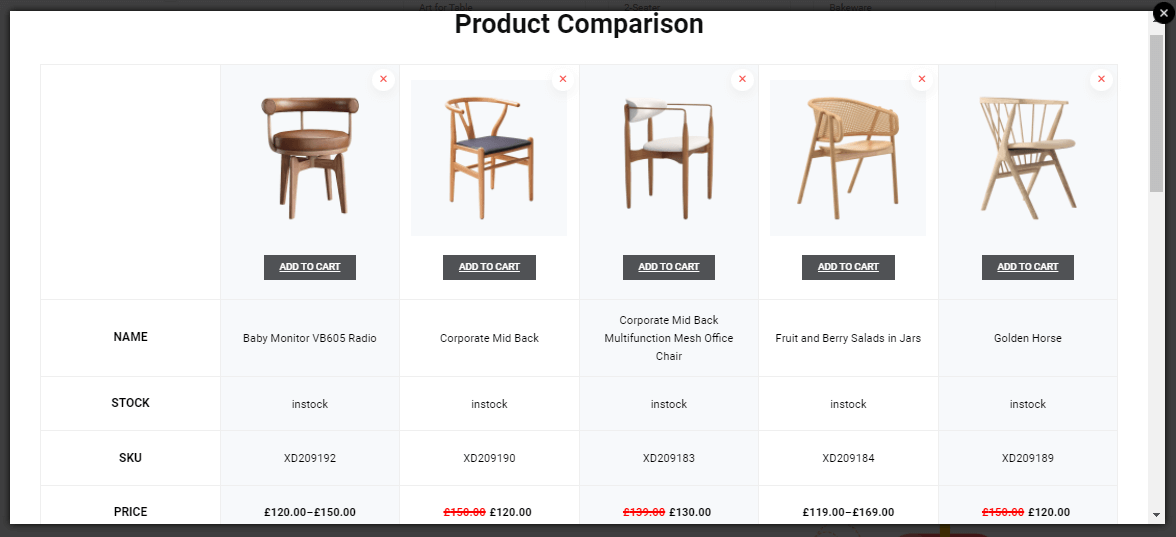 However, as this blog is about Product comparison modules, let's see what's there in the product comparison module of ShopEngine for you.
Users can add products to compare just by clicking on an icon below the product.
Shoppers can remove any products from the comparison list.
The customers can see the compared products side by side along with the attributes on the left.
The product comparison module can be switched on and off. So, you can keep it off if required.
Very easy to set for all types of products.
ShopEngine lets you customize all of your WooCommerce pages with modules and widgets on Elementor. The product comparison feature is one of the key modules of the plugin.
2. Products Compare for WooCommerce
Brought to you by BeRocket, Products Compare for WooCommerce is another simple to let you add the products of your choice and then compare among them.
At first, you'll need to add your desired products to a list and then click on the compare button to get the work done.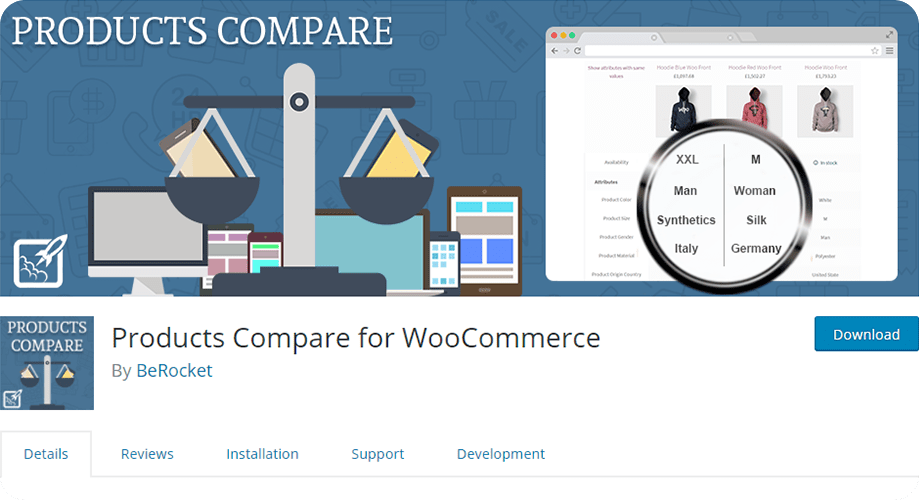 Here are some main features of Products Compare for WooCommerce:
Dedicated compare page with custom URL for comparison
Button for adding products to compare
Choose elements or attributes to compare
Customizable button text
Choose from 'show all' and 'only difference' buttons to compare.
If you want to show the comparison with a custom URL, this plugin will do the work. An option to view a full or partial comparison is praiseworthy.
3. WooCommerce Compare Products Premium
If you are ready to pay a handsome amount of money for a product comparison tool, then you can try WooCommerce Compare Products Premium.
This plugin blends well with WooCommerce and popular themes out there.
You, as the owner of the shop, can choose the categories and features you want to display to the customers when they go for a comparison.
By leveraging the product manager option, you are in absolute control to manage the entire product archive smoothly.
The customization feature will allow you to choose the style you want for the widget and table.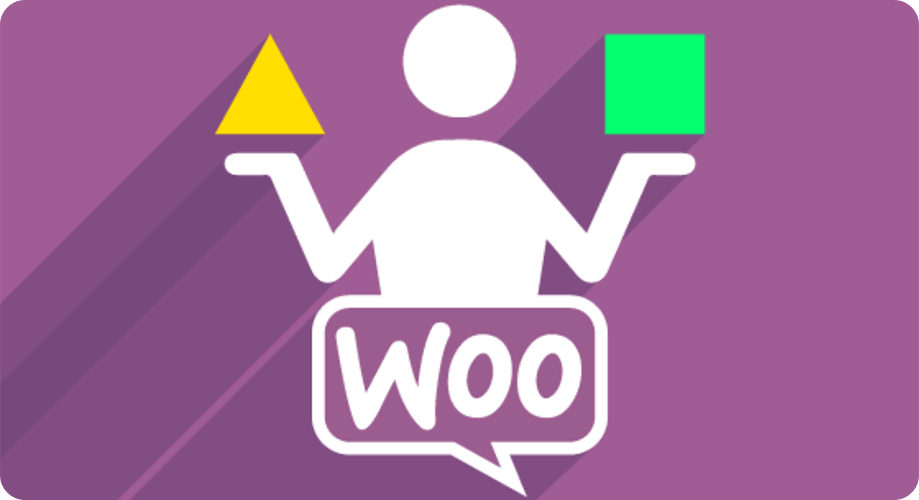 Let's get to know about the core features of this premium plugin:
Make and show a custom compare table for your customers.
Live sync between the compare list and compare widget products
Removing products from the compare list gets removed from the widget and vice versa.
It offers a free trial.
It is not required to leave the admin panel to add or edit product compare features.
Customize the look and layout of the compare widget to your heart's content.
The free trial feature will help you decide whether this plugin is for you or not. The best part is that you can craft the comparison tables as per your choice.
4. WPC Smart Compare for WooCommerce
WPC Smart Compare for WooCommerce is another well-built and feature-rich plugin you can try for your shop.
As it features an AJAX-based interface, the customers do not need to look at the window and wait for loading the products and attributes.
Leveraging the custom shortcodes, you can insert the buttons into any specific page.
One interesting thing about this plugin is that it gives the customers authority to add or remove any attribute for filtering out the differences that mean a lot to them. On top of that, they can decide whether they will see the comparison table vertically or horizontally (upcoming feature).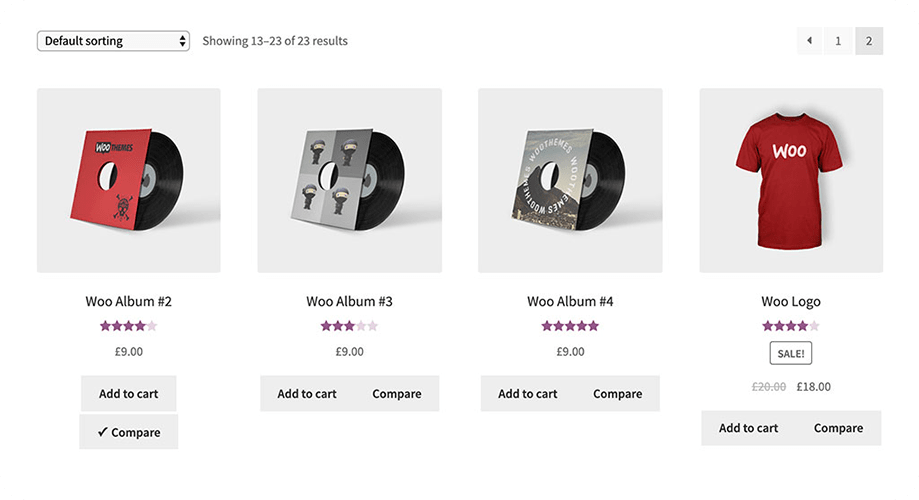 Let's just have a glance at some other features WPC Smart Compare for WooCommerce has to offer:
Custom and predefined attribute fields that you can modify with custom text.
You can show the comparison table either as static or as a popup.
Option to customize the compare button.
To ensure improved UX, you can make the first column or row sticky.
Choose from a variety of background colors.
Advanced customization features like displaying the comparison table as static or popup and making the first row or column sticky make it stand apart.
5. Compare Products for WooCommerce
Compare Products for WooCommerce is another light plugin you can use for letting the customers know the product variations in your shop.
There is a widget basket for you to fill up with your desired products. Once done, just click on the compare button to start comparing.
A table will show the features of the products to the customers. Customers can also scroll the table horizontally if they want.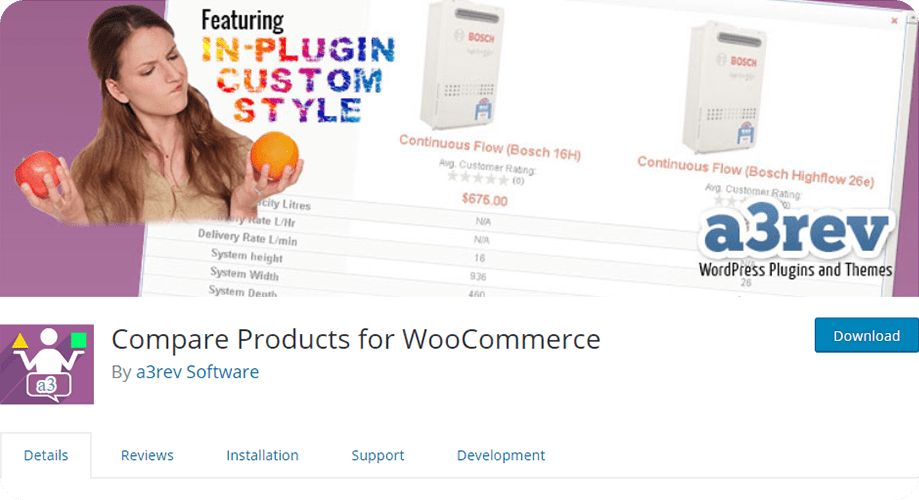 Let's have a look at some of the features this plugin offers:
The customers can save the comparison table as a PDF
Printable comparison table.
Option to show and hide product comparison for products.
Very lightweight
Place the compare product option anywhere on the product page.
This plugin has all the basic functionality of a standard product comparison plugin. I love the option of saving the comparison table as a PDF.
6. WooCommerce Better Compare
No matter whether you want to set a compare bar or sidebar for letting your customers find the right product, WooCommerce Better Compare will be a good fit.
This plugin lets you use shortcodes to create a compare table on your WordPress website.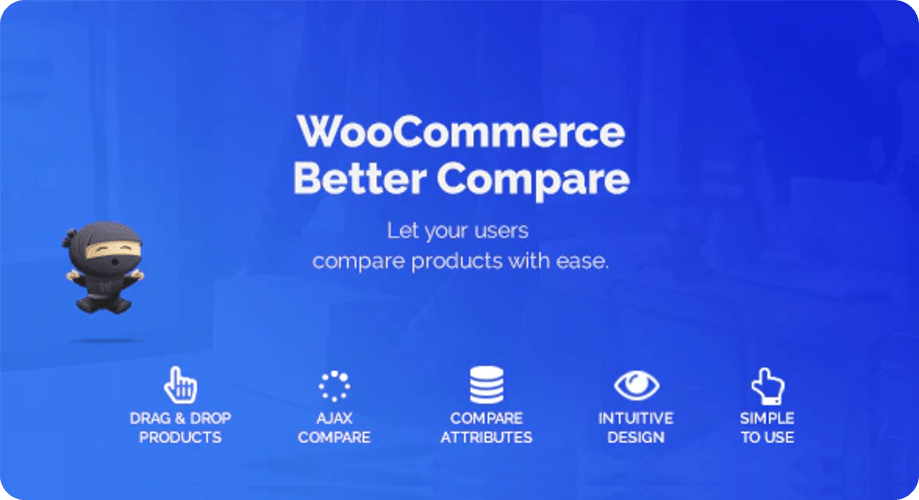 With extensive documentation supplied with this plugin, you can learn everything about the plugin very easily.
WooCommerce Better Compare lets you experience any of the four demos: single product demo, shop demo, WP-admin demo, and shortcode demo.
Uses AJAX to load the products.
Drag-and-drop products to compare
50+ settings to customize the comparison tables and compare bars.
It has enough settings to personalize the plugin. Comparing products by dragging and dropping is quite an advanced feature.
7. WooCommerce Products Compare
Apart from using third-party plugins, you can also go for a Products Compare plugin by WooCommerce itself. It is a good choice if you have a large inventory of similar products.
By leveraging the WooCommerce Products Compare plugin, you can add a product compare feature on the category pages of your WooCommerce shop.
However, you are in full control of where you will set the product comparison option. This plugin will show the customers the price, user rating, stock amount, and product descriptions to decide on the best product.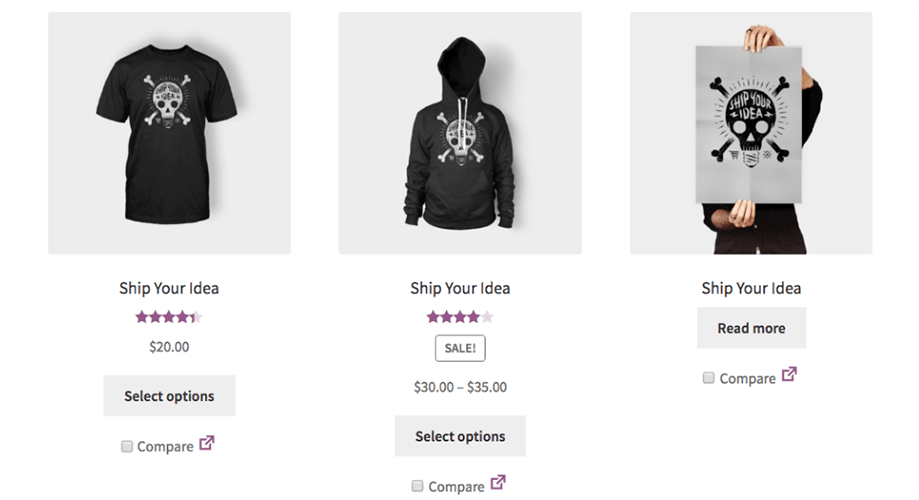 Here are some key functionalities of the WooCommerce Products Compare plugin:
Easy to customize
Simple configuration process
You can display the product compare option on any page you like.
The chosen products of the customers will be presented side-by-side to make sure that the customers find the product that suits his/her needs.
If your shop has a large inventory of similar products, then this plugin is perfect for you.
8. Compare Products with WooCommerce
Compare Products with WooCommerce is another good plugin with a drag-and-drop interface for comparing products on any online shop using WordPress.
With this plugin, you can easily display your product features to your potential customers via a comparison table.
When it comes to showing the comparison table, set the display style to either vertical or horizontal. Apart from showcasing the existing product attributes, you can easily create custom attributes.
You can change the position of the 'Add to Compare' checkbox as well.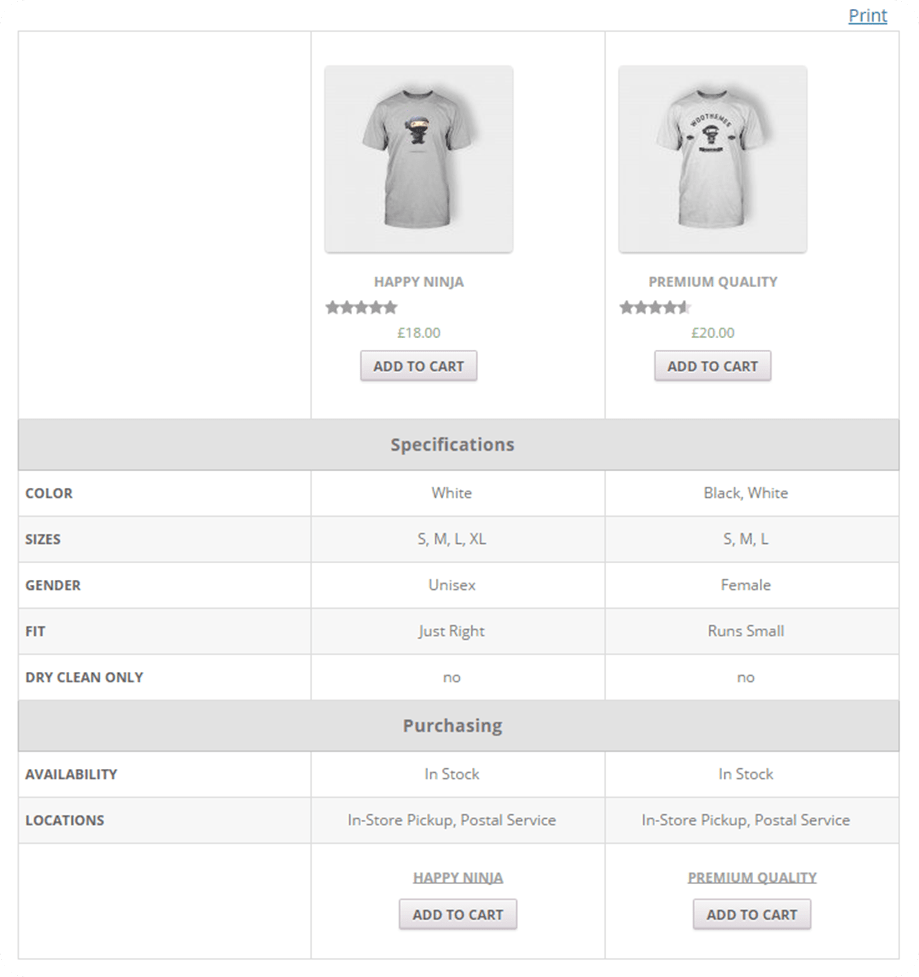 Let's dive into the list of features this plugin comes with:
You can choose to display the product features as a separate tab on the single product page.
No need to refresh the page for adding, deleting, or saving.
Add any product attributes or product-specific settings like width, height, weight, length, stock status, etc.
You can add, delete or modify any product feature or category from the settings page.
It comes with shortcodes for displaying the product's features on any page you want.
You can use the plugin to create custom attributes and display product features more effectively.
Final Thoughts
It is proven that a product comparison plugin can bring customers out from the labyrinth of finding the right product for them.
Now that, you know about the 8 best WooCommerce compare products plugin, it's your turn to use one and help your customers get the most suitable product for them.
If you are looking for a complete WooCommerce solution plugin to build a mind-blowing product page, shop page, checkout pages, and my account page, try ShopEngine for once. I believe that you'll fall in love with it.