5+ Best Pre-Order Plugins for WooCommerce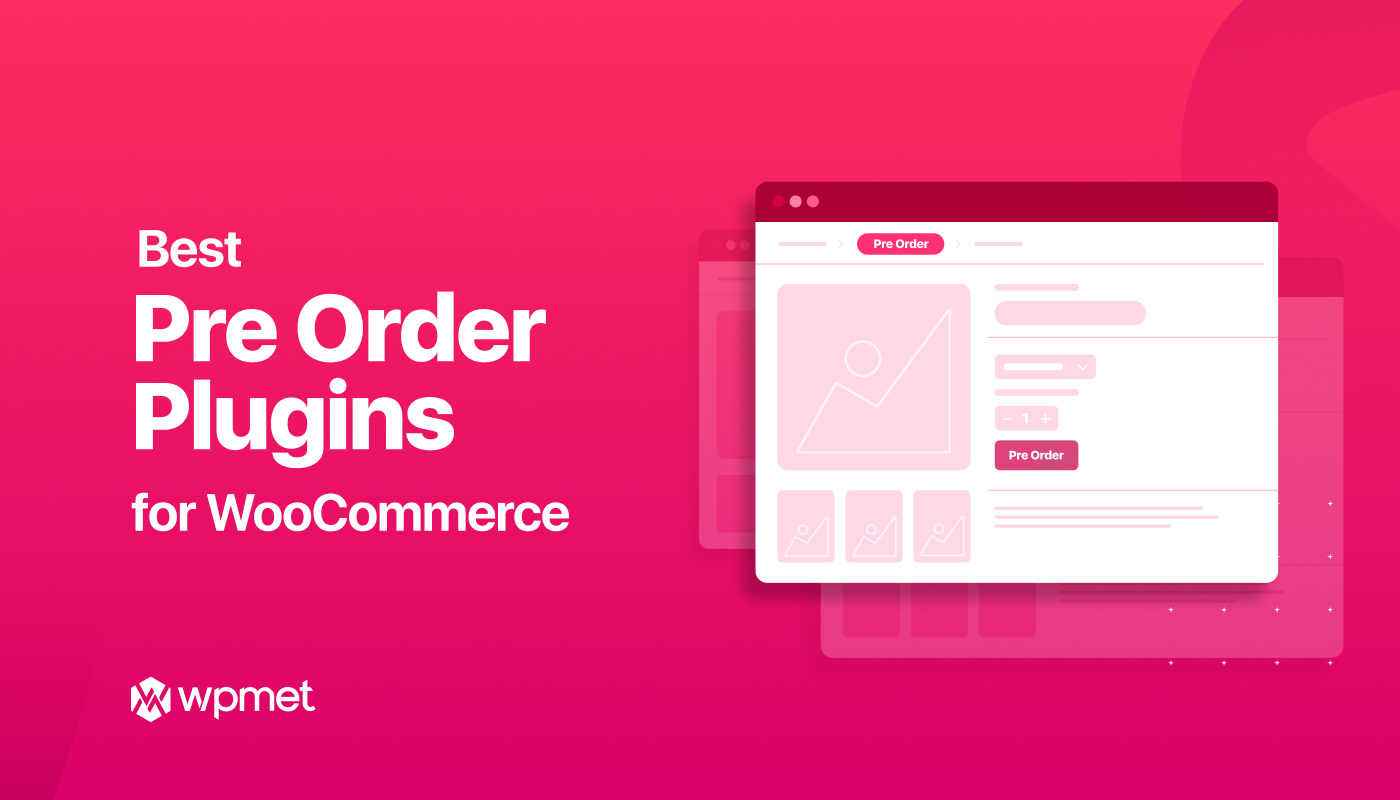 Are you looking for the best WooCommerce pre-order plugins?
A Preorder plugin is a terrific method to get your e-commerce site to take preorders. It also generates buzz and assists you in determining market demand for your next offering.
If you've ever wanted to sell things that aren't yet in stock, giving your consumers the option to preorder them is a great method to do so. However, you'll need a WooCommerce pre-sale plugin for this.
Your customers will then be able to purchase the items, which will be dispatched as soon as they are available.
It is one of the most beneficial aspects of your marketing strategy. On the other hand really beneficial for small and medium-sized businesses.
Also included in this post are the 5+ Best WooCommerce Preorder Plugins that you may use on your online store.
What is a WooCommerce Preorder Plugin?
A pre-order plugin allows you to publish a product on your website, whether it's a concept, something that's coming soon (not yet available), or something that's being manufactured, you give consumers the option to buy it or reserve it by paying the whole or partial price.
You provide the product to your consumers once it is ready. As a result, the product is one-of-a-kind and exclusive.
What are the Advantages of Preorders in an eCommerce Store?
Preorders have a number of advantages. The advantages will differ depending on the products offered and your specific business. Here are a few of the most popular advantages of pre-ordering:
✨ Provides you with market information
Preorders give you a decent indication of what to expect and help you predict demand for specific products, even if they haven't been released yet. Before certain things are released, you may see how interested others are in them.
This strategy is used by Apple and other well-known large corporations to gain a deeper understanding of their markets. This information can be used by small businesses to plan their purchasing and inventory decisions.
✨ Assists you in promoting the product more effectively
Many businesses create marketing techniques specifically for WooCommerce preorder items. They aid in raising public awareness and interest in specific products while also assisting corporations in interpreting consumer demand for those products.
This is also advantageous in terms of SEO services. By the time the product is released to the wider public, it should have already been indexed in the major search engines, allowing you to reach out to existing and new ones.
✨ Provides you with a steady stream of sales
When a new product is first brought to the market, most businesses are anxious about how it will perform. Pre-orders might put your mind at ease because you'll know how many things will be sold in a certain time frame.

Best Pre-Order Plugins for WooCommerce
Let's look into some of the top WooCommerce pre-order plugins, both premium and free:
ShopEngine (Preorder Module)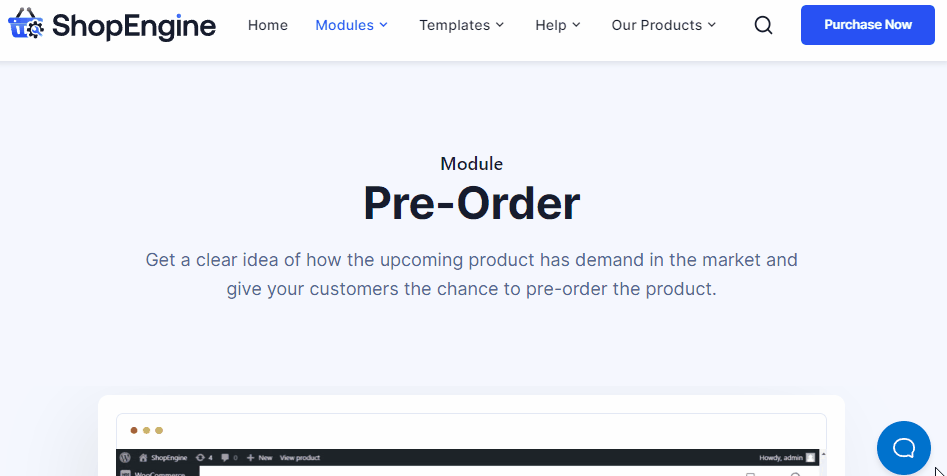 ShopEngine pre-order module allows consumers to pre-order new items so they receive them as soon as they become available, allowing you to track their progress.
The ultimate WooCommerce builder plugin allows you to follow up on pre-sales in a comprehensive way, thanks to our efficient system that quickly adapts to the individual needs of one's store. One of the most fascinating parts of an eCommerce site is taking pre-orders. You need to provide the opportunity to your buyers to pre-order their preferred product.
⚡ Key features:
Set the optional availability date and time for the product.
For a pre-ordered product, change the release date.
Customers who have pre-ordered the product will receive an email.
If the product is no longer available, you can cancel your pre-order.
Use a personalized WooCommerce preorder order status to filter your pre-orders.
Charge a pre-order fee if desired.
For pre-orders, update the Add to Cart/Place Order button.

📈 Active Installations: 6,000+
💰 Price: ShopEngine has both Free and Premium versions. The Premium one starts at $53/year for a single site.
WooCommerce Pre-Orders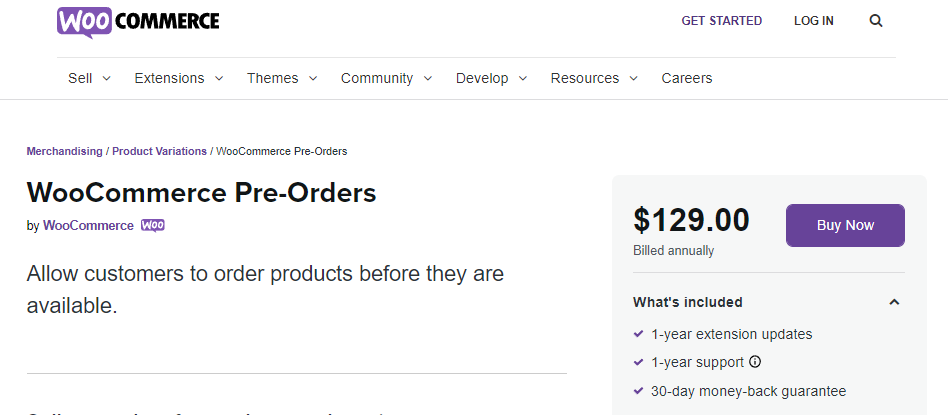 WooCommerce Pre-Orders is a WooCommerce plugin that allows you to create pre-orders in your business. WooCommerce is the company that created the plugin. When you're ready, you can release and fill orders automatically or manually.
All pre-orders are loaded up front and on release, and the pre-order experience is totally customizable. Pre-orders will be paid upon release if you use a sponsored payment gateway, and the customer will not have to return and pay for their order.
⚡ Key features:
Allows you to select the date or time plan for available products to accommodate pre-orders.
When the product is accessible in your store, take responsibility for pre-orders and, if necessary, change the release date while telling customers via SMS.
You can design the Add to cart and place order buttons for pre-orders with a customizable option.
📈 Active Installations: N/A
💰 Price: The plugin only has the pro edition, which starts at $129/year.
Pre-Order for WooCommerce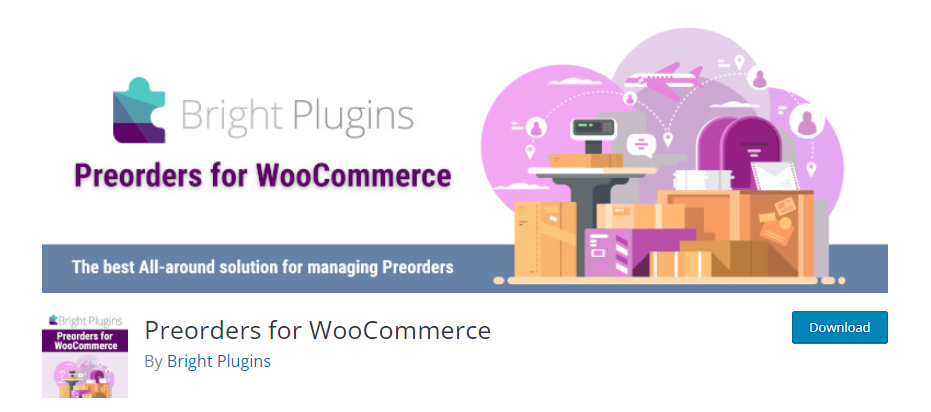 Pre-orders for WooCommerce is a free plugin from Bright Plugins that allows you to create pre-orders on your website. From the My Account section of the page, you can quickly manage all of your pre-orders using this plugin.
You will have no problems utilizing the plugin because it readily connects with WooCommerce. WooCommerce preorders can be easily customized from the settings page.
⚡ Key features:
As soon as the preorder period ends, make products instantly available.
Customers can be prevented from adding preorder items to their carts if they already have things in their carts.
Create an expiration date for presale durations.
To add "preorder" status to several products, use a WordPress Bulk action grouped by tag or category.
Notify website administrators when product preorder periods are about to expire by sending them an email a certain number of days before the deadline.
Notify users when the preorder periods have ended and the products are now completely available.

📈 Active Installations: 4,000+
💰 Price: The plugin is available for free in the WordPress repository. It also has a pro edition with four different business scenarios, starting at $79/year.
Pre-Order for WordPress WooCommerce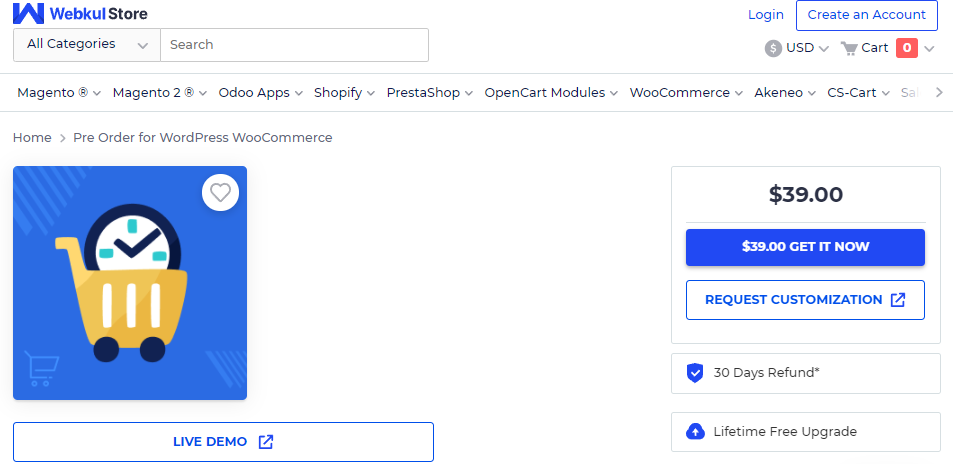 Pre-order for WordPress WooCommerce plugin brings the pre-orders capability into your site is WooCommerce. The plugin is flexible and easy to configure. Even if you have only received partial money for pre-orders, you can accept them.
Admins can use this plugin to figure out what products are in demand and then control production accordingly. It is compatible with all types of products, including Simple, Downloadable, Virtual, Grouped, and Variable.
⚡ Key features:
The partial payment tool comes in handy when you don't want your customers to pay the entire amount.
Customers will receive an email when the product is available.
The plugin provides appealing pre-order pages that are visually attractive.
The admin can select the availability date and preorder status, and the customer can add a new product to the cart in addition to the pre-order goods.
All clients' pre-order In-Stock reminder emails can be enabled or disabled by the admin.

📈 Active Installation: N/A
💰 Price: The plugin only has the pro edition, which starts at $39/year.
Order Approval for WooCommerce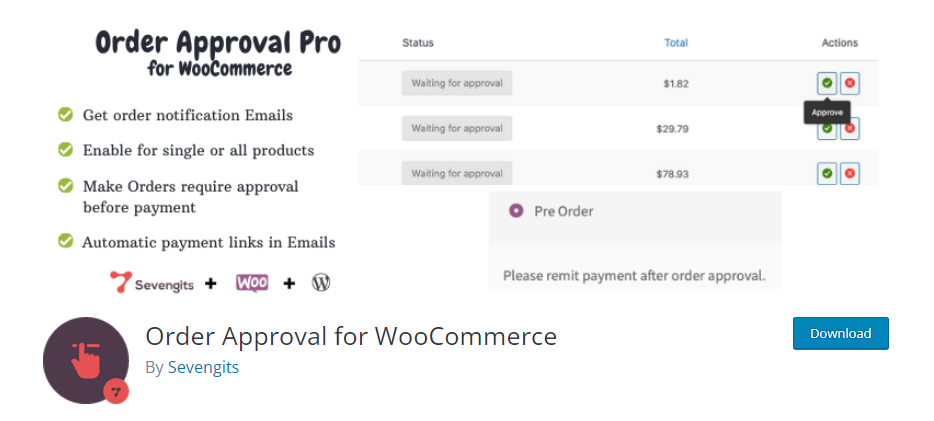 Order Approval for WooCommerce is a free WordPress plugin for WooCommerce pre-orders. Customers' orders can be approved or rejected by WooCommerce store owners before they pay for the products with this plugin.
In this situation, if the store owner accepts the customer's order, the consumer will receive an order confirmation email along with a payment link. Customers will receive a cancellation email regarding their order if the order is refused by the store owner.
⚡ Key features:
Before the money is processed, the store owners can check the order and accept or reject it.
The user will receive an order confirmation email if the store owner authorizes the order placed by the user. If the order is denied by the owner, the plugin will also send the user a cancellation email.
The plugin is easy to install and use. There are no complicated settings to deal with.
Support for all payment gateways can be enabled.
In any case, payments will not be handled without the store owner's approval.
The company also provides excellent help to users via the plugin support forum.
📈 Active Installations: 800+
💰 Price: This plugin is absolutely free to download and use.
Product Pre-Order for WooCommerce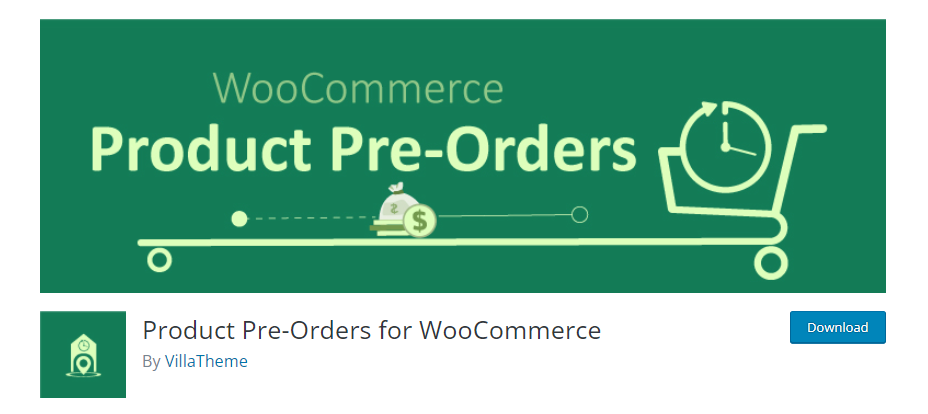 Product Pre-Orders for WooCommerce is a sophisticated free preorder plugin for WooCommerce that allows store owners to sell presale items on their website. When people try to purchase a product, it may go out of stock. In such circumstances, this plugin allows consumers to purchase their desired products even if they are presently out of stock.
You can customize the pre-order charge for each product, set an optional date and time when the pre-order will be available, send email to customers who pre-ordered a product, choose the availability date and time text, and customize the Pre-order text button, as well as the color, using this plugin.
⚡ Key features:
The presale pricing for the products can be readily customized.
It enables you to send personalized emails to customers who have placed a pre-order for a product.
You can also specify an alternative start date and time for the pre-order.
Can also change the text on the "Add to Cart" button.
The plugin allows you to adjust the Pre-order text button and color, as well as create your own Pre-order buttons.
WooCommerce makes it simple to manage products with a pre-order status.
📈 Active Installations: 400+
💰 Price: This plugin is absolutely free to download and use.
Conclusion
And we have come to an end, hope this blog was helpful enough and you've found your desired pre-order plugin for your site.
Lastly, pre-orders are an excellent strategy to increase your sales. You should also give it a shot on your WooCommerce stores. Customers love to check out the limited-edition items, and pre-orders provide them that opportunity.