Top 5 WordPress Employee Management Plugins That Count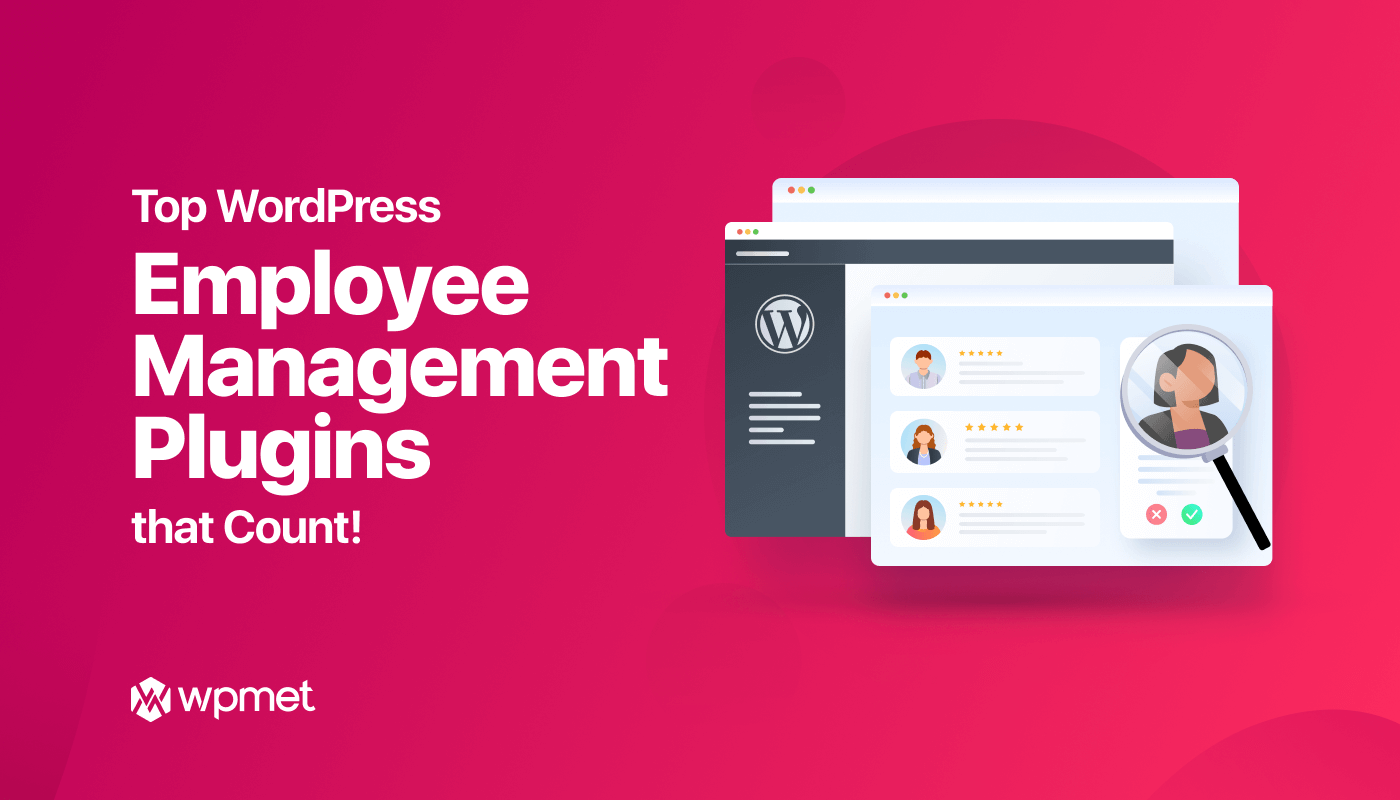 Employee management is a challenge for companies of any size. Your company's HR department is likely to struggle to manage your employee data. Recruitment, training, payroll, benefit entitlement, and reporting, all these employee activities require smooth management.
Luckily, stacks of online tools are available to smoothen your employee management activities. These tools encompass WordPress plugins that can integrate seamlessly with your WP website and optimize your employee management process.
WP Employee Management Plugins– Perks & Benefits:
No more hassle of accessing multiple tools to monitor and track your employees' data. Now, employee management is possible right from your WordPress admin panel. In addition, you can reap exclusive benefits by utilizing WordPress employee management plugins.
Get a centralized platform to deal with vital employee info
No hassle of new product onboarding to your employees
Improved communication and collaboration among team members
Boosted productivity and efficiency due to managing everything in one place
Smooth leave & attendance tracking and flawless performance evaluation
Top 5 WordPress Employee Management Plugins:
I have compiled the 5 game-changing WordPress employee management plugins that can make a difference in your company's HR process. So, if you want to smoothen and organize your employee data on your WP website, stay glued to the post.
A robust WordPress plugin, WP ERP works as a business manager for your website. The plugin will let you easily manage your human resources, customer relations, and accounting — all in one place.
With the first access to the plugin, you can add and edit all the information about your company, including its locations. You can also create multiple departments and allocate employees to each department based on their positional designations. This aids in setting up your team and improving workflows.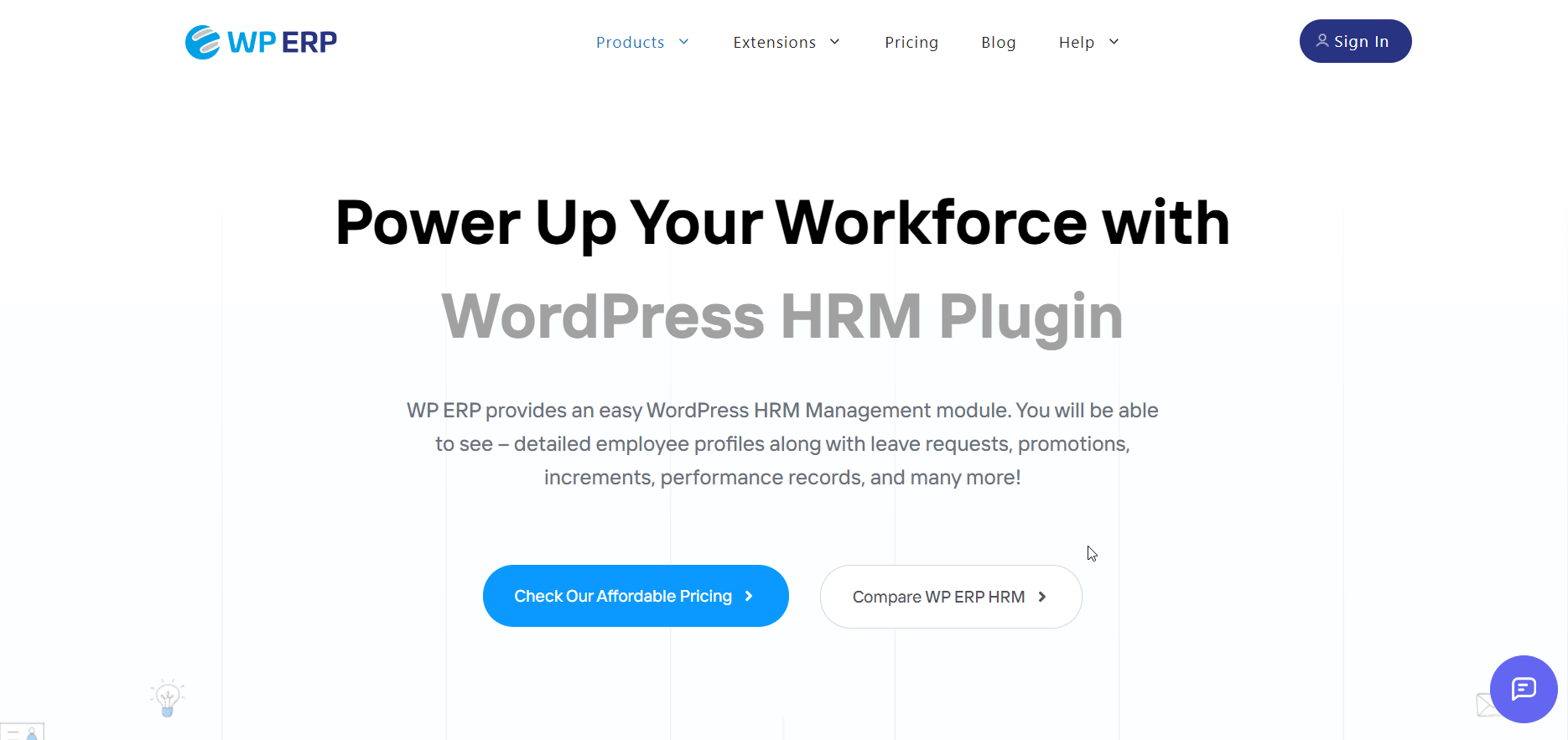 Employee management is a cakewalk with the plugin. You can provide each employee with editable profiles, implying which department they work for and what title they hold. This renders transparency and clarity within your organization.
In addition, WP ERP lets employees request advance leave, making it easier to manage time off and vacations. The plugin generates reports tailored to the age, gender, number of employees, and salary of each individual, making it easier to analyze and make out your workforce.
On top of that, WP ERP eases the process of new employee recruitment. And the best of all, jump easily from one HR tab to another, thanks to WP ERP's shortcut header menu.
Star Features:
Offers editable employee profiles
Easy management of department and title
Smooth leave request management
Generates tailored reports for workforce analysis
Renders comprehensive accounting module
Holistic human resource management.
Price: The core plugin is free to use, but it has a premium version that costs $129.90 per year. You can also add 9 premium extensions, each costing with a varying price.
With the WP-HR Manager plugin, you can allow your employees to easily access their performance and administrative tasks through a front-end view.
For HR officers, line managers, and employees, it provides a back-end interface to efficiently manage human resources directly from your WP website.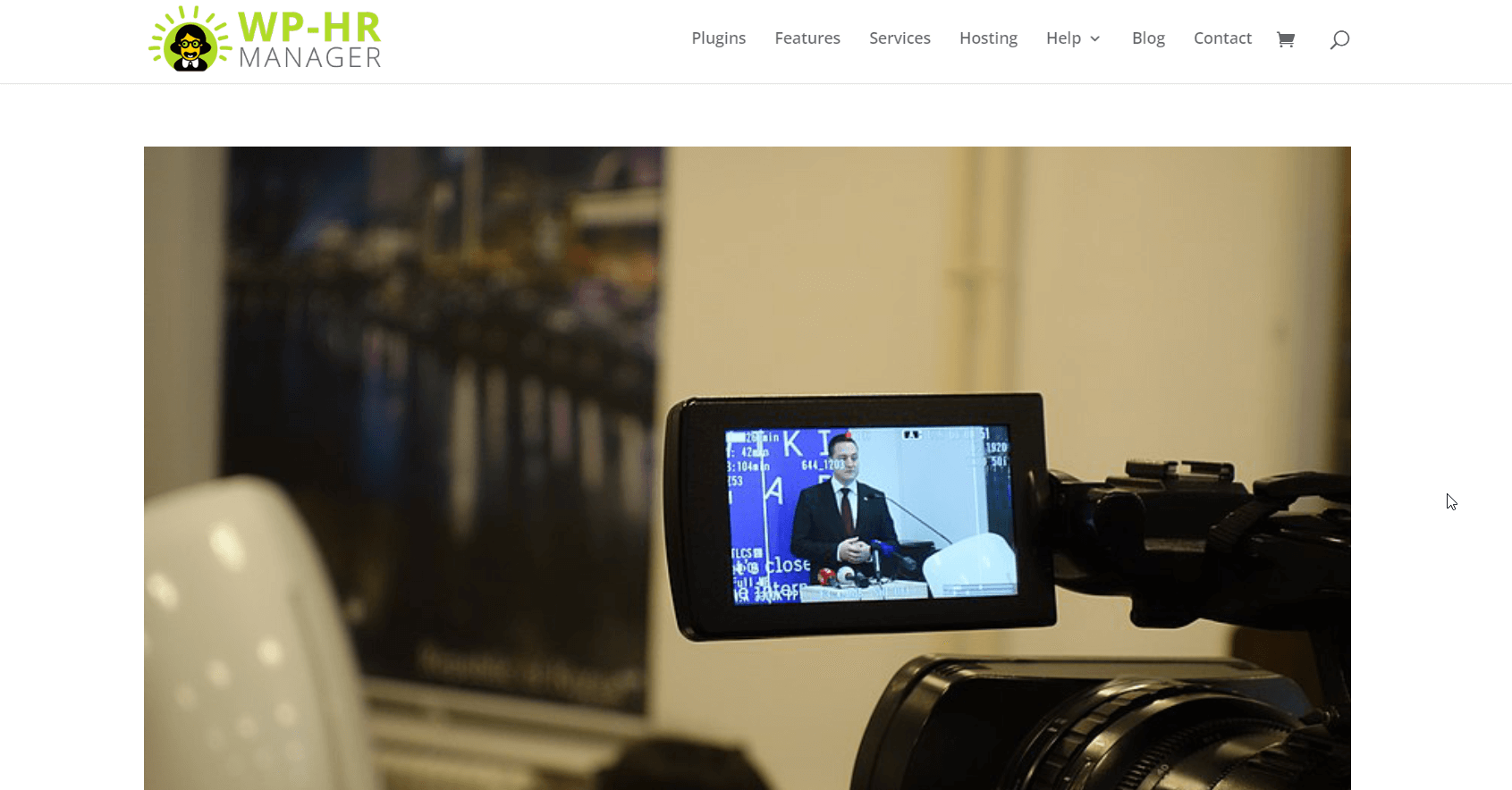 The plugin features tracking employee leaves, holidays, and other administrative tasks. This makes sure that you have a clear picture of your team's availability, letting you manage your work affairs better.
From the employees' aspect, it helps them to stay on top of their own data, giving access to leave requests, clock-in/clock-out times, and overall performance notes. Overall, it's designed to fit your specific organization, including your unique departments and employee roles.
Star Features:
GDPR-compliant for data control
Employee self-service capabilities
Offers flexibility to update with new features and plugins
Free to use HR management software
Limitless employee management capabilities.
Price: The basic plugin is free, but you can also use the pro versions to extend functionality; It comes with a number of plans but the Bundle 3 plan is profitable and costs $299.99 annually.
The Staff Directory plugin lets you manage and organize your employees' data smoothly. You can add employee profiles to your site. The plugin features tracking time and sending employee reminders as well as invitations. It also lets you add new employees with complete profiles.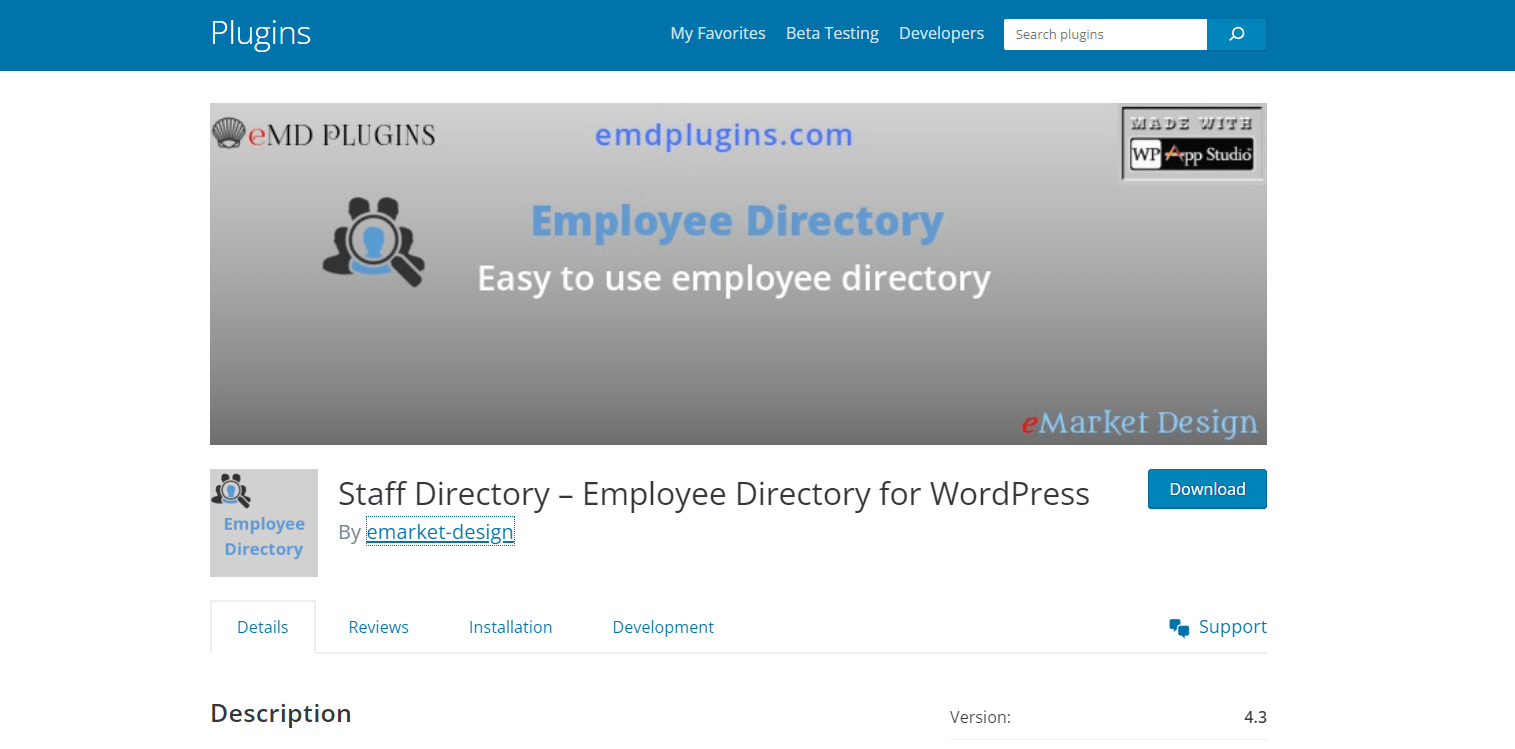 The plugin makes it easy to find, categorize, and group employees in the management system. In the plugin, you can search for employees by using their names or specific attributes listed on their profiles. In that way, finding the right employee for a particular job or task gets easy.
On top of that, the plugin lets you create individual employee profile pages for both intranets and extranets. This means that you can provide a dedicated space for each employee to display their skills, experience, and accomplishments.
Price: The plugin costs $999.99 per site annually.
Star Features:
Create employee profiles with complete information
Advanced search functionality for finding employees based on attributes
Dedicated profile pages for each employee
Send emails and notifications to new employees during onboarding
Display employee and group information using shortcodes
Access search results and sort them according to your needs.
WPHRM is all about saving time and increasing productivity — whether you need help managing employees, attendance, leave, salaries, or all four.
This plugin helps you manage your employees' personal information (e.g., start date, department, salary, and attendance) and generate reports of all their stats in preparation for meetings or performance reviews.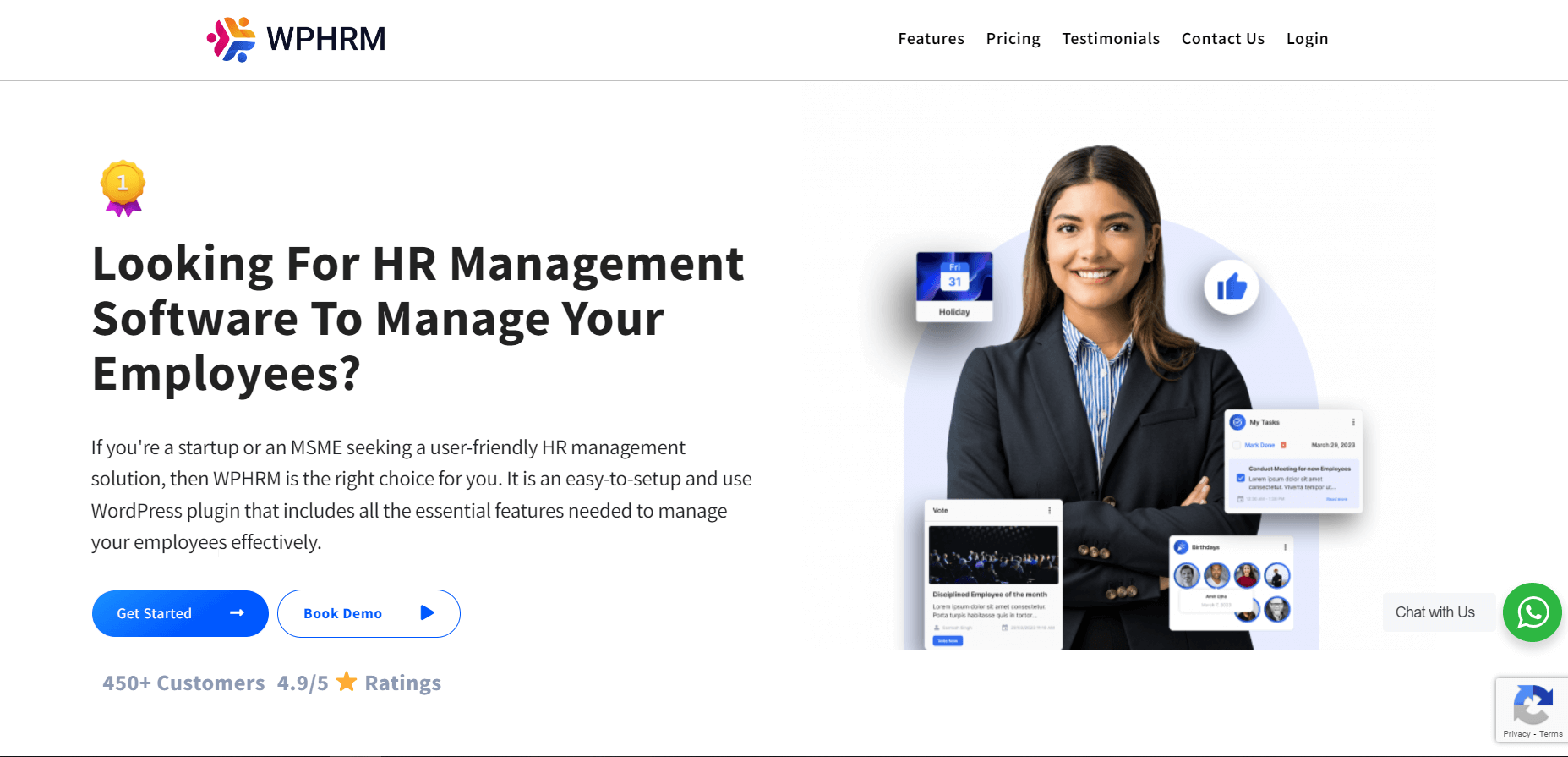 From the WPHRM dashboard, you can edit and manage your departments, staff, and salaries. Use the Attendance and Leave calendars to view when individual employees will be on the clock and when they have missed any scheduled shifts. You can easily update the info and details of any staff member saved in WPHRM.
You might also enjoy the financial management tools included. There are a few simple financial reports that can help you review your business performance without needing to leave your WP dashboard.
One more feature you'll love about WPHRM is the notifications. You can send push notifications from your site with important updates, and publish an e-notice board which is like a digital bulletin board your employees can review.
Star Features:
Maintain the employees' activities from the single WordPress platform
Separate profile management of each employee
Employees leave management whether to deny or approve while considering company policies.
Sending notifications for any leave, holidays, meetings, salary, etc.
Pay out your employees and create PDF format slips along with customized fields
Price: The "Yearly" plan costs $171 annually
Business Manager is a one-stop solution for all your HR and business management needs. It's versatile, sturdy, and flexible, assisting you in managing leave requests, storing employee records, and conducting performance appraisals — all from one place.
This plug-in comes fully packed with all the features you need to properly oversee your employees and stay organized.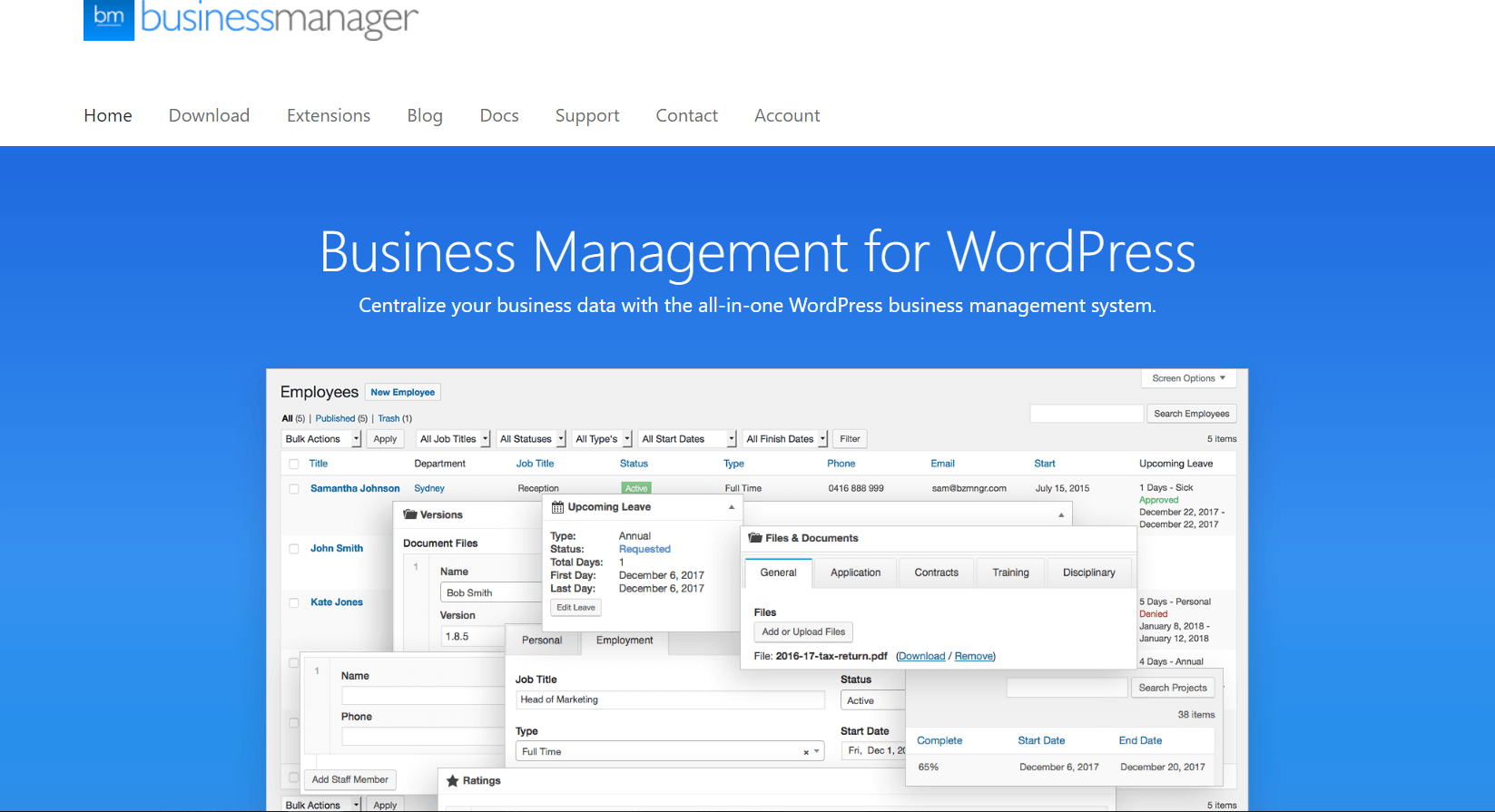 In addition to HR management, the WordPress plugin also manages clients, projects, and even documents — keeping track of the most up-to-date versions of each document. Concurrently, it allows you to access the older versions.
Business Manager allows you to define the roles of admin, HR manager, accountant, and employees. Additionally, holiday listing, leave management modules, and real-time employee self-service are incorporated perfectly into the tool.
Star Features:
Easy management of employee contact details, status, job title, etc.
Lets you keep files & documents attached directly to the employee profile.
Leave requests approval and denial through the staff's BM accounts
Detailed performance breakdowns for review and a rating system
Price: Available for free download on WordPress.org
Grab Your Favorite WP Employee Management Plugin:
You are hunting for a user-friendly, problem-solving, and affordable WordPress employee management plugin for your business. This is where the WordPress HR plugins listed above come in with all their handy and striking features.
The best part of the above WordPress tools is that they are both employer and employee-friendly. You can monitor as well as track all administrative and performance activities of your employees effortlessly. Employees themselves can track their performances and understand if they are on track.
Also, these HR tools are ideal for start-ups, SMEs, and large businesses. So, pick up the WP employee management plugin that catches your fancy and amp up your employees' productivity 10x right away!