Top 5 Tweet Generator Tools that are Worth Trying in 2023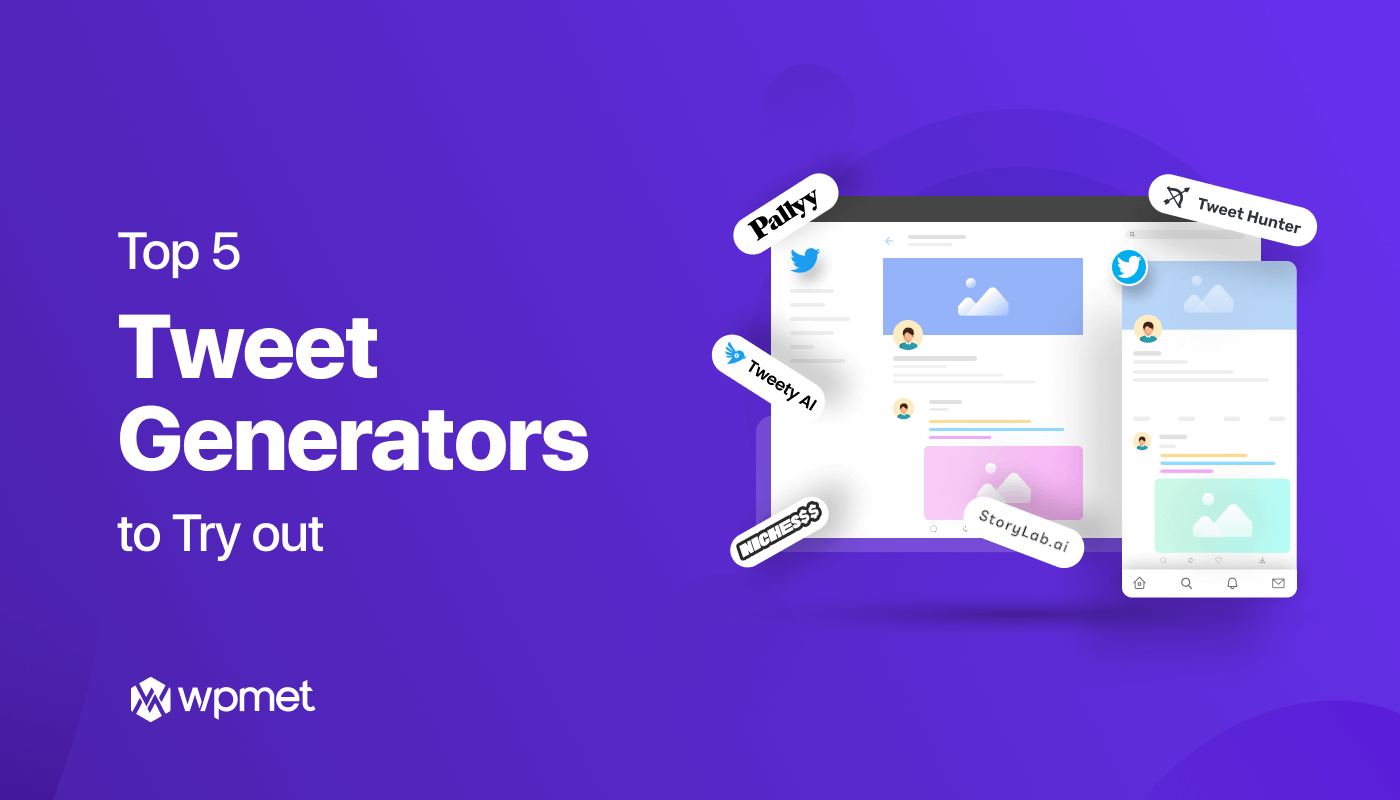 Twitter is one of the most robust social media platforms available out there, especially for business promotion and growth. If you look at some of the leading global brands, all of them leverage the power of Twitter marketing.
Be it Nasa, JetBlue, United Airlines, or Red Cross, all of them are taking full advantage of Twitter. A huge chunk of their annual revenue results from Twitter marketing. That being said, deriving fruit out of Twitter isn't a walk in the park.
You have to come up with a killer Twitter marketing strategy to reap the benefits of this marvelous platform. One of the fruitful strategies of Twitter marketing can be making use of Tweet generator tools. More specifically, first-rate tweet generator tools!
In this write-up, I will enlist the top 5 tweet generator tools that have the power to produce top-drawer tweets. The best part of these tweet generator tools is that they generate tweets exactly what is expected from them. Before I catalog the best 5 tweet generator tools, let me give you an overview of tweet generator tools.
What are Tweet Generator Tools:
Tweet generator, as the name reflects, is a tool that creates Twitter tweets. Sounds thrilling, right? Yeah, with the power of AI, tweet generators create compelling tweets on the topic you ask for.
The tweets can be about your personal life, professional life, thoughts on a particular issue, or can even be promotional tweets. If you ask for promotional tweets, superior tweet generators can output conversion-friendly tweets in return.
How does a Tweet Generator Work:
Even though the working procedures of tweet generators vary from one another, fundamentally they are simple and hassle-free. Typically, you have to input a Twitter description to a Tweet generator on the topic you want it to generate tweets. For example, a description can be "WordPress is dominating the CMS market."
Then, you have to generate tweets by clicking the "Generate" or a similar button on the tool. With that, a number of tweet ideas will show up, generated by an AI tweet generator. You can keep generating tweets until you find the best and perfect tweet for your Twitter handle.
Finally, you can copy the tweet to your clipboard or click the tweet to open Twitter and post the Twitter right away.
Let's have a glance at the working procedure of a Tweet generator-
Provide a Twitter Description on the topic as input
Generate a suitable tweet from several tweet ideas
Copy the tweet to your clipboard or click the tweet to post it on the Twitter straightaway
Head over to the post by visiting the link below if you are curious to know about the Facebook Messenger chatbot-
Top 5 Tweet Generators to Try out:
If you research online, you won't find too many Tweet generators to leverage. And the ones that you would find don't guarantee optimum tweet quality. With that in mind, I have rounded up the top 5 tweet generators to ease your hunt for a top-rated tweet generator.
Let's check them out one by one-
Tweet Hunter:
One of the best tweet generators you can leverage to target your Twitter audience is Tweet Hunter. It's a Twitter growth tool that will help you expand your business and monetize your Twitter audience. The AI tool is able to generate top-notch tweets that you would typically love to post on your Twitter handle.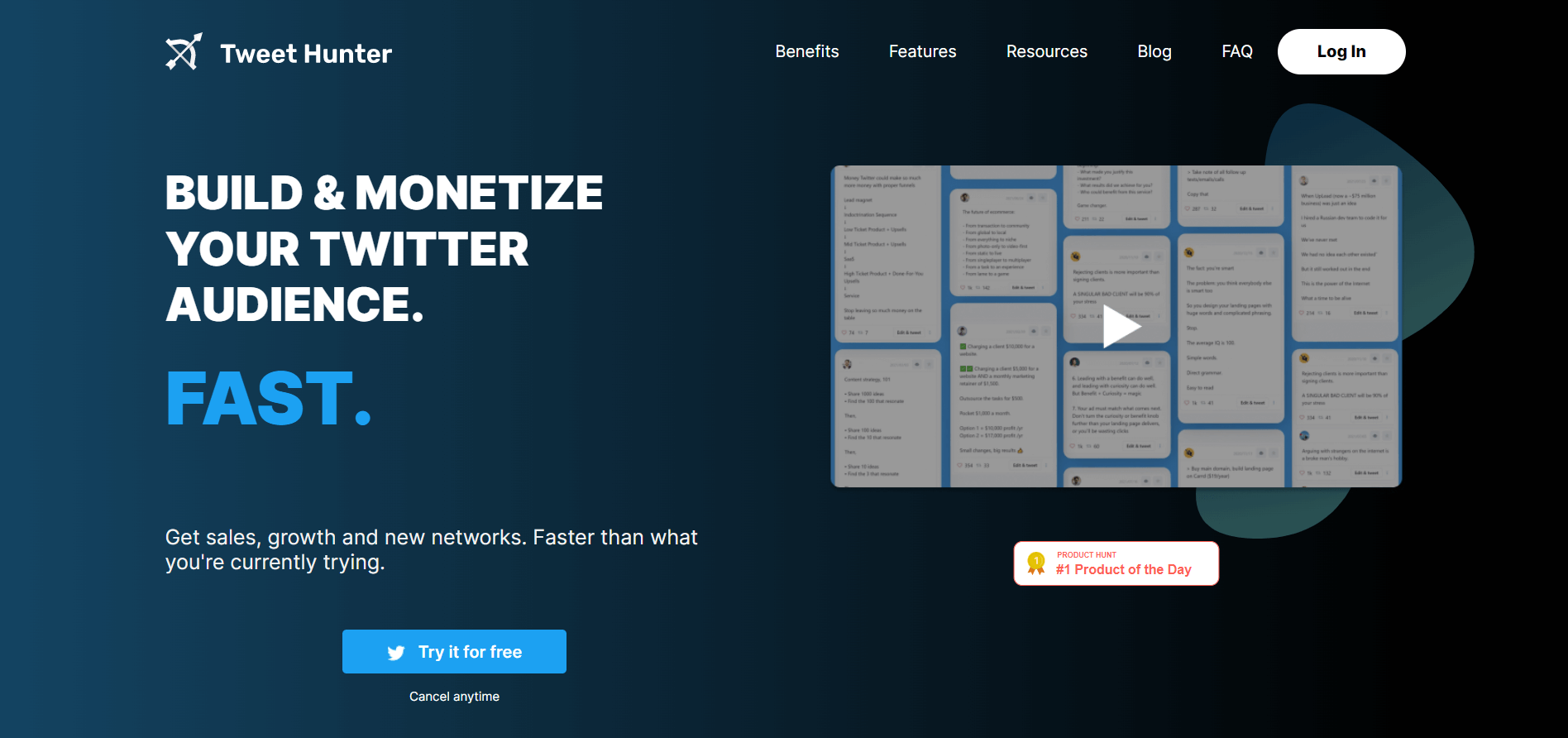 Tweet Hunter aims to help you build an audience around the topics you have a knack for and monetize your audience. If you wish to generate tweets like influencers and business tycoons, including Elon Musk, Tweet Hunter is the go-to tool for you.
Who is Tweet Hunter for:
Tweet Hunter is befitting for everyone, right from individuals to brands looking to build Twitter followers and get subscribers, traffic, conversion, and sales. No matter whether someone has zero followers or some followers, Tweet Hunter is ideal for them.
Pricing:
Starting price is $49/Month while the superior plan costs $99/Month.
Enjoy all the striking features except AI-writing with the Starter plan.
Switch to the superior plan to avail of the AI-writing.
Offers a 7-day free trial and a 30-day refund policy
Technically, avail of the tweet generator free for 37 days.
Claim a refund in case you change your mind within 30 days.
StoryLab.AI:
Are you someone who spends excessive time on Twitter to create tweets? Well, I have a cracking AI tweet generator tool that can not only save your precious time but also produce high-quality tweets. Be it sharing your thoughts on any topic or a promotional post, this majestic tool can do the job for you.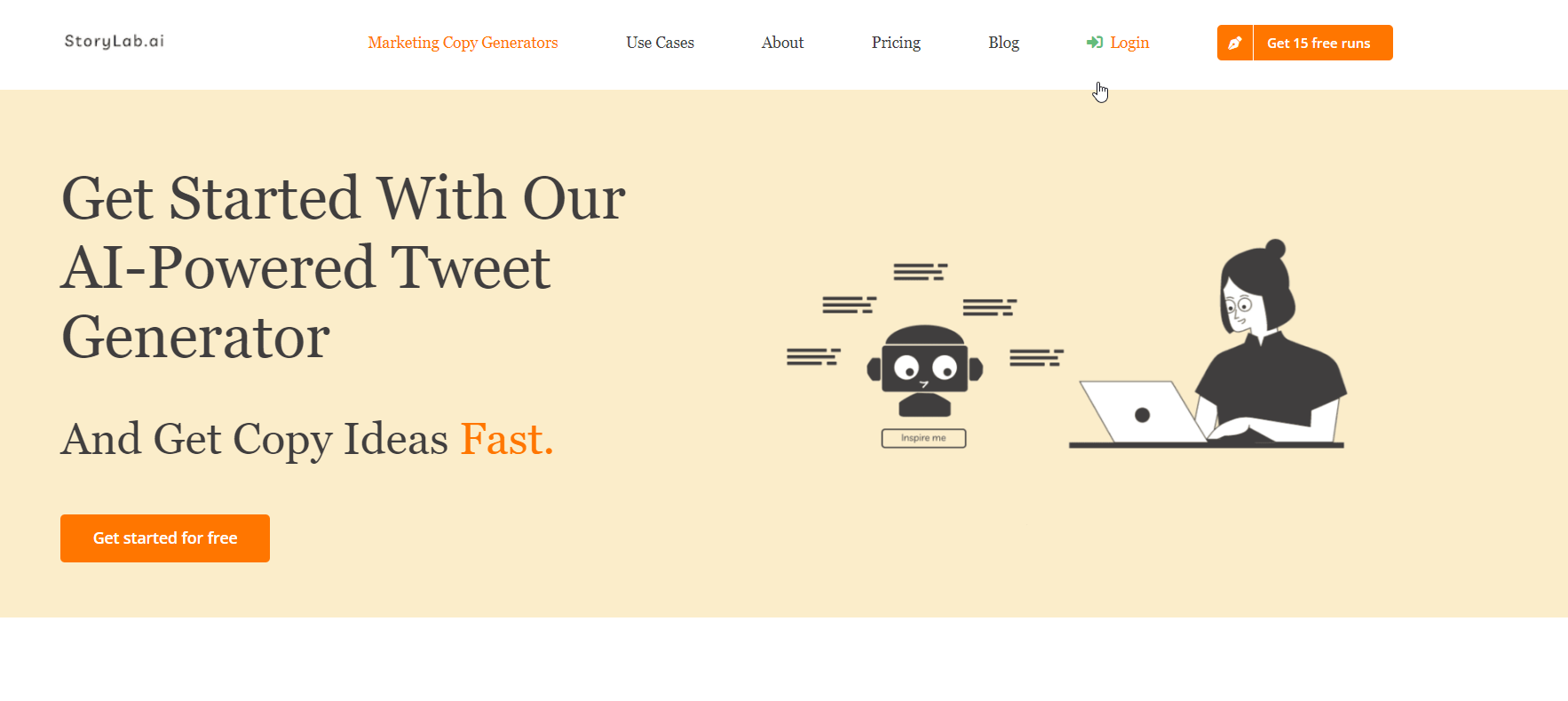 StoryLab.AI has the magic to generate killer Twitter caption ideas and grab the attention of your targeted audiences. The AI tool will assist you to get a whole lot of new ideas about how to write Twitter captions. All you have to do is ask StoryLab.AI and it will answer.
Besides generating tweets, StoryLab.AI is able to generate other social media captions, ad copies, blog content titles, intro, and outlines.
Who is StoryLab.AI for:
StoryLab.AI is mainly built for marketers, brand builders, and content marketers who want to nail their products on different platforms. This tool will help these professionals as they always remain in pressing need to come up with creative content ideas, including Twitter.
Pricing:
StoryLab.ai comes with 4 pricing plans: The free version offers +15 AI runs/month while the paid plans offer more AI runs/month. If you choose the Starter plan, it will cost you $7/month offering +100 AI runs/month.
While the Pro and Unlimited plans will cost you $20/month and $27/month consecutively. The Pro plan offers +300 AI runs/month and the Unlimited plan offers unlimited AI runs/month naturally.
Free: +15 AI runs/mo
Starter-$7/mo.: +100 AI runs/mo
Pro-$20/mo.: +300 AI runs/mo
Unlimited- $27/mo.: +Unlimited AI runs/mo
TweetyAI:
If your goal is to streamline the Twitter experience, the best AI tweet tool that you can leverage is TweetyAI. The special aspect of this AI tool is that it generates tweets based on users' previous activities. This makes sure that the tweets are exactly what you wish for.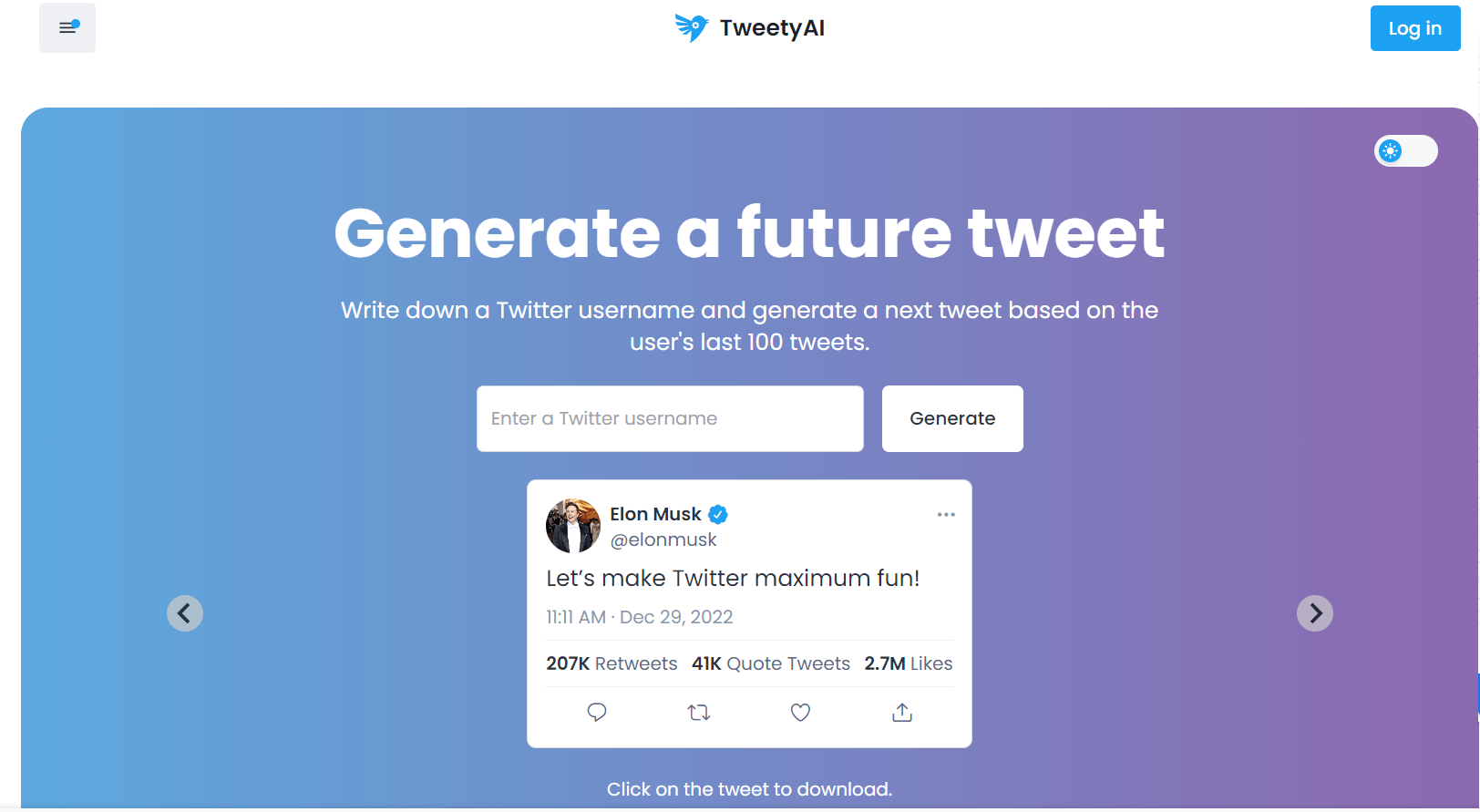 TweetyAI works by looking into the last 100 tweets posted by the user. This smashing tool not only analyzes the tweets but also the retweets as well as replies to generate gripping tweets for your Twitter handle. It considers the likelihood of words one after another in a sentence to create tweets.
Your job as a user is just a little! Click the Generate button and TweetyAI will create limitless tweets with the power of AI-based on its prediction algorithm.
Who is TweetyAI for:
TweetyAI can be leveraged by people from any background. Whether an individual wants to create a personal tweet or a brand wishes to create promotional tweets, they can very well make use of this stunning tool called TweetyAI.
Pricing:
TweetyAI boasts 3 pricing plans-
Free

3 daily tweet generations
Explore TweetyAI Trendy only globally
Ads

Pro – $3.99 per month

Limitless tweets
Explore all hotspots for TweetyAI Trendy
TweetyAI Trends lets you download trending tweets in CSV format.
No ads

Lifetime – $49.90 once

Endless tweets generation
Explore all hotspots for TweetyAI Trendy
TweetyAI Trends lets you download trending tweets in CSV format.
No ads
Nichess:
The next AI tweet generator that I have on my list is Nichess. It's one of the simplest and easiest tweet generators available out there. All you have to do is pick a topic and input it. The rest of the job Nichess will execute seamlessly.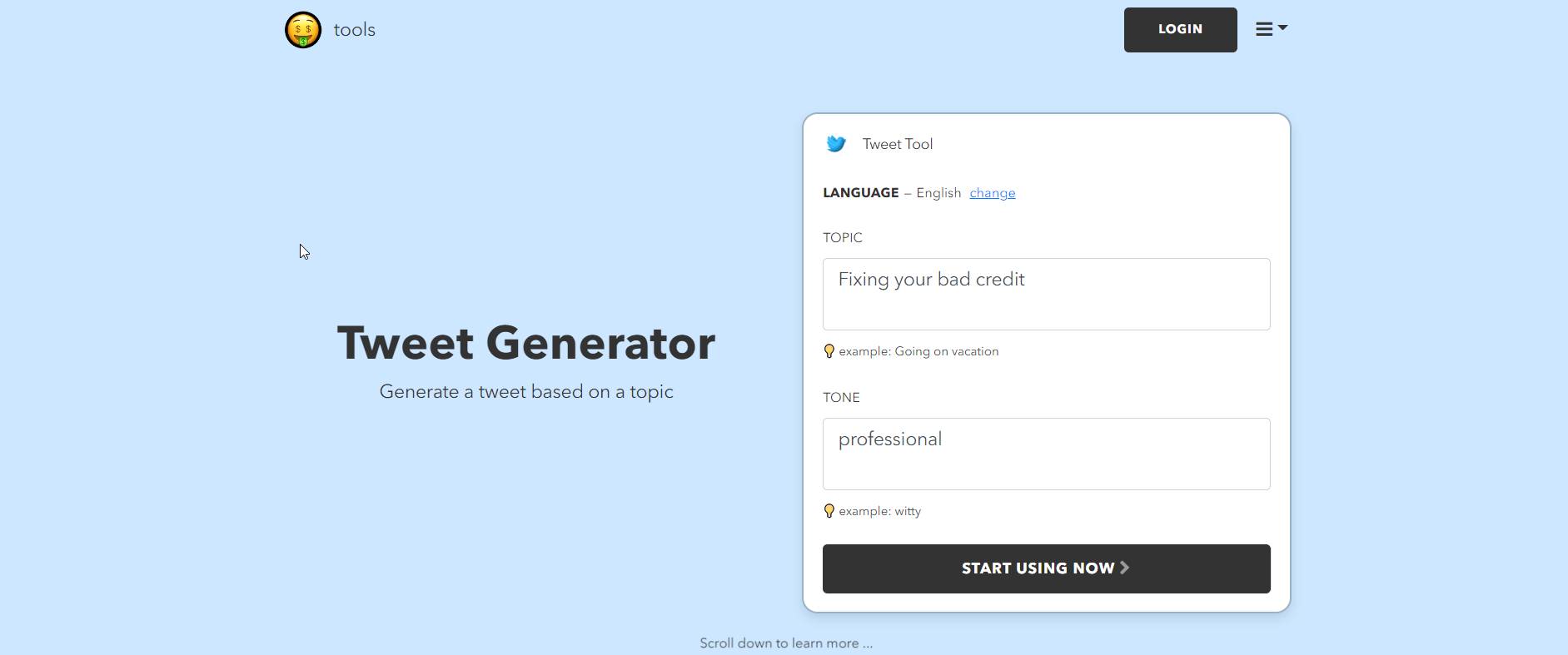 Nichess has been trained with a wide range of topics, so you can pick any topic of your choice. Nichess is able to analyze any topic and output relevant and engaging tweets.
Who is Nichess for:
As Nichess is well-trained with scads of topics, anyone regardless of background can take advantage of it. All they have to do is input simple topics, as opposed to complex ones. And Nichess will bring out the results they would expect.
Pricing:
Rookie plan comes at $9/month
Make your own reports
Search 40k+ sub-reddits
AI-Powered Idea Generator
Marketing Copy Generator
100 Short Form Generations per month
No long-form autowrite
Intermediate plan comes at $19/month
Make your own reports
Search 40k+ 🔥 sub-reddits
AI-Powered Idea Generator
Marketing Copy Generator
200 Short-Form Generations per Month
No long-form autowrite
Pro plan comes at $39/month
Make your own reports
Search 40k+ 🔥 sub-reddits
AI-Powered Idea Generator
AI-Powered Copy Generator
Unlimited Short-Form Generation
Long-form Autowrite
Pallyy:
The last and final tweet generator that I have on my list is Pallyy. Like all the tools I listed in this write-up, Pallyy is also another simple and user-friendly AI tweet generator tool. So, if you are looking for a smooth and hassle-free AI tweet generator, you can give it a shot.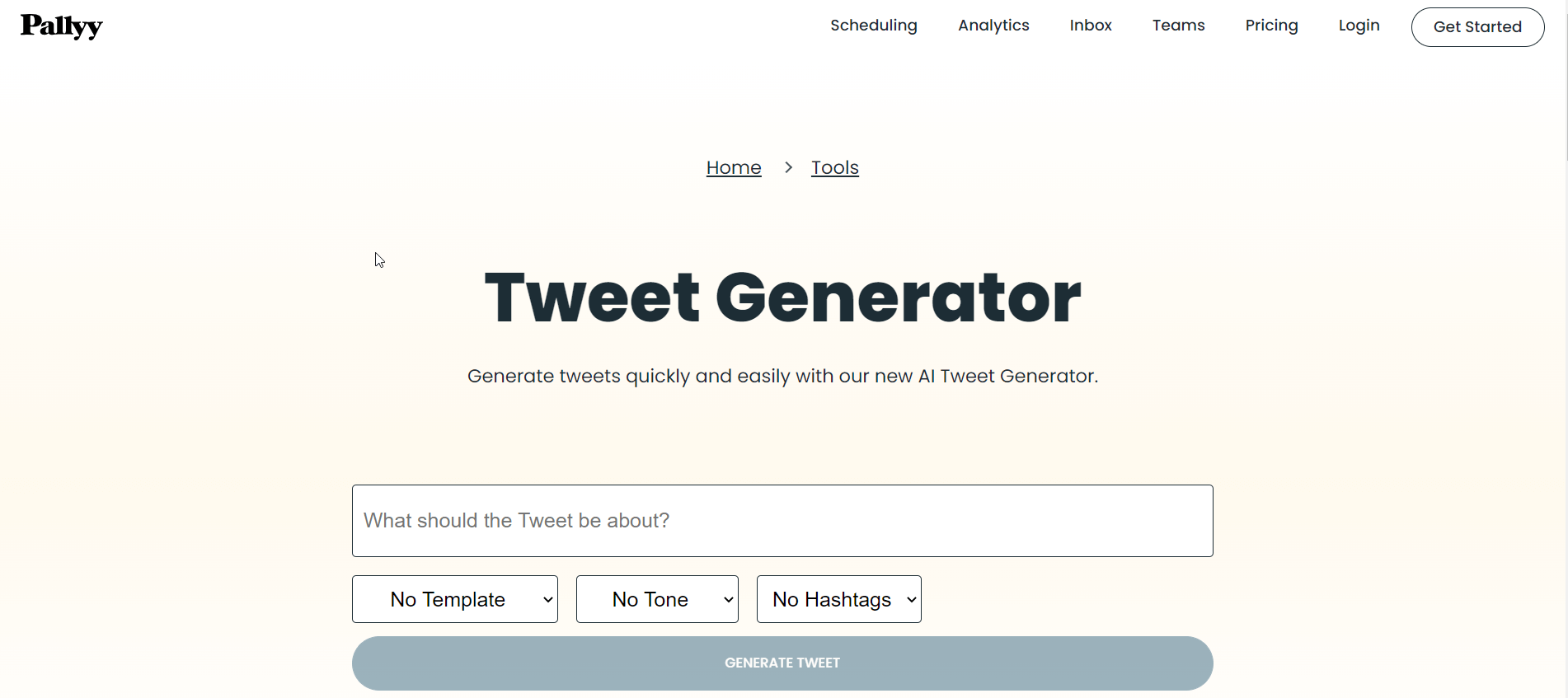 Apart from generating tweets, Pallyy will also let you schedule your generated tweets in advance. Besides, you will also have access to a pre-made collection of captions which will help you to get more ideas about your future posts.
Who is Pallyy for:
Pallyy has the capacity to generate diverse tweets, so both individuals and businesses can avail of this easy-to-use tool to generate both casual and professional tweets.
Pricing:
Pallyy offers both free and premium versions. The free version includes the following features-
1 Social Set
15 Scheduled posts
Feed Planner
Reports
Calendar, board & table views
When it comes to the premium version, you will get the following features-
Additional Social Sets ($15/month each)
Additional Users ($29/month each)
Custom Analytics Reports
Custom Domain
Unlimited Scheduled Posts
Bulk Scheduling
Bio Link
It's Your Turn:
Apparently, tweet generator tools are a peanut. But technically, it serves a great benefit. The length of tweets tends to be short. But even short tweets many times may not crop up in your head. By utilizing top-notch AI tweet generators, you can not only produce peachy tweets but also save your precious time.
So, are you ready to grab your favorite AI tweet generator? Have a glance at each of the tweet generators and make your choice right now. All of the above tweet generator tools are up for grabs!
Before I wind up, let me give you glad tidings that GetGenie, your personal WordPress AI Content & SEO Assistant is on the verge of releasing a tweet generator template soon! If you are a WordPress user, you can generate eye-catching tweets right from your WordPress dashboard.
Interested to learn about Instagram bio generators? Head over to the blog post by clicking the link below-