The WP Awards 2021: Another Crown Awarded to ShopEngine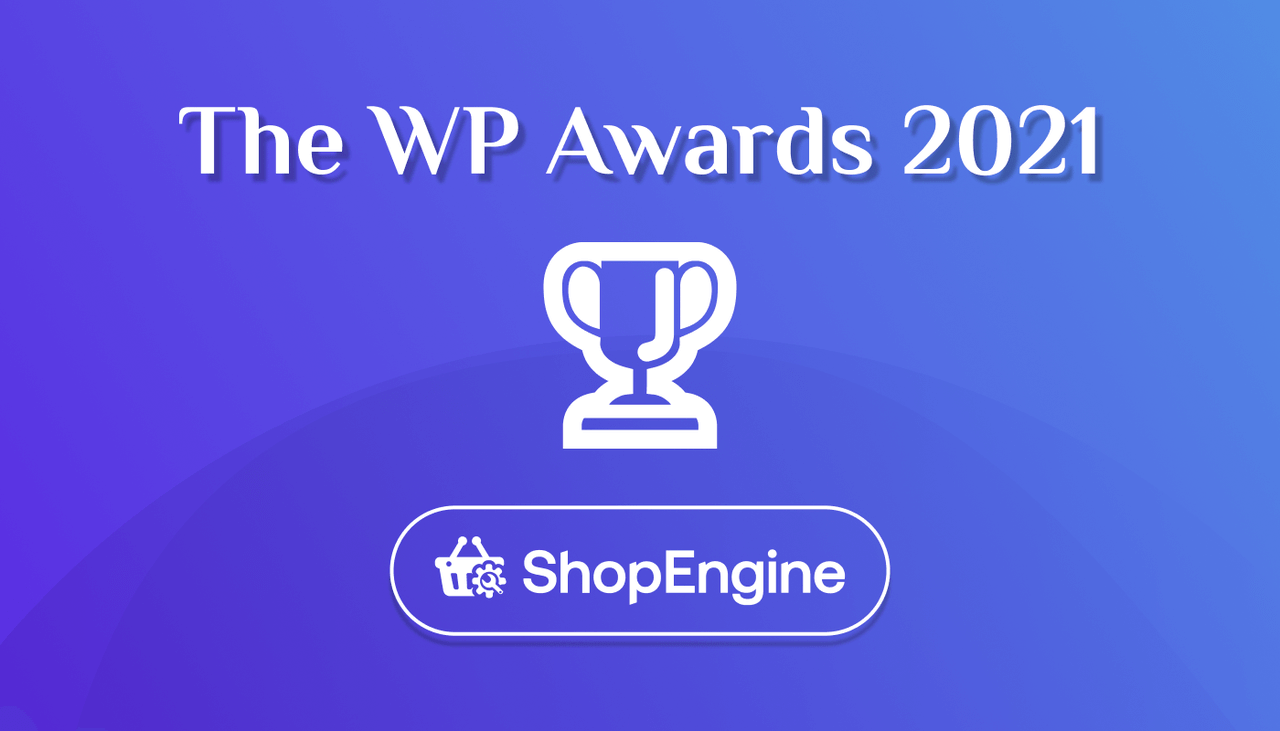 Do you know ShopEngine has been awarded as one of the best WooCommerce tools in the WP Awards 2021? Another achievement unlocked for ShopEngine.
You will be glad to know that this award is not the first reward that ShopEngine got. It rewarded many times because of its excellent user experience, friendly support, easy customization, and high loading speed.
Not only these there are many reasons lies behind this success that influence users like you to choose ShopEngine again and again as the best WooCommerce tool.
Now want to know more about the recent milestone of ShopEngine? Here in this blog, you will find out everything about the WP awards 2021, What ShopEngine offers you, and what it will offer in the future.
What is The WP Weekly Awards?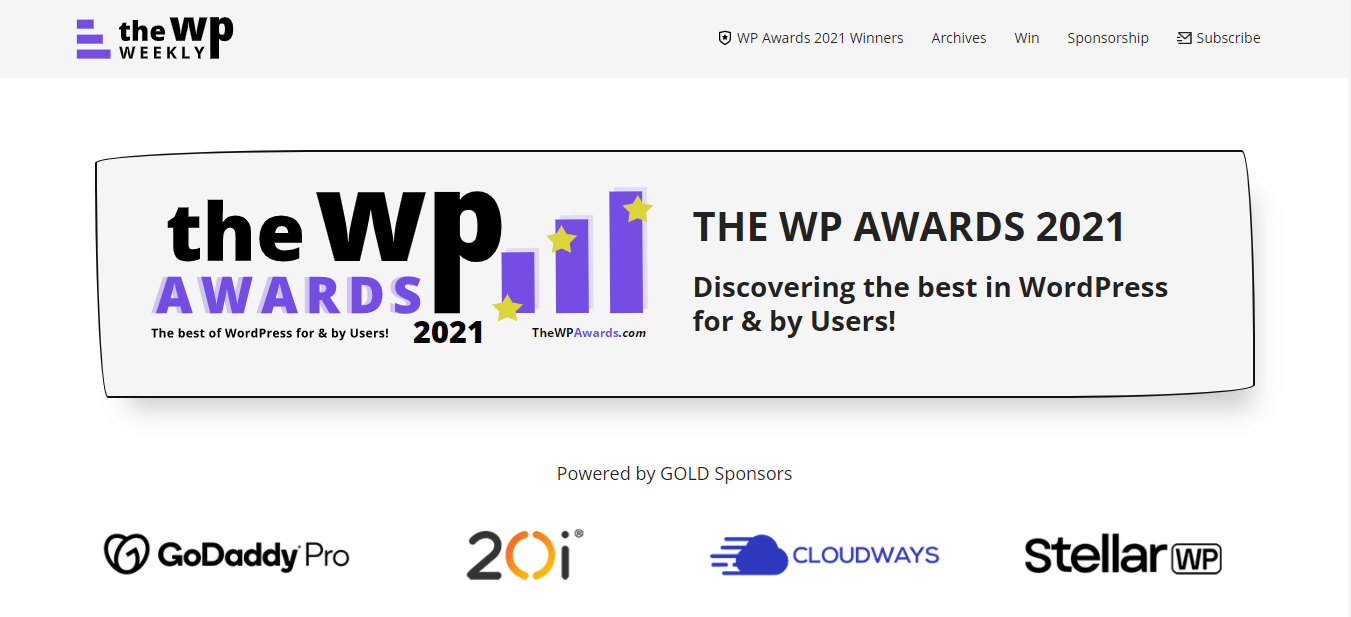 The WP Weekly awards is another WordPress prestigious award like the Template Monster's award. The winners of this award are selected through voting and these votes are collected through the newsletter. The WP Weekly sends a short newsletter to its subscribers and collects votes.
The aim of the WP Awards 2021 is to help WordPress users to find out the best WordPress tools and the winners of the WP Weekly Awards 2021 are selected through voting. However, it has already succeeded to create a WordPress ecosystem where WordPress professionals can join to get regular updates of WordPress.
Every year this award show is held to assist WordPress users to know which WordPress tools are the most popular. It provides gold, silver, bronze awards respectively to the 1st, 2nd, and 3rd runner ups, and these are given to twenty-two categories such as WooCommerce tools, developer tools, security plugins, SEO plugins, Elementor addons, etc.
After finding out all these here comes another question, what is the significance of this award? Take a look at the next section for it.
Significance of The WP Weekly Awards
Lots of award-giving contests are held for WordPress products. Here the WP awards are one of them. But, one question arises here and that is what's the significance of this award. What you will understand after seeing an award-winning WordPress plugin or theme.
No worries, here you will find the significance of this award. Winning this award means:
It provides a good user experience.
That product is beneficial to use.
A popular product in the WordPress community.
The support system is good enough for getting any kind of instant help.
No issues regarding product updates.
A product that is always up for providing the highest customer satisfaction.
So, when you will see a WP award-winning plugin or theme, you can assume that product will be a good fit for your website. Now, some good news for you.
ShopEngine has successfully unlocked second place in the WP Awards 2021. Another exciting achievement! isn't it? If you didn't understand why I have addressed it as another achievement then you will be glad to know that ShopEngine is the winner of the Template Monster awards too. Read Monster Award winners 2021 blog for getting more info.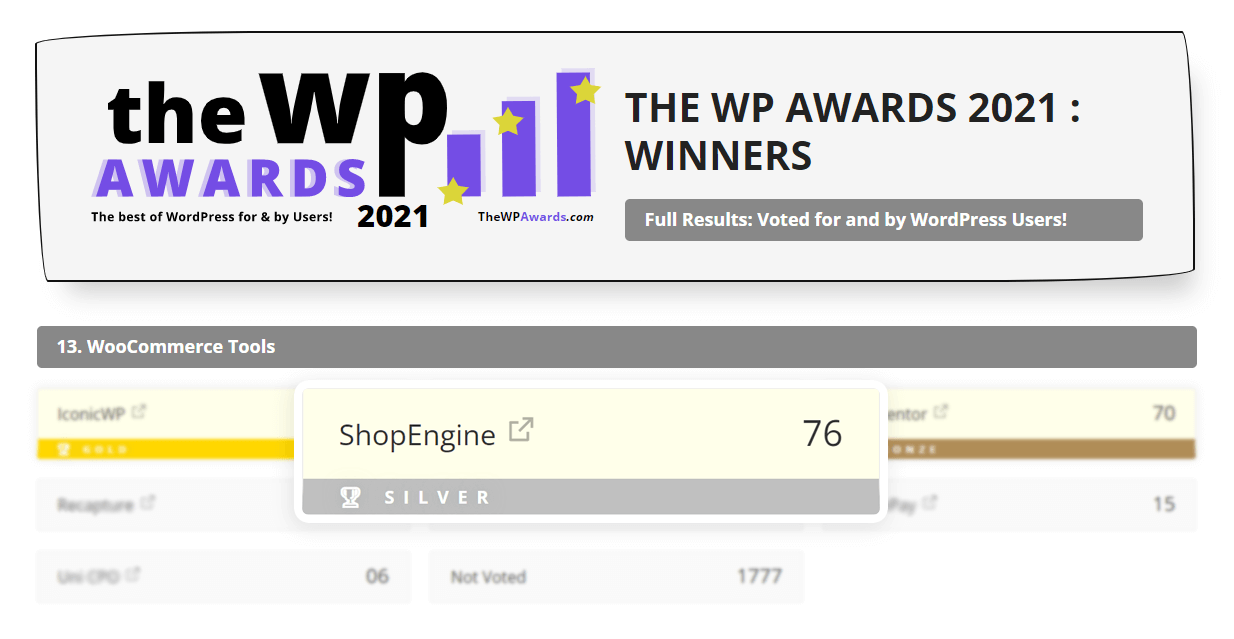 ShopEngine the perfect WooCommerce page builder, has taken second place in the WP awards 2021 as one of the best WooCommerce tools. That means it is perfect for WordPress professionals who run a website. If you are a beginner then you will be glad to know that it provides the finest and easiest user experience ever. Anyone can use this plugin without facing any issues.
Now, Let's have a look at what this award-winning plugin provides:
In total 16 templates are available for premium and free users and more to come.
ShopEngine offers 62+ widgets for small and big customizations.
Templates of ShopEngine are device responsive, SEO-friendly.
It's not like you will only get what it offers. You can even customize every template of shopengine as your wish.
Trendy designs of this plugin will provide your customers effortless shopping experience.
Regular updates that add up new features.
Fastest loading speed for your site.
High compatibility with other plugins and themes.
If you are thinking that's it for ShopEngine then, you are wrong. ShopEngine will be coming with more features in the coming days. Curious about what the future ShopEngine will look like right? Then, go through the next section.
What new ShopEngine will look like?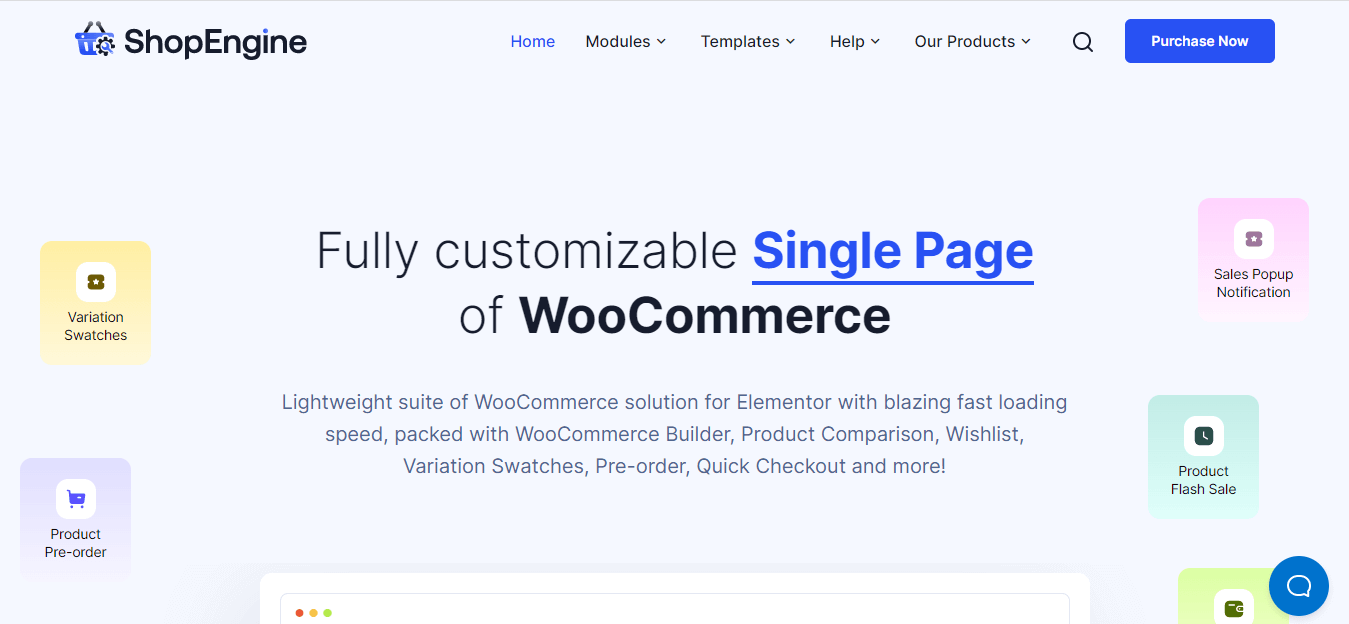 ShopEngine's new version will come with lots of advanced and unique features by that you can build up and customize your WooCommerce shop page to the checkout page. Here are the features that will be covered in its next version:
Shopify style checkout.
Product size charts.
RTL support.
Fly cart button.
New badge designs.
WooCommerce email template customizer.
Among these features, Shopify style checkout and RTL support are the most popular ones. Not finished yet. More features will be added according to the user's requirement. You can also participate. Just submit your ideas to our road map and help ShopEngine grow more that can fulfill all your requirements.
Wrapping up
ShopEngine, the best WooCommerce page builder would never come to this stage without the support of the users like you. You have constantly given us support and helped ShopEngine to grow more so that it can unlock more milestones in the future.
Big applause to the developers of the ShopEngine who have worked hard to build ShopEngine and still working hard to add your desired and most demanded features to it. Your support and the hard work of the developers have pushed ShopEngine to be the winners of the WP Weekly Awards 2021 and Template Monster Awards 2021 and heading towards more.
Moreover, developers are working on more advanced features like RTL support, Shopify style checkout so that you can get the best service ever.