10 Powerful WordPress Social Media Plugins to Boost your Online Business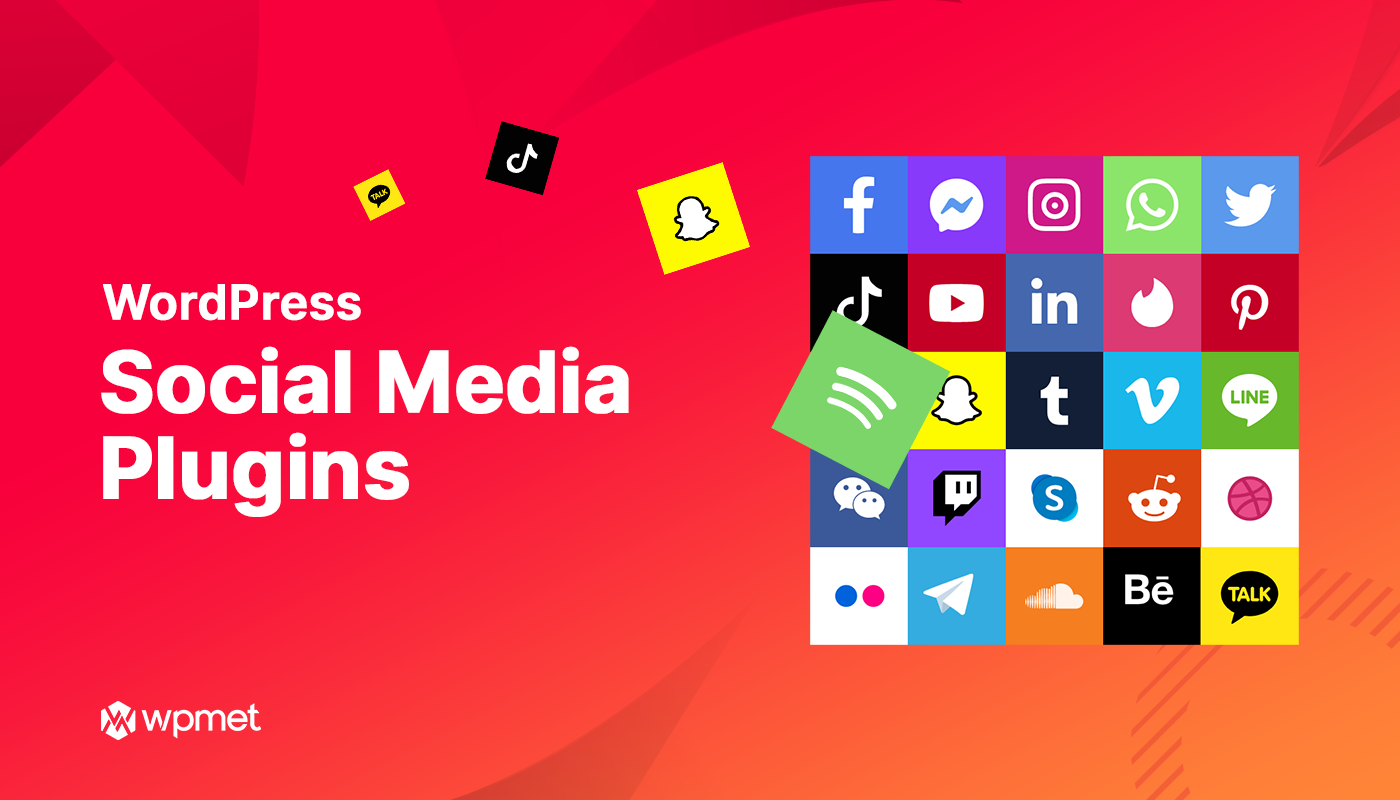 Oftentimes, website owners struggle to pick the right social media plugin for their WordPress websites. Some of them are entirely ignorant of the use cases of social media plugins while others just possess half-baked knowledge. As a result, they end up picking up substandard social media plugins or high-priced ones.
If you are one of those individuals looking to leverage a premium social media plugin for your WordPress website, you have landed on the right post. No matter whether you are involved in blogging or an online business, the write-up will cater to you amply.
Before I catalog the top 10 robust WordPress social media plugins, let's get to know the role social media can play to lift your business or boost your website traffic.
Role of Social Media to Boost Online Business:
In the current era, you can't brush aside the gravity of social media to scale up your online business. Social media is so impactful these days that only by targeting the right social media channels, you can generate tons of sales every month.
Whether it's Facebook, LinkedIn, Pinterest, or Twitter, each of them you can target to reap fruits. No wonder, depending on your niche, different social media platforms will perform differently. So, when the opportunity is so massive, why shouldn't you take advantage of this powerful media?
And to facilitate your job, WordPress social media plugins will definitely come in handy. Social share, social counter, and social login, all these social media plugin features can not only drive traffic but also generate sales massively.
Interesting Social Media Stats at a Glance:
Before I shed light on these WordPress social media plugins, I would like to put forth a few stats on the popularity of social media currently. This will act as a motivational factor for you to utilize social media plugins.
As per the stats of DataReportal, there are 4.62 billion social media users around the world in January 2022. This is massive, right?
Among all the social media channels that we have, Facebook, with no surprise, sits at the top of the table.
According to the latest report of Statista published on 22nd August, 2022, Facebook was recorded to have 2.93 billion monthly active users worldwide.
With that, I will now walk you through 10 robust WordPress social media plugins that can not only upscale your website traffic but also make a real difference to your sliding business.
Without further ado, let's cut to the chase…
10 Robust WordPress Social Media Plugins:
Tons of WordPress Social media plugins are available at your disposal. But it's very crucial to know the ones that can resolve your pain points.
Let's dive deep into the round-up of the top 10 WordPress social media plugins…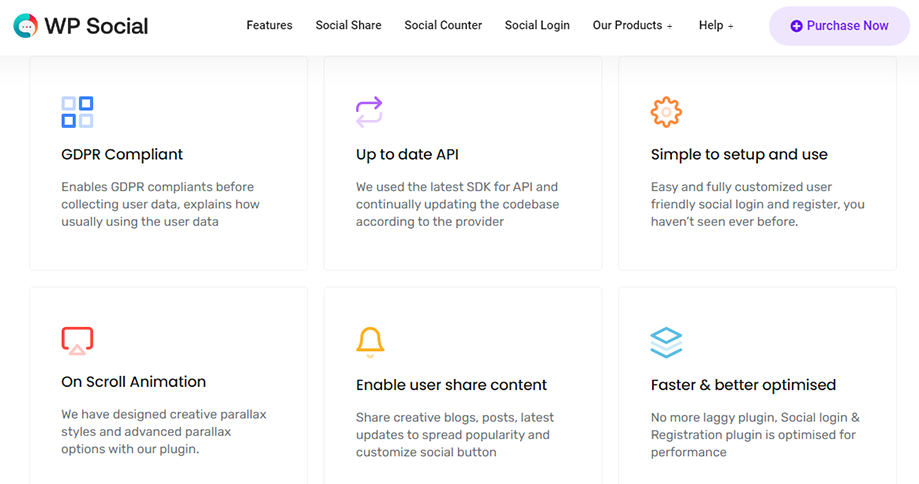 When it comes to leveraging a WordPress social media plugin, WP social should be on top of your preference list. This social media plugin is loaded with handy features that can scale up your site traffic substantially. You can do social media integration at an ease with it.
No matter whether it's social share, social login, or social counter, you can get all the 3 features in WP social. So, why install 3 different plugins when you are getting them in 1? You can let your users log into your website with their social media accounts.
You can view and display the total shares of a particular post on various social media platforms right on your website. You can even display the total number of fans, followers, and subscribers of your social channels with this cost-effective social media plugin. WP Social can be the best social media plugin for WordPress that may satisfy you.
Pros:
GDPR Compliant: Enables GDPR compliance before collecting user data to keep them protected.
Up to date API: Application programming interface of the plugin is designed with the latest software development kit.
Enable/Disable Features: This is a magnificent feature you can get in WP social as you can enable features as per your need and disable features that you aren't leveraging to prevent slowing down your site.
Access to Tons of Social Channels: The plugin offers you to display 14+ social sharing networks, 8+ social counter networks, and 8+ social login networks.
Smooth Registration and Social Login: Provides you a hassle-free one-click registration and social login via Woocommerce, Buddypress, Facebook, LinkedIn, Twitter, etc.
Cons:
No custom social media feed to display Facebook posts, Twitter cards, and Instagram photos on the site.
Price:
The yearly professional plan starts at $79. Lifetime professional plan starts at $179.
If you have any queries about WP Social, feel free to get in touch with us.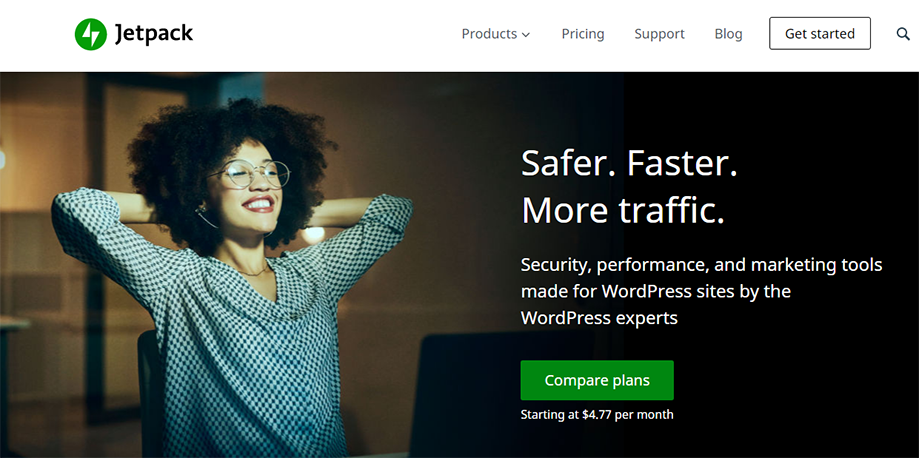 If you are looking for a traffic-generating WordPress social sharing plugin, Jetpack is one that you can try. This social media plugin provides you with an easy and simple social sharing solution. With the help of this plugin, you can auto-publish blog posts and social media posts as well.
The sharing module of the plugin lets you display the sharing buttons of Facebook, LinkedIn, Twitter, Tumblr, WhatsApp, Skype, etc. You can even showcase email and print buttons.
You also have the freedom to display official sharing buttons, and social media icons with text, icons only, and even text only. On top of that, to spice up your website, the software component allows you to share your Instagram feed there.
Pros:
24/7 Auto Security: Provides auto real-time security backing up and restoring data, scanning malware, managing migration, and ensuring spam protection.
Quick Speed and Performance: Get blazing-fast site speed and auto image optimization with Jetpack's CDN.
User-friendly Design Tool: Offers a simple and coding-free option to customize your site and set it apart from others.
Regular Updates for Integration: The plugin is updated monthly to ensure seamless integration with WordPress.
Cons:
Redundant Features: Contains some unnecessary options in the interface including toggles and submenus.
Need for Connection to WordPress.com: You need to register an account and connect to WordPress.com to deploy all the free options including most of the modules.
Incompatible with 3rd Party Plugins: The built-in modules operate perfectly together but the plugin shows incompatibility with many other plugins like W3 Total Cache, Better WP Security, Comment Luv, etc.
Price:
Security Daily plan starts at $11.97/month if paid annually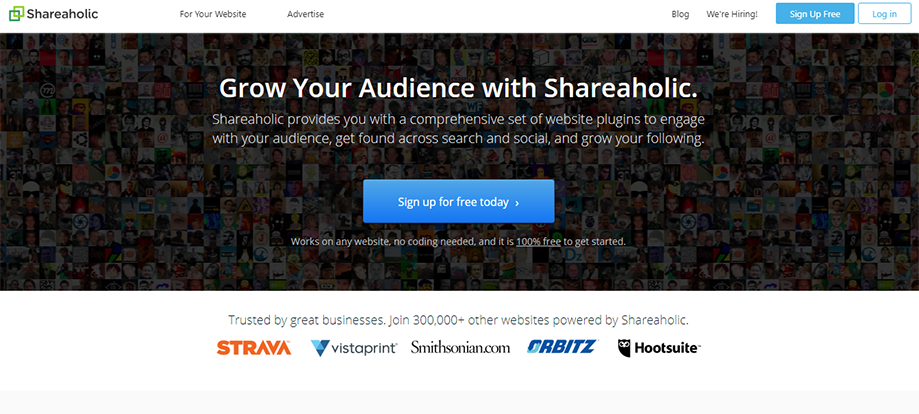 Shareaholic isn't just a social share plugin but also a content amplification platform. This plugin will let you add many different functionalities including social share buttons, related posts, content analytics ad monetization, and so on.
Regardless of the size of your website, this WordPress social sharing plugin can help you boost your site traffic, expand your audience, gain insight, and elevate engagement. You also have the option to pick a vertical or a horizontal layout, headline, size, custom icon colors, total share counts, etc.
Shareaholic has a super user-friendly interface for you to inject social share buttons. No matter whether it's a post, page, category, or index page, you can add the buttons smoothly without any hassle. When it comes to the positions of buttons, you can place them on any side of the content.
Pros:
Optimized for Mobile: Compatible with all types of mobile devices. Responsive and retina display-friendly.
Scalable: Regardless of the site page views, it will scale to any value and bring out the desired output.
Monetization: Enables you to make effortless bucks with complete control of the site.
Swift and Secure: Ensures site speed blazing fast along with giving foolproof data security.
Cons:
Slows down your Site: Reduces the speed of your site while loading the pages.
Lack of Description on the Homepage: The homepage could have detailed the plugin to bring clarity about its functionalities.
Price:
Basic features are free for a lifetime. The professional plan starts at $8/month if billed annually.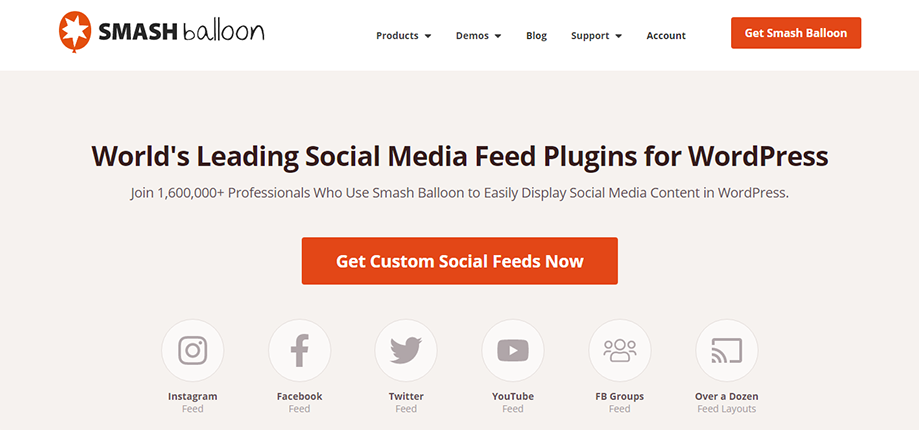 Many social media plugins exist that are meant for specific platforms to display posts. That means you have to leverage separate plugins to display your Facebook, Twitter, and LinkedIn posts on your site.
But Smash Balloon is a stunning plugin that integrates all the posts of different social media platforms in one single feed and displays them on your site. You can also customize your Instagram feed to make it look as you desire so that it shows up on the website stunningly to your visitors.
Besides, this social media plugin is a perfect one to save your precious time as you don't have to update your photos on your website individually. All you have to do is post the photos in your Instagram profile and the website will automatically display them.
Pros:
Social Wall: It integrates the social feed of Facebook, YouTube, Twitter, and Instagram into a single wall.
Customization Available: Modifies and adjusts the image length, width, height, image size, image spacing, number of images, number of columns, background color, etc.
Smart Caching and Backup System: For maximum speed and optimized performance, it backs up data and stores cache intelligently.
Custom Social Media Feed: Allows you to add Facebook posts, photos, and live videos, display Twitter cards, and link Instagram photos and stories right to your WordPress site.
Cons:
Limited to use only on WordPress sites.
Price:
The personal plan starts at $49/year for a single site.
An all-purpose social media plugin, WP Social Ninja comes with multiple features, including social feeds, social reviews, and social chats. What can WP Social Ninja do? Let's say you have a YouTube channel or an Instagram feed boasting amazing pieces of content.
With WP Social Ninja, you can display them directly on your WordPress website. Not just social media content, you can even showcase your Facebook, Yelp, or Google Reviews on your site. On top of that, WP Social Ninja allows you to design and deploy high-converting chat widgets, supported by all the major IMs.
The best part of this WordPress social media plugin is that it can be integrated with more than 29+ social media platforms, boosting the chances of social media engagement, website traffic, and overall sales and conversions.
Pros:
Social feeds: Allows you to embed your social feeds from Twitter, Facebook, Instagram, and YouTube on your WordPress website with pre-built templates.
Social reviews: Multiple options to modify how your social reviews appear online with customizing options for reviews from a variety of styles and layouts.
Social chat: Facilitates your communication channels with multiple features, that includes Messenger, WhatsApp, Telegram, and more than 15 popular social media applications.
Notification Popup: Represents the reviews and recommendations with a popup box to grab customers' attention.
Testimonial: Availability of customizing options for making beautiful testimonials.
Cons:
Requires updating the pro version to get all the major functionalities, which are limited in the free version.
Price:
Package starts from $79 for a single license (1 domain, one-year plugin update & priority support), including all features.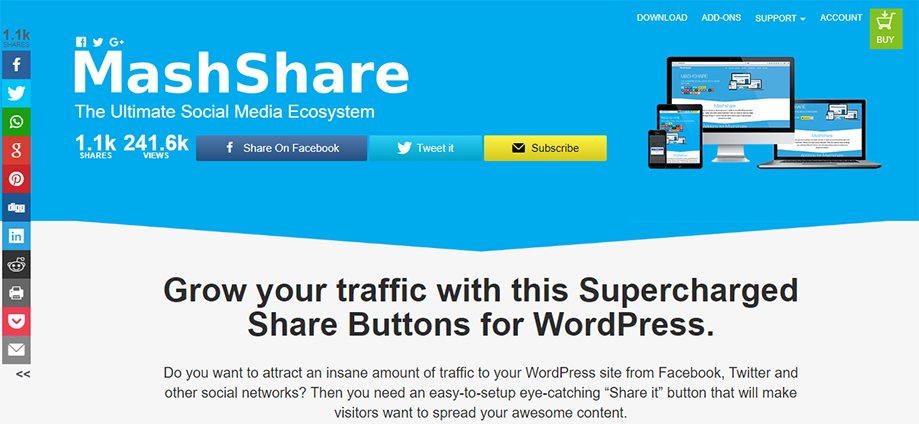 MashShare, yeah, it aligns with Mashable, right? Technically, the plugin is designed exactly in Mashable's social sharing style. So, if you follow Mashable, the plugin automatically becomes one of the high-priority ones for you to check out.
Apart from that, it features some smashing social media sharing options that you need to try out. MashShare is available both in free and premium versions. If your goal is just to get Mashable-styled buttons, the free version will do for you.
But if you want to enjoy the addons offered by MashShare, you have to go for a premium plugin. In the premium plan, you can extend social sharing with addons. Some of the key add-ons of the plugin are listed below-
Google Analytics integration and event tracking
Facebook like bar
Floating sidebar
Sharebar
Pageviews
Click to tweet
More social networks
LikeAfterShare
Video post addon
Pros:
Optimum Performance: Intuitive design and offers high-performing share buttons.
Filters/Actions: Perfect for developers and available with a variety of filters and actions.
Smart Caching: Boasts a smart caching system to prevent the site from slowing down.
Share Count: Displays the total social share count in a flash. Contains a smart virtual share button count function that adds virtual shares to your posts.
Cons:
Limited Features: Compared to other social media plugins, the features are limited.
Poor Multi-language Feature: The feature stands below the industry standard.
Lack of Quality in Front-end Editor Feature: The feature has been rated below the industry average.
Price:
The Pro version starts at €39/year for a single site.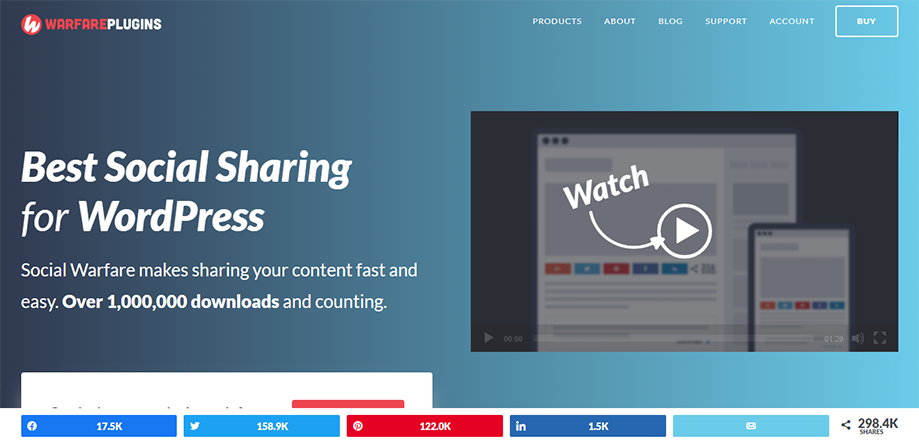 Social Warfare is one of the traffic-driving WordPress social sharing plugins available at your disposal. The plugin is fully responsive and offers eye-soothing social sharing buttons. It has the ability to display the most popular posts on your site based on social shares.
Deploying the plugin, you can upload Pinterest-friendly images to your post that will show up only when your content is shared on the platform. Alongside, you can add tweetable quotes to your post letting the users share your custom messages with the plugin.
On top of that, the WordPress social media plugin lets you conduct a holistic analysis of the social data and injects UTM tracking to every shared link. This enables you to track the source of your traffic and monitor the performance of your social shares.
Pros:
Customization: Plenty of customization options are available in this plugin. You can add custom titles, images, descriptions, and even information like open graph data. This data will let you regulate the content display when it will be shared.
Share Count Recovery: You usually lose your old share count data when you move your site to HTTPS or modify the domain name. With this feature of Social Warfare, you can recover your content's old share count.
Minimum Social Proof: It normally feels good to display share counts. With this plugin, you can define a minimum share count that must be met before displaying numbers.
Cons:
Conflicts: Infrequently conflicts with plugins like the toolset.
Support and Updates Issues: You won't receive support and updates once you stop paying annual premium fees.
Restrictions: Free version is restricted to only a few features. For advanced features, you have to switch to a premium plan.
Price:
The free version is available with limited features. The Pro version starts at $29 per year for a single site.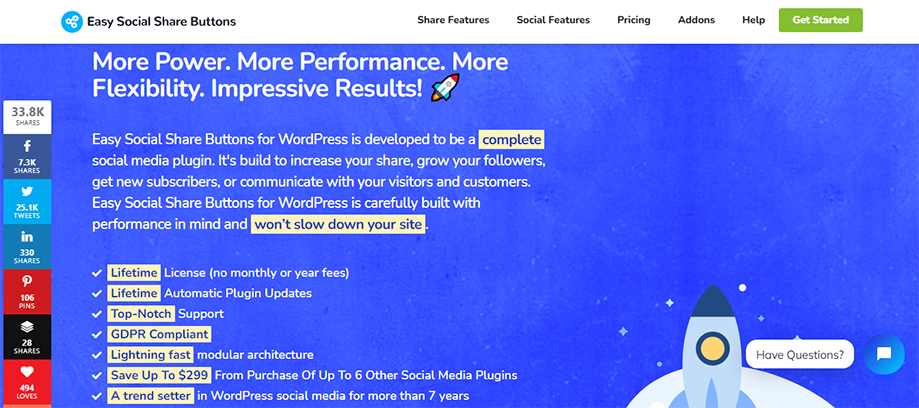 Easy Social Share Buttons come with some hook-grabbing features that you would fancy to avail. This social media plugin provides some handy options that you can leverage to streamline your user experience.
You can pick your social sharing buttons, the icon designs, and the active status of the social counters. It comes with 52+ premade templates and 25+ animations. Apart from that, Easy Social Share Buttons also comes with a widget that you can put on the website anywhere with a shortcode to showcase your profile.
The plugin supports over 50 popular social media networks letting you display social sharing buttons in over 30 different positions. Some positions like fly-ins, pop-ups, floating bars, etc. can be triggered with events like item purchase, percentage of page scrolling, and time spent on the page.
Pros:
Post Share Actions: Allows you to showcase custom messages once a user shares your content. You can display a like button or email opt-in.
Analytics and A/B Testing: This lets you gather detailed data about the performance of your share buttons. You can even conduct A/B testing to scale up your shares.
Popular Posts Display: This enables you to show a list of your most popular posts through social shares.
Live Chat: You can showcase a live chat button for Facebook Messenger or Skype live chat.
Cons:
Busy Dashboard: The dashboard shows up overwhelmed with features that are confusing for beginners.
No Free Version or Trial Period: The plugin doesn't have a free version or trial period for assessment.
Poor Documentation: Documentation lacks clarity and proper explanation.
Price:
Starts at $22/year for a single website.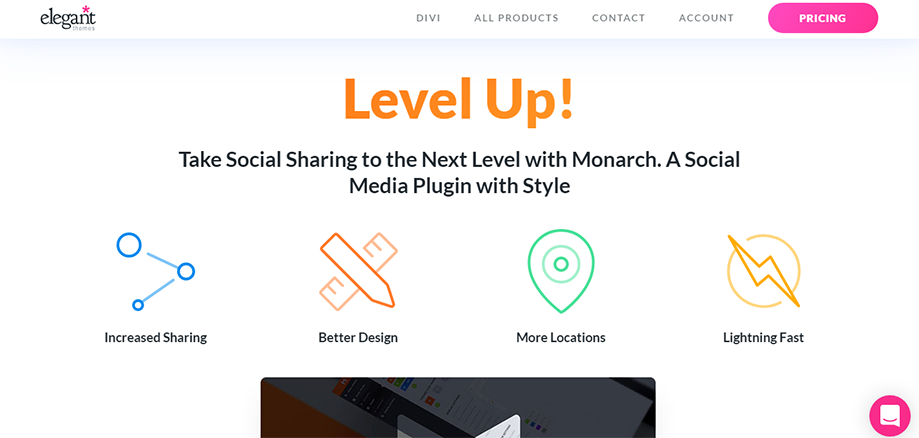 Another extremely popular WordPress social media plugin that you can consider for your site is Monarch. It was developed by Elegant Themes back in 2014 and offers some stellar features.
It comes with 35 different social sharing networks that you can cherry-pick to showcase on your website. You can showcase the social sharing buttons in 5 different positions on the page. What are they? Just take a look underneath-
Above or below content
In a floating sidebar
As an automatic popup
In a fly-in box
Embedded into images or videos
With its triggering feature, you can pick and choose the time to trigger your social media buttons. For example, once a user leaves a comment on a post, you can display social share buttons. This also boosts the chances of conversion as the user has already shown interest.
Pros:
Customization: You can style the share buttons and add social share counts.
Social Follow Buttons: With the help of a widget or a shortcode, you can inject social follow buttons.
Image Sharing: Unlike most of the other social media plugins, this one lets you share media files on social networks.
Cons:
Flaws in Share Counts: Inaccuracy shows up in share counts occasionally.
Load Time Impact: Likely to affect your site load time.
Floating Sidebar Location Issue: It's exclusively located on the left side.
Price:
$89/year to get access to all the products of Elegant Themes including Monarch (Membership-based)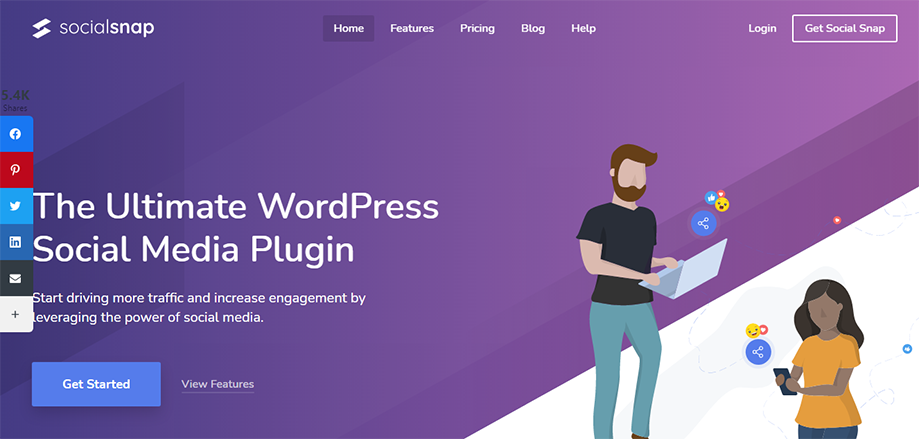 If you are hunting for a WordPress social media plugin with an intuitive design and interface, Social Snap is the right pick for you. The plugin is so user-friendly that you can install it in no time and start enjoying its benefits.
With this plugin, you can drive as well as multiply your engagement and traffic at a lightning pace. The appearance of buttons always matters. With that in mind, the plugin also offers you to choose your desired button colors, shapes, and sizes.
The plugin is a feature-heavy one and lets you add buttons to display 30+ social media channels on your website. Along with classic placement options like inline buttons and floating sidebar, you can derive features like share hub and sticky bar from it.
Pros:
Share Count: You have the option to showcase both individual and total share counts.
Analytics: It allows you to view in-dashboard analytics, the number of times a piece of content is being shared, and monitor the best-performing posts.
Click to Tweet Boxes: Tweet boxes are added to the content to increase shares and traffic.
Social Media Auto-poster: Both old and new posts are shared automatically in your social media profiles.
Old Posts Boosting: Bring your old posts to life by resharing them on Twitter and LinkedIn.
Social Login: Very handy feature as it allows your visitors to log into your site through social networks.
Device Targeting: Based on your device, you can choose which social network to display. For example, you can display a Facebook button on your smartphone and a WhatsApp button on your desktop.
Cons:
Analytics Unavailability: Key features like Analytics come only with the pro version.
Addons Restriction: Addons are restricted only to the pro and agency plan but not in the plus plan.
Price:
Plus plan starts at $27.30/year (Excluding Addons). The Pro plan starts at $69.30/year (Including all Addons)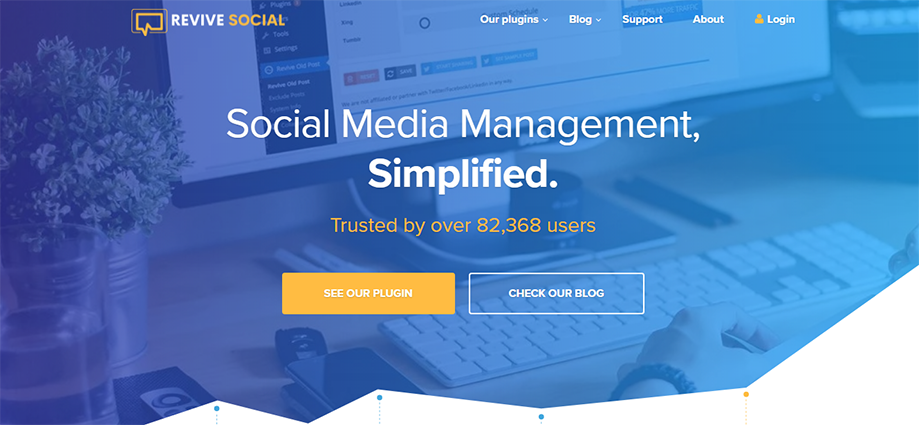 There is hardly any plugin we can name other than Revive Social when it comes to automating the process of scheduling and sharing older posts. When a post gets older, it doesn't mean that it has lost its value and charm.
But due to the publishing of new posts, older posts fade away. This is where Revive Social will come into play as it will reshare old posts as many times as you want to target your audience based on different time zones and bring life into them.
No matter whether it's a post, page, or custom post type, you can share it with this amazing software. And the good thing about it is you have complete control over your site. The plugin can automatically add hashtags by choosing from the category or tags.
Pros:
Scheduler and Hour timer: This lets you share your old content as often as you wish and set how many hours of difference you want between one post from another.
Auto WordPress Post Share: Once you publish a post on your site, it will automatically be shared on social media regardless of scheduling. This is great, right?
Social Media Analytics: Allows you to track a host of social media data about the source of your site traffic.
RSS to Social Media and Exclusions: Shares posts from any RSS feed to Facebook, Tumblr, LinkedIn, Twitter, and so on. Additionally, it keeps certain posts out of feeds and social media if you want them not to show up there.
Cons:
Limitations: The starter plan is restricted with limited features.
Price:
Starts at $49/year for a single website.
Now, take a quick look at the highlights of the above-listed WordPress social media plugins through a comparison table-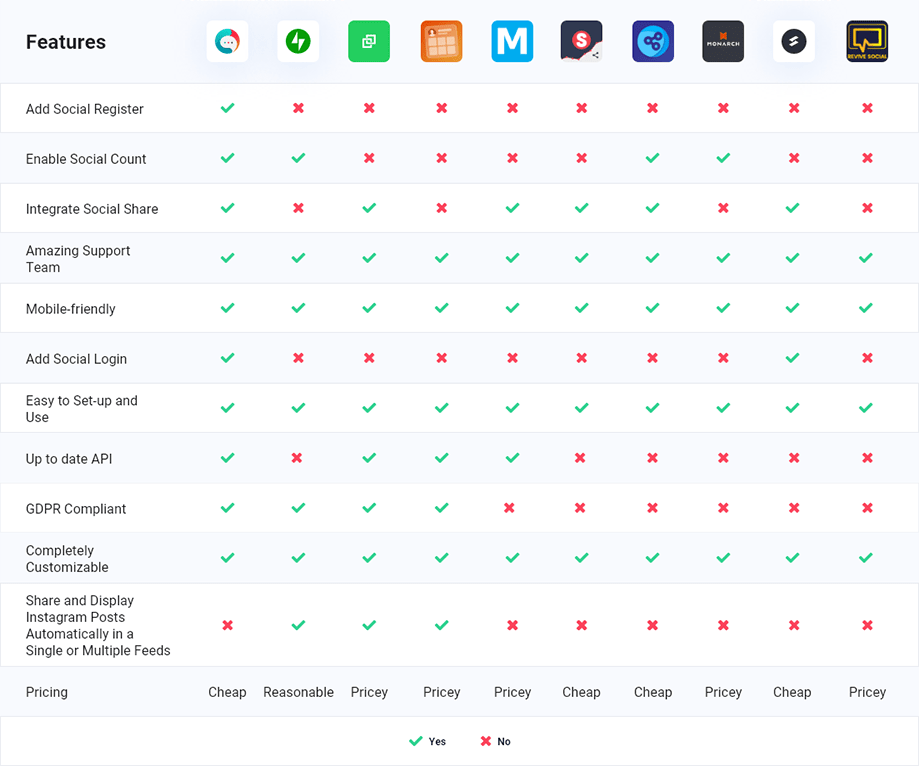 If you are on the hunt for a social media plugin doing auto-post and scheduling of your WordPress site's posts on social media platforms, FS Poster is the perfect choice for you. No matter whether it's a blog post, image, video, custom post, or even a WooCommerce product, you can auto-post all of them smoothly with this amazing plugin.
FS Poster comes with 15 social media channels integrated with it including Facebook, Twitter, LinkedIn, and Instagram. The plugin besides automating the posts on social media also streamlines the site's SEO.
Your site also gets a boost in overall traffic. In a word, it's a marvelous WordPress social media plugin that will save you precious time preventing manual share every time.
Pros:
15 social media networks integrated
Option to create custom post URLs
Calendar view available
Bulk scheduling action
Proxy support available
Cons:
YouTube and TikTok aren't integrated with the plugin
Price: $45 for a lifetime
Over to you
This is it!!! I have introduced you to the top 10 powerful WordPress social media plugins for websites. Leveraging them, you can make your site responsive, intuitive, and user-friendly. As a result, your engagement, traffic, and conversion will tick up.
Now, you be the judge and compare the features, pros as well as cons of all the above-listed plugins. Finally, deploy the WordPress social media plugin that suits your requirements.
In case you are curious about WP Social, visit our website to know more about it. Let us know your take on this WP product. We would always appreciate having your opinions.