How to Add Opening Hours to WordPress Website for Free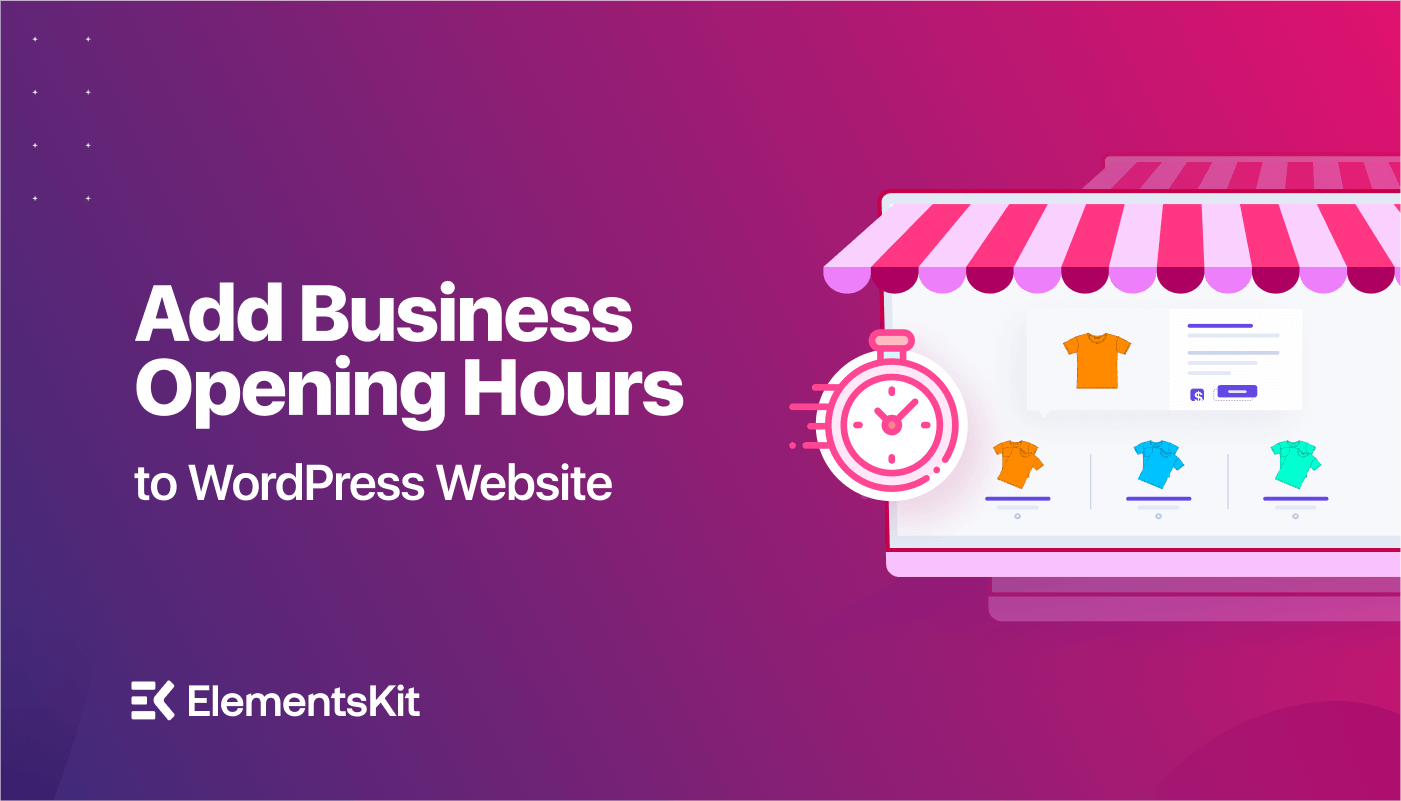 Are you running an online store or a website for the offline shop without adding business hours? If yes, then today or tomorrow, you will get the consequences of doing it. Didn't get it? Let me explain.
Adding opening hours to WordPress website can keep your customers relaxed after submitting an order or support ticket. The reason behind being calm is they will know the possible time of getting an order, support, or reply. This is not it. By adding WordPress opening hours, your website can stand on all the requirements of being in the Google search results.
Since WordPress has solutions for everything, you will also be able to resolve this problem easily with the WordPress business hours widget. Wondering how and by which plugin's widget?
Don't worry. Here in this blog, I will show how to add opening hours to WordPress website with ElementsKit which is a multi-solution free WordPress plugin. Besides, you will know the necessity of adding WooCommerce business hours to your site more in detail.
Why is adding WordPress business hours necessary for your site?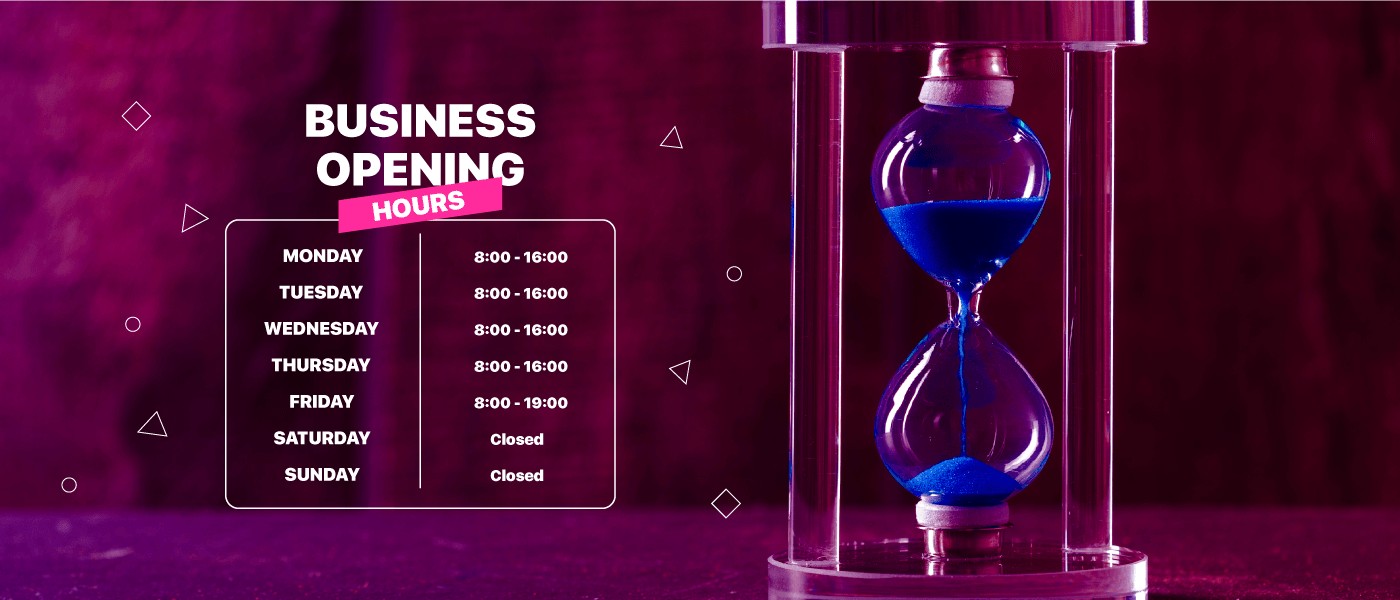 Every little or big business website needs to show opening hours on their website. Because your customers want to know the opening and closing hours of your shop. This increases your website's credibility and helps to be in the search results.
Google always prefers a website that provides detailed and accurate info regarding their businesses. Through these, google sets preferences for websites and shows them on the search results accordingly.
Besides, showing WooCommerce business hours on your site can create a sense of urgency in your customer's minds. For example, if your customers see the closing hour of your shop is 8 PM then, they will try to visit your shop before 8 PM.
Moreover, adding Elementor business hours will assist your customers or visitors keep relaxed after dropping any message on the support ticket. Because they will know the hours when they will get a reply or any kind of support.
That's why no matter what type of website you are running, adding business hours is necessary for your site. Now wondering how? Take a look at the next section for adding it to your site.
Display WordPress business hours on your site with ElementsKit for free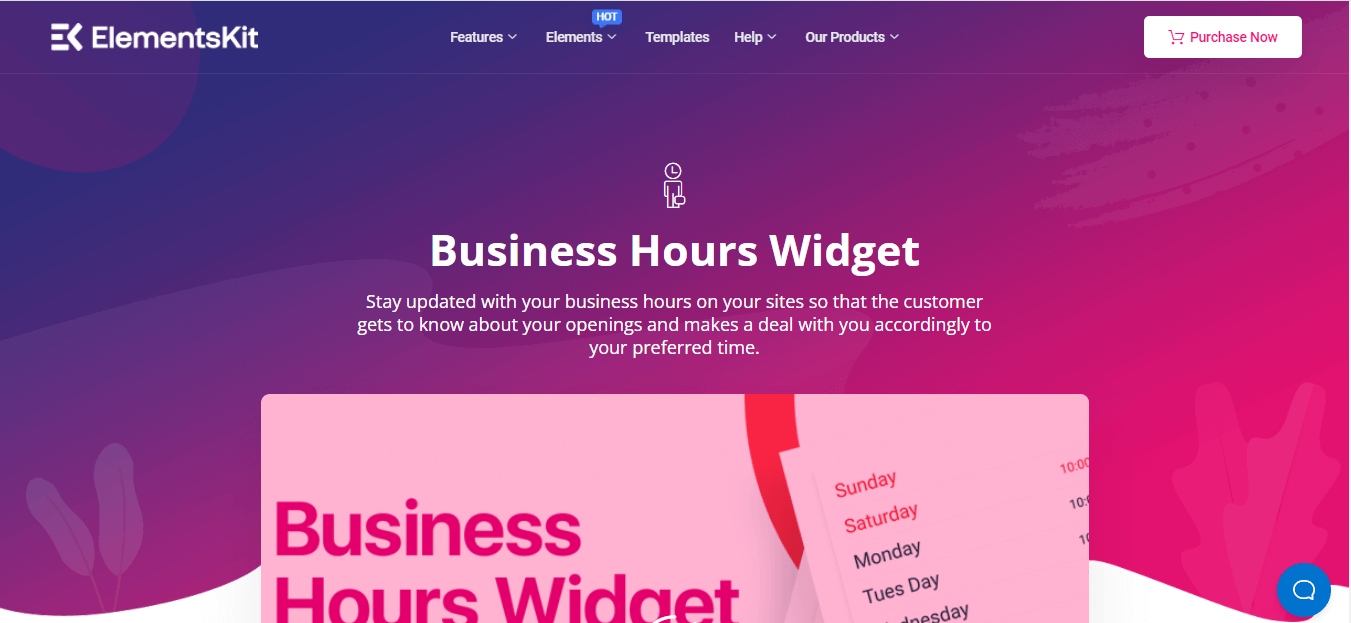 Displaying WordPress opening hours on your business site is very easy. It won't take more than a few seconds if you choose the right tool and follow the correct steps. Here I will show you the beginner-friendly process of displaying opening hours on your WordPress business site. But, to add opening hours to WordPress website, you will need some tools installed on your website. Here are the names of those tools:
ElementsKit Lite (Free).
Now, Follow the below steps and add business hours to the WordPress website that will make your site more complete:
Step 1: Install and activate ElementsKit, the WordPress opening hours plugin.
At first, you will need a WordPress opening hours plugin to add business hours. There are lots of plugins available on WordPress for this purpose. Here, I will use ElementsKit which is an all-in-one solution for Elementor users. Because of its versatile useful features, more than 600K active users are using ElementsKit. With it, you can add and customize WordPress opening hours effectively and efficiently.
Since it is an Elementor addon, you need to install Elementor first. I am assuming you have already installed Elementor. Now you need a plugin for adding WooCommerce opening hours. Visit your admin panel and then go to Plugins>> Add New. After that, Search for ElementsKit in the search box and click the install now button to add WooCommerce opening hours. Finally, after installation of ElementsKit, an activate button will popup instead of install. You have to activate it by pressing the activate button.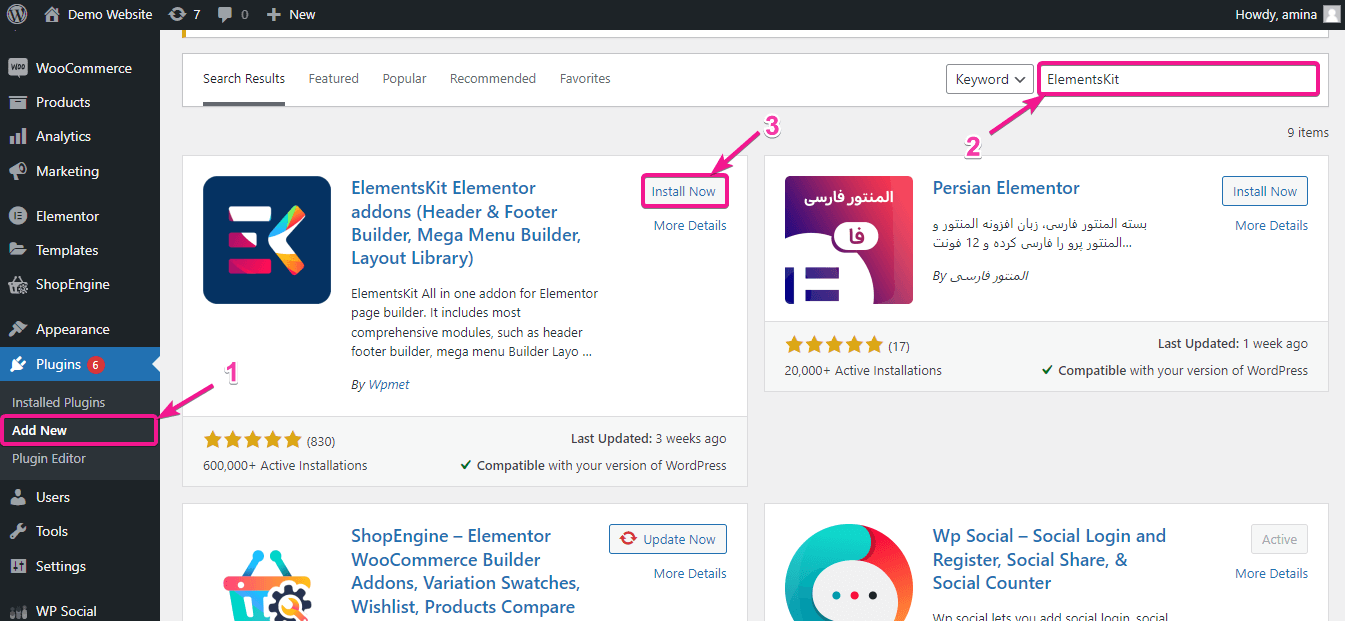 Fun fact:
Since ElementsKit is a multi-solution WordPress plugin, you can add Facebook feeds, recent posts, Zoom meetings, etc to your site.
Step 2: Drag and drop ElementsKit's business hours widget.
After activating ElementsKit, it's time to add opening hours to your business website. To do it, you have to visit Pages>> Add New then, press the "Edit with Elementor" button to add WooCommerce opening hours.
Note:
You can add opening hours anywhere to your business website. For example, you can add it to new or old pages or posts. Here I have shown adding it to a new page. But, it is completely your choice where you want to show open-close store hours for WooCommerce.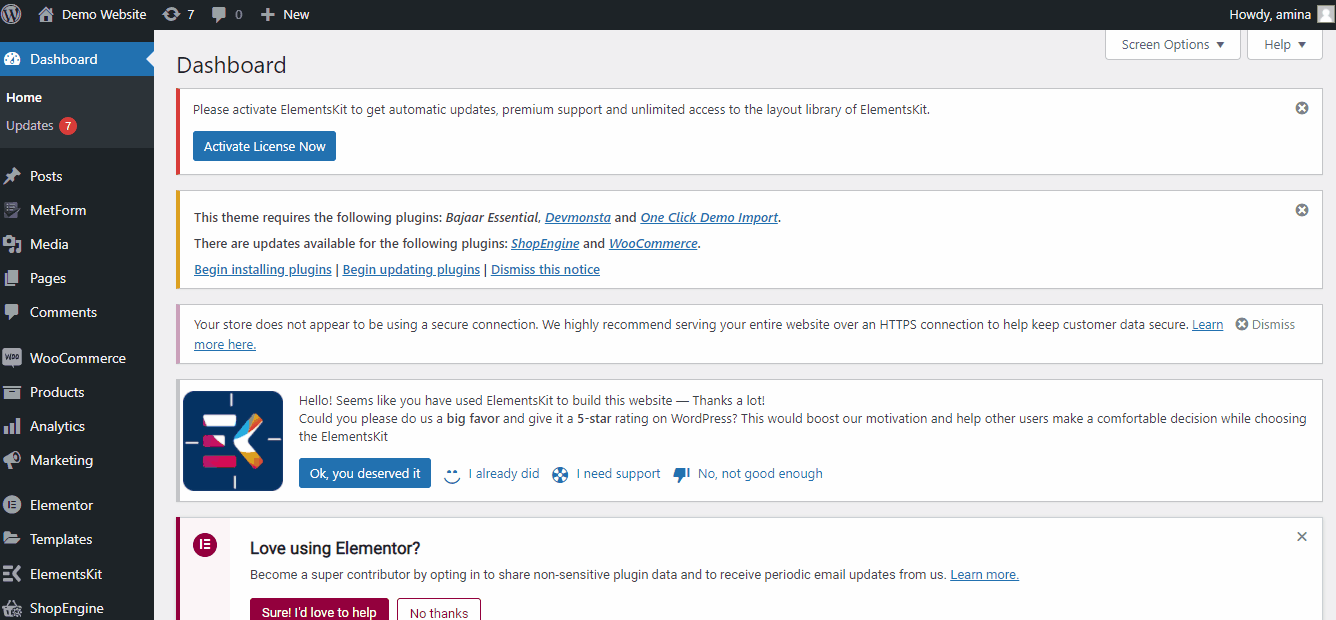 After clicking on the "Edit with Elementor" button it will redirect you to the Elementor dashboard from where you need to add opening hours. On the Elementor dashboard, you have to search for the business hours widget in the search box. You will see a business hours widget with an Ekit badge after searching for it.
All you need to do is drag and drop the WordPress business hours widget to the plus icon like the image.
Step 3: Edit business hours with ElementsKit.
Here comes the editing part of open close store hours for WooCommerce. Go to the content tab and click on Sunday same as the below-added image using the WordPress business hours plugin.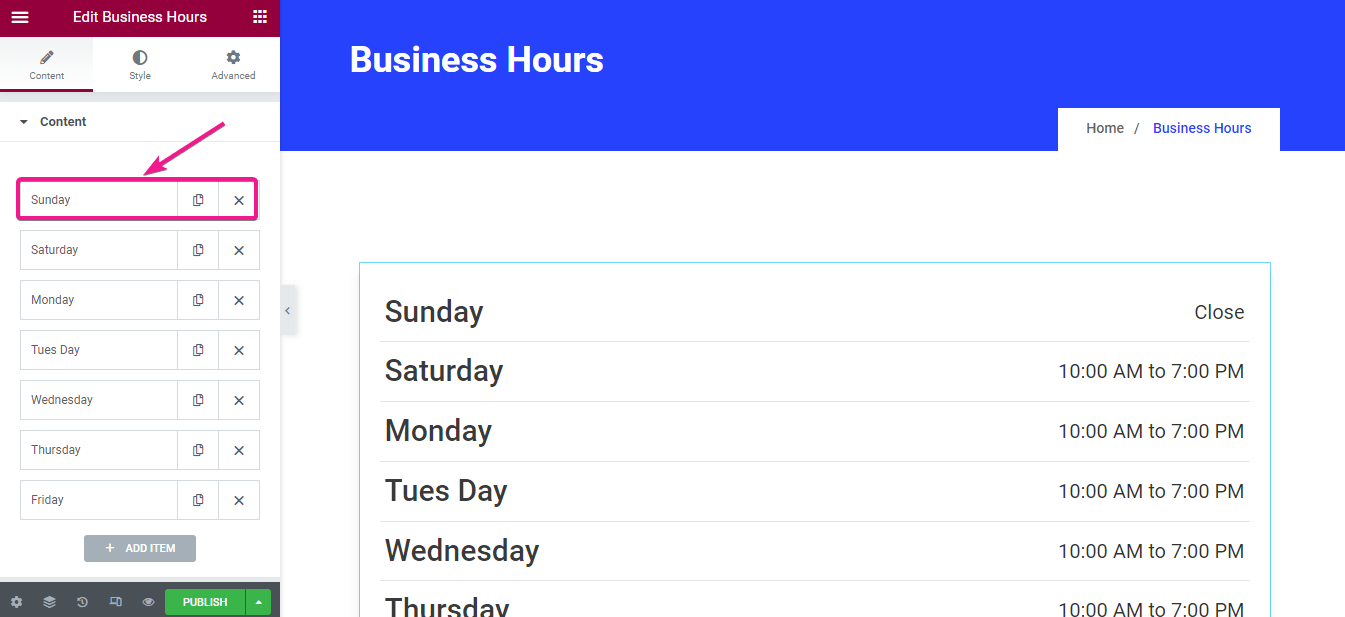 After clicking on it, a new tab will open up where you can make the following adjustment to add WooCommerce opening hours:
Day: You can enter the name of each day from here. Here Sunday is added by default. If you want to add WooCommerce business hours in another language then you can do that as well.
Time: In this field, you need to add the time of opening hours for your business.
Highlight this day: Enable the button to highlight this day.
Day color: Add a customized day color.
Time color: Choose a color for your display time.
Background color: Enter a background color as per your wish.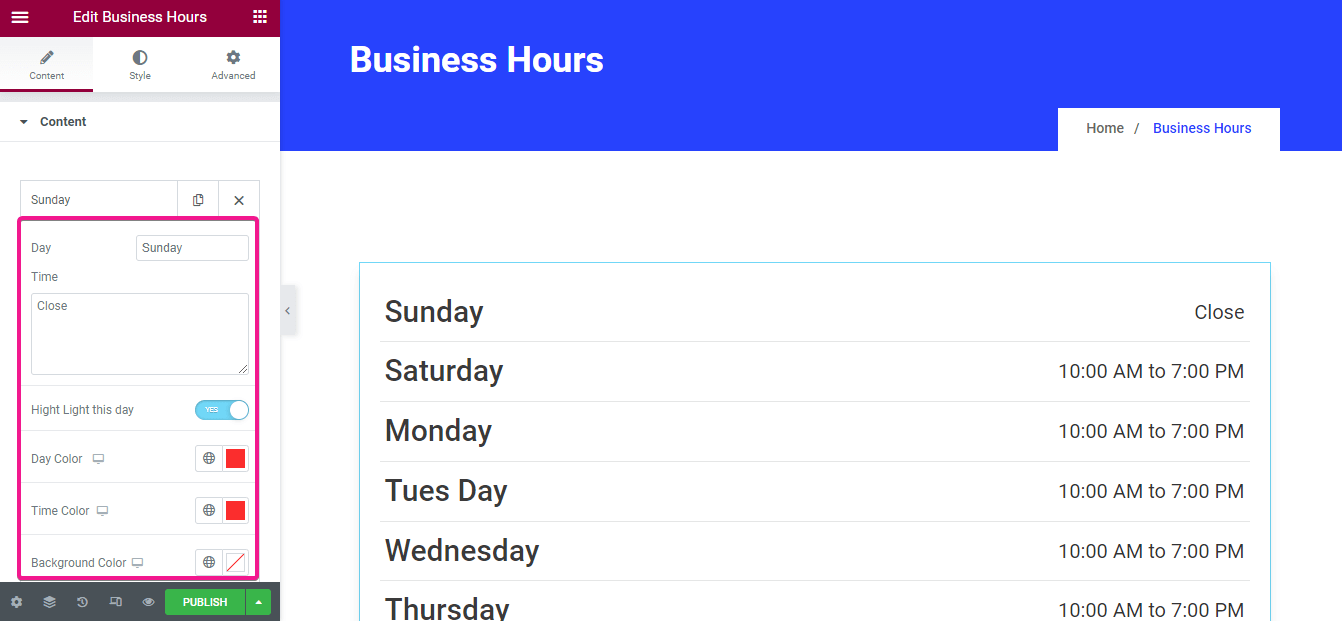 Now make style settings for your added WordPress opening hours. In the style tap, you will find item, day, and time settings. To make style setting for the item, bring the changes to the below fields using the WooCommerce business hours plugin, ElementsKit:
Margin: Select the margin for your business hours.
Padding: Like margin, you can change the padding.
Background type: From here, you can add a classic or gradient background to your WordPress opening hours.
Border radius: Enter the border radius of the box where your business hours will be shown.
Border type: You can also choose the border type of your business hours showing box among solid, double, dotted, dashed, and groove borders.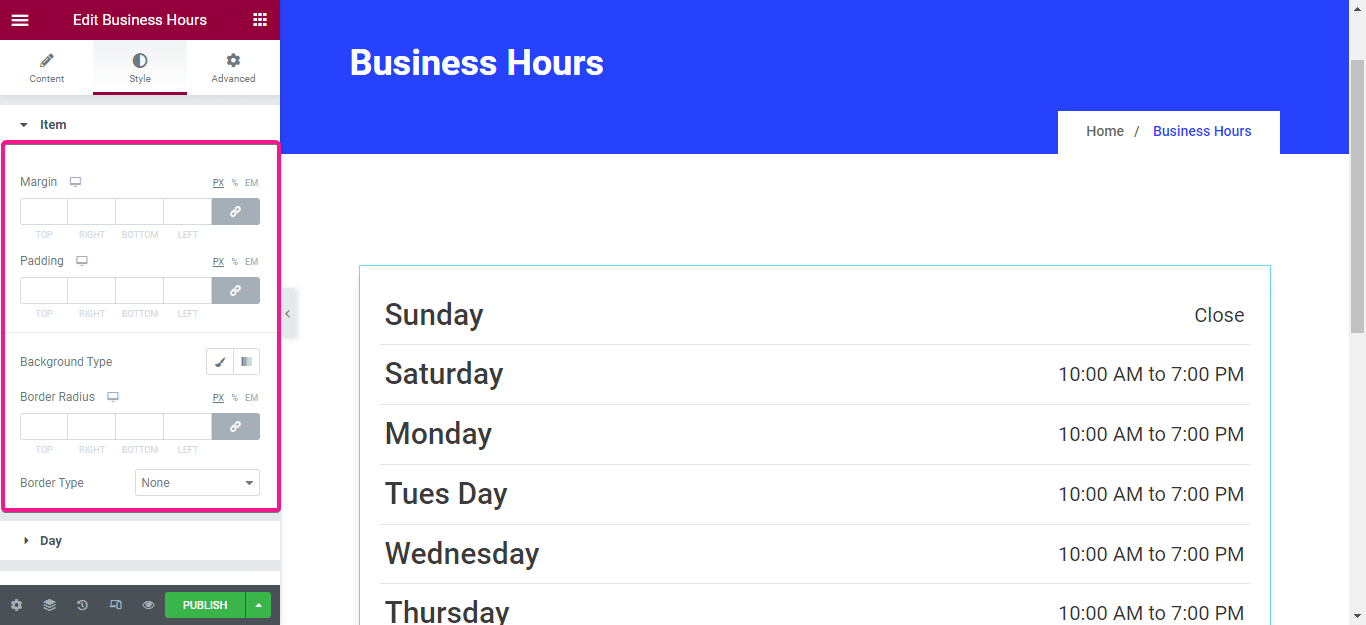 Same as the item, you can also customize the color, typography, background type, border-radius, and padding of each day using the WordPress store hours plugin.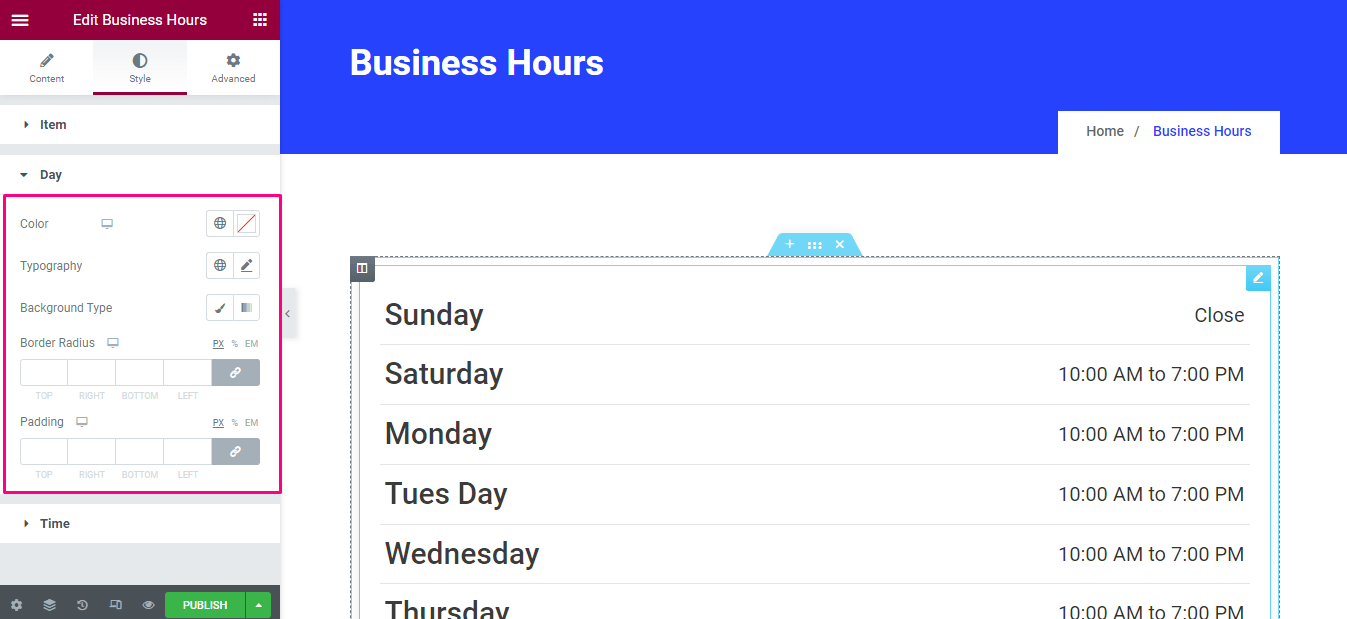 After doing it for the day, repeat the whole process for style editing the time portion of your WooCommerce opening hours.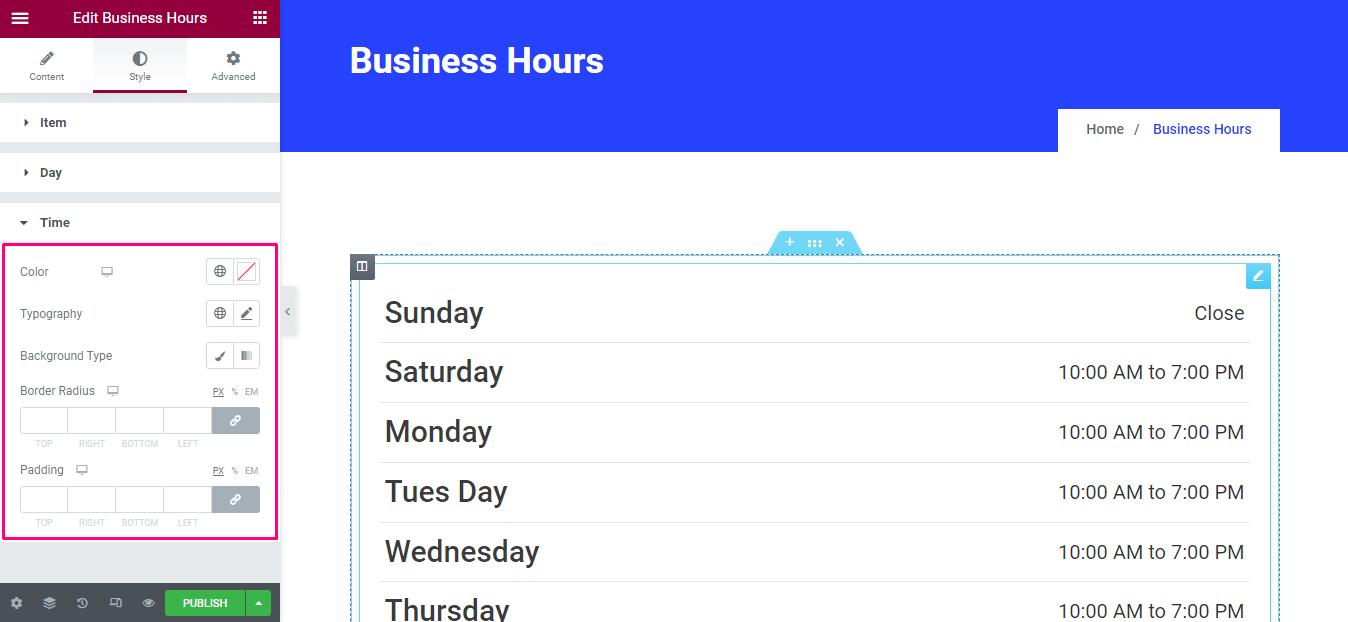 Step 4: Publish the changes to add opening hours to WordPress.
In the last step, you need to press the "Publish" button to make WooCommerce business hours live on your site.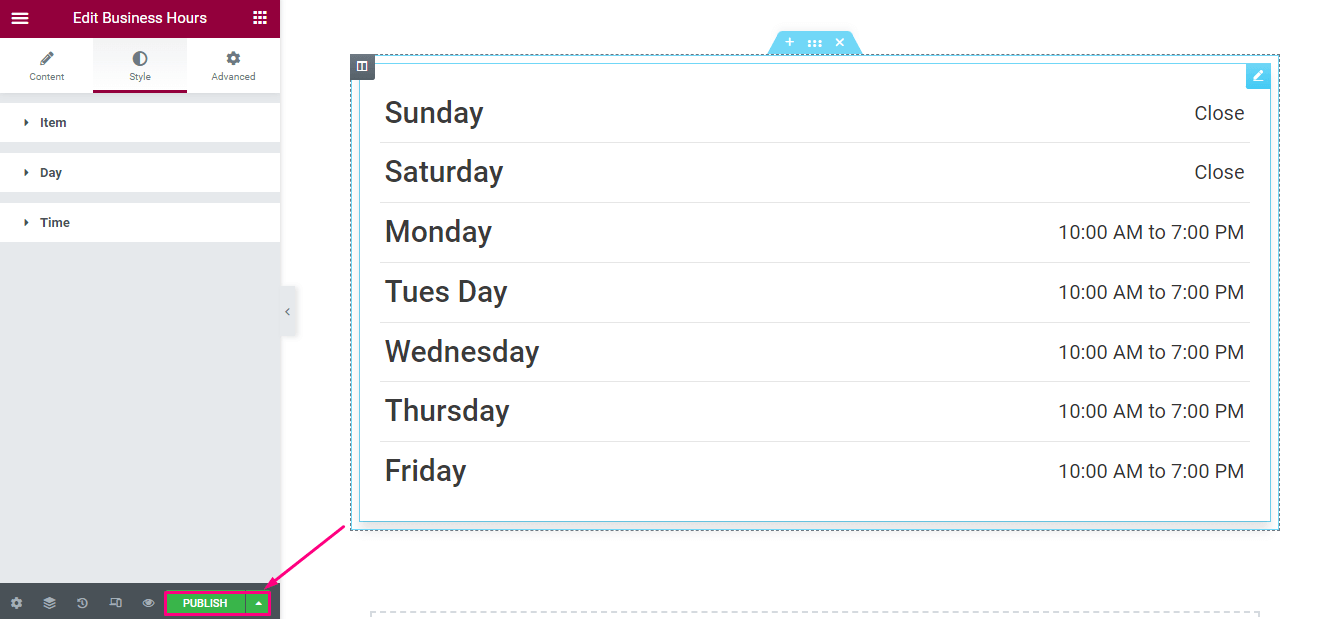 Here is the final look at added opening hours to your WordPress site: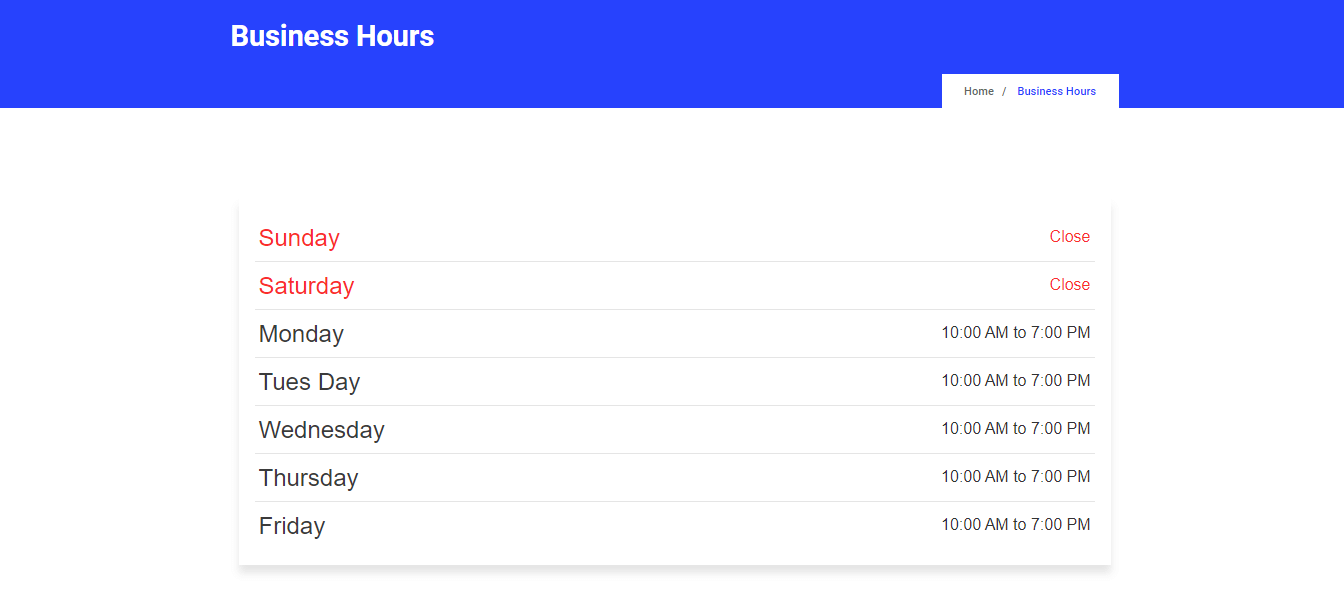 Can you change opening hours on WordPress?
If your business hours get changed for any reason or you need to change the weekend then, you can update it anytime with ElementsKit's business hours widget. Just go to the backend of your website and visit the page where you have added your business hours then press the "Edit with Elementor" button.
This will redirect you to another page from where you can edit your business hours. Finally, after editing, you need to click on the update button for making all your changes live using this best WordPress store hours plugin.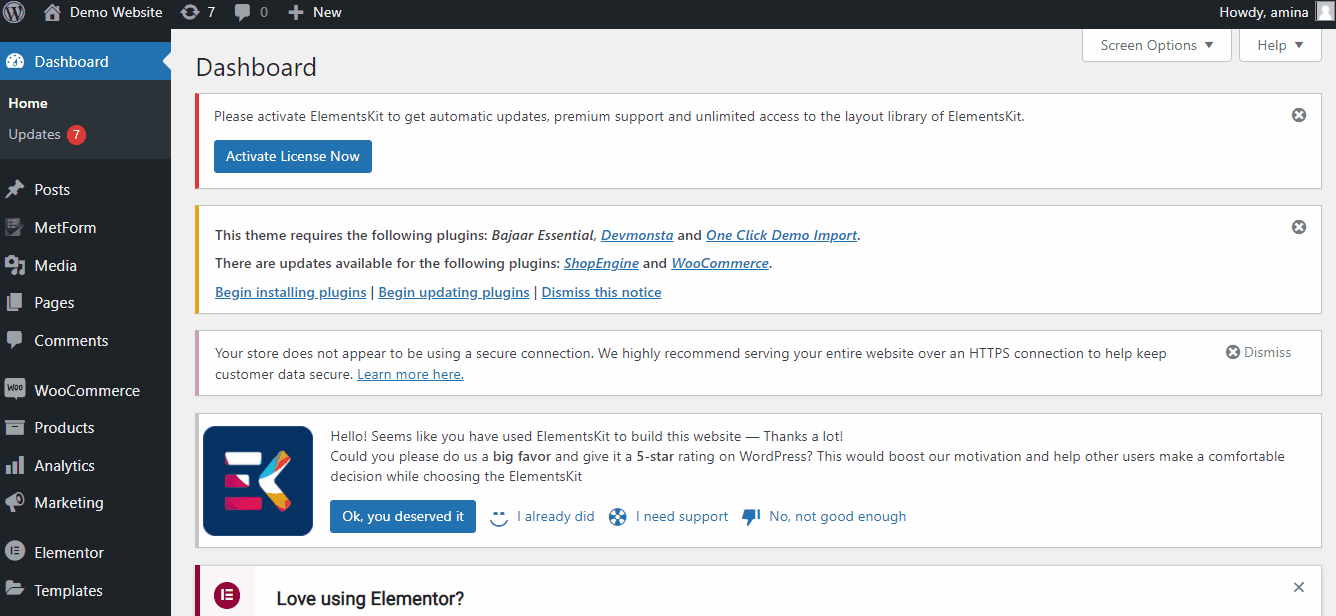 Wrapping up
No matter what type of business website you are running, it is important to provide complete information regarding your business on your website. Because this additional information makes business websites more trustworthy to customers. One more concerning thing is customers will always compare your website with hundreds of other sites.
In this case, if they don't find your website reliable then, they will visit other sites for getting their products or services. Displaying WooCommerce business hours on your site will help you to gain the trust of your customers and let them keep patience after dropping any query or ordering any product.
So make your website more trustworthy by following the above 4 simple steps to add opening hours to WordPress website. Utilize the WordPress opening hours plugin and display open-close store hours for WooCommerce in less than a few minutes.