ElementsKit All in One Addons for Elementor Reaching Another Milestone: 200K+ Active Installations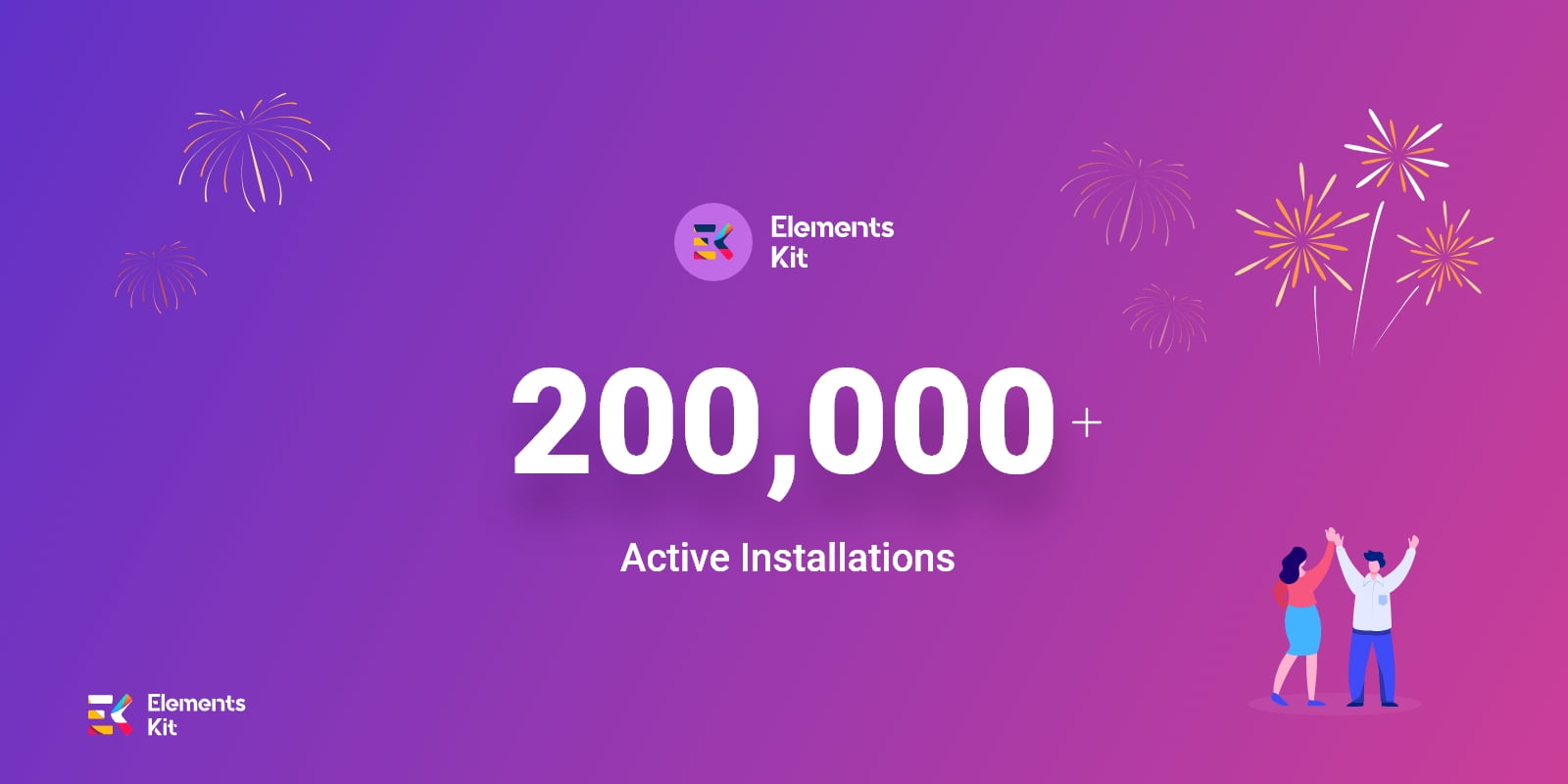 A big announcement is knocking at the door! Can you guess what it is?
Well… I don't wanna make you wait any longer!
Today, we are super excited to announce that ElementsKit just hit another milestone of 200K+ within just 5 months.
Undoubtedly, it's a big achievement for the entire team and ElementsKit's happy family. More than 200,000 websites are using ElementsKit which is a proud moment for us.
We achieved the milestone of 100K active users in June, and guess what…within the next 5 months, we reached 200K, happy customers.
Isn't that amazing?
We are so much grateful to all our fantastic clients who are part of this big family, It would have never been possible without your support and dedication.
What Makes ElementsKit Special Among Other Addons?
ElementsKit has been the most prominent and feature-rich addons for Elementor over the past few years. The main secret behind its success is we constantly update our plugin based on user requirements and feedback.
This feature-rich plugin has become the talk in the town within a very short time and unbelievably growing day by day. We appreciate your response and support.
The most amazing fact about ElementsKit is it always surprises its users with trendy features.
Get the highest number of features list at a glance that you simply cannot get anywhere.
Go beyond Elementor with 70+ Free and Premium elements, 30+ Ready Pages, 8+ modules, 500+ Premade Section Layouts to improve your site-building experience.
Do you want to try this amazing plugin? Try it for free.
We want to introduce you to these amazing elements and features list of ElementsKit!
70+ Free and Premium Elements
Elementskit – All in one addons for Elementor page builder offers 70+ powerful widgets that will help you to build lucrative websites easily.
Every elementor widget offers the highest degree of customization option. We're regularly adding more and more elementor widgets to meet your expectations.
9 Robust Modules at A Glance
Our modules will make your website development easier than ever before. The combination of our most powerful modules will provide you the freedom to create, design, and customize your eye-catchy Elementor website.
Explore some powerful modules including LayoutKit, Widget Builder, Header & Footer Builder, Mega Menu Builder, Sticky Content, Conditional Content, Facebook Messenger, Parallax effects, and One Page Scroll.
30+ Ready Pages
Take the advantage to get amazing ready pages that you can easily insert on your Elementor webpages.
Just select any page from our exclusive layout kit library and customize accordingly your own choice.
Shuffle Through 500+ Ready Sections
ElementsKit brings 500+ stunning readymade blocks/sections for you.
It gives you access to import amazing templates directly with your Elementor Editor using Elementskit. Just insert the sections and ElementsKit will do the rest.
45+ Pre-designed Header & Footer Templates
Introducing 45+ different readymade header footer templates to create amazing Elementor header and footer for your webpage within seconds.
Navigate different sections easily as well as get Sticky Header features with just one click.
Powerful Social Widget
Leverage the most powerful social widget including Facebook Feed, Instagram Feed, Twitter Feed, Pinterest Feed, Dribble Feed, Behance Feed, Social Media, Mailchimp, and many more.
Future Updates
The journey towards success was not so easy. Your support and love always make us strong to take the challenges and help us to overcome any circumstances.
As we are growing so fast and now we are focusing on our user's feedback & suggestions. Our priority is to fulfill your demand.
We assure you to come up with new features and updates frequently that will simply blow your mind. So stay connected with us. Thanks to all for your tremendous love and support. Take care and stay safe.
Feel free to share your experience below in the comment section. We would love to hear from you!
Haven't installed ElementsKit on your site yet?