7 Best Free WooCommerce Quick View Plugins 2023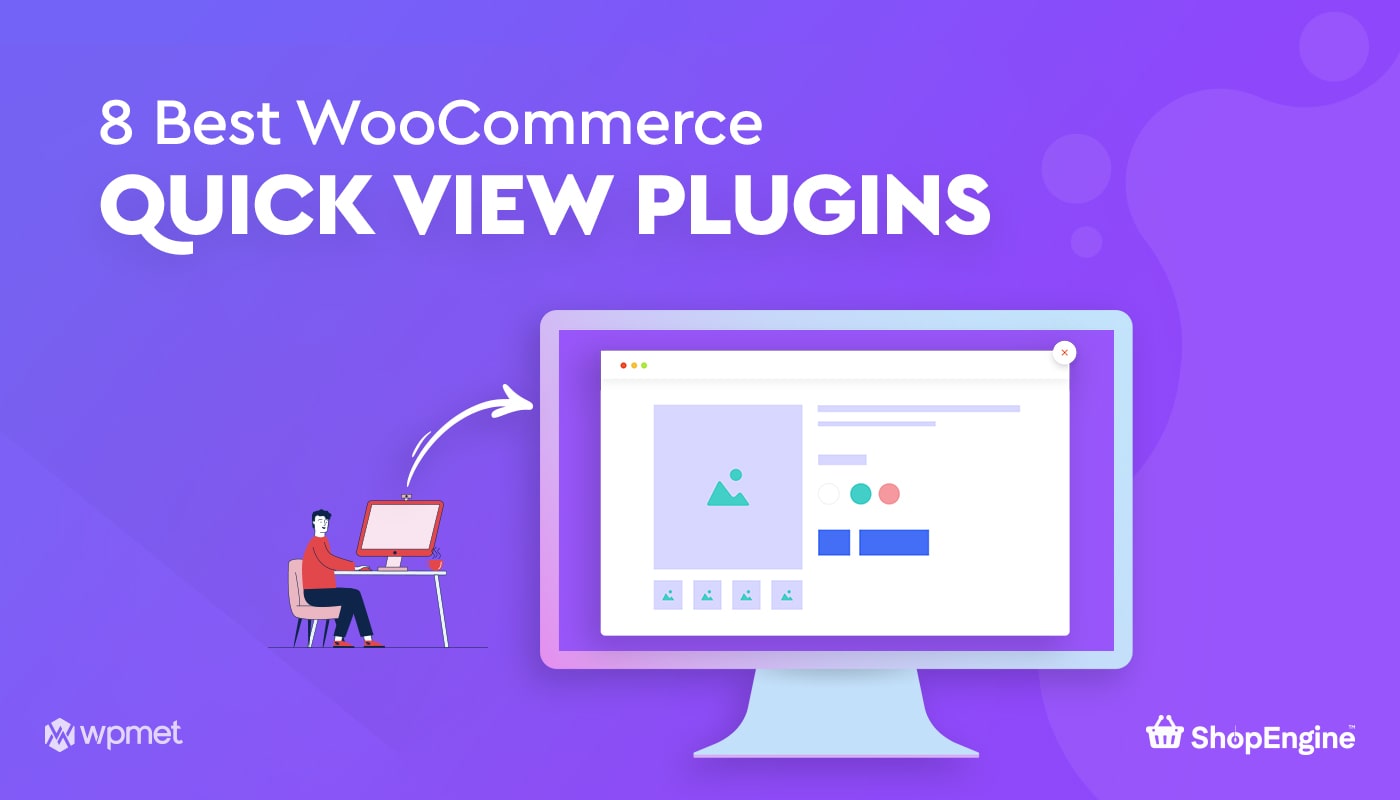 Attention, Attention, Attention!!!

Does this draw your attention? Well, if it does, how long can you hold it? Can you read this post till the end, without a break? I doubt.

Why?
Well, research has shown that human attention span has shortened severely. So much so that that now it is lower than that of a goldfish!
While a goldfish has an average attention span of 9 seconds, we've got 8.25 seconds.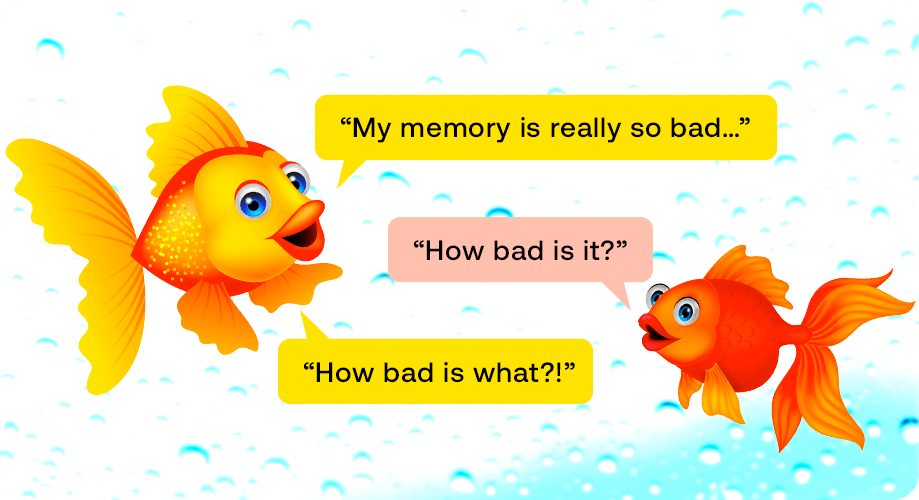 We, especially millennials, want to get things faster, see things quicker. And when it comes to buying online, many customers want to view the product without going to the specific product page.
As an eCommerce owner, you can leverage a WooCommerce Quick View plugin to satisfy those customers. This plugin will help you to view product details like product image, product price, product availability, etc. on the same page, without redirecting you to another
In this article, I've talked about the 7 best free WooCommerce Quick View plugins you can try in on your websites.
Things You Need to Know Before Using Quick View
Before adding the Quick View functionality to your eCommerce shop by using a plugin, you need to make sure that you are following the best practices.
Baymard has found that 48% of the top US-eCommerce sites have used the Quick View feature on their website.
However, if not implemented properly, the Quick View feature might not help you reap the benefit as per your expectation. Here are the worst and best practices for you to get the most out of a Quick View plugin.
😰 Worst: Studying the screen recording data from the shoppers' journey, ForeSee suggests that Quick View should not be set on the product page without a button. Make sure that the quick view does not open automatically as soon as a shopper hovers on a product.
😍 Best: Add a persistent button to let the customers open the Quick View lightbox willingly.
👉 Why: If you set the Quick View function to be activated automatically, only 8.1% of shoppers might interact. On the other hand, 44.8% of shoppers get interested to explore the feature if that comes with a persistent "Quick View" button.
Another concern about the Quick View feature is that many customers mistake the quick view for the product page. So, design the Quick View feature in a way so that the shoppers can differentiate the product page from Quick View.
7 Best Free WooCommerce Quick View Plugins Reviewed
Now that you've got a clear idea about how you should leverage the Quick View feature, it is time to know about the 7 best free WooCommerce Quick View plugins for your eCommerce shop. Without further ado, let's dive in.
1. ShopEngine Quick View Module
ShopEngine is a complete WooCommerce page builder for Elementor. And one of its beauties is that it features one of the finest and functional quick view modules for WooCommerce.
Along with featuring the quick view module, it brings up variation swatches, product wishlist, and add to compare modules under one hood. That's not all. ShopEngine bundles up 50+ powerful widgets for WooCommerce shop owners to build a single product page, cart page, archive page, checkout page, order page, thank you page, and user account page.
Well, what's so amazing about the Quick View module of ShopEngine?
Firstly, you can design every content you want to place on your Quick View popup.
Secondly, there are unlimited customization options for you.
Thirdly, what you all need to do is to drag and drop some widgets from Elementor block and customize them until you think you've made the best user-friendly Quick View by yourself.
And finally, you can easily switch the module off from the list of modules if you want to take a break from Quick View.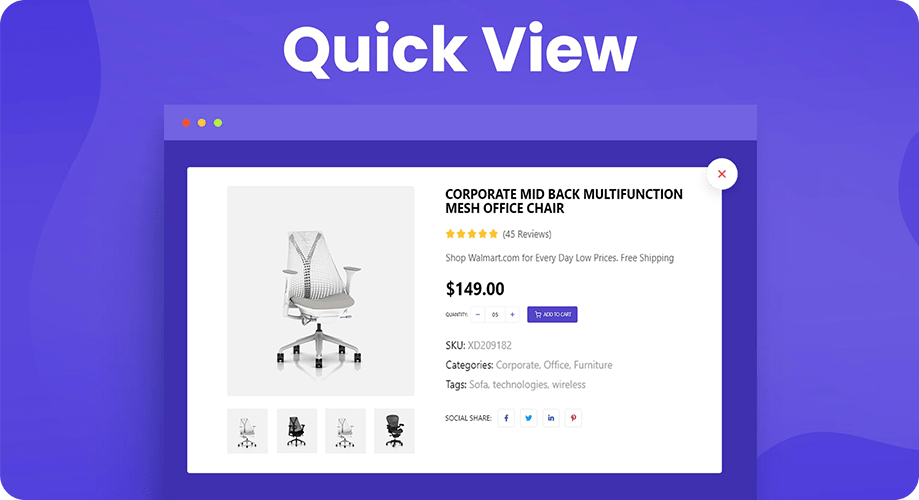 So, it doesn't matter whether you need to add a customizable Quick View button only or want to own a complete toolset for your WooCommerce business, ShopEngine is the right choice for you.
Key Features
You can choose to show the add-to-cart button in different styles.
Add Product description, product price, product review, product share, or anything you want on the popup page.
Define how and where you want to set the product image in the Quick View popup.
Display product upsells and related products for giving shoppers more scope to buy.
Add product rating at your desired place to give the users idea about the product quality.
Pros and Cons
| 👍 Pros | 👎 Cons |
| --- | --- |
| Easy to Enable/Disable | As the module is pretty new, grab the chance to discover the cons (if any 😜) |
| All-in-one WooCommerce page builder for Elementor along with Quick View module | |
| Customize, add, or remove any element of the Quick View popup. | |
ShopEngine WooCommerce Quick View Module Pros & Cons
ShopEngine is a great choice not only for the quick view feature, but also for 50+ widgets and modules it offers to customize any WooCommerce page.
2. WooCommerce Quick View
Let the customers have a sneak peek of any products by leveraging the WooCommerce Quick View plugin. All your customers have to do is to click the Quick View button and they are all set to have a glance at the products in your shop.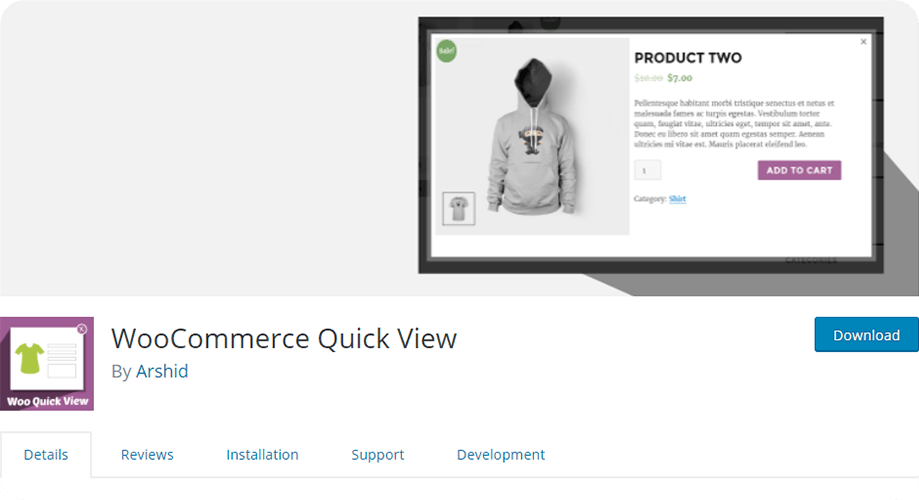 With this plugin installed on your website, you can allow the shoppers to glide through your products using the 'previous' and 'next' buttons.
Key Features:
Add a button that leverages the power of AJAX to open a modal window featuring the product summary
Customize the modal style
Set your desired button label for the "Quick View"
You can disable Quick View on mobile devices
Show the product title, image, quantity, price, and add to cart button on the lightbox popup.
Pros and Cons
| 👍 Pros | 👎 Cons |
| --- | --- |
| Easy to customize with CSS | It may not work seamlessly with some themes |
| Beginner-friendly | The image in the popup loads a bit slow. |
| Simple to set up and use | |
WooCommerce Quick View Pros & Cons
Using this plugin, your visitors can explore previous and next products. In addition, AJAX helps a modal window open more quickly.
3. Quick View WooCommerce
If you are looking for a lightweight and simple Quick View plugin, you can go for this. No matter what type of products you sell in your online shop, this Quick View plugin promises to be a good fit.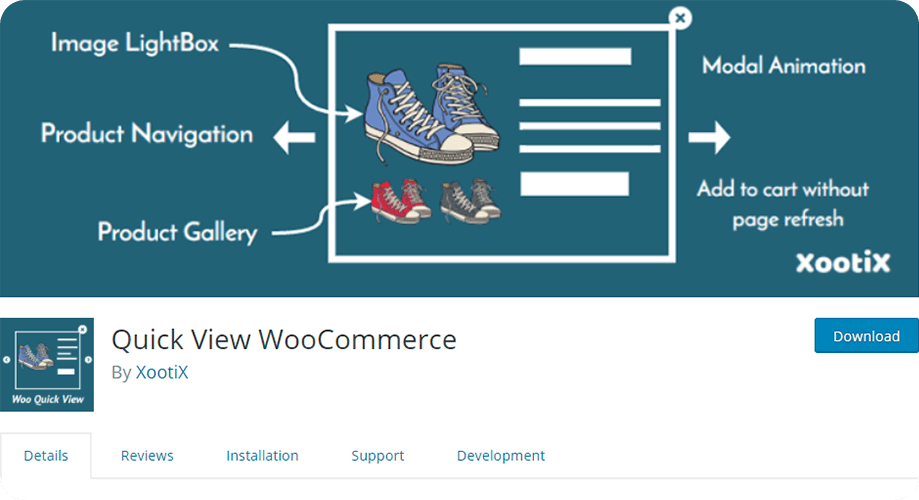 This plugin will give you complete authority to decide exactly where you want to display the Quick View button. On top of that, you can turn the Quick View feature on or off for mobiles.
Key Features:
Customize the lightbox popup for product gallery and images
Next and Previous button to explore similar products one by one
Comes with a button to let the customers visit the product page effortlessly
Mind-blowing animations for the Quick View popup
Pros and Cons
| 👍 Pros | 👎 Cons |
| --- | --- |
| Allow customers to add products to the cart without refreshing the page | You have to buy the pro version to get the best features |
| Easy to configure and tweak | |
| Excellent customer support | |
Quick View WooCommerce Pros & Cons
A free quick view plugin with enough room for customization
4. WPC Smart Quick View for WooCommerce
If you enable the WPC Smart Quick View on your website, your customers do not need to jump anymore from one page to another to find relevant product information.
They can stay on the current page and see the product summary effortlessly. You can implement the Quick View feature of this plugin by choosing a button, link, or popup style.
Being completely optimized for SEO, this Quick View plugin lets you edit and translate the button text as per your choice. You will have full liberty to place the Quick View button wherever you want.
Key Features:
Let the shoppers navigate through previous and next products smoothly
Choose from 8 popup effects
Comes in different languages
Use shortcodes to add the quick button on any page
Improve SEO
WPML integration to make multilingual websites.
Pros and Cons
| 👍 Pros | 👎 Cons |
| --- | --- |
| Well-compatible with different types of WordPress themes | Advanced features are on the pro version |
| RTL support | |
| Adapts well for all screen resolutions | |
WPC Smart Quick View Pros & Cons
I included it on this list due to its popup effects and the fact that it is multi-language ready.
5. XT WooCommerce Quick View
XT WooCommerce Quick View is one of the best quick view plugins you can put your trust on.
Once you add it to your eCommerce website, your customers can view the product image as soon as they click on this Quick View button.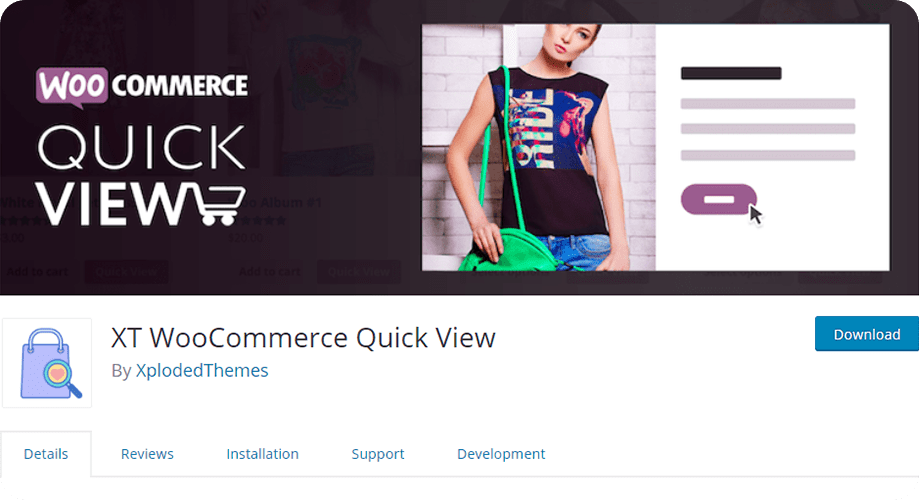 This plugin loads the product image on the left and the key product information on the right pat of the modal with an Add-to-cart button.
Do not worry about the modal loading speed. It works super fast.
Key Features
AJAX add-to-cart button
Works on mobile devices
Supports composite products and bundles
Quick loading modal
Pros and Cons
| 👍 Pros | 👎 Cons |
| --- | --- |
| Smooth animations | It may not work with all the themes |
| Responsive | |
| Support for product variations | |
XT WooCommerce Quick View Pros & Cons
It is very user-friendly because it is responsive and uses AJAX.
6. Quick View for WooCommerce
If you are searching for a plugin that is well-customizable and fits perfectly on your WooCommerce website, you can use this WooCommerce quick view plugin.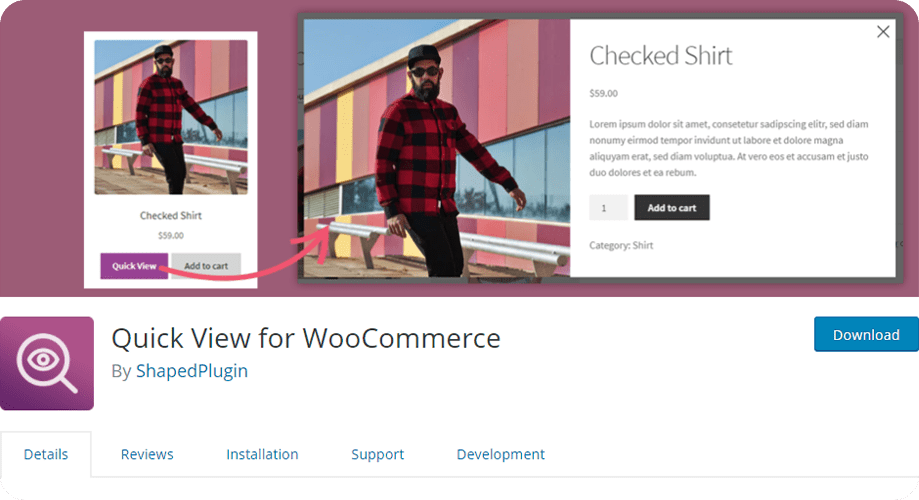 The Quick View button of this plugin will save the time of your customers while exploring products. They will no longer need to open a new tab or window to get a clearer view of any product.
Moreover, they can know what the product is all about.
Key Features
Custom CSS field
Customizable Quick View button text
Show or hide the popup close button
Set the background color of the popup
Popup effects
Pros and Cons
| 👍 Pros | 👎 Cons |
| --- | --- |
| Lightweight | N/A |
| Easy to configure and customize | |
| Translation-ready | |
Quick View for WooCommerce Pros & Cons
This is one of the best quick view plugins that you can use for free.
7. Woocommerce Quick View lite
WooCommerce Quick View lite is a simple and straightforward quick view option for a single product. It lets you decide the text you want to use on your Quick view button.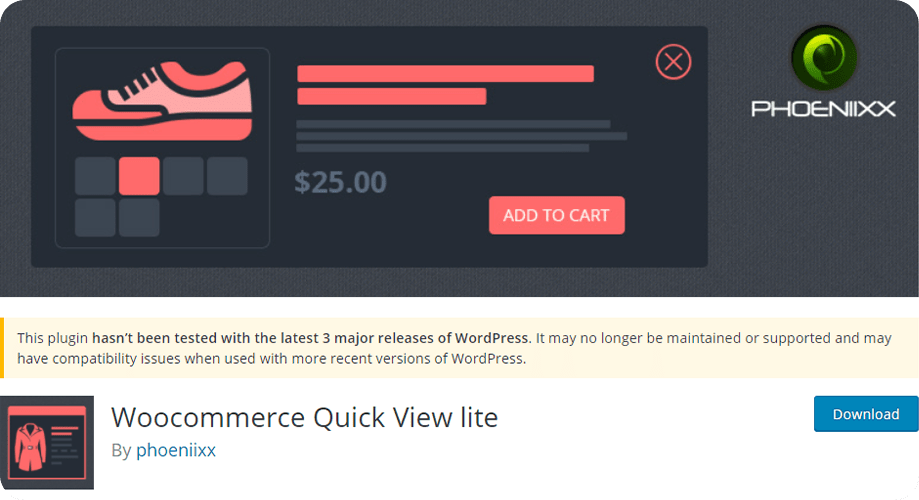 You can also do some other customizations to give your customers an intuitive browsing experience.
Key Features
Change the close popup button color, close popup button hover color, etc.
Customize the Quick View button text
Pros and Cons
| 👍 Pros | 👎 Cons |
| --- | --- |
| Easy to use | You need to switch to the premium version to enjoy the advanced features |
| Simple user interface | |
Woocommerce Quick View lite Pros & Cons
It is a minimalilst quick view plugin with very simple user interface.
Final Words
If implemented properly, a Quick View button saves the time of your customer and let them view products and add those to the cart easily. From the above 7 best free WooCommerce plugins, find the one that best meets your needs.
No matter which one you choose, make sure that you apply the Quick View feature with a distinct button, not otherwise (automatically/on hover).
I hope that very soon you'll find how the Quick View button boosts sales on your WooCommerce website.
If you've got any questions feel free to ask that in the comment box. To stay updated with the latest WordPress tips and tutorials, like our Facebook page, and connect with our community.