Copy AI vs GetGenie AI: WordPress Got the Powerful AI Writing Assistant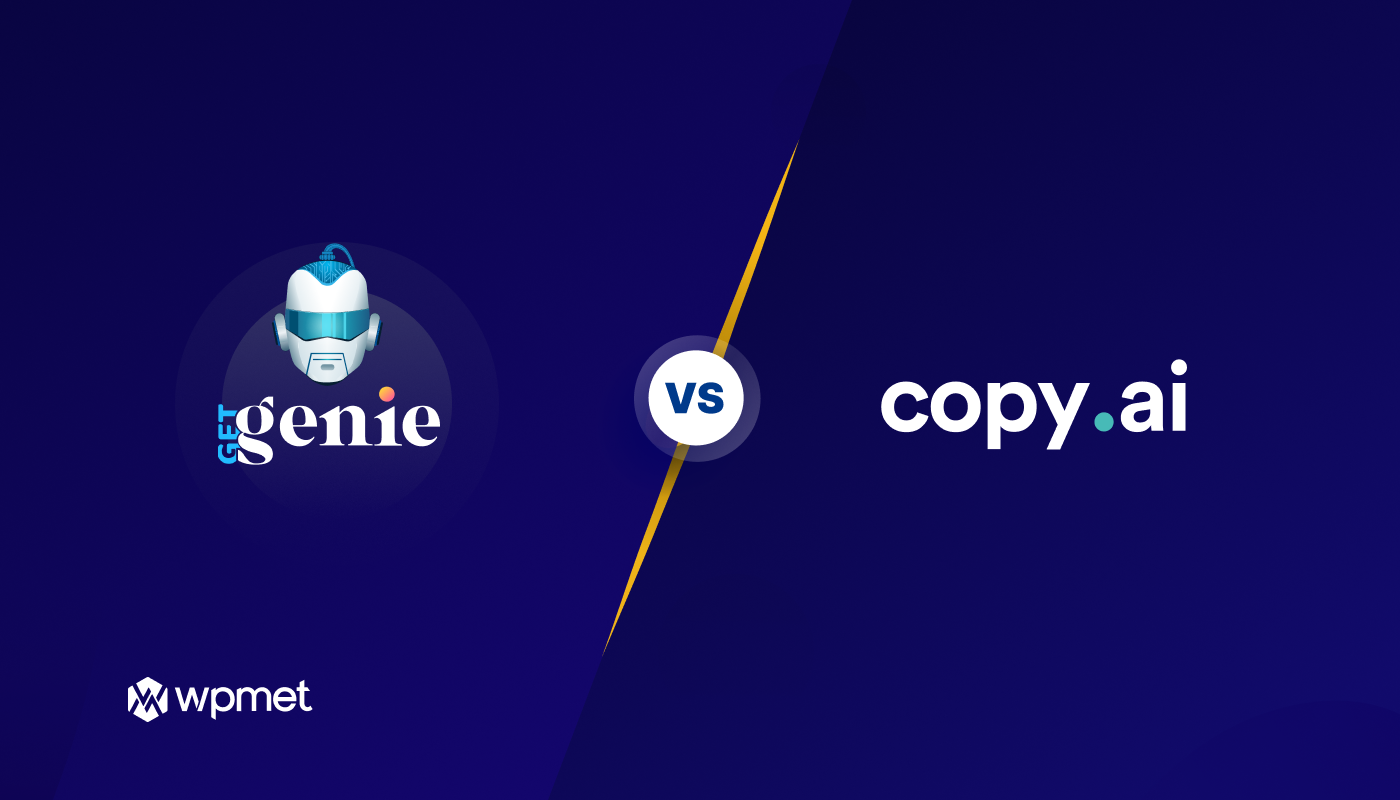 AI writing assistants have sped up the content creation process over the last few years. For any blogging site or marketer, these AI tools are like a blessing. Copy AI and GetGenie AI are two such useful tools that are capable of improving any type of content. So, Copy AI vs. GetGenie AI is a relevant topic to discuss today.
Modern writing tools are powered by artificial intelligence, so they know about any niche. However, these writing tools all try to offer professional content and overall good service. As a result, users prefer more comparisons to pick the best one. We have outlined this blog to discuss the facts of Copy AI and GetGenie AI. Let's go through the details so that you can gather information about a standard modern AI tool. And you will also learn to pick the best AI writing assistant according to your needs.
What Should You Search for in an AI Writing Tool?
Well, before searching for the best AI writing tool you must know what makes an AI writing tool best.
User friendliness – A good AI writing tool is smartly designed. It is easy to understand and takes less time to produce output. You will find a writing tool designed with the latest AI algorithms super easy to operate.
Original content – Plagiarism free content is the top priority a user gives when searching for an AI writing assistant. A good tool should have a built-in plagiarism checker or 3rd party collaboration with a plagiarism checker like plagiarism detector.
Niche relevant output- A dedicated AI powered tool can catch tons of concepts. It is capable of providing niche relevant output with its built-in algorithm.
Better communication- A quality AI writing assistant understands how the human mind processes information. So, it gives you hints to develop more effective communication strategies.
Content planning facility- In case of long-form content, planning is important. Some efficient tools provide this facility like, generating keywords, title, outline, etc.
Standard trial time- Everyone likes to try an AI writing assistant for free in the trial period. If it runs out very fast while a user is testing, it creates a negative impression. So, a good tool should provide at least a decent amount of time or words for trial.
Copy AI vs.GetGenie AI – How they Work
The basic working principle of all AI writing tools is the same. They use AI algorithms to understand any tone, grammar, spelling, uniqueness, and so on. We know this tech is powered by NLP. Copy AI and GetGenie AI works following the same techniques to make you more productive. They use Generative Pre-trained Transformer 3 (GPT-3) artificial intelligence model. GPT-3 is built by OpenAI, it needs trainning on huge amounts of information then it works efficiently.
GetGenie AI – This is an AI powered WordPress Plugin which is an unique ask me anything type of tool. All WordPress users can effectively use GetGenie AI to produced SEO optimized content.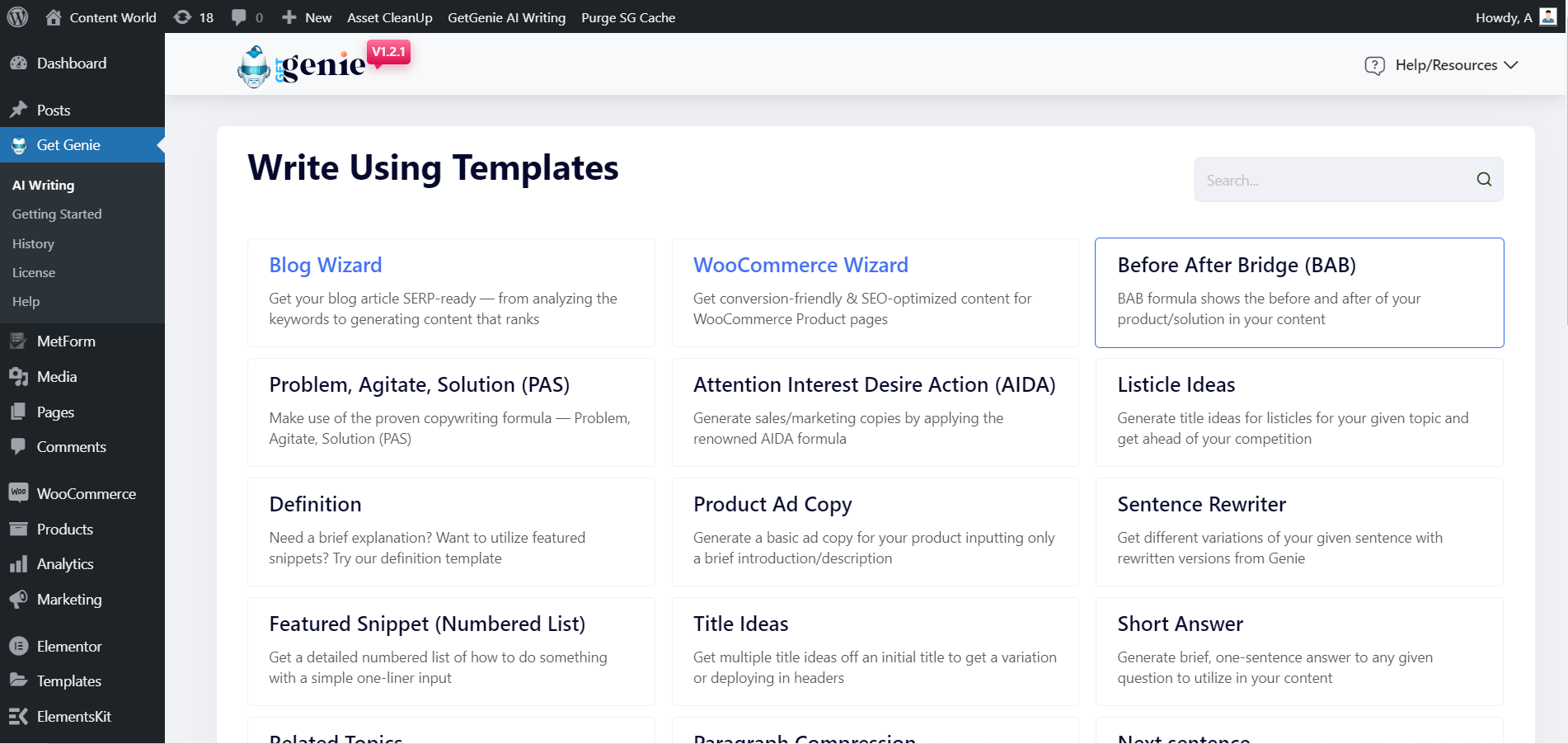 Copy.AI – It is an AI powered online tool for high-quality copy for your business. You can generate valuable pieces of content in short time with Copy AI.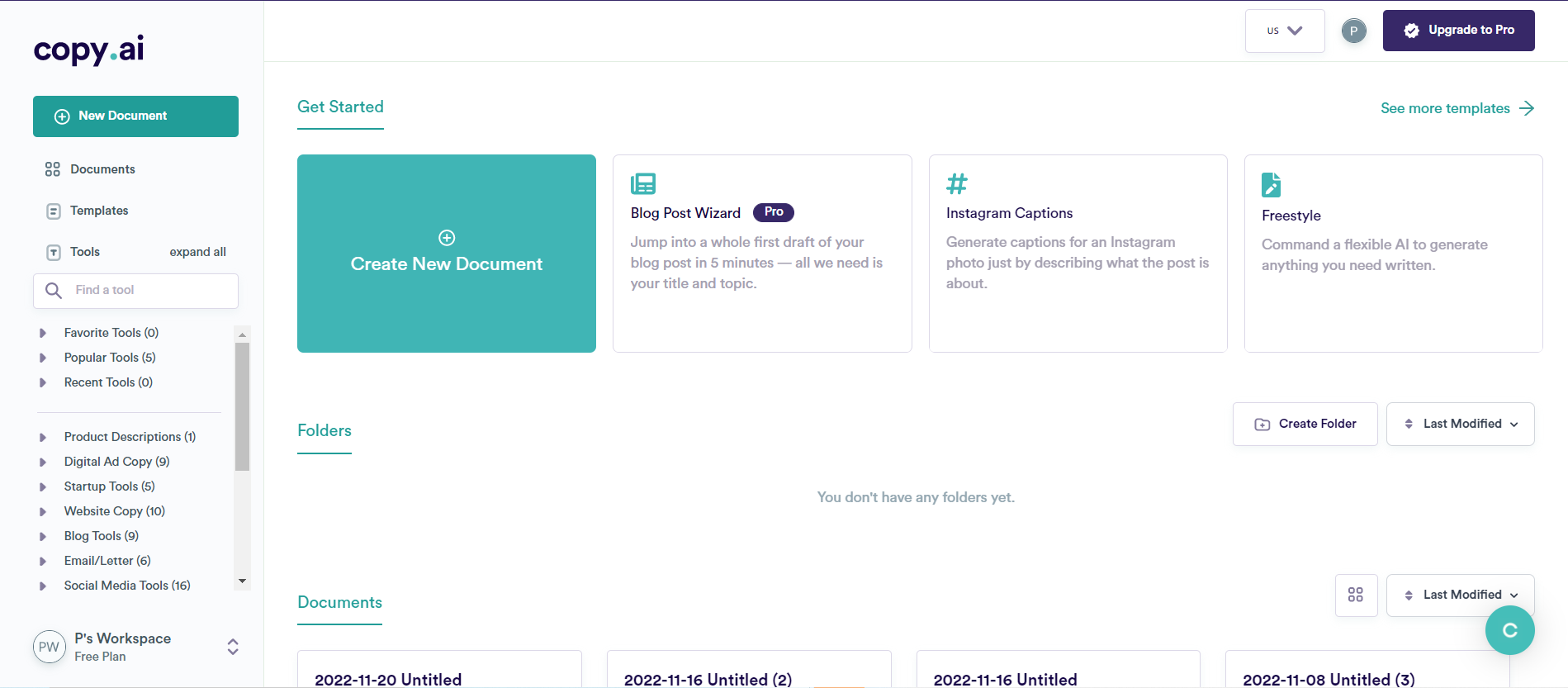 Main use cases of Copy AI
Creating short-form content –
Email marketing
Social media marketing
Sales emails
Website copy
Product descriptions
Creating long-form content –
How to blogs
Blog Ideas
Thought leadership
Feature stories, etc.
Main use cases of GetGenie AI
Creating long-form content –
Outline generate
Title generate
Keyword research
Competitor analysis
Question asked
Shows content score
Creating short-form content –
AIDA Framework
BAB Framework
Bullet Point to Answer
Explain Why
Short answer
Product description
WooCommerce Product Title etc.
Copy AI vs.GetGenie AI- Similarities
Both the AI tools offer free trials for all interested users.
The tools provide excellent short-form content.
The support teams and their communities try to play consistent roles for the users.
Copy AI provides a tone controller whereas GetGenie AI has also a creative level controller for outputs.
You have no worries about writer's block with these AI tools.
They don't have any 3rd party-integration yet though GetGenie AI has plans to execute soon.
Copy AI vs.GetGenie AI- Dissimilarities
GetGenie AI is a WordPress plugin to help you.
Copy AI produces moderate long-form content whereas GetGenie AI is an expert long-form content generator.
Copy AI has a plagiarism checking system but this feature of GetGenie AI is yet to come.
Copy AI supports multiple languages, GetGenie AI doesn't.
Copy AI doesn't provide SEO support, GetGenie AI has effective SEO support for content.
Copy AI has a browser extension, and GetGenie AI has plans for this module.
Basically, Copy AI is for copywriters, freelance writers, and email marketers. On the other hand, GetGenie AI is for bloggers, entrepreneurs, and also for copywriters.
Copy AI vs.GetGenie AI- Pricing
Copy AI – At present, Copy AI has a plan of $0 for 2k words per month for its users and it offers a few attractive prices for premium packages. The pricing table is-
| | Offers | Pricing |
| --- | --- | --- |
| Monthly (Free) | -2k words-Only 1 user seat,-90+ copywriting tools,-Unlimited projects | $0 |
| Monthly (Pro) | -40k words-5 user seats included-90+ copywriting tools-Unlimited projects-Priority email support-25+ languages-Blog Wizard tool-Access to the newest features | $49 (Pro) |
| Yearly (Free) | -2k words-Only 1 user seat,-90+ copywriting tools,-Unlimited projects | $0 |
| Yearly (Pro) | 100K words with the same monthly (Pro) offers | $36 |
| | 300K words with the same monthly (Pro) offers | $74 |
| | 300K+ words with the same monthly (Pro) offers | $209 |
GetGenie AI – On the other hand, GetGenie AI also has a plan for WordPress users to claim free credits and 14 days money back guarantee for all packages.
Monthly Offers & Pricing
Annual Offers & Pricing
Writer
$19 for
-40,000 AI Writing words
-250 SEO Keyword Analysis
-80 Competitor SERP
$19
-12,000 AI Writing words
-40 SEO Keyword Analysis
-20 Competitor SERP Analysis
Pro
$49
-40,000 AI Writing words
-250 SEO Keyword Analysis
-80 Competitor SERP
$49 with the same offers
Agency
$99
-150,000 AI Writing Words
– 600 SEO Keyword Analysis
– 200 Competitor SERP Analysis
$99 with the same offers
In this holiday season don't forget to grab your discount. GetGenie AI is offering up to 50% discounts as a Black Friday Cyber Monday 2022 offer!

Which One Feeds Your Needs Best?
The main difference between Copy AI and GetGenie AI is the form of content they produce efficiently. You can generate desired quality marketing copies with Copy AI. Oppositely, GetGenie AI produces SEO-focused long articles and standard short content. And genie has separate templates to generate standard copies also. So, you have to identify your content type first and then compare the other functions. Now, you can surely choose the best tool for you.
Certainly, there are various AI writing assistants in the market today. Each one tries its best to serve users' needs. But you must take one that gives you maximum error-free outputs and saves your time.
AI Generated Content to Rank in Search Engines
This may be a common question, whether search engines crawl these AI-produced content or not. The answer is Yes. Every AI tool-generated content needs the human touch. If you can give a little effort and properly optimize the content, they can certainly rank in search engines. There are updated tools like Copy AI and GetGenie AI that generate standard blogs. You can work on SEO to help them rank in search engines. And, if the tool shows SEO scores and relative functionalities to support optimization, that is really helpful. AI tools like GetGenie AI optimizes content according to Google's search quality raters.
Copy AI vs.GetGenie AI- Comparison Table
| Feature | Copy AI | GetGenie AI |
| --- | --- | --- |
| Templates | 50+ | 30+ and coming soon |
| Plugin | No | Yes |
| Long-form writing assistant | Partially | Yes |
| Short-form writing assistant | Yes | Partially |
| Creativity level check | No | Yes |
| SEO | No | Yes |
| Browser extension | Yes | Coming soon |
| Grammar checker | No | Coming soon |
| Plagiarism checker | No | Coming soon |
| Multi-language | Yes | Coming soon |
| Ease of use | Easy | Very easy |
| Helpdesk | Good | Good |
| Community | Yes | Yes |
| Free trial | Yes | Yes |
FAQs
Who can use GetGenie AI?
This tool is for both long and short forms of content. Whether you're a beginner, professional, blogger, copywriter, or other marketer you can be benefited using GeGenie AI.
Will Copy AI content rank top in Google?
Yes, if you optimize it properly, big content can be ranked on Google.
Where can I learn more about blog writing and copywriting using GetGenie AI?
You can check their blogs, How to Structure a Blog Post That Ranks, Google Helpful Content Update Checklist – A Guide to Follow, PAS Copywriting Formula – Does It Really Work?
How to use Copy AI and GetGenie AI?
Copy AI creates weekly demos and Genie also provides learning materials of easy documentation and videos.
Why is GetGenie AI the best as a writing assistant?
It is quick and standard to produce attractive traffic driving copies and optimizes long content for search engines.
Final Opinion: CopyAI Vs.GetGenie AI
We have outlined all the necessary comparison facts about CopyAI vs. GetGenie AI. GetGenie AI makes it easier than ever to produce any blog or marketing copy for all WordPress users. With the online tool Copy AI you will get top grade short writings. It's your turn to select the best one that suits your needs. The tools are designed with developed features and integrations. And, the good fact is that they are improving their features and services.
However, Copy AI and GetGenie AI are human-assisted, they cannot replace humans. You can take help from these tools to improve your work. As tech advantages are everywhere, you have now this opportunity to write fast and save your time. This is pretty much it.