40% OFF🔥 – ShopEngine Black Friday & Cyber Monday Coupon Code
Congratulations 🎊 – Your hunt for the ShopEngine Black Friday and Cyber Monday coupon code ends here!
Got any e-commerce websites? It's the right time to invest in a WooCommerce solution for the Elementor website.
You won't find a great deal again like ShopEngine Black Friday or ShopEngine Cyber Monday.
Discover the best Black Friday and Cyber Monday deals on any ShopEngine plan. You don't need to apply any coupon code. It will be automatically adjusted with the price.
| Package | Discount Percentage |
| --- | --- |
| Personal | 10% |
| Professional | 25% |
| Agency | 35% |
| Package | Discount Percentage |
| --- | --- |
| Personal | 20% |
| Professional | 35% |
| Agency | 40% |
You can also apply our special ShopEngine discount code to save 20% on any plan.
ShopEngine promo code is worth trying to extend your WooCommerce websites at a lower price.
Save 20% OFF on Any ShopEngine Deals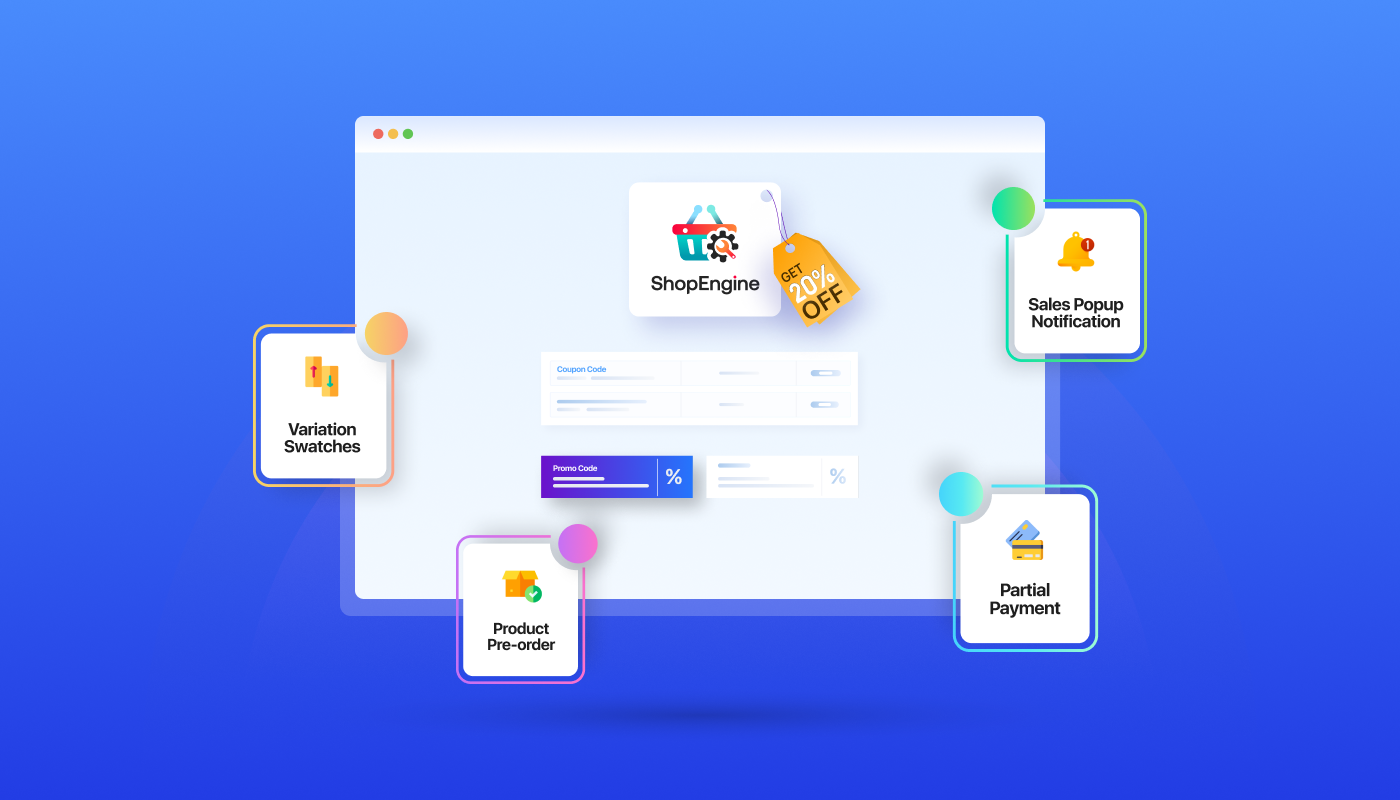 Apply the following ShopEngine coupon code to buy at the lowest price.
"COMMUNITY20"
ShopEngine offers advanced WooCommerce features to take your eCommerce store to the next level. And we are officially offering this ShopEngine discount code. Don't miss out on this amazing opportunity to purchase ShopEngine at a cheap price.
How to Redeem ShopEngine Special Coupon Code?
Ready to start getting your ShopEngine coupon codes? Follow this step-by-step guide to learn how to apply ShopEngine discount codes to the checkout process.
Step 1: Choose a Plan and Apply ShopEngine Coupon Code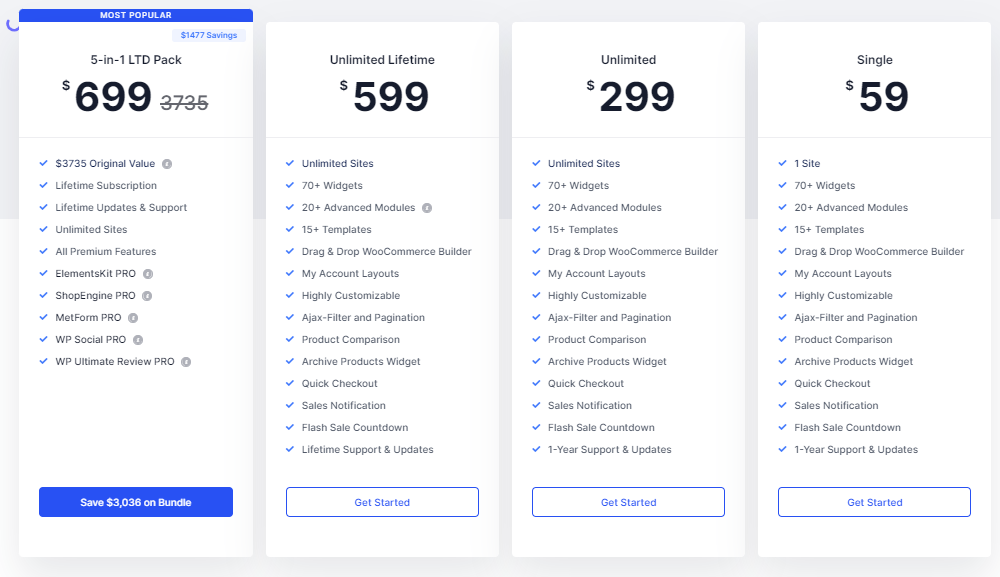 Head over to the ShopEngine pricing page. You will see different subscription plans. Choose your preferred plan and click the "Get Started" button.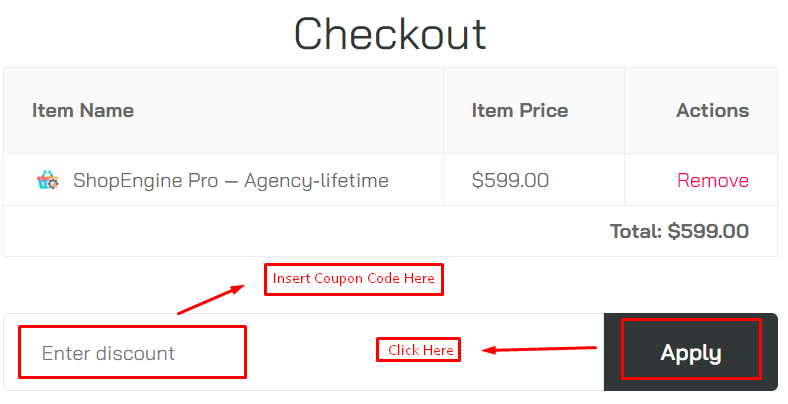 Clicking here will take you to the checkout page. There will be a field with the placeholder text "Enter discount", fill it with the GetGenie coupon code. With that done, you need to click on the 'Apply' button.
Step 2: Complete the Checkout Process

After the ShopEngine coupon code discount is added to your checkout bill page, you are left with filling in some other fields. Add your personal and billing information and finish the checkout process.
Step 3: Enjoy The Best Deal
Congrats! You're done with applying the ShopEngine coupon code for purchasing. We hope this easy tutorial "how to apply ShopEngine coupon code" helps you to get 20% Off on your ShopEngine deal.
Also, share the ShopEngine Black Friday and Cyber Monday deals with the eCommerce website-building community or friends and let them know about this ShopEngine coupon code.
Now start using ShopEngine and make your eCommerce website more intuitive and profitable.
Frequently Asked Questions
Does ShopEngine coupon code apply to everyone?

Yes! It doesn't matter which plan you're taking and whether you're a first-time buyer or an existing customer. ShopEngine coupon code is applicable to everyone.
Are current customers permitted to use the ShopEngine coupon code?

Yes, the ShopEngine coupon code is applied to our existing customers.
Are there any upcoming discount coupon codes recently?

We try our best to bring you some amazing offers throughout the year. But this ongoing discount code is something you shouldn't miss.
Does ShopEngine have a refund policy?

Yes, we offer a 14-day money-back guarantee with no hidden policy.
What is ShopEngine Black Friday 2023 Deal?

Black Friday and Cyber Monday sale seasons come every year on the fourth Thursday in November. Generally, the day is after Thanksgiving day. This year, ShopEngine is throwing huge discounts.
When do ShopEngine Black Friday and Cyber Monday deals start?

Globally, this year's biggest sales season (Black Friday and Cyber ​​Monday) will begin on 24 November 2023. However, ShopEning will be offering this discount from 22nd November 2023.
What is the coupon code for ShopEngine Black Friday and Cyber Monday deals?

We have informed about all the ShopEngine Black Friday and Cyber Monday coupon codes in this article. You don't even need to apply a coupon code as the discount is automatically added at checkout.