Super Flexible Contact Form Builder
Robust and Responsive
Form Builder

For Elementor

Metform Elementor Addon- The absolute flexible drag and drop contact form builder which will give you the ultimate professional feelling
Save Time and Collect Data
Find Out The Fastest Way to
Create Your Form

With Metform
What you can build with MetForm! Take a look our demos
Most Design Friendly Form Builder UI
With the most powerful Metform builder, create your impressive forms with live drag & drop standalone widget, use default row, column with 40+ elementor built in widgets You can Show Label, Position, Select Layout, Provide Placeholder, Customize Colors, Borders, Font Styling, Background, and many more.
Most importantly, it is budget friendly and time consuming. We are providing every possible functionality that you want to create a form with elementor page builder.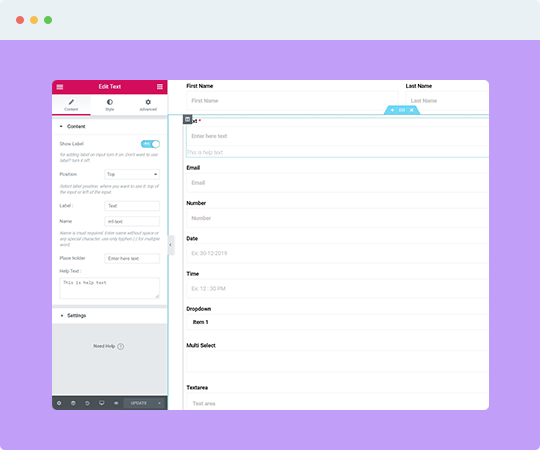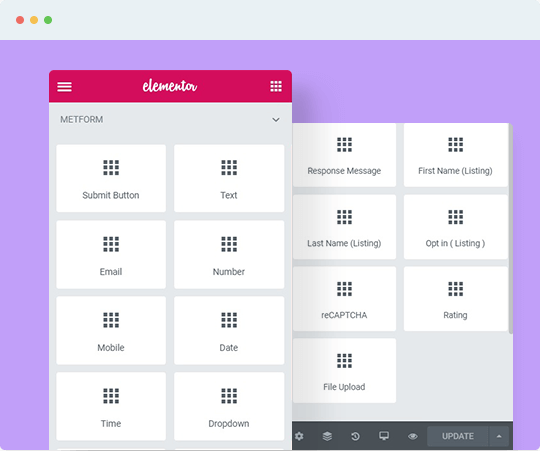 Create Your Multi-Step Form With Metform
Divide large form into multiple sections to make it more user friendly for customers to complete. Fully customizable Multi-Step Form with many unique features including Drag & Drop form builder, Add unlimited step, Enable or disable the Multi-Step Form.
Select validation type by character length, by word length, or by expression based. Select position, label, help text at your choice. You can also show and edit the warning message section if wanted.
Supports Conditional Logic
Smarter Way to Use Conditional Logic Field
Select your category and the given question will appear only for that section otherwise it will remain invisible.
Use our smart "Conditional Logic" to Enable or Disable Conditional Logic area, Select condition match criteria And/OR, Select action: Show /Hide your field, provide payment choices, and subscribe to newsletters based on user selections choice and many other options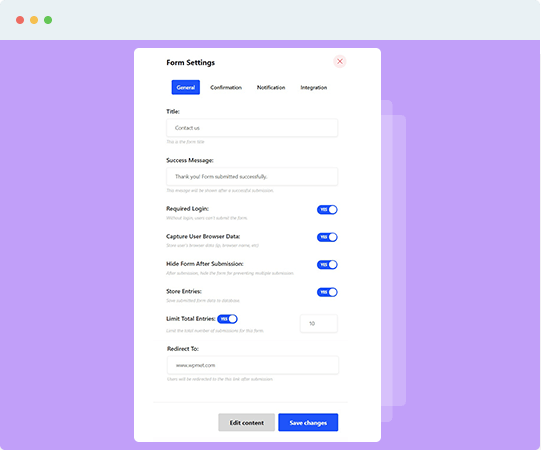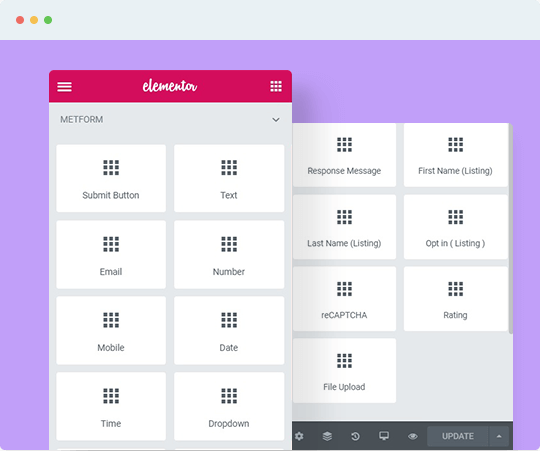 Display Calculated Value Based on Form Input
Do you want to perform calculations among Form Fields to display automatically calculated values?
Our premium calculation Field will help you to perform your calculations and display the results within seconds. You can Store Entries: Save and Calculate submitted form data and calculate the form views. You can also show the calculated value based on user input the data on the form field. You can do any type of operation both simple and advanced.
Less Effort and Time Consuming
Add Repeater to Create Form Data Repeatedly
If you want to use a group of fields several times, you don't need to create the field again and again. Our simple Repeater has an easy solution for that.
All you have to do is just click the "Add" button and the new field will appear automatically. Add/Delete options, Show/Hide label, Editable position, layout, label name, Enable/Disable icon inside button, Add/Remove button text and button icon, Styleable Repeater label, Field label, Field input and Button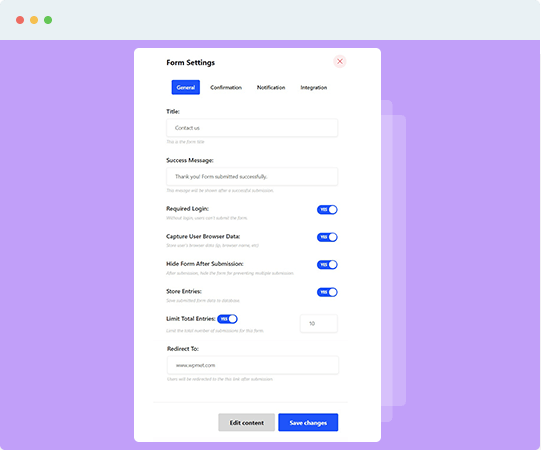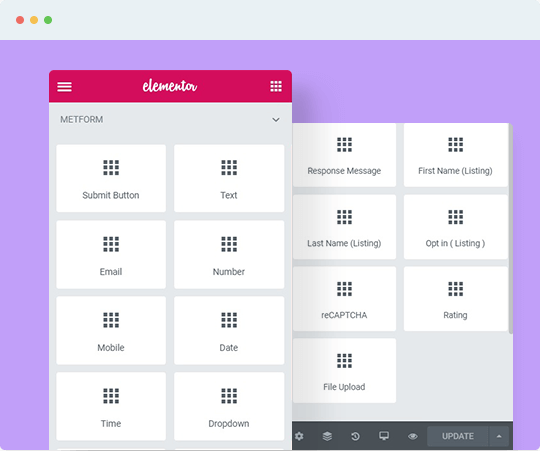 Choose Your Desired Image From Multiple One
Are you looking for a form which allows users to select Images from multiple Images? By using our premium Image Select Input Field, you can upload your image both vertically or horizontally. Select your Image, Show or hide the label section, Give title, thumbnail, and preview.
Select option value that will store/mail to the desired person. You can also give option status Active/Disable If want to restrict, Customize Label, input, PlaceHolder
Add 40+ Inputs in Elementor's Way With Metform
Metform already has 40+ input types including Phone no, Image Select, Toggle Select, Simple Repeater, Conditional Logic Google Map Location, Color Picker, Calculation Fields List, Payment Method, Signature, Like-Dislike, Text field, Email field, Number field, Date field Time field, Select field, Checkbox field, Switcher field, Range slider field, URL field, Response Message, Opt-in, reCAPTCHA, Rating, File Upload, and many more. All you have to do is just drag and drop.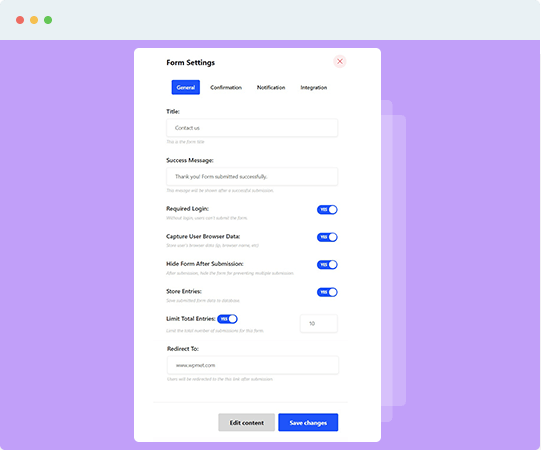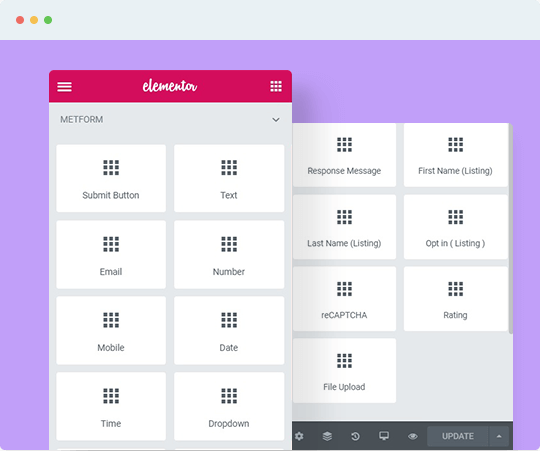 Integrating Rest API Mailchimp, Zapier is Never Been So Easy
Do you want to integrate your form with Rest API, Mailchimp, Zapier, Slack? Need to add reCHAPTCHA to prevent spamming?
We covered it all and it will take only a few minutes to set it up. Easily integrates mailchimp to create and manage mailing list, automated mailing, newsletter, and many other options. You can also get form submission data and submission notification to Third Party API URL or Webhook by integrating our Rest API very easily. With Zapier, integrate your form with thousands of popular apps or webhook without any coding.