How Can You Maintain Your Website Security Flaws?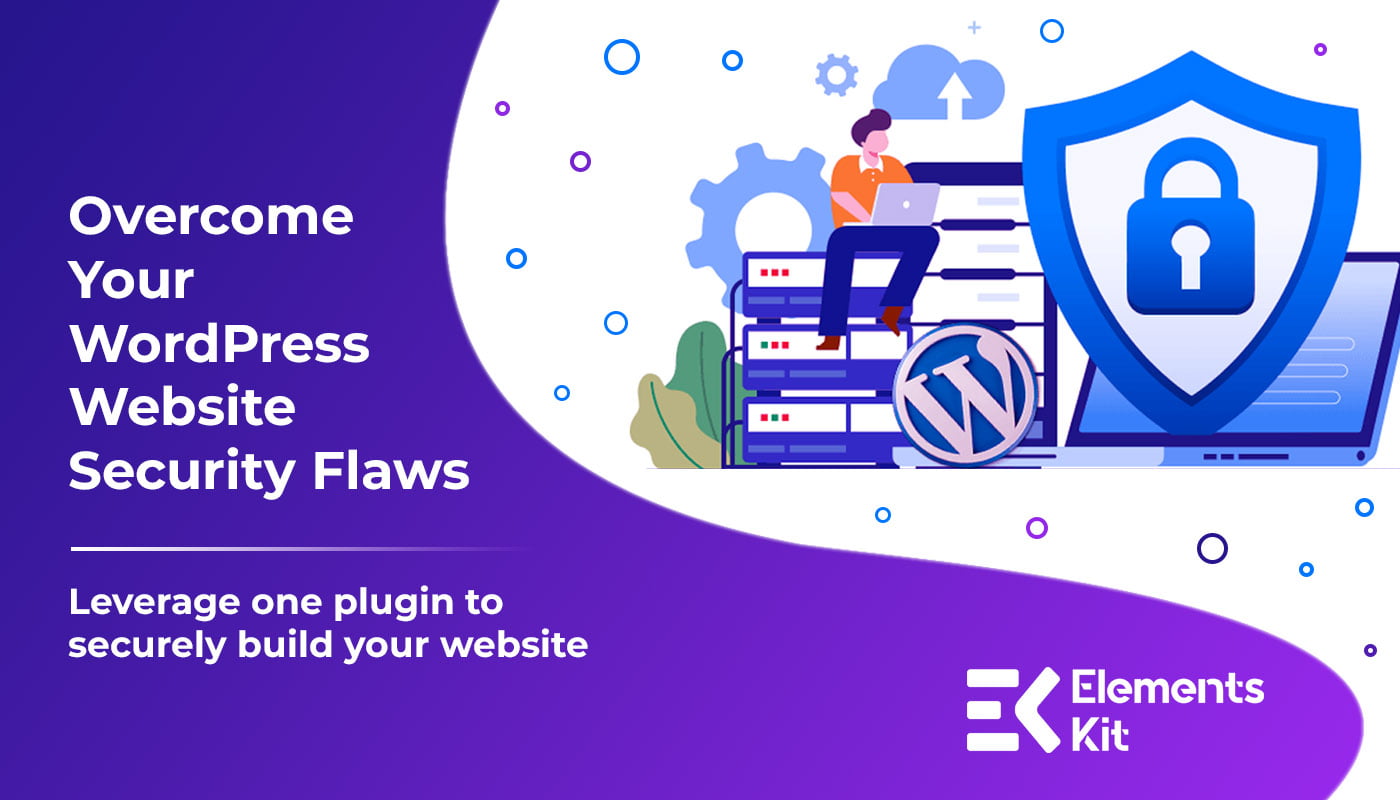 Do you know that installing too many plugins on your website will raise your vulnerabilities? According to a report published by Wpvulndb, 75% of attacks are generated from the flaws in plugins.
Another study shows that there is a direct relationship between the plugins and the vulnerabilities. When you install less number of plugins, you will encounter fewer vulnerabilities.
Wpmet is offering all in one addon for the Elementor page builder. Elementskit is all in one addon for Elementor that will help you to build your website easily and securely. You will get all the features necessary to build your website in this plugin.
Therefore, the main advantage of Elementskit is, you can simply and easily build your website with one plugin and reduce your vulnerabilities at the same time.
Security flows in WordPress and the remedies.
Nearly 1.3 billion active websites are using WordPress CMS which means that around 21% of all the self-hosted websites in the world are using WordPress as their CMS. The majority of the WordPress website vulnerability arises from the plugins.
75% of vulnerabilities arise from plugins, 14% from core WordPress, and the rest 11% from themes. So, if you can reduce the vulnerabilities originated from the plugin, you secure your website by the majority of the portion.
Most common vulnerabilities arise from plugins
There are mainly two types of vulnerabilities that usually arise from the installed plugins. These are SQL injection and Cross-site scripting.
WordPress website uses a MySQL database to save the data. "SQL injections" is a type of attack that occurs when the hackers gain access to your database.
The attackers may be able to create a new admin-level user account which can then be used to login and get full access to your WordPress website. SQL injections can also be used to insert new data into your database, including links to malicious or spam websites.
Sometimes the hackers insert the link of their ads on your database or even change the re-direction. That means when your visitors clicked the link of your website from the search engine, they will be re-directed to a new landing page of different domains.
70% of all security vulnerabilities on the entire WordPress website are called Cross-Site Scripting or XSS attacks. Even the TinyMCE editor is also contains vulnerable JavaScript code. It might causes the Cross-Site Scripting easier for the hackers. So, try to upgrade your TinyMCE editor to Gutenberg with Elementor.
It is the most common type of vulnerabilities found on the WordPress website. The basic mechanism of cross-site scripting is like, the hackers insert a malicious JavaScript code into your website that is beyond your knowledge.
So, when your user inserts their info into your website, i.e. fills up the form, the info will be saved into the hacker's database rather than your database.
What are the preventive measures to secure your WordPress website?
If you use any managed hosting, you have very less number of options in hand. Still, you can secure your website. If you use any server like AWS to host your website, you will have lots of options like you can switch off the ports that cause the attack.
But when your use managed hosting, you have to take several precautions. Some of them are enlisted below.
Regularly check your website using the reputed WordPress website security and malware checker.
Use only the very essential plugins. You can try Elementskit, it will enable you to build your website by installing just one plugin.
Follow the security recommendation from google search console.
Activate the integrated cybersecurity system on your website that enables powerful firewall and endpoint defense.
Enable the CDN to reduce the DDOS attacks.
How ElementsKit will help you?
Elementskit the All-in-one addons for the Elementor page builder. It contains 70+ widgets that will enable you to add any feature on your website. Moreover, you will get 500+ layouts and 30+ ready pages.
Therefore, you need no more extra plugin for any features like contact form, maps, MailChimp email subscription, count down timer, advanced accordion, chart, graph WooCommerce product list, or any feature.
If you want to create your own widget, you have that option too. Without any coding knowledge, you can build your widget. You can customize and build your header and footer as per your need regardless of the options available on the theme.
Key features
Mega Menu Builder
Vertical Mega Menu
45+ Pre-designed Header & Footer Templates
70+ Free and Premium elements
30+ Ready Pages
500+ Ready Sections
One Page Scroll
Sticky Content
Parallax Effects
Multi Widgets area
Elementor Gallery Pack. Filterable, Masonry, Grid
Cross-Browser Compatible
Fully Responsive
Expert Support Team
Build with Elementor
Therefore, Elementskit will reduce hassle and vulnerability. Try out it for free from the WordPress plugin respiratory.